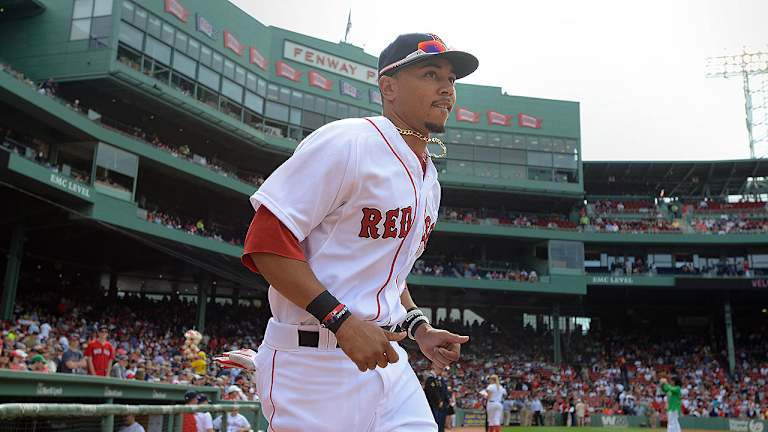 MOVEABLE BEAST
At rest, Mookie Betts is a wisp. But in motion, he's a perfect storm of energy, talent and on-field instincts. No wonder he's risen so fast
​MOOKIE BETTS sticks out in a static game, like a CGI effect edited in from another era. His Red Sox uniform, as if cut from flannel, blouses around a wispy frame that lacks obvious musculature. His face is boyish, with the optimistic suggestion of a mustache. His appearance hints at nothing special. It's when Mookie moves that jaws drop.
Betts is the winds of a nor'easter, the essence of movement. It defines him. There is that don't-try-this-at-home-kids idiosyncrasy of pumping his bat just before he swings, like trying to shake ketchup from a bottle (which only means the New England kiddies will clone it, same as they did Nomar's toe-taps or Big Papi's spit-clap). There are the flight-school tactics he brings to centerfield, covering runways of terrain before making swooping leaps that extinguish the promise of would-be extra-base hits. There is the derring-do on the base paths that astonishes even baseball lifers.
It all has happened so fast. Mookie fast. A major league career microwaved. At 22, and having never played the outfield until last year, he is the youngest everyday Red Sox centerfielder since seven-time All-Star Reggie Smith in 1967. He is here on the doorstep of stardom, just one year after his major league debut capped a 24-month rocket trip through seven levels of pro baseball; four years after he was an overlooked prospect better known for bowling than baseball; and 10 years after the scariest moment of his life.
For the man in motion, it was a moment of frightening stillness: One instant the 12-year-old boy was asleep in the back of the family car, and the next he was facedown on an interstate highway at rush hour, bits of asphalt embedded in his broken jaw, bones in his right wrist dislocated and bones in his foot broken. The car lay flipped near the median, the end of a cascade of events triggered by the scrape of a utility pole. The boy's stepfather was behind the wheel, bleeding from the nose. His mother could not open her door. Her shoulder was shattered. There had been four kids in the car, teammates on a bowling trip. She saw three of them climb out a window. None were her son.
Mookie was lying still on the interstate. His door had been flung open, and the boy, beltless, had been ejected. One horrific thought quickly seized his mother: oncoming traffic.
From the moment Betts was born—even before he was born—Diana Benedict knew her boy was special. On the night before his birth Diana took part in one of her usual three-nights-per-week league bowling matches in Nashville. She rolled her last frame at 9:30 and went into labor at 11. She and Willie Mark Betts, Mookie's father, a railroad superintendant, named him Markus Lynn Betts, borrowing from Willie's middle name and her middle name but also well aware of what they hoped would be fortuitous initials: MLB.
Soon after the baby was born, Diana and her sister were watching an Atlanta Hawks game on television when they noticed an especially good performance by guard Mookie Blaylock. Diana's sister is named Cookie. The boy would be known as Mookie from that day on.
The genes were there. Diana, granddaughter of a sharecropper, grew up playing baseball and softball on a Paducah, Ky., field built by her grandpa. "I didn't know anything about ribbons and lace," she said. Willie ran track and played basketball. Diana's brother, Terry Shumpert, played parts of 14 years in the big leagues. One of Mookie's cousins, George Wilson, played safety for nine seasons in the NFL. The boy would become a whiz at baseball, basketball, bowling and asking questions.
It could not end there on that interstate asphalt. There was too much for the boy to do. By age 22, Betts would bowl two perfect games, become the first future major league star discovered in part because of high-tech neuroscouting, reach base in 66 straight minor league regular-season games, and at 5'9" and 180 pounds, bring sorely missed athletic excitement to an increasingly stationary game while embracing the profile of an African-American baseball role model. "I like being somebody people look up to," Betts says. "It helps me stay on the right track. And I also want to keep kids off the streets and get them into something positive."
The microwaving of a big leaguer is a tale worth telling. Just don't expect Mookie or Diana to brag about it. "We don't want to be arrogant," Diana says. "Like Mommy always tells him, 'Anything can happen. Let other people make compliments for you. Don't brag on yourself.'"
ONLY FIVE major leaguers last year hit at least 20 home runs and stole at least 20 bases, down from a high of 19 players in 1999 and tying the record low since baseball expanded to 30 teams in '98. Thirty percent of all plate appearances ended in a home run, a walk or a strikeout, the so-called three true outcomes—or, in other words, baseball in which defense is not required.
Dynamic players like Betts stand out. In his brief career he's already pulled off two plays that made 57-year-old Boston third base coach Brian Butterfield fairly gasp. Betts turned a ground ball to shortstop into a double last July 9 (he beat out an infield hit and, a few steps past the bag, dashed for second when he saw the base uncovered), and on April 13 he stole two bases on the same pitch (he swiped second, popped out of his slide and, upon seeing third uncovered because of a defensive shift, took that base like a sprinter running two consecutive legs of a 4 √ó 100).
"He's done two things in the last two years I've never seen before," Butterfield says. "It's easy to see the physical part, but the intelligence, the instincts, the trusting of his eyes are way above average. Young players tend to err on the side of caution. They don't want to make a mistake. But he's let his hair down from the first day he came up here. He trusts what he sees on the bases and on defense and just lets ... it ... go!"
Betts fills up a stat line like a bingo card. In the first 75 games of his career he scored 47 runs, stole 12 bases and hit seven home runs. Only one other player in Red Sox history matched those 75-game numbers: Ellis Burks in 1987.
As baseball desperately seeks the next generation of hitters to combat this era's dominant pitching, clubs frequently draft raw, superior athletes hoping they develop fine baseball motor skills. Rare is the superior athlete who enters pro ball with athleticism and advanced baseball skills. Betts is one of them. "The [Andrew] McCutchen comp is the best comp," says Cubs president Theo Epstein, who drafted Betts in 2011, his last year as Boston's general manager. "It's the combination of a short swing, bat speed, superior hand-eye coordination and athleticism."
"What stands out," Boston DH David Ortiz said, "is his plate discipline. I saw that last year when he first showed up. I said, 'This [guy] is going to be a stud.' He knows exactly what he's doing at the plate."
Diana and Willie separated when Mookie was eight years old, though Willie has remained a constant and close influence in his son's life. "He was the whole family's child," says Shumpert, who talks or texts with Betts every day. Inadvertently, the Red Sox had a hand in shaping Betts as a baseball player: In 2004, Shumpert went to spring training with Boston, but when he strained a hamstring and saw he wasn't going to make the team, he asked for his release. The Red Sox obliged. The Pirates offered Shumpert a roster spot with their Triple A team, the Nashville Sounds, and he jumped at the chance to live that summer with his sister in Music City. Most every day, when Shumpert left for the ballpark at 2 p.m., he would bring with him 11-year-old Mookie and his own son, Nick, now a potential first-round pick in this month's draft. The boys shagged batting practice balls in the outfield, asked questions and watched how professional ballplayers worked.
"I knew once he came out he got addicted," Shumpert says. "He was watching and picking things up."
Alas, after Betts hit .291 in 52 games last year, major league pitchers schooled him early this season, especially with cruel breaking pitches. Betts swore he never looked at the scoreboard in April to see his batting average. Forty-three games into this season he was hitting .233.
"I can honestly say I haven't looked," he said. "I came into the season not even worried about numbers, just pretty much worried about finding some way to help the team win. It's about moving the guy over, keeping the double play in order on defense, going first to third, pushing across a run. Batting average changes every day. Stolen bases, runs only go up. Those are the things I want to look toward."
ONE DAY in the spring of 2011 a Red Sox area scout named Danny Watkins pulled Betts out of his lunch period at Overton High in Nashville and handed him a laptop. Watkins explained that for the next 15 to 20 minutes Betts would play four or five different computer "games." In reality these were high-tech exercises designed to measure hitting skills traditionally considered unmeasurable, such as pitch recognition and decision making.
The concept of neuroscouting, or the science of measuring how fast a baseball brain works, was in its infancy; the Red Sox had partnered with a technology company only the previous year to develop a proprietary system. Hitting is a chain with three links: visual (seeing the pitch), cognitive (reading the pitch) and mechanical (swinging at the pitch). A scout can break down the last link, but to measure the first two you have to get inside the brain. That's the mission of neuroscouting. Take two similar high school prospects: If one sees spin and reads break more quickly than another, he may be more likely to hit the faster and better pitching in pro ball.
In one "game" a spinning baseball would pop up on the screen. Watkins told Betts to tap the space bar as soon as he saw it spinning in a certain direction. In addition to such skills as pitch recognition and reaction time, the games are also designed to reveal something about character. They include built-in "mistakes" in which it is not possible to provide a right answer; the scout on hand observes how the prospect responds to these traps. A "soft" prospect complains and makes excuses. The prospect with the better makeup may note the difficulty of the game, but he presses on without getting frustrated—which is how Betts reacted. When the technology company tabulated his neuroscouting scores that spring, it was blown away by how well Betts did.
"It was the best we had ever seen," one team source says. "The guys who run it for us said it was ridiculously high for his [high school] level, his age. He was an outlier." (Of course, Betts's trouble reading the spin on breaking pitches this year may indicate that neuroscouting is still developing reliable data. Jackie Bradley Jr. was another Boston 2011 draftee with extremely high neuroscouting marks, and he has hit .192 over parts of three MLB seasons.)
The Red Sox loved Betts, then a shortstop. One scout, Mark Wasinger, included in his report that Betts reminded him of Derek Jeter. The Boston player development people began to think they might have a rarity when it came to draft-eligible high school hitters: a hidden gem.
Betts, the 2010 Tennessee high school bowler of the year, played basketball and bowled in the winter rather than traveling the well-worn baseball showcase circuit. Early in the spring of his senior season he sprained an ankle and got off to a slow start. Some scouts didn't like his "handsy" way of hitting. These events, to Boston's delight, helped to keep Betts's profile low, though the Red Sox were not the only team on him. One Boston cross-checking scout noted in his report that a surreptitious Royals scout was hiding in a thicket of trees while watching Betts play.
Just before the 2011 draft Baseball America published a list of top prospects. Betts was not among the 200 players listed. "Nowhere to be seen," Shumpert says. "I was one frustrated uncle."
Betts had committed to play at Tennessee, but if drafted high enough with the right amount of money, he was prepared to turn pro. He lasted until the fifth round, when Boston took him after 171 players were picked ahead of him. "From June all the way into August," Diana says, "we talked about depending on the size of the signing bonus, was it more beneficial to go to college or straight to the pros."
The Red Sox were in a buying mode. Spurred by commissioner Bud Selig's desire to tap the brakes on draft spending, baseball planned to institute a harder cap the following year. Boston knew this would be the last year to easily pay "over slot," which could mean giving first-round money to, say, a fifth-round pick. Epstein saw a financial edge closing for his high-revenue team, so he decided to be aggressive with offers. The Red Sox met Betts's price: They offered $750,000. Betts signed 30 minutes before the midnight deadline. He took his bonus and banked it.
BOWLING HELPED put the boy in the middle of the interstate. The kids had competed in a national tournament in Kansas City and were heading back to Nashville.
"I pretty much grew up in the bowling alley," Betts says. Every year around Christmas for at least two decades, the extended family has gotten together for a tournament. They rent 10 lanes at a Paducah alley, and 30 to 40 family members, from little kids to Shumpert to Wilson to Diana's 70-year-old aunt, compete for bragging rights. Sometimes Diana will challenge Mookie. "We go neck and neck," she says. "I try to catch him when he comes off baseball, when he hasn't played for a while. He can roll."
Betts and his doubles partner finished third in the Kansas City tournament. Heading back on the highway, he fell asleep—and woke up with his face pressed on asphalt. "I don't remember being in the road," Betts says. "I just remember I kept my eyes closed. I didn't know what was going on, so I just kept my eyes closed for some reason. My mom said I was screaming.
"She said somebody came out of one of the cars behind me and got me out of the road. She said cars could have run me over if they kept going, but the man stopped traffic. The next thing I really remember is being in the hospital."
Says Diana, "To this day I don't know who saved him. I asked for him to come forward just to thank the guy and hug him. He blocked two lanes of traffic. He was God's little angel. I'm thankful for my little boy. He'll be O.K. if he keeps his head on straight."
Diana would seem to have little reason to worry. So unassuming is Betts that when Boston manager John Farrell gave him the green light to hit on a 3-and-0 count in the first week of the season, a stunned Betts had to ask him later why he would allow him such a freedom.
Ask Betts what he loves most about baseball, and his answer is a sociable one. "Probably just getting to meet a lot of guys," he says. "People you see on TV, you actually get to talk to them and be around them. It's taught me a lot as far as life things. This is a long season, and you can't get too high or too low. And you can apply that to life."
There are times, as when he went 5 for 34 in the middle of April, when the expectations seem enormous for such a slight, young ballplayer. He must learn centerfield, decode breaking balls with major league spin, set the table for a highly scrutinized team and serve as a role model for young African-American ballplayers at a time when, as noted in a recent HBO monologue by comedian Chris Rock, the sport is losing cachet in the African-American community.
"We're not a big fan of the man because he uses the n-word and profanity," Shumpert says. "But I was in favor of what he said. It made a lot of sense. Mookie's aware of it. But I think it's more about promoting the game of baseball, promoting what you enjoy in life. For Mookie, saying he can blaze a trail for African-American kids is only part of it. Hopefully all kids can comment on what a great role model he is just by being who he is."
Inevitably, you see another one of those moments aglow with the beautiful movement of Betts, and you understand how such big expectations became possible. The nimbleness of another catch in centerfield; the quickness and lightness afoot as he seems to compress the space between bases; and, only after his front foot and hands have completed their busy work, the flash of his bat. It was Shumpert, after Betts was drafted, who suggested he develop that odd rhythm with his hands before swinging. It was a way to generate more power out of that little body.
Watching Betts hit is like watching the engine of a sports car run: It is a symphony of fast-moving parts. There is a moment, as the pitcher brings the baseball behind him, when contact seems impossible. The constant waggle of Betts's bat has left the barrel low and behind him. The front foot is only beginning to kick upward. But then the gearbox gets busy. Foot, hips, shoulders and hands fire in rapid succession. And a baseball in flight for just .40 seconds is met by the swift swipe of his bat. It is a wonder to behold: how someone this unique, this small and this young can be right on time.
After a 24-month rocket trip through seven levels of pro baseball, the 22-year-old Betts is the youngest everyday Red Sox centerfielder in nearly half a century.
"Young players tend to err on the side of caution," says a Red Sox coach. "They don't want to make a mistake. But Betts trusts what he sees on the bases and on defense and just lets ... it ... go!"
Rowdy
Royals
Quarterly
Report
Joc
Pederson
Mookie
Betts
VINTAGE 1992
Kris Bryant3B/OF, Cubs
Since his big league debut in April, Bryant is hitting .282/.401/.460 with five homers—and more in the forecast, considering he jacked 43 in the minors last year.
VINTAGE 1992
Manny Machado3B, Orioles
Like Harper, Machado debuted at 19 and shows signs of truly coming into his own now that he's recovered from knee surgery, on track for career highs in OBP and SLG.
VINTAGE 1992
Carlos RodonLHP, White Sox
Though he struggled with his command in his first MLB appearances, Rodon's combo of a 99-mph fastball and devastating slider makes him one of the game's top prospects.
PHOTO
Photograph by Tom
DiPace
MOTOR SKILLS Betts is the first Red Sox player since 1987 to score 47 runs, steal 12 bases and hit seven homers in his first 75 big league games.
PHOTO
JARED WICKERHAM/GETTY IMAGES (BRYANT)
PHOTO
G
FIUME/GETTY IMAGES (MACHADO)
PHOTO
DAVID
BUTLER II/USA TODAY SPORTS (SLIDE)
WELL ROUNDED Betts caught Boston's eye with his rare combination of speed, athleticism, plate discipline and baseball smarts.
PHOTO
TIM
CLAYTON FOR SPORTS ILLUSTRATED (HITTING)
[See caption above]
PHOTO
CJ
GUNTHER/EPA/LANDOV (CATCH)
[See caption above]
PHOTO
MICHAEL
IVINS/BOSTON RED SOX/GETTY IMAGES (BETTS AND ORTIZ)
LITTLE PAPI? Ortiz (above, right) said he knew early on that Betts was "going to be a stud. He knows exactly what he's doing at the plate."
PHOTO
RON VESELY/MLB PHOTOS/GETTY IMAGES (RODON)