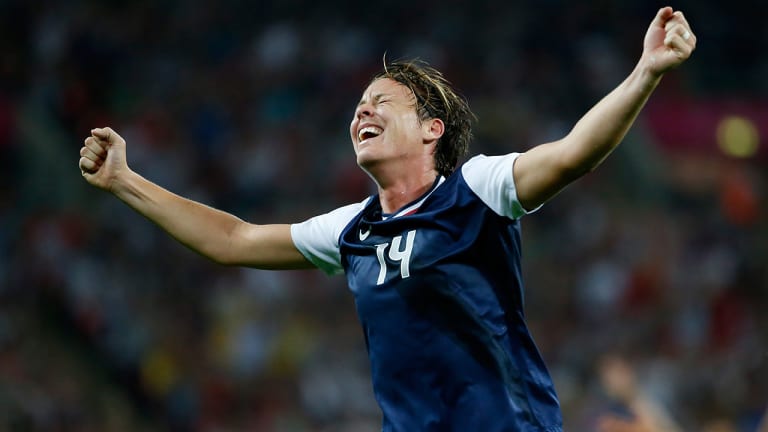 Abby's Road
...To World Cup glory, at last ... to peace of mind ... to the realization that for the most prolific scorer in international soccer, without A there is no B. Or maybe there is. It depends on which Abby Wambach you're talking to
In April, six weeks before the start of her fourth and final Women's World Cup, Abby Wambach parachuted into New York City for 12 hours, donned a tieless tuxedo and walked the red carpet at Lincoln Center with her wife of two years, Sarah Huffman. The occasion: the annual TIME 100 Gala honoring the most influential people on the planet. When Wambach learned she was among the 100, she thought she was being punked. Then she was simply overwhelmed. "The most humbling thing ever," she says of being named in the same group as Pope Francis, Angela Merkel and Hillary Clinton.
The night unfolded like a supercharged version of Wambach's dinner parties back home in Portland. She fan-girled with tablemate Sarah Koenig, creator of her beloved Serial podcast. She spoke at length with Dr. Pardis Sabeti, who'd led a team that sequenced the Ebola virus in real time. And she traded laughs with John Oliver, the British comedian who has been as pointed in his (hilarious) criticism of FIFA's rampant corruption as Wambach has been of the organization's decision to stage the upcoming World Cup on artificial turf.
TIME's choice of 35-year-old Mary Abigail Wambach made perfect sense. The 2015 Women's World Cup, with 24 teams competing across six Canadian cities over the next month, will be the biggest women's sporting event of all time. In her 15-year U.S. career Wambach, an aerial threat like no other, has scored 182 international goals, 24 more than the next closest man or woman in history. She has won two Olympic gold medals and the '12 World Player of the Year award, and her miraculous last-second goal against Brazil in the '11 World Cup quarterfinals—a 40-yard Hail Mary—has entered the pantheon of dramatic sports finishes. What's more, Wambach has been fearless in speaking truth to power, publicly chiding FIFA and its 79-year-old president, Sepp Blatter, for an institutional sexism that's straight out of Mad Men.
Wambach likes to say that as a Gemini she has a twin personality disorder. Wambach the Person is aware of her accomplishments, and proud of them. But Wambach the Competitor told herself a few other things that night in Gotham as Kanye West performed and all these extraordinary figures approached her to take selfies: Don't they know I may not be a first-choice starter in Canada? Don't they know I'm sometimes the U.S.'s worst player on the field? And most of all, don't they know Ms. Fancy 100 Most Influential People in the World has never actually won a World Cup?
"I'm much more motivated by my failures than my successes," the 5'11", 179-pound Wambach says one afternoon in the living room of her four-bedroom house, sprawled out on the couch next to the family dogs: Kingston, a bone-chomping English bulldog, and a pug named Tex. Ask her to look back at her previous three World Cups, and she says, "You mean the devastating losses? And the serious heartbreak?"
Well, if you put it that way....
"O.K., 2003," she starts. "My mark scored in the semifinal loss against Germany. Garefrekes. I'll never forget the moment." The Americans, tied at 0--0 in the 15th minute, were defending a corner kick, and their scouting report said that towering Kerstin Garefrekes always ran to the back post. This time she went near post, lost Wambach and scored on a header. "So I feel like we lost the World Cup because of me," Wambach says of the eventual 3--0 defeat. "And at the time I knew it was going to be the last World Cup for Mia [Hamm] and her generation. So that hit me extra hard."
In 2007 the U.S. imploded during (and after) its 4--0 semifinal loss to Brazil in China, the lowest point in the team's proud history. "One of the most embarrassing times of my life," Wambach says. "I remember wishing I could vanish into thin air and feeling so deeply that I embarrassed my country and my family."
As for 2011, well, Wambach says she still meets people who remember her goal against Brazil and think that the U.S. ended up winning that World Cup instead of coughing up two leads to Japan in the final and bowing on penalties. (Of the Americans' four penalty takers, only Wambach scored.) "It still baffles me—baffles me—that we didn't win that game," she says. "It was going to be the perfect way to go out. I'm still not right with it."
Three World Cups, three excruciating exits—three failures, to use Wambach's term. "The failures are really what make people adjust and make different decisions," she says. "On July 17, 2011, we didn't win that game. And so we have to do something different that causes a different outcome."
This is her last chance to win the trophy that matters most.
In the summer of 2004, not long after scoring the sudden-death winner in the Olympic gold medal game against Brazil, Wambach loaded up her Jeep with a sturdy bike, a tent and a knapsack, and she disappeared by herself into the mountains. If she wasn't exactly Cheryl Strayed in Wild, there was at least a kinship. Both were trips of self-discovery. She went mountain biking in Moab and Sedona and Four Corners National Park. She camped alone under the stars, stopping just twice at motels to shower. And she rescued something that she feared she might be losing.
"I was so afraid of letting soccer and that life take hold of me in some way," she says. "In a spiritual way, I was trying to protect my soul from crossing over into being money-driven or fame-driven rather than knowing who I am and trying to continually evolve as a person. I happen to be really good at something that's kind of cool to people, and marketable, and you can sell yourself in that way. But I didn't want to lose sight of the fact that it's still just something I do. It's not who I am."
Wambach's pursuit of her curiosity is relentless. Swerving from one fascination to the next like an X-Wing Fighter in Star Wars, she's all-in one moment and—vrooooosh!—disengaged the next. Some pursuits have been short-lived: yoga, fad diets, remote-control helicopters. Others have lasted longer. When she and Huffman, herself a retired midfielder, bought their gorgeous house three years ago after having seen it only in Internet photos, Wambach took charge of the remodeling, doing research online and working with the architect. Her latest fixation is golf. Huffman says Wambach came home one day recently and announced that they were joining a club. Using top-of-the-line gear, Wambach has become a fixture on the driving range and on the course. "She can absolutely crush the ball," golf buddy Scott Dougherty says of Wambach's 300-yard drives. "Maybe I'll join the LPGA if I get really good," says Wambach, her straight face suggesting that she might be serious.
Growing up as the youngest of her family's seven children in Rochester, N.Y., and later attending the University of Florida, Wambach says she'd challenge herself by not studying, just to see if she could still pass her tests. "It's the same with soccer," she explains. "I've always toyed with being unfit, and then getting really fit just at the end. That's kind of been my rebel nature." Due in part to women's soccer's unbalanced calendar—the World Cup and Olympics are played in consecutive years, followed by two years without any major events—Wambach went into something close to hibernation in late 2012, promising to reemerge and peak just in time for this World Cup. "I know she'll do what she needs to do to be ready," says U.S. coach Jill Ellis.
It's a tricky balance, though, especially as Wambach has gotten older and her goal production against top teams has declined. How much should Ellis trust Wambach's promise that she can summon one last superhuman effort? Has the rise of skilled passing teams like France and Japan neutralized the athleticism and brute force that Wambach embodies? When she's on the field, the U.S. has to play a certain style of soccer: in the air with plenty of crosses. Is this the best way to win a World Cup in 2015?
Wambach herself notes that her principal strength—heading the ball—makes her different from speedsters like Alex Morgan or creators like Megan Rapinoe. "With the skill set I have, I need my teammates in order to be good," Wambach argues. "And if something is off just a little bit, whether it's my speed or my timing going into a header, then my average is below average. When I'm good, I'm the best in the world. But when I'm average, I'm the worst player on the team."
You can call it a special strain of twin personality disorder—but when she's on, man, she's on. Like the Rivera cutter and Kareem's skyhook, Wambach's thundering header goal has become one of the sporting world's signature moves. With an eye for ball trajectory that she honed as a rebounder in basketball, Wambach added the timing, the strength and the vicious snap before impact that have scared defenders the world over. She has fond memories of practicing diving headers in the mud in high school and hurtling her body after loose balls on the basketball court; it was the physical nature of it all that she loved the most. Only later did she realize that she could turn that into a career. "It's just a mathematical equation," she says. "I'm taller. I can jump. And when you're shooting with your head, it's impossible for goalkeepers to know where the ball is going."
But Wambach really does need her teammates, and not just to serve her crosses. As the major link between Hamm's generation and the current roster, she has tried to pass along the all-for-one culture that has defined the U.S. since the 1990s. Not everyone buys in completely. "We've got kids with healthy egos who all think they should be starting and deserving endorsements," Wambach says.
Yet no player has listened more than Morgan, the heir apparent to Mia Hamm in performance and popularity, who marvels at the way Wambach not only refused to resent her emergence but welcomed it. In fact, Wambach says she wants Morgan to break all her scoring records. "I have complete trust in Abby," Morgan, 25, says. "It's hard to have absolute trust in someone, especially someone you're possibly competing against for a spot on the team. Abby is incredibly selfless, and she understands the idea behind team sports. The more selfless you are, the more it comes back to you."
The question now is simple enough: Is Wambach a starter in a must-win game? There's no doubt she'll make starts at the World Cup, where the U.S. could play seven matches in 28 days. But Wambach has been used more often as a second-half substitute recently, including in the Algarve Cup final in March, a 2--0 win over France. "Do I feel like I can and want to be starting every game? One hundred percent, absolutely," says Wambach. "Am I disappointed when I'm not starting? Yes. But that's the competitor in me. All our forwards have different strengths and weaknesses. It's going to be about who's playing the best together."
A few weeks ago Ellis sent each of the 23 U.S. players a handwritten note card. On Wambach's card the coach wrote that she was sure her role in this Cup would be a defining one. "I've never said she's going to be a bench player," Ellis says of speculation about Wambach's role. "Historically, the closer Abby gets to an event, the more she fine-tunes and the more she gets into her zone. I have the utmost confidence in what she can give us—whether that's starting a game and playing 90 minutes or coming in for the last 30. What I do know is we need Abby Wambach to win a World Cup."
"Opponents have to play a different way when she's on the field," adds Morgan. "To have to alter the way you play? That's crazy."
If the U.S. were to win the final on July 5 in Vancouver, Wambach would earn a face-to-face meeting with Blatter at the postgame awards ceremony. They have a history. Wambach tells a story from the time that she and Huffman were backstage in a VIP room in January 2013 before the World Player of the Year awards gala in Zurich, Switzerland. "Blatter came into our little area and he walked straight up to Sarah and thought she was [Brazilian star] Marta," says Wambach, who recalls Blatter exclaiming, "Marta! You are the best! The very best!" as he hugged a bewildered Huffman, who doesn't look much like Marta at all.
"He had no idea who Marta was, and she's won the award five times," says Wambach. "For me, that's just a slap in the face because it shows he doesn't really care about the women's game."
Blatter recently called himself the "godfather" of women's soccer, a comment that made Wambach want to retch, but in her eyes FIFA's paternalistic attitude toward the women's game extends beyond Blatter. When it was announced that this Women's World Cup would be played exclusively on artificial turf fields—marking the first time that any senior World Cup match, men's or women's, would not be played on grass—Wambach, along with players around the world, organized a legal challenge in Canada, trying to force a switch. The men's World Cup would never be played on fake turf, they argued. Their challenge failed. There just wasn't enough time to change the plan, she says.
In January, Wambach met in Switzerland with Blatter's No. 2, FIFA general secretary Jèr'Äö√†√∂¬¨•me Valcke. In a conversation that she calls "a big waste of time," she says that Valcke opened by insisting that there was no way this tournament would have grass fields. "I said it's a real shame, because women's soccer has come so far," Wambach recalls. "And this isn't two steps backward—this is 15 steps backward. You can sit here and give me all the reasons in the world, that Canada was the only country that bid, that their bid only included turf fields.... But you can't tell me the World Cup is going to be better because of it. There isn't one player in the world that would prefer playing on an artificial surface."
Wambach takes one consolation from the mess: FIFA promised that the next Women's World Cup, in France, would be played on grass. As for Blatter, will she shake his hand if he presents her with a World Cup winner's medal in July? "I mean, if I'm winning a World Cup, I'm happy, and I'm not too worried about Sepp Blatter," she says with a laugh. "I don't hold ill will to the man because I don't think he's the one making all these decisions. I don't think he cares enough, truthfully."
High on a ridge overlooking a pine-filled valley near Portland, the house owned by Wambach and Huffman is bathed in warm wood interiors. There's barely a suggestion of soccer inside, other than the World Player of the Year award hanging out near the bar. Portland is an ideal fit. The couple chose to move here from Los Angeles for a number of reasons: Huffman works in product testing at Nike, and they have several friends in the area who lobbied hard for the Rose City, where signs instruct the populace to KEEP PORTLAND WEIRD.
"Good food is important to me," says Wambach. "Food, beer and coffee. Portland has my three favorite things. And it's an authentic town. I appreciate people owning themselves and their weirdness. Because we all are weird."
Wambach remains unsure about exactly what she'll do when she's done playing soccer. She knows that she wants to keep going through the 2016 Olympics, if possible, and after that she wants to get pregnant and have a baby. "I could probably genetically engineer a professional athlete on some level," she says. "Maybe get somebody else's stuff who plays a sport, like American football. I just need to find somebody who would be willing to do it."
Real life, a life outside of soccer, is pulling at her harder than ever, and the battle between Wambach the Person and Wambach the Competitor rages on. Time and again she has said that her career won't be complete unless she wins a World Cup. "It's something that motivates me," says Wambach the Competitor. But Wambach the Person allows that it's not really true. "I wouldn't define myself or my career on not winning a World Cup," she says. "I will define myself on, Did my character shine through in a way that I'm proud of?"
Did we mention that she's a Gemini?