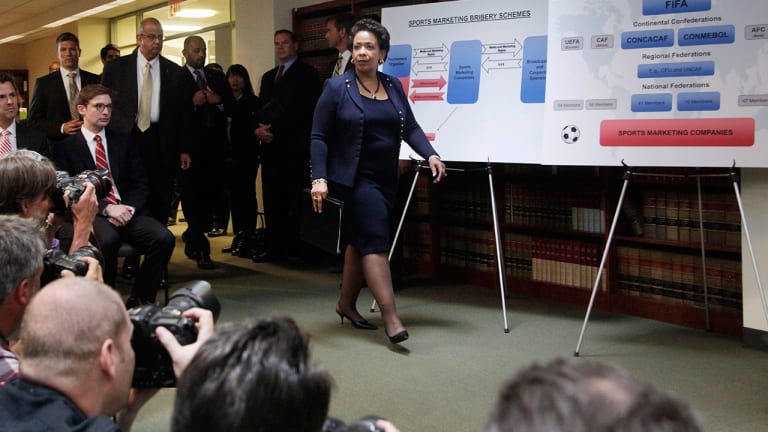 World Corrupt
FIFA has long wanted the U.S. to take more interest in global soccer—and the indictment of 14 officials indicates how involved Uncle Sam has become. Careful what you wish for, Sepp Blatter
FINALLY.
For any of us who've followed soccer over the years, for any of us who love the World Cup but reject the men who run it, we've been waiting for the day of reckoning for FIFA, world soccer's governing body. Finally, after decades of alleged improprieties, after a series of toothless internal investigations, after a damning vote to stage the World Cup in a nation (Qatar) where hundreds of migrant workers have reportedly already died in the searing heat and harsh conditions while building the event's infrastructure, FIFA's day arrived on May 27. And for the first time that anyone can remember, it made hundreds of millions around the world sing the praises of Team America: World Police.
Following an early morning raid by Swiss authorities at the five-star Zurich hotel where soccer officials had gathered for last week's FIFA presidential election, the U.S. Department of Justice announced a 47-count indictment charging nine high-ranking FIFA officials and five corporate soccer executives with racketeering, wire fraud and money laundering conspiracies. "The indictment alleges corruption that is rampant, systemic and deep-rooted both abroad and here in the United States," announced U.S. attorney general Loretta E. Lynch, whose tour de force press conference turned her into world soccer's Eliot Ness.
Those arrested did not include FIFA president Sepp Blatter, the oily 79-year-old Swiss strongman whose reelection to a fifth term two days later showed exactly why FIFA can't reform from the inside. Since using the help of now-disgraced and/or indicted figures to become FIFA president in 1998, Blatter has presided over the cultural rot detailed by Lynch. Who would you trust to address the problem? The FIFA president who echoed Russian premier Vladimir Putin in saying the U.S. was meddling in events outside its jurisdiction? Or the DOJ's forensic sleuths who are predicting another round of FIFA indictments that may lead even higher up the FIFA food chain, perhaps to Blatter himself?
FIFA always wanted soccer to reach a critical mass in the U.S., the sport's last great holdout, and it has. No country in the world pays more for FIFA's World Cup television rights than the U.S., where Fox Sports (English language) and Telemundo (Spanish) combined to give the organizing body $1.1 billion from 2015 to '22. Nor has any country outside the host nation bought more tickets to the last two men's World Cups than the U.S., whose fans took over stadiums last year in Brazil and are expected to do the same at the Women's World Cup starting in Canada this Saturday.
But with soccer's U.S. growth comes greater scrutiny on these shores. Some of the dirtiest actors in FIFA have been Americans, which gave the FBI and IRS a convenient starting point. Chuck Blazer, the most powerful American in FIFA from 1997 to 2013, is a thoroughly charming rogue. A fixture at Elaine's, New York City's now-closed A-list hangout, Blazer made millions from his position as general secretary of CONCACAF, FIFA's umbrella organization for soccer in North and Central America and the Caribbean. A Falstaffian figure who stationed a pet macaw in his office, Blazer kept two CONCACAF-paid apartments at the Trump Tower (total rent: $24,000 a month), which included one for his cats. His blog featured pictures of himself with Nelson Mandela and a former Miss Universe, as well as personal correspondence with our old friend Putin. Was it any wonder that Blazer helped push Russia over the top in voting for the World Cup 2018 host?
Known as "Mr. 10 Percent" for the cut he took off every CONCACAF business deal, Blazer drew the interest of the feds, who discovered all manner of violations. The indictment that was unsealed last week revealed that in 2013 Blazer had pleaded guilty to 10 counts of racketeering, wire-fraud and money-laundering conspiracies, income-tax evasion and failure to file a report of foreign bank accounts, for which he could face up to 15 years in prison. Just as important, he agreed to flip on his FIFA pals, providing information that helped lead to last week's arrests.
Some of the charges in the indictment are breathtaking. That Blazer and former CONCACAF president Jack Warner of Trinidad & Tobago (think Clay Davis from The Wire) took a combined $10 million bribe to vote for South Africa as the World Cup 2010 host. That Warner's replacement, Jeffrey Webb of the Cayman Islands, a FIFA vice president, solicited and accepted more than $10 million in bribes. And that next year's Copa Amèrica Centenario was connected to $40 million in bribes involving officials from CONCACAF, its South American counterpart (CONMEBOL) and a company that won the marketing rights. (Warner and Webb, who had not entered pleas at week's end, were fighting extradition to the U.S. Webb has remained silent; Warner has denied all allegations.)
Most organizations with accountability would have dropped their leader for failing to stamp out a decadeslong culture of corruption, even if he wasn't personally implicated. But not FIFA. How did Blatter win reelection? Well, consider the voters: the world's 209 national soccer federations, who abide by a one-nation, one-vote principle. That means tiny Anguilla has as much power in the FIFA election as world champion Germany. Thanks to the $2.6 billion in profits from last year's men's World Cup, Blatter's FIFA has become a revenue-sharing colossus that has ensured the compliance, and votes, of dozens of developing nations. You can call Blatter whatever you want—a nonhomicidal dictator, a modern-day Boss Tweed—but he's also wildly popular with his FIFA constituents in Africa, the Caribbean, Asia, South America and the South Pacific.
At least U.S. Soccer finally saw the light. For years the federation embarrassingly supported Blatter, while president Sunil Gulati had his head in the sand working side-by-side with Blazer and Warner. (Nor, for that matter, did media like me do enough to scrutinize what was taking place in our own backyard.) But Gulati, now also a FIFA executive committee member, broke with Blatter months before last week's arrests by nominating challenger Prince Ali bin al-Hussein of Jordan, who lost on Friday. Gulati showed genuine leadership last week by saying that reforming FIFA's governance was far more important than having the U.S. win another FIFA vote to host a future World Cup. That's not an empty sacrifice, considering the U.S.'s chances of hosting a World Cup won't be helped with Blatter exerting so much influence on the other federations.
Blatter, for his part, was sacrificing nothing last week, rambling on like a cartoon villain while calling himself "the president of everybody." Reform from within FIFA appeared more elusive than ever. Sure, the European confederation, UEFA, will continue to oppose Blatter, but it's extremely unlikely that a World Cup boycott would happen. FIFA's sponsors, including U.S. companies such as Visa, Coca-Cola and McDonald's, could put enormous pressure on the organization, however they have not taken any action so far. Michigan sports-management professor Stefan Szymanski proposes that the business of organizing lucrative soccer tournaments like the World Cup be separated from the nonprofit organization that allocates soccer development money, but it's hard to imagine FIFA voters voluntarily giving up that control.
There is hope, though. Lynch, who oversaw the start of the U.S. investigation in 2011 as the U.S. Attorney in Brooklyn, promised this was just the beginning of the federal probe. How much new evidence will emerge? Enough to reach FIFA's highest levels? And what to make of the Swiss government? They announced their own governmental investigation (with subpoena power) into the bids for World Cups 2018 and '22.
It's easy to be cynical about FIFA, to think nothing will ever change, and there's still no guarantee that it will. But who knows what a real investigation with teeth—and the ability to put people in jail—might uncover? And who knows what kind of structural changes might be possible thanks to last week's long-awaited shock therapy? After FIFA's day of reckoning, everything is on the table.
Finally.
The DOJ forensic sleuths are predicting another round of indictments that may lead even higher up the FIFA food chain.
MLB
The Draft at 50
16
Sign of the Apocalypse
18
Faces in the Crowd
22
Dan Patrick
Bill Laimbeer
24
The Case for
Nice Tiger
26
GO FIGURE
57, 25
Wins as head coach of the Packers, from 2000 to '05, and Texas A&M, from 2008 to '11, respectively, for Mike Sherman, who last week accepted a position as head coach at Nauset Regional High in Eastham, Mass.
2,000 to 1
Odds found by student Julius Ndlovu that Roger Federer would win a set 6--3 against Tomas Berdych at the Rome Masters. When Federer won both sets in the match by that score, Ndlovu thought he had won £1,000, but the betting company refused to pay, citing rules that allow for such a decision when human error is at fault when posting the odds.
3, 12
Home runs and RBIs in his first game at high Class A Lancaster for Astros prospect Derek Fisher last Saturday. Fisher had a solo home run, two grand slams and a three-run double and set a California League single-game record for runs driven in.
0
Hits in 59 career at bats by Cubs pitcher Jon Lester, a major league record for futility. Lester broke the mark held since 1995 by former Padres pitcher Joey Hamilton, who went 0 for 57.
PHOTO ILLUSTRATION
ILLUSTRATION BY
DARROWPHOTOSIGGI BUCHER/REUTERSTOTAL CONTROL In the wake of the arrests, Blatter won a fifth term and gave a grandiose speech.PHOTORONALD MARTINEZ/GETTY IMAGES (SHERMAN)PHOTOJULIAN FINNEY/GETTY IMAGES (FEDERER)PHOTOPAUL BEATY/AP (LESTER)