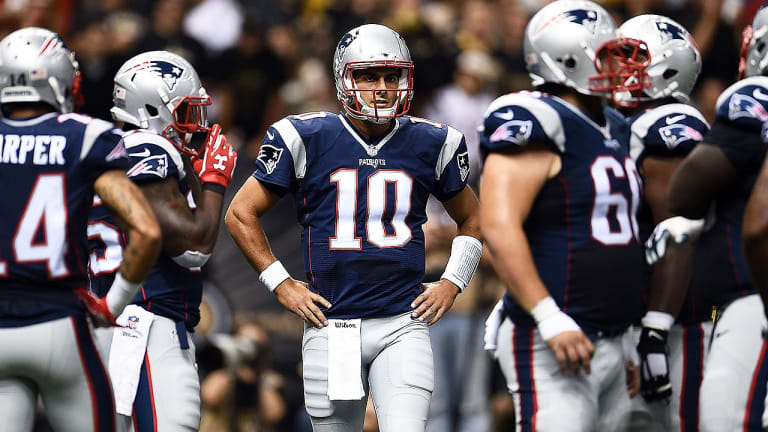 Here Are the Keys, Kid
It's going to be one wild ride for Jimmy Garoppolo. He isn't the first quarterback from Eastern Illinois playing for big stakes (Tony Romo), but there's a reason—a bunch of them—that Bill Belichick drafted him higher than he has any other QB since he came to New England
When Jimmy Garoppolo​ was announced as the Patriots' second-round selection in the 2014 draft, there were questions, a lot of them: Who? Why? Huh? Is Bill Belichick losing it? New England was nine years removed from its last Super Bowl victory and coming off a largely uncompetitive loss to the Broncos in the AFC championship game, and here was Belichick using the highest pick he had ever spent on a quarterback.
From Block Island, R.I., to Caribou, Maine, you could hear a collective grumble about Belichick failing—again—to surround franchise quarterback Tom Brady with enough weapons to break the Super Bowl drought. Instead the Pats had drafted Garo-something (pronounced Gah-ROPP-ah-low) from some small school (Eastern Illinois) that plays in a nothing league (the Ohio Valley Conference of FCS).
But at least one NFL staff understood what the Patriots were doing. "We called it," Browns coach Mike Pettine said in his office about a month later. "We said, 'At some point they're taking Garoppolo. That's their guy.' He totally fits their mold. He doesn't have to be the starter this year, next year, maybe even the year after that, but he's got plenty of time to grow in that system. To me, it was the perfect pick."
The 6' 2", 225-pound Garoppolo might not have as much time as Pettine thought. Unless U.S. district court judge Richard M. Berman overturns or reduces the NFL's four-game suspension of Brady for his role in Deflategate, Garoppolo could start the first quarter of the NFL season. Included could be the league's opening game on national TV: Thursday, Sept. 10, at Gillette Stadium against the Steelers. Any slipups could cost the Patriots a postseason bye (they've never advanced to a Super Bowl without one) or home field advantage in the AFC title game (they've lost their last two on the road) or both.
No pressure, Garo-what's-your-name.
At 23, Garoppolo looks right out of a tall-dark-and-handsome shop: An unnamed teammate taped PRINCE ALADDIN over his locker nameplate last season. He's invariably smiling. He has already mastered the art of dispatching questions in the dullest, Patriots-like fashion. "If we start to look past all these preseason games, things could get ugly," says Garoppolo. "You've just got to take it day by day, not really looking that far ahead, and the rest will take care of itself."
The son of Tony, an electrician, and Denise, a cook, Garoppolo was raised in a middle-class home in Arlington Heights, Ill., a suburb northwest of Chicago. If Garoppolo has an air of humility, it's partly because older brothers Tony and Mike (Jimmy's one of four) would never have accepted anything less.
Which is not to say that Garoppolo lacks confidence. When he was a sophomore, in 2011, Eastern Illinois trailed Illinois State by a touchdown late in the season opener when offensive coordinator Roy Wittke, who had coached Tony Romo at the school, called in his third-and-six play. Garoppolo threw a strike to the one-yard line. Only problem was, it wasn't Wittke's play. Garoppolo called his own.
"It was a different type of offense, we had a little more freedom," Garoppolo says. "I just saw something I liked. Yes, I was confident in the call. You just kind of have to have that as a quarterback."
Wittke didn't have a problem with the decision, and he endorsed Garoppolo's call on the play that tied the game. Still, that's a lot of conviction for a quarterback starting his ninth college game. "Sure of himself," says Wittke, who is now the recruiting coordinator at Bowling Green. "But he was never at any time arrogant, never did he in any shape, form or fashion put himself or his stats ahead of the team. He was always a team guy through and through."
Garoppolo is also, thanks to his days as an outside linebacker at Rolling Meadows High, unafraid to throw his body around. As the clock wound down in the first half of a 2012 game, on third-and-goal at the Tennessee-Martin seven-yard line, Garoppolo couldn't find an open receiver so he scrambled and dived for the goal line as the safety hurtled toward him, forcing a fumble. "It was a brutal collision, the kind that everyone in the stadium could feel," says Erik Lora, a former Panthers receiver who has been signed and released by two NFL teams. "The safety ended up with a serious neck injury and had to be taken out. Jimmy just kind of walked off. He can get banged around and be fine."
That was Garoppolo's junior season, which served as a launching pad for both the team and his career. After consecutive 2--9 seasons coach Bob Spoo retired in 2011. In his place, former Baylor receivers coach Dino Babers brought the fast-paced spread that Art Briles made famous in Waco. Garoppolo's lightning-fast release fit the scheme perfectly. After throwing 34 touchdowns and 27 interceptions in his first two seasons, Garoppolo threw 31 TDs and only 15 picks as a junior. The next season he exploded for 53 touchdowns against nine interceptions while leading the Panthers to a 12–2 record. Garoppolo won the Walter Payton Award as the most outstanding player in the FCS. By that time he was a fixture on NFL draft boards.
"We had the No. 1 pick that year, so we worked on all the quarterbacks," says Texans coach Bill O'Brien, a former offensive coordinator for the Patriots. "We took him to dinner, met with him in a room and tested him. Very bright guy. We thought he had a quick release, was an accurate passer and was a really good guy. So I can see why [New England] liked him." (Houston shored up its defensive and offensive lines before taking Pitt QB Tom Savage in the fourth round.)
"He has a little bit of an 'it' factor to him too," says Pettine, who took his own quarterback, Johnny Manziel, in the same draft, 40 picks ahead of Garoppolo. "You meet with the kid, he's got a bit of a personality to him. Subtle, but he has a presence."
An uneven transition to the pro game was not unexpected. The Baylor system is about as far as you can get from a pro-style offense this side of the triple option. It's predicated on working quickly, spreading out the opponent and making rapid-fire deliveries on basic pass routes. The Patriots' attack is complex even by NFL standards, because most of the routes are option routes, meaning that depending on how the defender plays the receiver, the route could have several combinations. For this reason, you will never see Julian Edelman continue on a go route if a cornerback is seven yards off him; he'll break off and run a hitch, trusting Brady will also see what he sees. Put it another way: There's a reason Edelman, who wasn't a full-time starter until his fifth year, 2013, was the Patriots' first successful drafted receiver since '02 (Deion Branch, David Givens).
Still, despite struggles in practice—where Brady continues to get almost all the snaps—Garoppolo has shown a knack for raising his game. As a rookie he had a passer rating of 99.0 in the preseason. In this year's preseason opener, despite playing with mostly third-stringers, he completed 20 of 30 throws for 169 yards in a 22–11 loss to the Packers. His outing at New Orleans last Saturday was an even more shining example of Bright Lights Jimmy: Entering late in the first quarter with the Pats down 15–0, he completed 28 of 33 passes (84.8%) for 269 yards, with one touchdown and an interception in a 26–24 victory.
There to greet Garoppolo with a smile after his 24-yard TD was Brady, who, according to some reports, had been unhappy that the Patriots had picked a backup quarterback rather than draft more immediate help. Not so, offensive coordinator Josh McDaniels said during Super Bowl week last January.
"Tom's been incredibly available for Jimmy," McDaniels said before Brady & Co. beat the Seahawks to win their fourth championship. "Jimmy's a sponge, and Tom's not afraid to tell him as much as he can. The one thing Tom knows is that if something happens to him, he needs Jimmy to be ready."
Little did they know at the time that such a scenario could play out so soon.
If you're looking for a neon sign attached to a college QB that says HE'S THE NEXT GUY! then keep dreaming. No NFL coach is really sure when he drafts a franchise quarterback, unless he lucks into Andrew Luck. Who knows when Brady would have gotten his shot if Drew Bledsoe hadn't been put into a hospital by Mo Lewis in 2001? If Aaron Rodgers never got the chance to sub for an injured Brett Favre in a '07 showdown against the Cowboys, and nearly rescued Green Bay from a 27–10 hole, would Ted Thompson have been so confident moving on from Favre the next season?
Still, there are certain characteristics common to the better quarterbacks in the league, and Garoppolo seems to possess most of them. The key trait—and it's one that encapsulates a lot—is that the game looks as if it comes easy to him. When he drops back, his eyes are comfortably downfield while his head and shoulders remain on the same plane; they don't bounce up and down (like, say, Mark Sanchez's). For a quarterback who rarely took a snap from under center during his final two years of college, that's remarkable. Even with rushers bearing down on him, Garoppolo does not fluster easily. His footwork is impeccable.
Garoppolo's release is quick and compact and over the top. As a sophomore in high school he began working with former NFL quarterback Jeff Christensen, who retooled a long baseball-pitching motion. Garoppolo can make all the throws that Belichick and McDaniels look for and already has better deep-ball accuracy than Brady.
When feeling pressure, Garoppolo can shift a little too much to his back foot instead of staying balanced and on top of the ball, which is what happened on a fourth-quarter interception against the Saints. Yet sometimes talent can overcome a mechanical breakdown: The throw was actually very good, but safety Pierre Warren made an even better play. The larger problem was Garoppolo's decision to throw into double coverage, though that's something he'll do less often as he gains experience.
If there's an area where Garoppolo doesn't check all the boxes for personnel people, it's his size. Brady is 6'4½" with long arms and big hands. Garoppolo has shorter arms and 9¼-inch hands, which are on the small side. Usually such physical shortcomings are a big concern for the Patriots, who felt they were offset by other assets, including Garoppolo's intelligence and work ethic.
"He's a better athlete than I thought he was going to be," says Green Bay coach Mike McCarthy, who knows something about athletic quarterbacks. "You can see it on the field, he moves very well."
If Garoppolo has to start for a suspended Brady, expect the Patriots to mix more deep passes into the game plan. But sometimes Garoppolo relies on the long ball as a crutch, which can hurt the scheme. With terrible protection against the Packers, Garoppolo went deep too many times, almost as a means to throw the ball away. Feeling more comfortable against the Saints, he lived more within the beautiful simplicity of New England's short passing game. McDaniels and Belichick will strike the balance between what's good for the team and Garoppolo's strengths. It's why they're the best at what they do.
Bottom line This team isn't going to rise and fall this season because of Garoppolo. The Patriots are built around playing defense, running the ball (or at least the threat of running it to set up play action) and protecting the quarterback. If they don't do those things, it's not going to matter who's under center. Just look back at last year, when they started 2–2 against four teams that would not be in the playoffs at the end of the season—and that was with Brady. New England was a disaster along the offensive line, and Brady's performance was subpar because of that. The defense couldn't stop the run, and it wasn't able to play man coverage.
To this point, the Patriots have yet to field their starting offensive line because center Bryan Stork and guard Ryan Wendell have been injured. They could start a rookie, Tre' Jackson, at one of the guard spots. The defense that will begin the season is far from the unit that won Super Bowl XLIX. Run stuffer Vince Wilfork and press coverage corners Darrelle Revis and Brandon Browner are gone, replaced by unproven youngsters. In their first four games the Patriots will face two title contenders in the Steelers and the Cowboys and a dark horse in the Bills, whose new coach, Rex Ryan, has always frustrated Brady.
If Brady sits out those games, expect Garoppolo to do just fine, exhibiting the traits that indicate he'll be a name worth remembering for years to come.