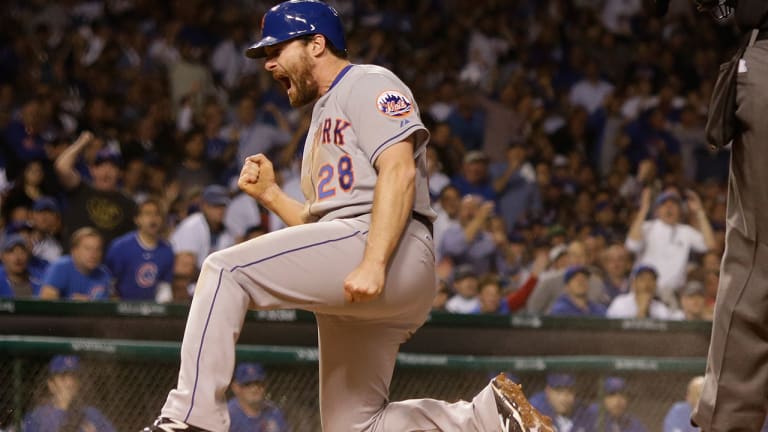 The House of Murph
As the Mets and Royals clash in the Fall Classic, all eyes are on a previously anonymous second baseman who's on one of the great power binges in October history. Can Daniel Murphy possibly keep hitting home runs? The answer will go a long way toward deciding which franchise ends its title drought
Vexed opponents had spent the week favorably comparing him to Barry Bonds and Babe Ruth, but last Friday, Daniel Murphy began his only full day off as a newly certified postseason legend in a decidedly unglamorous manner. "Nothing like having your son take a big poop in his diaper and changing him to keep you humble," he says.
Although he reached the big leagues seven years ago and was the Mets' lone All-Star in 2014, humility has never been much of a challenge for the 30-year-old second baseman. He is of average build—6'1", 215 pounds—and, in his own estimation, "very average looking." He has been able to walk the streets of Manhattan for nearly a decade while being recognized fewer times, in total, than his teammate David Wright is in a single night. "I've gone out with David," Murphy says. "David gets the double takes, for sure."
Two days after his Mets had swept the Cubs out of the NLCS, Murphy received a taste of how his life had changed. He and his wife, Tori, who is seven months pregnant with their second child, took their son, Noah, to a park near their Upper East Side apartment for an extended session of scootering and baseball, as they often do. "Nobody noticed me in the past," Murphy says. This time, a student from an adjacent school, which was in the midst of recess, approached him. "Are you Daniel Murphy?" the boy asked. Soon a dozen kids, and eventually 50, were surrounding him, wanting to take photos with him and even just to touch him. "We're like, 'Oh, no!'" Murphy says. "This is wild. This is really new."
This is what happens after you hit a home run in a record six straight playoff games, have seven postseason homers overall and have powered your team to its first World Series in 15 years.
Until recently, Murphy had earned genuine national attention only twice. Neither instance was related to anything he did on the field. The first came on Opening Day 2014, when Tori gave birth by emergency Caesarean section to their now healthily excreting 19-month-old, and Murphy took his full allotment of three days of paternity leave. Talk radio hosts blasted him for his selfishness and then apologized; Murphy was invited to speak at the White House about parental rights. The second came during this season's spring training. Billy Bean, among the first former major leaguers to publicly identify themselves as gay, visited the Mets' facility in Port St. Lucie, Fla., in his role as baseball's Ambassador for Inclusion. After the visit, Murphy, a devout Christian, controversially said, "I do disagree with the fact that Billy is a homosexual," while stressing that he would accept a gay teammate and invest in him on a personal level. Murphy no longer discusses the issue, and in both cases the news cycle quickly moved on.
The day after drawing a playground crowd, at the Mets' first mandatory pre-Series workout at Citi Field, it became clear that Murphy's profile had been raised there too. In the past, members of the media had relied on him for an occasional pithy, good-natured, generally teammate-focused quote when Wright and the club's many young aces were unavailable. Now they all clamored for him.
The only place that could be found for a quiet word was the team's medical-examination room, deep in the clubhouse. There, Murphy—who had never before hit more regular-season homers than this year's 14, or hit five in a single calendar month—recounted the at bats that changed his life. It turns out that the series of events felt to him as it did to observers. It seemed lucky, at first. Then it became apparent that something unprecedented and awe-inspiring was happening.
Murphy's first postseason home run came in Game 1 of the NLDS, against the Dodgers on Oct. 9, off a 94-mph fastball that Clayton Kershaw, the best pitcher of his generation, grooved right down the middle. "I was fortunate enough to get a 2--0 fastball and put a good swing on it," Murphy says. His next bomb came in Game 4, four days later and also off a Kershaw fastball. Murphy considers that one to be lucky too; it cleared the rightfield fence by only a few feet. It was during his next at bat against Kershaw that Murphy says something started to seem different. Murphy didn't even get a hit; he flew out to center. But even though he was facing a three-time Cy Young Award winner, nothing about what Kershaw had done had seemed particularly challenging. As Murphy trotted to the dugout, he thought only one thing: O.K., that felt slower.
The next four games confirmed that Murphy had entered a zone to which all athletes aspire but few experience at length. He homered off Zack Greinke in Game 5 of the NLDS, and then Jon Lester, Jake Arrieta and Kyle Hendricks in the first three NLCS games against the Cubs. In the next one—the potential series clincher—he did something that seemed to transcend the realm of the merely incredible and enter that of the impossible.
The Mets were up 6--1 in the top of the eighth. Fernando Rodney was on the mound in relief. The 38-year-old righthander is a few years past his All-Star prime, but he still possesses two devastating pitches: a fastball that's in the upper 90s, and a changeup that sits in the low 80s. Mets hitters knew that, when facing Rodney, you have to pick one to try to hit. Murphy told everyone on the Mets' bench who would listen he would be looking change.
Murphy let a fastball sail by for a ball and then another sail by for a strike. As Rodney prepared to throw his third pitch, Murphy was still waiting for a changeup. He thought Rodney was about to give him one, so he began to swing. "Looking for a changeup and swinging at a fastball is a recipe for getting out," Murphy says. "I've done that plenty of times, believe me." At the moment he made contact with the pitch, which came in at 96 miles an hour, he thought, "That's not a changeup. This is not good."
Then? "I hit it. And it just kept going. Oh, my goodness."
As Murphy trotted around first, with his right arm raised in the air, the Mets' bench reacted with surprise—"flabbergasted," was the word several of its occupants would later use—but not for the same reason as most in Wrigley Field. It was not that the formerly light-hitting second baseman was now the sole owner of a postseason power record. It was that they knew that he had done what is never done, which is look for 83 and hit 96 out of the park. Such a feat represented the final confirmation that Murphy was in the midst of an extended athletic performance at a level that none of them, and hardly anybody, had ever before attained.
With a World Series appearance now secured, there were two pressing questions about Daniel Murphy. The first: How was it that he, like his team, got so hot at just the right time? The second: Is this sustainable, not just in the World Series, which was to begin on Tuesday against the Royals in Kansas City, but after?
By late last January, life was going rather well for Kevin Long, all things considered. The 48-year-old had been let go after eight seasons as the Yankees' hitting coach on Oct. 10 but had been hired to fill the same position by the crosstown Mets less than two weeks later. He and his wife hadn't even had to move out of their Manhattan apartment. Now he was on vacation at his uncle's house, in Hawaii.
Still, Long was stressed out. He had checked in with most of his new hitters, but only one had asked for a full, written evaluation of his strengths and weaknesses, and how he might improve. "A lot of people said that Daniel would be my toughest challenge because he was so intelligent, because he was so set in his ways," Long says. As he nervously paced around his uncle's pool, Long composed an extensive email on his phone to the career .290 hitter. "I hit send, and I was like, 'Oh, crap, I wonder how this is going to turn out.'"
Murphy had long been known for his unusual ability to get a piece of virtually any pitch. "His eyes and hands work as well as any human being's on the planet," says Steve Barningham, who scouted him for the Mets before the club drafted him in the 13th round in 2006. "If he sees it, he can hit it."
Murphy grew up in Jacksonville, Fla., the oldest of the three children born to Tom, who used to own a lawn maintenance company and is now an elementary school teacher, and Sharon, a secretary at a seafood company. Though the straitlaced Murphy might not make such a comparison, the act of hitting for him has always been like a drug. When he is not actively hitting, he is talking about hitting. "Baseball is one of those sports that can be kind of boring as a kid," says his younger brother, Jonathan. "You just sit there, you put the ball on the tee and hit it over and over and over again. He found joy in that."
"I really like hitting the ball on the barrel," says Murphy. "It's fun. When you center a ball"--he claps his hands—"it's just a really clean feeling."
Lee Geiger, Murphy's coach at Jacksonville's Englewood High, recalls that Murphy would regularly linger in the school's batting cage for up to two hours after practice had ended. "As a coach you're happy about it, but at the same time it's like, 'O.K., kid, let's go, turning the lights off,'" says Geiger.
If Murphy squared almost every ball up, he rarely did so with any power. In high school he hit as many home runs as he received college scholarship offers: one. At Jacksonville University he quickly became a team leader along with his classmate Gordie Gronkowski—the 6'6", 250-pound eldest brother of the hard-partying clan that includes the star tight end for the New England Patriots, Rob.
In college, when Murphy wasn't talking about hitting, he was hitting. "If he had a break in his class schedule, he'd hit balls off the tee still dressed in his school clothes then go back to his next class," says then Jacksonville coach Terry Alexander. His goal was the same as it had been in high school. "He was just looking for contact," says Chris Hayes, Jacksonville's hitting coach at the time. "It didn't matter where it was—he would swing at it. And he would hit it."
The result was a high batting average—.366 over his three collegiate seasons—and a lot of singles, some doubles, but only nine home runs. When Murphy was at Jacksonville, the team was heavy with Mets lineage. The son of Tony Bernazard, who then directed the club's minor leagues, played second base. The son of Howard Johnson, the longtime third baseman who would go on to become the Mets' hitting coach, was an outfielder. Even though the brass in New York were familiar with Murphy, Barningham knew he would have to fight to get him drafted after his junior year. "When you go to the ballpark, you're trying to find power, speed and throw," says Barningham. "Daniel didn't show any of that. But if you sat there long enough, it revealed itself."
One day in 2006, after Murphy had gone 4 for 4 against the University of North Florida, Barningham approached the young contact hitter as he was about to take batting practice. "Hey, man," Barningham said. "I don't want to knock you out of your rhythm, but can you at least prove to me that you can pull the ball so I can fill out my report?"
"He hit eight out of the next 10 over the lights," he says. "I got in the car later that afternoon, and I felt like I found Wade Boggs. This guy is sacrificing his power to hit. But there is power in there."
Barningham vowed that he would not leave the Mets' draft room until they had selected the subpar defender and base runner with nine homers in three years. "The quote I got after we took him was, 'If this guy doesn't hit, you're fired,'" Barningham says. "I knew he'd hit."
He did. His major league debut came 26 months after he'd been drafted. However, even after that batting practice session in front of Barningham, Murphy wanted nothing more than to be exactly the same type of hitter he always had been. "I'm stubborn," he says. "I came up to the big leagues, and I could spray the ball all over the field. I enjoyed watching Tony Gwynn. That's who I grew up on. I would try to take pitches I should probably pull and hit them the other way."
Murphy studied hitting constantly. He rarely struck out. But he didn't seriously consider trying to become anything different until his phone pinged with Kevin Long's email late last January. Long's message was, in some ways, complicated. It included thoughts on how he might sit lower in his stance, to improve his balance, and how he might adjust his hand positioning and foot plant, to improve his timing.
At its heart, though, it was simple, and it was based on the same theory with which Long had once helped Robinson Cano transform from a high-average contact hitter into a genuine slugger. Since you hardly ever swing and miss, why don't we see what would happen if you start looking for pitches in your wheelhouse—over the middle of the plate, or middle-in—and try to hit the crap out of them?
Five minutes after Murphy received Long's email, he replied. Then he walked into the darkened bedroom of his off-season home in Jacksonville, where Tori was about to go to sleep.
"Baby," Murphy told his wife. "This guy gets it. He gets it. Kevin Long, he gets it."
The early results weren't good. "Oh, it most certainly wasn't working in April," Murphy says. By the end of this season's first month, Murphy was hitting .198, with two homers and a slugging percentage of .346. Even so, he stuck with the first change in hitting philosophy he'd ever even considered in his life, mostly because Long continued to explain it in a way that made sense to him.
Few noticed—in part because of the nightly pyrotechnics being ignited by his new teammate Yoenis Cespedes—but Murphy became a different sort of offensive threat starting around Aug. 1, when the Mets began to race away from the Nationals to win the NL East. Over his final 50 regular-season games, Murphy hit eight homers and drove in 37 runs, with a slugging percentage, .533, that was a single point lower than Miguel Cabrera's for the year. At the same time, his batting average was as high as ever—.296—but he was striking out even less. In 2015, no one had as good a ratio of plate appearances to whiffs as Murphy's 14.2 to 1.
Everyone is noticing now. Rather than giving him a wide berth, as they might to a pitcher in the midst of a no-hitter, his teammates are all over him, as if he is a talisman whose powers are communicable by touch. "Some of the guys will come up to me and try to rub my arms," says Murphy. "I give 'em a big old hug. Take it all! I'm a hugger, anyway." Before Game 4 of the NLCS, Lucas Duda, the streaky 6'4", 255-pound slugger who had begun the playoffs by going 3 for 24, enveloped him in a mammoth embrace. On that clinching night, Duda went 3 for 4 with a home run and five RBIs.
Murphy was the last Met to emerge from the visiting dugout at Wrigley Field after Game 4 to celebrate with the fans who had gathered above it. He had been busy accepting the NLCS MVP award—a no-doubter, as he'd batted .529 to go with his four homers. "RE-SIGN MURPHY!" the delirious fans chanted, once he appeared. "RE-SIGN MURPHY!" After seven seasons in New York he will become a free agent when the World Series ends. Suddenly, the city is begging the tightfisted Mets to bring him back.
From a financial perspective Murphy's breakout couldn't have come at a better moment. On Sunday Nick Cafardo of The Boston Globe reported that, according to an unnamed AL general manager, the second baseman might now command a five-year, $75 million deal, and perhaps more. Murphy demurs when asked about the subject. "There's two teams right now that don't have to answer off-season questions," he says.
To the certain delight of his agency, ACES Baseball, there is, on one level, a logical way to explain how Daniel Murphy has done what he has over the past two weeks. He has, like his club, figured out how to exploit his natural gifts and his hard-earned skills. "He's a better hitter and player now than he was coming into the year," says Long. "That's all I can tell you."
So, yes, you can say that Murphy, like this iteration of his team, has tapped into something that was inside him all along, with a World Series left to prove it. Still: home runs in six straight playoff games? That's just magic.