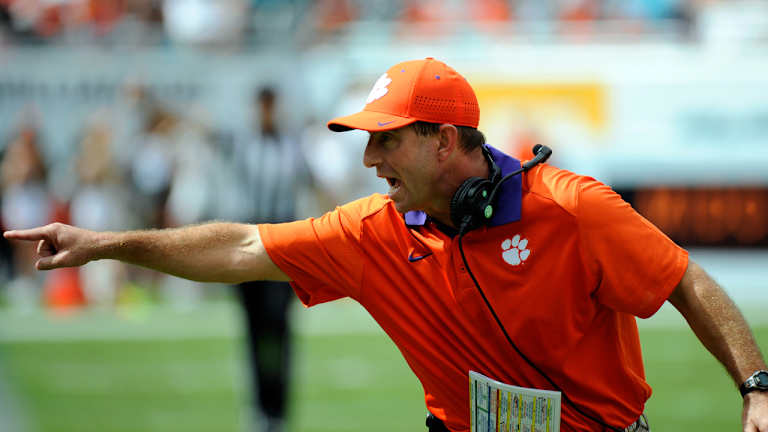 P.A.W. Patrol
You don't know Clemson's Dabo Swinney: The colorful, charismatic Swinney is the new king of football in South Carolina.
Hurricane Joaquin​​​ is churning off the South Carolina coast, and storms that will soon bring historic flooding to the state are gathering. Still, a few hundred people venture to the Wren High football stadium on this gray Thursday evening. Everyone is here for a junior varsity showdown between Wren and Daniel High. Five dollars gets you in the door. Then you find your team's fans and cheer.​
Midway through the second quarter the father of Daniel High's starting slot receiver climbs the steps on the visitor's side. He has come straight from work, calling his wife for an update on their son Drew during the half-hour drive from Clemson to Piedmont. He is wearing a gray warmup jacket, plus a cap emblazoned with a blue Daniel d. A familiar face catches his eye as he nears Kathleen.
"Boy, Phillips," Dabo Swinney says, "you made it all the way up these stairs?"
Jim Phillips was Swinney's trainer at Pelham (Ala.) High and is now a regular around these parts during football season. He laughs as Dabo smooches Kathleen, his wife of 21 years, before settling in. Dabo didn't think there was any way they'd play, because it was pouring in Clemson. That's where he coaches a college football team that will play one of its biggest home games ever in about 48 hours, a night that will go a long way toward determining its national championship fate. "So, Drew had a nice play?" Dabo asks Kathleen, who confirms that their 15-year-old middle son made a long reception up the sideline. Still, Daniel is losing by a couple of touchdowns as a kickoff lands in Drew's hands.
Hit it, his father says, nearly to himself. Then the ball pops out. A Wren player falls on it. Dabo drops his head in his hands. "Oh, my gosh, Drew," he says. "Aw, he's going to be sick."
Two nights later, in a cascade of rain, Clemson beat Notre Dame 24–22 in one of the most thrilling games of the 2015 season, establishing the program as a College Football Playoff contender. Afterward the Tigers' sopping coach yelled that the game was "B.Y.O.G.: Bring Your Own Guts," yet another colorful phrase from his ever-swelling archive. In the announcement of the initial CFP rankings a month later, his team—ranked 12th in the preseason—will be No. 1. Dabo Swinney will have plenty of opportunities to add acronyms to the football lexicon.
William Christopher Swinney​​ known as Dabo—a derivation of That Boy, which is what his older brother, Tripp, called him—wanted to be a pediatrician like Edward Goldblatt, the only physician he would see for his first 26 years. "Whenever I saw Dr. Goldblatt, I usually didn't feel good, but he always made me feel better," Swinney says. "I just loved that. I wanted to do that."
But after taking 2½ years of premed classes at Alabama—and realizing it would take another seven years to become a doctor—Swinney's heart was no longer in it. Still, it wasn't until after he had won a 1992 national championship ring as a walk-on receiver and after he became the first member of his family to earn a college degree (in commerce and business administration) that he figured out what he truly wanted. After a week of working as a Crimson Tide grad assistant, it hit him: He was happy. This was what he was supposed to do.
Some 22 years later Swinney sits in an office festooned with autographed footballs and life-sized cutouts of former players, reminders that his instincts were correct. After beating No. 17 Florida State 23–13 last Saturday, he has the 9–0 Tigers in position to win a national title for the first time since 1981—a breakthrough for a man who has always believed the best is yet to come, despite plenty of evidence to suggest it won't.
Dabo was the youngest of three boys. His mom, Carol, spent her first 11 years in a children's hospital, crippled by scoliosis and polio. His father, Ervil, battled alcoholism and was at times estranged from the family. Dabo became the rock of the household at a young age, playing three sports at Pelham High and cutting grass or cleaning gutters to bring in money. He and his mom stayed with a friend his senior year because they had been evicted from their home. Dabo's life was effectively contained in a storage shed. "You kind of have this facade of everything is all together, but your life is a complete disaster," Swinney says. "I mean, you're going home and sleeping on an egg crate on somebody's else's floor."
Swinney had been a wide receiver in high school, and after watching three Tide games as a freshman, he turned to Kathleen, whom he had known since first grade, and said, I can do this. He endured a walk-on weed-out program that involved 5:30 a.m. workouts in a heated gym three days a week in January and February—"It was just a throw-up routine, bottom line," he says—and became one of just two from the original group of 42 to earn a spot for spring practice in March. As a senior wideout he lettered on the national championship team. (Carol, struggling to make ends meet while working at Kmart and other retail stores, was living in his off-campus apartment at the time.) Swinney joined Gene Stallings's staff as a wide receivers and tight ends coach, and except for three years working in commercial real estate after he was let go in 2001, he has been on the sideline since.
At Clemson, Swinney was promoted from an assistant head coach to interim coach after Tommy Bowden resigned in October 2008, then landed the full-time job that December. The Tigers hadn't had a 10-win season since 1990 or an ACC title since '91, and they were far from a mortal lock in Death Valley. They have gone 50–11 since 2011 and 34–2 at home; only one player on the current roster, fifth-year senior receiver Charone Peake, has lost to a team that didn't finish in the Top 10. The Tigers have a Heisman candidate in 6'2" sophomore quarterback Deshaun Watson, who threw for 297 yards and a touchdown against the Seminoles last Saturday, and the nation's fourth-ranked defense, which allowed just one TD.
It is no small thing to say that Clemson is at the top of the college football universe this season—but it could have reached that perch in other seasons this decade as well. There was an 8–0 start in 2011, followed by a 2–4 finish. Two years later the Tigers opened 6–0 before getting routed 51–14 by Florida State. Yet for all of the losses that might have twisted his perspective, Swinney has kept his approach the same. "We're going to have one of those special seasons," he says. "It's gonna happen. Maybe the ball bounces off the guy's head or whatever and lands in our arms and we run for a touchdown. We're going to have that year.
"Am I happy where the program is? You better believe it. Very, very happy. Am I satisfied? Not even close. I want to get to the top. I want to be the best. But I want to do it the right way and to enjoy the whole deal."
In the lobby​​ on the west side of Memorial Stadium, a mural chronicling Swinney's tenure features nine pictures of him. He is smiling in every one. There is no Pensive Dabo or Intense Dabo. Just different iterations of Gleeful Dabo.
It's Wednesday—Family Night at Clemson. Coaches and their wives wheel strollers through the stadium's lobby and into the elevators, heading to the fourth floor, where kids wrestle and high-five Tigers players, who arrive to find a massive spread including fettuccine Alfredo, chicken cordon bleu and crab cakes with rémoulade—their training table having been moved upstairs. The team, the coaches and their families catch up while the stadium scoreboard glows in the background.
Swinney glides around the room and kisses an eight-week-old baby that his wife is holding, then points to a camera and tries to coax a smile. (He does not get one.) Just before walking out, he spots a little girl and makes at least three attempts at physical comedy to elicit a reaction. (He does not get one.) "The Coach Swinney y'all see is the Coach Swinney we see," says sophomore tailback Wayne Gallman, "pretty much all the time."
The Swinney everyone sees dances after victories. He doesn't really know what moves he made after a 20–17 win at Louisville on Sept. 17, calling it "a combination of the Whip and the Nae-Nae and the Stanky Leg and something called the Forks." The pantheon of Swinney acronyms includes, for starters, P.A.W. (Passionate About Winning) and A.L.L.I.N. (Attitude, Leadership, Legacy, Improvement, New Beginnings) and B.Y.O.E. (Bring Your Own Energy).
All this would be silly if it didn't work like a charm. How many times can teenagers hear coachspeak before it becomes white noise? During the week before the Tigers faced the Fighting Irish, Swinney saw a piece of grass growing amid cement steps at Memorial Stadium and fashioned a lecture around one of his favorite aphorisms: Bloom where you're planted. Do your best given your circumstances, no matter how challenging they are.
"Sometimes we make fun or pick at him for the things he does, but we wouldn't have it any other way," says fifth-year senior offensive lineman Eric Mac Lain. "We could be walking around on campus and we see someone pick up some trash, and we'll impersonate a Coach Swinney speech in front of the team, and everyone just dies laughing. It's funny, but at the end of the day, this guy can motivate anybody to get ready to play football."
Swinney can lose his smile at times. After the Tigers' 43–24 win over Georgia Tech on Oct. 10, a reporter asked how this team has been able to avoid "Clemsoning"—that is, stumbling against inferior opponents, as the Tigers have done in the past. That prompted a 51-second screed during which Swinney insisted the word be flushed from everyone's vocabulary. (Watching on TV, Mac Lain heard the query and cringed. "I was like, Aw, what poor soul said that to him?") Swinney kept his players on the field at halftime of a 58–0 win at Miami on Oct. 24, calling the setup that forced both teams to head to their locker rooms through the same tunnel "bush league." And Swinney's part in comedian John Oliver's epic anti-NCAA segment on Last Week Tonight in March remains memorable: Oliver highlighted Swinney's comments that players should not be paid for their efforts and then derisively noted the coach's name is an anagram for Soybean Wind.
"You have to be at peace with who you are," he says. "I'm not above reproach. I screw up. I don't claim to be perfect. So when people point out I'm imperfect, so what? That's just who I am. If that bothers somebody, I can't worry about that. I don't try to judge people. I just try to be who I am."
Late on Sundays​​, Swinney would pull out of the Clemson football offices in his truck and call his dad. "What you doing?" he would ask.
"Oh, I ain't doing nothing," Ervil would reply. "What you doing?"
"Aw, just riding home, checkin' on you," Dabo would say.
Ervil would offer an opinion on Clemson football, or Dabo would ask about the last game or the next opponent. When Ervil was diagnosed with lung cancer for the second time last summer, he moved in with Dabo for eight weeks of radiation and chemotherapy. The cancer, Dabo explains, was a blessing. If it wasn't for the disease, then father and son would have never had time to sit around in their pajamas and chat all night, or ride around town in the truck, or go see the boys play ball. Ervil was never happier. He'd remarried. He'd quit drinking. He'd quit smoking eight years ago, after the lung cancer first appeared. He'd taken charge of a life that was out of control for too long. Even as he fought the disease, Ervil was at peace.
When the treatments were over, Ervil was back at M&M Hardware near Pelham, the store from which he ran a washer-and-dryer repair business, presiding behind the counter, solving all the world's problems right there. Then, on Aug. 8, Ervil died at 70. "Just quit breathing," Dabo says. His dad had recently seen the heart doctor and talked all the time about how good he felt. He was gone, just like that, leaving Dabo with just his mom, who had remarried and was still living in Alabama.
"Still got two or three voice mails I can't let go of," Dabo says. "I miss him. When you lose a parent, it's a strange feeling. It's a hard thing to get used to. I got all these pictures and voice mails from my dad, and it's like he's speaking to me from the grave. But I had great peace at his funeral because I know where he is. I know he is very happy. He was a fighter. He fought. I was just so proud of him."
From his seat​​ near the top of Wren High's stadium, Swinney laments the distance to the only open concession stand, across the field. Yet he is famished, having driven straight from practice. He is a God-fearing man, but he still falls prey to temptation. "Popcorn, pickle, get me a Slim Jim, a Diet Coke," he says. "I love it."
He loves all of this, really, especially the balance. For years Swinney followed the same pregame routine with his team. On Friday nights he took the Tigers through game prep and then to the hotel. There, they had chapel and ate dinner. The last voice the players heard before going to their rooms was Swinney's, when he closed a Friday-night meeting with a motivational speech.
When his oldest son, Will, earned a spot as a receiver on the Daniel High varsity, Swinney called an audible. Now his meeting with the players occurs earlier on Fridays. Then the Tigers go to a movie, and chapel takes place on Saturdays. This allows Swinney to hustle out and be a dad in the stands. He tailors the job that pays him in excess of $3 million a year to the rhythm of his sons' games. "It's what I do, it's not who I am," says Swinney, who also coaches his youngest son Clay's travel baseball team over about 10 weekends between March and June. "That's important. You can't let this job define you."
At the moment his job is to watch jayvee football and hope for a comeback. Momentum soon turns in Daniel's favor. A 55-yard touchdown sends a jolt through the visiting sideline. "There we go!" Swinney yells. "Bada boom, bada bing!" Daniel will score again to take the lead. Then, in the fourth quarter, the Lions begin a march to put away Wren.
With a little less than nine minutes to play and the ball at Wren's 20-yard line, a pass arcs high toward receiver Drew Swinney, sprinting along the near sideline.
Dabo's eyes track the ball and his boy. "Go get it!" he says. "Go get it!"
The pass lands in Drew's hands, and he crosses into the end zone. It's 30–21, Daniel. It is a dagger touchdown, effectively obliterating the confidence that Wren built early on.
"Boom!" Dabo yells, standing to punch the air. "Hot dog! A little out-and-up! Nice throw!"
Shortly after​​ being named Clemson's permanent coach, Swinney attended a lunch banquet in Spartanburg, S.C. He and several other coaches were to give five-minute speeches, but when Swinney found his seat, he couldn't believe it: He was next to Bill Curry, his first coach at Alabama, who was then the coach at Georgia State. Swinney wasn't sure if Curry would remember him. But Curry did, telling his former walk-on receiver how proud he was of the man he had become. Then, after some small talk, Curry cut to the chase.
"Dabo, you haven't asked for my advice," he said, "but I'm going to tell you three things."
Caught off-guard, Swinney scrambled for something to write on. He found a small piece of white paper and listened. Curry told him to find a good financial adviser, given the volatility of the profession. He told him never to sacrifice his family for the job; that, Curry said, was his biggest regret. But it was the very first piece of counsel that resonated most with Swinney.
The scrap of paper still sits near his desk in Memorial Stadium. The date is written in blue ink at the upper right corner: 12/19/08. To the left is the name "Bill Curry," underlined. And two words, scribbled next to a number 1 with a circle around it, have served as Swinney's guiding principle as he has struggled and soared.
"Be Dabo."