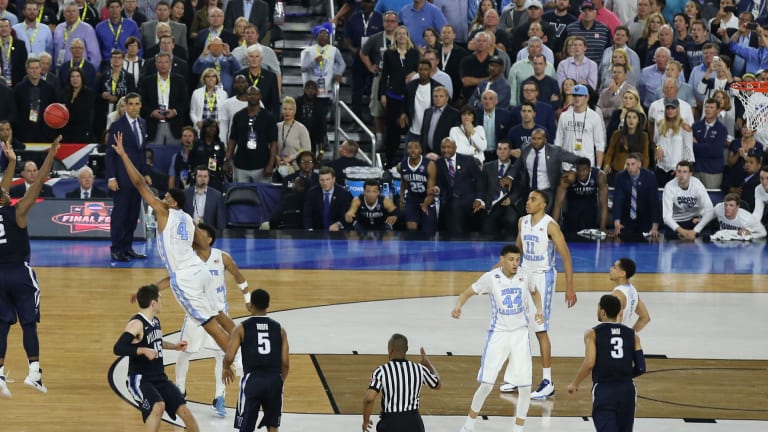 Philadelphia Threedom
A taut, thrilling final came down to a couple of shots for the ages in Houston, where senior-led Villanova shook off its recent tournament disappointments, toppled mighty North Carolina and claimed the school's first title since 1985.
For Villanova, March 21, 2015, was a hard night in a hotel across a boulevard from the Allegheny River. No one in that conference room of the Renaissance Pittsburgh knew it then, but the water flowing nearby followed a route that would redeem them. A few blocks away the Allegheny, which begins in Pennsylvania and detours through New York, joins the Monongahela to form the Ohio River. From there it rushes south and then west, passing along the backside of the Louisville arena that would host the NCAA tournament's South Regional one year later, and eventually merges with the Mississippi, rolling on down to empty into the Gulf of Mexico, a short drive from Houston, site of the 2016 Final Four. That evening was not for musing on the hidden meanings of waterways. All the Wildcats could do was survey their latest shipwreck.
'Nova's third straight early exit from the tournament had been its most devastating of all—a 71--68 loss as a No. 1 seed to No. 8 North Carolina State in the second round. The Wildcats ate their postgame meal and listened to coach Jay Wright say, "Inside this program, we won't let this define us"—but everyone knew that everywhere else, it would: An 82--22 record over the past three seasons would be obscured by the Wildcats' reputation as First Weekend Floppers. As the clock passed midnight, players trickled out of the meeting room, but a table of juniors—point guard and captain Ryan Arcidiacono and walk-ons Patrick Farrell and Henry Lowe—remained seated. Wright eventually joined them for a conversation that was part postmortem, part seed planting for 2015--16. "We always expected a game to come along where we wouldn't have our best offense," he told them, and this had been it: 'Nova could not overcome shooting 31.1% from the field.
They discussed what they could do to avoid running aground again. All were in agreement that it was vital for their defense to fuel their attack, and not the other way around. Wright told them that in next season's practices, he was going to reference this loss whenever anyone wasn't defensively locked in. Arcidiacono vowed to do a better job of leading when the offense was stagnant and the Wildcats were facing a more athletic team. It would be on him, he said, to keep everyone connected, to make the right decisions.
But there was only so much that could be fixed that night. When Arcidiacono showed up at his parents' room after 1 a.m., the state his father, Joe, found him in was "like a girlfriend-broke-up-with-you kind of sadness." Seven days later his oldest sister, Sabrina Smith, and oldest brother, Michael, took him to Frankford Hall, a Philadelphia beer garden, for his 21st birthday, hoping to make it a joyous occasion. Frankford Hall is no sports bar, but it does have a few TVs, and as the Elite Eight thriller between then unbeaten Kentucky and Notre Dame approached its denouement, nearly everyone in the place was watching—except Arcidiacono. "This should be us," Arcidiacono kept saying to Sabrina, with his back to the tube. "We should be playing in a game like this."
One year and eight days later, on a raised court in a dome in Houston, a play was once again developing behind Arcidiacono's back. This time Villanova was tied at 74 in the final seconds of the national title game against North Carolina, the ball was in his hands, and a voice was screaming behind him. It was so loud, it had so much conviction and it was so familiar that Arcidiacono could single it out in the crowd of 74,340 at NRG Stadium.
Arch! Arch! Arch!
It was junior Kris Jenkins, the inbounder on a play the Wildcats call Nova—one they saved for a last-second situation, in a game they'd forever longed to be playing in, a game that may go down as the greatest NCAA final of all time. Nova's first option was Arch himself, driving off 6' 11" senior forward Daniel Ochefu's screen at midcourt. This had worked for Villanova in the final seconds of the 2009 Elite Eight, with point guard Scottie Reynolds sinking a layup to beat Pittsburgh. The second option was sophomore guard Phil Booth, coming off a screen in the corner. The last option was Jenkins, the trail man and the voice.
"They always forget about the inbounder," Arcidiacono said after the game.
"And Arch," Jenkins said, "always makes the right decision."
No one dreams of making the winning pass. But Arcidiacono engaged two defenders—his man, Joel Berry II, and 6' 9" Isaiah Hicks, who was guarding Jenkins—and dribbled diagonally right across the top of the key. He then turned his back to the basket and pitched the ball to a wide-open Jenkins. A formerly overweight and underappreciated recruit from Washington, D.C., Jenkins has grown to embody the Villanova motto: Shoot 'em up and sleep in the streets. In other words, never second-guess an open look and never worry about the outcome. That made him the perfect triggerman in this situation, because there was no time to hesitate. Just 0.6 of a second was left as he released his righthanded jumper.
If the outcome had been different, if Jenkins had slept in the street, this still might have been a legendary final. During a media timeout with 11:54 left in the second half and 'Nova up 49--46, the stadium video boards showed highlights from two classic title games: 1982, when North Carolina's Michael Jordan hit the game-winning jumper against Georgetown, and then '85, when the No. 8--seeded Wildcats shot 78.6% to pull off a seismic upset of Georgetown that's still referred to as the Perfect Game. It was as if these back-to-back clips from the vault stirred up magic in the building, and a long glance around the periphery of the court revealed a surprising number of characters from those classics: There was Jordan, a few rows behind the Tar Heels' bench; Big John Thompson Jr., the Hoyas' coach in '82 and '85, courtside calling the game for Westwood One radio; Rollie Massimino, 'Nova's coach in '85, sitting behind the Wildcats' bench; and nine players from that team, including Most Outstanding Player Ed Pinckney, sitting in section 109. Collectively they looked on as the 2016 versions of Villanova and North Carolina trumped their title-game finishes.
The Tar Heels had entered the game No. 1 in offensive efficiency but, like Oklahoma, Kansas and Miami before them, had been thrown completely out of rhythm by the Wildcats' mix of switching man-to-man, 1-2-2 press and 2--3 zone. 'Nova hit eight of nine shots to open up a 60--53 lead, which grew to 67--57 with 5:29 left. Carolina came back, drawing even with what seemed destined to be the shot of the tournament. Senior guard Marcus Paige's twisting, leaning trey with 4.7 seconds not only tied the game at 74 but also earned Jenkins's respect. "[Paige's] shot was tougher than mine," he said.
But 'Nova ran Nova, Arcidiacono made his read and Jenkins let fly with half a second left and one thought in mind: "Ball game." The buzzer went off. The ball went in. 77--74, Wildcats.
By the time he reached the sideline in front of the team's family section, Jenkins had a few other thoughts. He had arrived at school weighing around 280 pounds; it had taken him three years of work to mold himself into a 240-pound power forward who could also roam the perimeter. "What can they say about me now?" Jenkins bellowed to the crowd, then pointed to the inside of his right forearm and yelled, "Ice in my veins!"
TBS announcer Jim Nantz, who'd just called his 26th final, wandered the confetti-covered hardwood in a partial state of shock. "It was epic, it was Ali-Frazier," he said. "And I have no idea what I said at the end. I know I completely lost my mind." So did the 81-year-old Massimino. "I almost jumped on the court," he said after he'd been helped up onto the floor by a friend to watch "One Shining Moment" play on the big screens. Thirty-one years after the Perfect Game, he had witnessed the Perfect Ending.
It was, all at once, a testament to small ball, to team ball and to the ongoing revolution of the three-ball. Villanova used one player taller than 6' 8", and played most of its minutes with the 6' 6" Jenkins at the four. The Wildcats had no singular star—Jenkins finished with 14 points, Booth came off the bench to score 20 and Arcidiacono, the Most Outstanding Player, had 16—and they're the first champions since Indiana in 1987 without a likely first-round NBA draft pick. They took the highest percentage of their shots as threes (42.7) on the season; only one other title team, Duke in 2001, had a rate higher than 40%, and the average for all champs since the line went into effect in '87 is 27.1%. The Wildcats dialed back their long-range shooting volume in the NCAAs, taking 14 of their 48 attempts from deep in the title game, but the shot they'll forever be remembered for is Jenkins's three.
When Jenkins entered the locker room after the game, the team was in mid-prayer. Rev. Robert Hagan, an associate athletic director who wears the collar of the clergy and goes by Father Rob, was telling them to be proud of their entire journey, not just the outcome. Celebrating Easter while still playing in the NCAA tournament had been a first for these Wildcats, and on Holy Thursday, at Louisville's South Regional, Hagan had the Wildcats wash one another's feet before the team meal, as a reminder that everyone, from starters to walk-ons, had equal status. That night Villanova delivered the most efficient offensive performance of the tournament, scoring 1.57 points per possession in a rout of Miami that grew so large—23 points by the end—that the walk-ons received playing time. In Houston, Hagan preached about the skepticism that had followed the Easter miracle. "Not everybody believed," Hagan said. "And faith is believing before you see, when your ship is on the horizon and you don't know what's on the other side."
But in last Saturday's semifinal against Oklahoma, the Wildcats found themselves in the peculiar position of not being able to believe what they could see: a final score that read Wildcats 95, Sooners 51—the largest margin of victory in the 78-year history of the Final Four, topping the 34-point beatdown Michigan State and Magic Johnson put on Penn in 1979. 'Nova had lost to Oklahoma by 23 on Dec. 7 at Joint Base Pearl Harbor--Hickam, and the Wildcats were favored by only two points in the rematch. Who could have expected that they would shoot 71.4% from the field?
In its first practice after bouncing top seed Kansas in the Elite Eight, Villanova rewatched its loss to Oklahoma and saw a defense that was totally disconnected. This just isn't us, senior walk-on Kevin Rafferty thought as the tape rolled. Please make it stop. Long before the national semi was over, the Sooners seemed to be saying the same thing: Naismith Award winner Buddy Hield, who bombarded Oregon with 37 in the West Regional final, was held to just nine points, a feat of defensive switching and corralling that called on all eight members of the Wildcats' rotation—from Arcidiacono all the way up to Ochefu. It was something that Wright said his team couldn't have done a month earlier, but that no longer mattered. "This tournament isn't about finding out the best team," he said after beating the Sooners. "It's about finding out who's playing the hottest at this time. And I think we're ... getting better and better defensively as we play in the tournament."
Of the 13 million people who filled out brackets on ESPN.com, the most popular national-champion picks were Kansas (25.0%), Michigan State (22.3%) and North Carolina (14.6%). Only 2.6% had Villanova, but one of those was the most famous man in the building on Final Four Saturday. Vice President Joe Biden, a Syracuse law school grad whose wife, Jill, received a master's from Villanova, told SI after the Wildcats' rout, "I had Villanova winning it all in my bracket, so I am doing quite well right now." His boss had Kansas beating 'Nova in the Elite Eight. Obama may be the Hoops President, but Biden schooled him in bracket forecasting. The first Catholic veep saw this coming over the horizon.
On the morning of March 30, Villanova held its final workout of the season at the Davis Center, its practice facility. The Wildcats huddled up at center court and did something traditional, called Attitude, in which they recognized the player with the day's best stats in non-box-score categories that Wright deems essential to winning. And then Ochefu, aka the Attitude King for having the most wins on the season, made a nontraditional demand.
"Arch," Ochefu said to his point guard. "We have to go kiss the V."
"What are you talking about?" Arcidiacono said.
"The V!" Ochefu said, pointing to the white-and-blue logo at half-court. After thousands of hours on that floor he felt that 'Nova's two scholarship seniors needed to give it a proper goodbye. Wright asked a team staffer to take and tweet out a photo of Ochefu and Arch simultaneously bussing the logo, and when the coach was asked about it a few hours later, at the team's Houston-departure pep rally, a rare crack appeared in his steady-cool demeanor. "I can't.... I can't talk about it," Wright said, stumbling. "That's why I'm wearing [sun]glasses."
Behind his designer shades, the 54-year-old Wright was tearing up over the thought of his final days with the bookends of his starting lineup. One of them had come straight out of casting as a perfect extension of his coach. "It's amazing—he is me," Wright said after his team's second-round win over Iowa, discussing how little he has to instruct Arcidiacono and how much coaching Arcidiacono does unprompted. "He takes care of everything." Arcidiacono is the player that Wright, a former Bucknell guard, wanted to be, and other Wildcats are so aware of this that they jokingly refer to Arcidiacono as Wright's son.
Arcidiacono's actual parents, Joe and Patti, met as Villanova students in the late 1970s. Joe was an offensive lineman on the football team; Patti lived on the same freshman-year hall as Wright's eventual wife, Patricia. Ryan and Wright played for rival Bucks County high schools, 30 miles north of Central Philly, three decades apart. When Ryan attended one of Wright's Villanova camps as a seventh-grader, the coach pulled him aside at the end of it and said, "Your parents bled blue and white, and so will you someday."
When Arcidiacono was out in the Pavilion's parking lot, he asked Joe, "Dad, do you think [Wright]'s being serious?"
"I think he is," Joe said. "He didn't look like he was horsing around."
So naturally, Wright offered a scholarship as soon as Arcidiacono began playing at Neshaminy (Pa.) High, and Arch accepted, right? No. In fact, Villanova slow-played it, Florida's Billy Donovan recruited Arcidiacono harder, Arcidiacono took a visit to Gainesville in October of his junior year, and the day he returned, he sat in his family's living room in Langhorne, Pa., and nervously informed the two most important women in his life—Patti and Sabrina, who was about to make him an uncle—that he really, really liked Florida.
They tried to be supportive, but when Ryan left the room and they thought he had gone upstairs, both women started crying. What if this really happens and he's never home? What's life going to be like without Ryan around? What if my kids barely ever get to see him play? It turned out he was in the kitchen, overhearing everything. He awkwardly reentered the living room. They apologized; Sabrina said they were just being emotional, not tactical. But they did ask him to keep an open mind about Villanova.
Arcidiacono committed to the Wildcats two weeks later. Five years after that he has become the winningest player in school history, with 117 victories. He started 144 games and has been a captain since January of his freshman year. One other starter from that 2012--13 team remains: Ochefu, whose trip from four-star recruit at Westtown School in West Chester, Pa., to 'Nova was just 14 miles, but whose greater basketball journey took him across the Atlantic Ocean and back.
He was born in Baltimore to a Nigerian father, Hassan, and a Cameroonian mother, Elizabeth. When Daniel was 11, Hassan told his four children he had made a decision: "I want you to understand what our background really is. I want you to get grounded at home." Home meant Nigeria, and getting grounded meant more than visiting on vacation. The Ochefus moved to Lagos, a metropolis of 21 million, and the children enrolled in school while Hassan continued his business of importing American cars. And although Hassan had once been a basketball player—he attended the University of Derby, in England, and played two seasons of pro ball in the early 1980s for Team Discounter Derby, earning a few hundred pounds per week plus lodging and a bus pass—Daniel began playing far more soccer in Lagos than hoops.
When Daniel was a 6' 7" 12-year-old, he attended the Big Man Camp in Lagos that was organized by Masai Ujiri, a Nigerian who's now the general manager of the Raptors. Ochefu was the youngest player there, and Ujiri brought him up in front of the group and said, "This guy is going to go back [to the U.S.] and do big things for us." Hassan's plan had been to keep Daniel in Nigeria through high school, and Daniel says had he stuck to that, "I would have become a soccer player, kicking a ball somewhere in Europe." But Hassan says Ujiri told him, "You've got to make a move here. This"—as in, the limited basketball development Ochefu was getting—"is not enough, and unlike these other kids, [Daniel] doesn't even need a visa to go to the U.S."
Ochefu was back in the States for his freshman year of high school, and he soon got on Villanova's radar due to his high offensive IQ. On Daniel's recruiting visit to the school, which was known as Guard U for producing pros such as Kyle Lowry and Randy Foye, Hassan said to Wright, "I hear this is a guard school."
"This is known as a guard school," Wright said. "But we've had some big men that are successful, and I know what to do with [Daniel] if I get him."
Villanova's coaches did not develop Ochefu to be an afterthought on a backcourt-dominated team; instead, they showcased him as the posting-and-passing cog around which its small-ball offense flows. The shooters space the floor and cut through the wide-open lane when Ochefu posts up, preventing defenses from doubling him down low. After he and Jenkins outplayed Kansas forwards Perry Ellis and Landen Lucas, Ochefu sat in his locker, with the regional-title net around his neck, and tried to get his point guard's attention.
"Everyone knows this is Forward U now," Ochefu said. "Arch: This is Forward U now, is it not?"
"It's like, Forward-Guard U," Arch said, trying to placate him. "The forward is definitely in there now."
Within the Wildcats' program, the most-used phrase is not Guard U, Forward U or any of its hybrids. It is Villanova Basketball, an all-encompassing term for the team's ethos that, to an outsider, is used to an almost comic degree. Had media members established a drinking game that required a shot of Jack Daniel's every time Villanova Basketball came out of a player's mouth in a press conference or interview, anyone covering this team would have been hospitalized for alcohol poisoning by the Sweet 16.
These are but a few examples: After an 86--56 win over UNC-Asheville in round 1, Ochefu responded to a question about being more active in the second half by saying, "I eliminated everything in my mind and just started worrying about playing Villanova Basketball." Following the team's 87--68 victory over Iowa in round 2, Jenkins said, "Our seniors did a great job in leading us and making sure that we stayed on top of playing Villanova Basketball for 40 minutes." In Louisville, before the Wildcats' defeat of Miami, junior guard Josh Hart—unofficially, the most frequent offender—said it four times over the course of three questions. Arcidiacono dropped one following the Kansas win, keeping the streak alive, and Hart delivered the extended cut ("playing Villanova Basketball for 40 minutes") after scoring a game-high 23 points in the Oklahoma blowout. On the off day prior to facing North Carolina in the final, Arcidiacono rained three Villanova Basketballs on the press conference, and freshman guard Mikal Bridges, clearly learning from his elders, used it three times in one three-minute span of locker-room questioning.
Villanova Basketball is a dead-serious thing to the Wildcats, who define it as the sum total of the 12 categories that go into their charting of Attitude. On offense: extra passes and assists, screen assists, offensive rebounds, tap-backs, paint passes, paint catches and quick outlets. On defense: defensive boards, contested or blocked shots, charges, dives, and steals and deflections. "Villanova Basketball is mostly the little things that aren't in the stat sheet that make the difference," said junior forward Darryl Reynolds, who was the team's per-minute attitude leader in the Final Four rout of Oklahoma. His reward was getting to pick the song that played over their film-review session of Attitude plays on the day before the Cats faced North Carolina.
Reynolds did some deep thinking, and the song he chose was Florence + the Machine's "Dog Days Are Over."
The dog days are over
The dog days are done
Can't you hear the horses?
'Cause here they come
It was Attitude that carried those horses through Monday night's final. Graduate assistant Ryan Harkins kept his traditional chart of Attitude plays, tallying them in pencil. Hart's chase-down block of Justin Jackson with nine seconds left in the first half, which was converted into a Booth jumper going into the break and kept the game close, 39--34? That was an attitude play. The Wildcats broke their huddle coming out of halftime saying "Attitude" in unison and got themselves back in the game with their half-court defense: shots contested by Ochefu and Hart, a charge taken by Arcidiacono on Berry. And after they fumbled away their 10-point lead, and after North Carolina's final possession, when Ochefu gambled for a steal on the left wing, leaving Paige open, and Arcidiacono flew by him and forced him to double-pump to no avail, the Wildcats did not consider the possibility that they were headed to overtime.
What they did was go into their timeout huddle and say, "Attitude. Next play." It did not need to be drawn up. It was Nova, and it produced two final tallies on the Attitude chart. After Arcidiacono drove off the Ochefu screen, the point guard shoveled the ball to Jenkins (for an assist tally) and then obstructed Berry and Hicks from closing out on the shooter (a screen-assist tally). Jenkins did not earn a tally for his three. Instead, he became a legend.