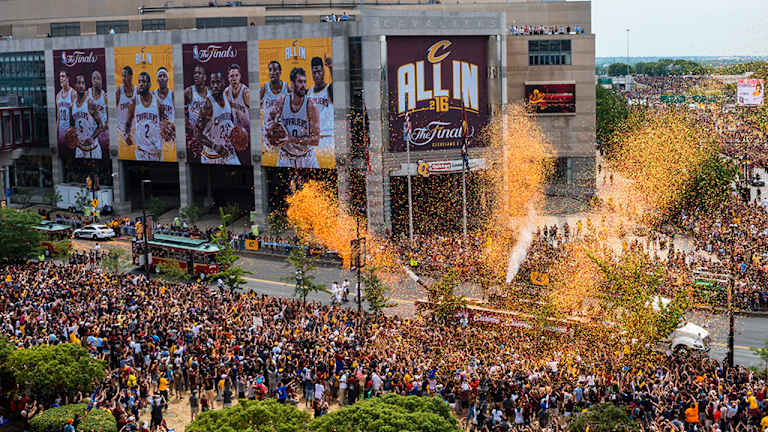 BELIEVELAND
DOWN 3--1 TO THE BEST TEAM IN HISTORY? NOT A PROBLEM FOR LEBRON JAMES, WHOSE THREE EPIC PERFORMANCES CAPPED AN UNPRECEDENTED COMEBACK FOR THE CAVALIERS AND ENDED CLEVELAND'S 52-YEAR CHAMPIONSHIP DROUGHT
"I DON'T KNOW IF IT'S A FAIRY TALE. BUT I HOPE IT ENDS THE WAY MOST OF THEM END."
—LeBron James, July 10, 2014, Las Vegas
OFF THE COURT, down the tunnel, through the locker room, LeBron James squeezed himself into the back corner of a cramped coach's office and covered his eyes with his hands. "Every night," he said, "this is what I dreamed." A buzzer sounding, a region roaring, and a native son—overwhelmed by the outpouring he had wrought—falling to his knees in the middle of it all. "Two years ago, in Las Vegas, I had this vision," James recalled. "I never stopped having it." Last Saturday night, at the Four Seasons in San Francisco, James went to bed at 10:30 p.m. "I woke up at 2:30, at 4:30, at 6:30," he says. Finally, a little after 8:00, he gave up and hauled himself down to the gym. There was no sense sleeping on the day the dream could come true.
He watched soccer in the hotel. He danced on the bus. He sang as he stretched. "I don't know what he's going to do," said Randy Mims, one of his closest friends, who travels with him. "But it's going to be something we will never forget." One night in San Francisco he ate at a British restaurant called The Cavalier. Another, he dined at a steak house called Epic. His video game of choice on the trip was Destiny. "He's Babe Ruth," says Cleveland general manager David Griffin. He was calling his shot. "That mother------ is on a mission," a Cavs coach cracked during the team's Sunday walk-through.
His crusade began July 10, 2014, with three words uttered in an interview with SPORTS ILLUSTRATED on the 58th story of the Wynn Las Vegas hotel: "I'm coming home." It ended June 19, 2016, with three more words bellowed on the court at Oracle Arena. "Oh, my God!" he shouted, falling into the arms of teammates and friends. "Oh, my God!" After 52 years without a championship in a major sport, Cleveland wears the crown, bestowed by basketball's forever king.
Most curses are broken, but few are snapped in such flamboyant style. Not only are the Cavaliers the first team to wipe out a 3--1 deficit in the Finals, they did so against an opponent with the best record the NBA has ever seen, and they vanquished that juggernaut on its hostile home floor. The odds of taking three games in a row from the Warriors—who hadn't dropped three straight since the fall of 2013—were akin to the Browns winning the next couple of Super Bowls.
The Cavs' 10-day odyssey—surefire fodder for future cable documentaries—started two Saturdays ago, when they boarded their charter plane at Atlantic Aviation in Cleveland, bound for the Bay Area and Game 5. "Well, we have to come back here anyway," James told himself. "Why not extend the series?" As rallying cries go, it was an understandably tepid one.
But on the flight James queued up video from Game 4, and teammates circled around his iPad. Nobody referenced vacations. They suggested adjustments. James, who has driven himself batty trying to clean up the Cavaliers' culture, was impressed. The next day, before practice at the Warriors' facility in Oakland, Griffin handed every player a document reviewing highs and lows of the past two years: How the Cavs started 19--20 last season, how they won their first 10 playoff games this spring, how they lost one Finals game by 33 points and took the next by 30, an unprecedented swing.
"We are the NBA's drama kings," Griffin said, according to a source at the meeting. "So congratulations on putting yourselves in position to win this thing the only way you could. Because you know we are just f----ed up enough to do it." Players flashed back over the theater of the past 23 months—the firing of coach David Blatt, the injuries to point guard Kyrie Irving and power forward Kevin Love, the endless questions about chemistry issues and Twitter accounts—and nodded knowingly. "You think about the scrutiny we were under, the roller coaster we were on, it all made sense," says Cavaliers forward Tristan Thompson. "I was like, 'Eff it. Let's do it.'"
The Warriors, after all, had just come back from 3--1 down in the Western Conference finals to edge the Thunder. "So why can't we?" James asked his longtime trainer, Mike Mancias, who neglected to mention that Golden State enjoyed home court advantage in that series. "Honestly, at that point we were like a beetle on its back, kicking its legs until it dies," Mims says. "But then something happened to tip us on our side." Maybe it was the suspension to Warriors forward Draymond Green, for a crotch shot on James. Or the jab from guard Klay Thompson, claiming James suffered from hurt feelings. Or the emoji tweeted by forward Marreese Speights, pointed at James, a baby bottle brimming with nourishment.
"Oh, don't worry about that s---," James told his friends, and they believed him. He seemed so peaceful, chilling in a back room with teammates at the Four Seasons every night, sipping Napa Valley cabernets while Mims spun jazz and R & B on his Beats Pill. But his buddies wondered, even though James would never admit it, if the Warriors were poking the lion in the eye. He scored 41 points over 42 minutes in Game 5, then did the same in Game 6 and wore a delirious grin as he left Quicken Loans Arena for another trek west. "Can you imagine if we pull this off?" he asked Adam Mendelsohn, his longtime adviser. He didn't sound daunted. He sounded tickled. He went to bed that night at 3 a.m. and was at the Cavs' facility by 6:30 for a preflight massage. On the plane players reminisced about Finals Game 7s they'd watched on TV, baiting James into recollections of Heat-Spurs.
"I think people forget sometimes," James says. "I think they forget what I've done, and how long I've done it, and they doubt me for some reason. I've felt that way for a long time." He spent the past year hearing that Golden State was the best team in the league and Steph Curry the best player in the world. The James epoch had apparently expired. In that tiny coach's office, next to a closet filled with suits and dress shirts, he grits his teeth and shakes his head. "That's how this came about."
WITH ONE MINUTE and 56 seconds left in Game 7 and the score tied at 89, Warriors wing Andre Iguodala grabbed a defensive rebound and started a two-on-one fast break. He passed to Curry, who passed back, and Iguodala rose on Cavaliers guard J.R. Smith. "Oh, my God, he is about to get a layup," James thought. "I have to chase him down." But James was on the left side of the court, Iguodala on the right, so he had to make up about 15 feet in addition to traversing the court. He was up to his 45th minute on the floor. "He was fried—by the game, the situation, the millions looking at him," Mancias says. "That play was everything he had left."
Mancias, who has kneaded James's muscles since their first go-round in Cleveland, feared he would not be present for the biggest night of their professional lives. His wife, Heather, was induced at 6 a.m. on Friday, and her labor lasted 26 hours. The moment she heard the first cries of her son, Malcolm Mancias, she turned to her husband in the delivery room at St. John Medical Center. "Go to Game 7," she said. Mike landed in Oakland at 3 p.m. Sunday, rode straight to the arena and went to work on James. Someday, little Malcolm will hear the Father's Day story of the Block, which replaces the Drive, the Fumble, the Shot and the Decision in Cleveland lore. Running 19 miles per hour, as timed by ESPN, James smashed Iguodala's layup against the backboard and kept the score tied.
On the next possession James attempted a five-foot jump hook and didn't have the juice to force it over the rim. "I couldn't believe that," he says. "I made a great move, spun, and left it short." Both teams stayed stuck on 89. Oracle tensed and throbbed. Finally, with a minute left, Irving dribbled at the top of the key against Klay Thompson. Smith set a high screen, forcing Curry to switch, the matchup Cleveland wanted. From the right wing Irving elevated and splashed, and a small but ardent group of Cavaliers supporters let out a simultaneous shriek.
Can you imagine if we pull this off? Fifty-two years after Jim Brown plowed the Colts at old Municipal Stadium, throngs flooded the streets downtown, from the Q to Public Square. Everyone was high-fiving—at least everyone who wasn't double-fisting Great Lakes IPA—a fitting tribute to a team with elaborate customized handshakes for all its members. You'd have thought John Elway got picked, Earnest Byner held on, Craig Ehlo altered the jumper and Jose Mesa recorded the save, all at the same time. "We may need a new arena," James joked with some Cavaliers executives. "I think they're going down to burn down the one we've got."
When James won his first championship, with Miami in 2012, he assumed he would cry afterward. But he didn't, and when the Heat repeated in '13, the tears still didn't come. "This is different," he said, wiping his eyes. "This is home." He was the unanimous MVP, leading the Finals in all five major categories—points (29.7), rebounds (11.3), assists (8.9), steals (2.6) and blocks (2.3)—while finishing the series with a triple double (27-11-11). "I watched Beethoven tonight," Irving said. As James strode through the Cavaliers locker room, carrying twin trophies, assistant Larry Drew hollered: "There's a king in the house." Reserve Jordan McRae chirped: "The best to ever do it."
James popped open a bottle of Moët, swallowing one swig and spitting another, a veteran move to avoid an early buzz. Then he called the team together. Throughout the postseason the Cavaliers assembled a 16-piece puzzle depicting the Larry O'Brien Trophy. After each win one player added a piece. But there are only 15 players on the roster. Upon unveiling the secret puzzle, James presented the last piece to the head coach, Tyronn Lue. The Cavs endured much criticism in January, when Lue replaced Blatt, whose 30--11 record topped the Eastern Conference. "Good wasn't good enough," Griffin says. Lue harped on the Cavs for their substandard conditioning and implemented more running in practice, even during basic shooting drills.
Still, Cleveland was maddeningly inconsistent through March, when James's social-media behavior grew curious. Were his cryptic subtweets aimed at teammates? Did he unfollow the Cavaliers because he wanted to leave? "He was off his rocker for a little while," says Maverick Carter, his business manager and former high school teammate. "He's a perfectionist. He likes everything perfect, and he knew this team could be better." Carter called his old friend in late March or early April and leveled with him. "You get paid a lot of money to do something you're better at than anybody in the world," Carter said. "So just do that. Don't worry about this guy or that guy or what anybody else is doing. Just play."
A Pat Riley disciple, James believes hardship is healthy, even if it's a little contrived. A team must learn to clear obstacles in the regular season, he reasons, rather than face them for the first time in the Finals.
THE STORY of a comeback is also the story of a collapse. After the Warriors won the championship in Cleveland last June, they toasted the title at Morton's steak house, and in these Finals they convened for five team dinners at the same spot. They were reenacting a moment instead of creating a new one. When the Warriors returned to Cleveland for Game 6, coach Steve Kerr felt as if his players were trying to fast-forward the series and skip to the celebration. "It doesn't just happen," he told them during a film session at The Ritz-Carlton. "It's harder than that." A banner is not a birthright, not even for a team that went 73--9.
But the Dubs do not scare easily. Their supreme confidence, a natural by-product of their unmitigated success, can manifest itself in bold shotmaking and beautiful ball movement—or careless passes and reckless play. Sometimes, it's not enough for the Warriors to win. They yearn to entertain. "We're f---ing around," griped one Golden State coach, who worried that some players were even shorting halftime warmups, certain they'd find their groove.
The Warriors relied on a familiar plan to defend James: Iguodala shadowing him on the perimeter, with Green waiting at the rim. Golden State was content to allow jumpers while dissuading drives and avoiding fouls. The formula worked last year, and this year as well, until James found his J. He pureed the Warriors on one end and stifled them on the other, switching from Green to Curry in the one--four pick-and-roll and gumming up Golden State's pet play. After the MVP's mouthpiece toss in Game 6, and his wife's Twitter rants, one Cavalier cracked, "America's team is melting down." By the time Ayesha Curry finished calling out LeBron, as well as the league office—she finally reached the social-media nadir, engaging ESPN's Stephen A. Smith, and spawning another 24 hours of "content"—Golden State's series lead had vanished into cyberspace. Steph suggested he was going to cut off the Wi-Fi at home.
The Warriors were burnt, and for good reason. They spent the regular season chasing one milestone after another. They lost Curry for two weeks of the playoffs because of a knee sprain, and they scraped to erase the deficit versus OKC. Starting center Andrew Bogut was lost for the Finals with bone bruises in his left leg. Iguodala's back stiffened. And Curry, if not injured, was exhausted. He rested in his room, ice on his right knee and shoulder, turning down offers to hoist extra shots. Kerr juggled the starting lineup in the last two games, going to Iguodala and Festus Ezeli, with equally meager results. For seven months everything worked, and suddenly nothing did. Even the famed Death Lineup, with Green at center, fell flat.
Before Game 7, Thompson said the Warriors needed to "play angry" and claimed the season would be a failure if they lost. Curry agreed. Their sound bites ran completely contrary to the culture Kerr implemented two years ago. The Warriors, typically so joyful and relaxed, were tight. Meanwhile, James was screening Revenge of the Nerds and Couples Retreat—with The Godfather mixed in. At practice the day before Game 7 he launched half-court shots, escaped headlocks from assistant Phil Handy and crooned Justin Timberlake's "What Goes Around ... Comes Around." He has grown comfortable in chaos, and by extension, so have the Cavaliers.
They follow him, which wasn't always the case. Last season James expressed frustration at players who showed up late to meetings, blew off treatment sessions and left dirty laundry on the locker room floor. "Some people liked what I did, some didn't," James says. "But I felt like I had to hammer it home." In September he invited the Cavaliers to South Florida to join his three-a-day workouts. After they arrived, many drove straight from the airport to the University of Miami, lest they be tardy. When James walked into the gym at UM and spotted a half-dozen Cavs already on the court, he was encouraged. It was a start.
The culmination came Sunday night, James wearing two commemorative shirts at once, with a twine necklace on top. "3--1!" Irving told him, amid the champagne shower. "That's greatness." Young teammates were planning a postgame Las Vegas run, en route to Cleveland, but James was interrupted by more pressing matters. His oldest son, 11-year-old LeBron Jr., needed a restroom. "Where's the bathroom?" James shouted. He led the boy down a hallway to a photo room, where teammates posed with the trophy. Facilities were in the back. "I'm only doing three portraits," James announced. Of course, he ended up taking 10. "Can I get a picture with the Finals MVP, like I did something," said forward Richard Jefferson, who contributed plenty. But the three snapshots James cared about most were with his family, his four closest friends and his mom.
If Gloria James had lived in a different city and gone to a different hospital on Dec. 30, 1984, Cleveland might be ringless forever. But Gloria was an Ohio girl, and she delivered her baby boy at Akron General. James's childhood, bouncing from one apartment to another, was far from ideal. But he met teammates who would be brothers and coaches who would be dads. He developed a connection to his hometown, and an appreciation, for ensuring that its prodigal son never fell through the blacktop cracks.
On the night the Cavaliers drafted him first out of St. Vincent--St. Mary High School in 2003, James vowed to "light up Cleveland like Las Vegas," and he came excruciatingly close. Thirteen years passed. Seven Finals. Two Decisions. Finally, on an unforgettable Sunday night turned Monday morning, the Rust Belt glowed like the Strip.
James kissed his daughter, one-year-old Zhuri, as she played hard to get. He made LeBron Jr. do five push-ups for letting go of the trophy. He danced on the bus yet again.
It was no fairy tale. It was real.