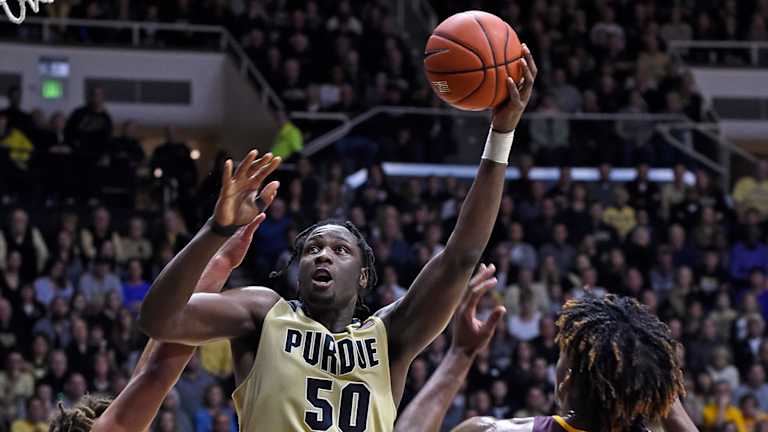 Project Biggie
At 13, Caleb Swanigan weighed 360 pounds and faced an uncertain future. So how did he arrive at Purdue and become the nation's top power forward? Hard work.
The six Swanigan children were all substantial, and they were nicknamed accordingly. First came Fat Cat (Carl Jr.), then Ice Cream (Corey), Fat and Sug (twins Crystal and Candance), Applehead Cut The Bull (Courtland) and, finally, Biggie (Caleb), the largest of Tanya's babies at 24 inches, nine pounds and three ounces. He kept growing into his name, standing 6'2" and weighing 360 pounds by age 13, and now Biggie was listening to his new guardian, Roosevelt (Rose) Barnes, tell him something preposterously grandiose as they worked out on an indoor court in Fort Wayne, Ind., during the summer of 2011.
"You're the best power forward in the world! Nobody can stop you!"
Biggie rolled his eyes. His vertical was a few inches, max, and if asked to run, all he could do was shuffle. But Barnes, a sports agent who played baseball, basketball and football at Purdue and then spent four seasons as a linebacker with the Lions, wanted Biggie to believe in his potential. So as they went through a progression of baby hooks, drop-steps and the like, Barnes instructed his protégé, "Say it back to me: I'm the best power forward in the world.
"Come on. Say it."
Reluctantly, Biggie gave in. Two weeks earlier Carl Jr. had persuaded him to fly from Salt Lake City to Fort Wayne to live with Barnes. The family had met Barnes in Indiana in 2003, after they'd fled Utah on a bus with Tanya, who was seeking refuge from their father, Carl Sr., in a domestic violence shelter. "What I endured was horrific," Tanya says, "and I did my best to keep our heads above water." But theirs was a nomadic existence among apartments and shelters in Utah and Indiana. Carl Jr. wanted Barnes to adopt Biggie, to give him stability and a shot at the NBA.
Biggie had emerged from the Fort Wayne airport that June carrying all his possessions in a single duffel bag, waddling toward Barnes's car in his one good outfit: a shirt, tie and khakis. He was a full two inches shorter and 100 pounds heavier than Fat Cat had described over the phone. After Biggie quickly became exhausted in their first workout, Barnes took him to a cardiologist to check if he had heart problems. Biggie passed all the stress tests, and this gave Barnes the assurance he needed to proceed: "He's not going to die."
That was where Project Biggie began, and six years later Caleb Swanigan is 6'9" and—after strict dieting and relentless training—250 pounds. He arrived at Purdue in the fall of 2015 as a McDonald's All-American after graduating from Fort Wayne's Homestead High in just three years, then averaged 10.2 points and 8.3 rebounds for a Boilermakers team that was upset by Arkansas--Little Rock in the first round of the NCAA tournament. He has since made the leap from solid freshman starter to dominant sophomore force, with statistical production at a level not seen since Blake Griffin's sophomore season at Oklahoma, in 2008--09.
Averaging 19.1 points and 12.8 rebounds at week's end for the No. 16 Boilermakers, Biggie is a near-lock to be first-team All-America. He has 20 double doubles in 24 games (including four with at least 20 points and 20 rebounds); the highest defensive rebound percentage (33.2%) by a major-conference player in kenpom.com's database; and a chance to become the first since Griffin to average 13 boards in this millennium.
Biggie can now use brute force to score on the block and a soft touch to make threes, and he can pass deftly out of the post or in high-low situations. He is not yet the best power forward in the world, but he has become the best one in college basketball, where no one, this season, has been able to stop him.
Biggie has always been Biggie, but his story is a series of transformations, some as public as his shrinking waistline, some as private as what happened last September, when a guest speaker came to address the Boilermakers in their film room at Mackey Arena.
Chris Herren was a 1990s phenom at Fresno State whose story of drug addiction and recovery was the subject of a 2011 ESPN documentary. Herren has spoken to hundreds of teams since, and while he encourages his audiences to engage, he says it's rare for college players to show much vulnerability. But at Purdue, as Herren talked about putting his alcoholic father in rehab and repairing his relationship with his high-school-age son—how he is trying to do the right things but knows there were many ways he failed—it hit Biggie right in the heart.
"Your son definitely does appreciate you," Biggie told Herren. "I lost my father to addiction; I know what it's like to see someone never make it back from that side. For you to make it back for him...."
From there, something opened up inside Biggie, who'd been named one of the team's four captains in the off-season. "When he was done talking, there were guys in tears," says junior point guard and co-captain P.J. Thompson. "Most of them had no idea." Vince Edwards, another junior co-captain, says, "There were times last year when we felt like we couldn't reach Biggie; he'd get so angry that he just couldn't hear us. After that, it was like, O.K., I understand where it's coming from." Says Herren, "It was a breakthrough moment for all of us."
Biggie had begun by sharing the reason he wears number 50: it was the age at which Carl Sr. died of heart failure in a Salt Lake City hospital in 2013. He had been a prodigious, 6'7" streetballer, nicknamed Big Smooth, who could shoot ambidextrously, and he was a kind soul when he was sober. "But the whole family," Tanya says, "was a victim of my husband's addiction to crack cocaine." She met Carl Sr. through a Pentecostal church, but one year into their marriage he lost his job and began dealing crack, and eventually using it too. "It was like living in a nightmare," Tanya says. At first she tried to rescue him from crackhouses; later she fled his attacks, and he accrued a rap sheet that included a murder charge in Utah. (He was acquitted in 1995.)
By the late 2000s Biggie, who was seven years younger than his next oldest sibling, was the only one living with Jackson full-time. He befriended other shelter kids, for whom naiveté was almost a blessing. "We only knew what was right in front of us," Biggie says. "We didn't know how big the world was, how much better it could be."
Carl Jr. had come close to knowing. He was a 6'9", 335-pound power forward with three-point range; Barnes describes him as "Zach Randolph with a better jump shot." Playing for an Indiana-based AAU program at the Kingwood Classic in Houston in 2003, Carl Jr. outshone future lottery pick LaMarcus Aldridge and soon joined Blessed IJN, a program coached by one of Barnes's friends. Barnes wanted to assume guardianship of Carl Jr. and help him prepare for college—but after a few months Carl Jr. split for Utah to reunite with a girlfriend and play his senior season at Hunter High in West Valley City. "When Rose first found me," Carl Jr. laments, "I was already 17, stuck in my ways, not coachable."
In November 2004, Carl Jr. signed a national letter of intent with Mississippi; his recruiter there, Tracy Dildy, called him a "freak of nature" with NBA potential. But over the next two years Carl Jr. surfaced and then disappeared from prep schools in Indiana, Alabama, North Carolina and Pennsylvania, without ever qualifying academically to play D-I basketball. Upon returning to Salt Lake City in March 2006, he got into an altercation outside Club Vortex that resulted in a 5'9" man firing a 9-mm handgun at Carl Jr.'s head.
It was a tragedy and a miracle: The hollow-point bullet entered Carl Jr.'s mouth, deflected off his facial bones and exited though his right eye socket—without impacting his brain. For the first few days that Carl Jr. was in the hospital, nine-year-old Biggie was unable to enter the room. "I couldn't look," Biggie says. "People would go in and come out crying."
Carl Jr. was fitted for a glass eye, ending his pro hoops aspirations. Watching the NBA made him sick: "I'd get disappointed in myself when I saw people playing that I used to dominate." And so in 2011, when Tanya was planning to leave Salt Lake for Houston, and a significantly out-of-shape Biggie said he wanted to be a basketball player, Carl Jr. stepped up in the one way he knew how. He called Barnes and pleaded with him to take the boy.
"If you don't, he's gonna end up just like us," Carl Jr. said, meaning himself and his other siblings, none of whom made it in basketball. "And Biggie is different than all of us. He's got a different demeanor. He's smarter. He's calmer. He's still got a chance."
They had come so far by spring 2015. Biggie was a five-star recruit who'd just led Homestead High to a state title and been named Indiana's Mr. Basketball, and he and Barnes had an agreement on how they would select Biggie's college. It would not be based on emotion, friends, the campus or anything other than which coach would best position him to be drafted by an NBA team. It would be a business decision.
This philosophy was easier for Barnes, a 56-year-old agent, to adhere to than it was for Biggie, a 17-year-old with a grudge. In the summer before Biggie started ninth grade, what he wanted most was a scholarship offer from Purdue. He shone in a showcase in West Lafayette, Ind., with Painter in attendance, but when the coach saw the then 6'4", 300-pound Biggie, he remembers thinking, "He's going to be an All-Pro NFL left tackle." The Boilermakers wanted to wait and see, which Biggie took as a challenge. After his biggest games as a freshman on Homestead's varsity, he'd text his stats to Purdue assistant coach Jack Owens, and when Biggie returned to the same showcase the following summer he—according to Barnes's unofficial record-keeping—averaged 37 points and 24 rebounds. The Purdue coaches told Barnes they still wanted to wait, and when Biggie heard that, he said, "I'm done. I'm never going to Purdue."
On April 10, 2015, Biggie was in Portland preparing for the Nike Hoop Summit and decided that he wanted to end his recruiting process. "I made up my mind," he told Barnes over the phone. "I'm going to Cal."
Biggie says he "really, seriously" wanted to go to Cal, which was on his public list of finalists along with Michigan State, Kentucky, Duke and Purdue. (The Boilermakers by then had offered him a scholarship.) He liked Berkeley, and his friends and Hoop Summit teammates Jaylen Brown and Ivan Rabb were already pledged to the Bears.
"I refuse to allow you to go to Cal," Barnes told him, and listed the ways it violated their business-decision criteria. For one, they had agreed to wait until May, when rosters and coaching staffs were more settled. Plus, it was essential for Biggie to brand himself as a power forward rather than as an undersized center, which wouldn't happen if he played alongside Rabb, another power forward.
"This is my career," Biggie protested.
Barnes, who was in Portland at the time, was so upset that he packed up and headed for the airport. At 3:01 p.m. Pacific time, Biggie, still set on making a decision, tweeted (and made national news with) what he figured was a "compromise": He was committing to MSU, a school both he and Barnes liked.
The problem was that the Spartans didn't fit the criteria either. They already had several players who profiled as power forwards. They wanted Biggie to live in a general-population dorm; Barnes insisted on an apartment and strict training-table supervision. "If a kid has a drug problem, would you put him in a crackhouse?" Barnes says. "Biggie had an eating problem that he was overcoming. So it was a dealbreaker if he lives in a dorm. You know how college kids are; they're eating pizza, drinking beer, not thinking about nutrition. If he's around that stuff, it's easier to eat that stuff."
Biggie decommitted from Michigan State on May 7, and on May 19, committed to the school he'd sworn off: Purdue. It was the best business decision. The Boilermakers had two 7-foot centers, A.J. Hammons and Isaac Haas, and no true power forwards, ensuring that Biggie would start at the four. They also had private, apartment-style living available in a building directly across from Mackey Arena, and training table and catering that would accommodate his diet of broiled chicken, fish and vegetables.
"I didn't want to come to Purdue," Biggie says. "I just had to put my feelings aside. Purdue had the best basketball situation, and that's all I based it off of."
He didn't even call Painter to tell him the news—Biggie made Barnes do it. They were mad at each other: Biggie at Barnes for not trusting him to make his own decision, Barnes at Biggie for letting emotion hijack the process. Says Biggie, "It was quiet around the house for a couple of weeks."
To free up a scholarship, Purdue also had to make a business decision. The day he decommitted from Michigan State, the Boilermakers had a transfer recruit in West Lafayette on an official visit. "It was one of the lowest feelings I've had as a coach," says Painter, who had to inform the player his offer was on ice. "I loved the kid, and he would have fit here. But he's not Biggie Swanigan. So you've gotta make the decision that's best for your program."
It's noon on the Wednesday after Biggie had 22 points and 10 rebounds in a home rout of Illinois, and the hood on his black sweatshirt is cinched so tightly that all you can see are his eyes and nose. In matching black sweatpants he cuts a menacing figure—an executioner killing calories on a StairMaster. He practices in long sleeves and pants, a vestige of the phase when he was trying to heat up quickly, perspire and cut weight. He's so used to wearing them that if he doesn't now, it just feels weird. (In high school, according to former teammate Dana Batt, Swanigan's go-to proclamation after hitting big shots was, "I'm always warm!")
Josh Bonhotal, a Purdue strength coach, looks on from his office doorway in the training facility and says, "He's climbed Everest on there a handful of times." Biggie is so driven that he'll work out after games—even after playing 41 minutes in an overtime loss to Minnesota on Jan. 1—but Bonhotal does not worry about overexertion.
"That pales in comparison to the confidence this stuff gives him," says Bonhotal. "When he steps on the court, he knows without a shadow of a doubt, There is not one dude out here that works harder than me. I've earned the right to go put up 20 and 20."
Indeed, during pregame warmups, Biggie has a new tradition of predicting his rebound total—frequently 20—to assistant Brandon Brantley. And now that Biggie is no longer the boy who's anchored to the ground, it's more effective to motivate him from the other end of the spectrum. Barnes keeps a studio apartment in West Lafayette so that, most mornings, he can run Biggie through similar versions of the old shooting and skill workouts they did in Fort Wayne. Except that the man who helped save Biggie no longer makes him declare that he's the best power forward in the world.
"Let me ask you something, son," Barnes will say lovingly, especially in the wake of Biggie's biggest games. "What are you?"
Biggie will roll his eyes as he yields to the new routine.
"I'm garbage," he'll say, "until you tell me I'm not."