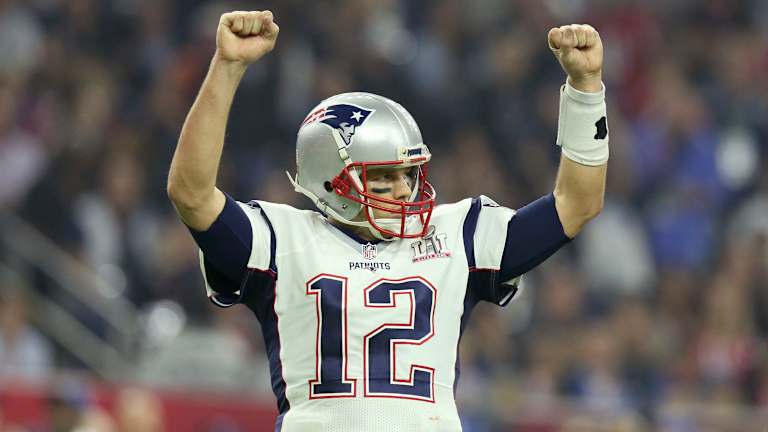 Suspended Disbelief
With all due respect to a genius coach and his gang of misfit parts, it was Tom Brady who led a come-from-way-too-far-behind victory that even some Patriots players didn't imagine possible, sealing his status as the greatest quarterback ever
Inside the Patriots' locker room on Sunday night, Tom Brady sits down at his locker, at once surrounded and alone. He's oblivious to the teammates who are passing around a bottle of whiskey, emptying its contents in deep gulps, while others spray champagne until bubbly drips from their beards.
It's late at NRG Stadium in Houston as the quarterback unstraps the brace around his left knee, tugs off his sweat-drenched championship T-shirt and pauses for 30 seconds that seem to last forever. This brief meditation suggests that he's channeling some inner Zen to process what just happened: the first overtime and largest comeback in Super Bowl history, his fifth NFL championship, even the awkward congratulatory handshake with Roger Goodell, the commissioner who suspended him for the first four games of 2016 over a bunch of (possibly) underinflated game balls.
There's only one problem. Brady cannot find his jersey—the standard white number 12 that in the fourth quarter of Super Bowl LI, against the Falcons, could have been a wizard's cloak. Brady set championship game records for most passes (62), completions (43) and passing yards (466) in New England's 34–28 triumph. He accepted the MVP award. And then—poof!—the jersey vanished like Atlanta's second-half defense. "Someone f------ stole it," he says, grabbing a patterned gray suit and wading through the crowd toward the showers.
En route, he is stopped by Robert Kraft, who's handing out Padrón cigars from an oak box. The Patriots' owner grabs the back of Brady's head with his right hand and pulls his franchise QB in close, planting a kiss on his cheek. Brady returns the gesture, whispers "I love you," and then inches away from him, toward the next well-wisher and the one after that, a series of coaches and execs and support staff who invariably tell him the same thing, that he's the best passer ever to play this game, keepsake jersey be damned.
Brady's best friend and business partner, the man who is said to spend more time with him than even his supermodel wife, stands off to the side. One year ago, on the same day the rest of the world watched the Broncos trounce the Panthers in Super Bowl 50, Brady and Alex Guerrero, the man he calls his body coach, decamped to a football field in Boston. Because the two men plan out Brady's schedule three years in advance, and because that exhaustive training regimen extends each season through Super Bowl Sunday, there they were last Feb. 7 running through a three-hour workout, Brady throwing in full pads and Guerrero catching passes.
Back then, Brady's mother, Galynn, had already been diagnosed with cancer; that was before she underwent countless hours of chemotherapy and radiation, before a panel of three federal judges affirmed Goodell's suspension and before Brady declined to pursue his final appeal. In part he backed down, friends say, because of his mother's failing health.
All along it seemed obvious that this season meant more to Brady, who, to be clear, does not lack for motivation. He's not one of those star athletes who claims that his sport does not define him; it does define him, always will. But this year—the revenge tour, all the emotion he couldn't suppress on Super Bowl week—was about so much more than Deflategate. It was about a quarterback who turned 39 in August and then spent September in exile, all the while traveling as often as possible to visit his mother. His father, Tom Sr., made it to one game this season, in San Francisco, near the home where he raised his son. Galynn wasn't even sure she could make it to the Super Bowl until doctors cleared her last week.
The night before the game, Brady and Guerrero paused for a rare, brief moment of reflection. They contemplated this surreal season and all that another ring would signify. Twenty-four hours later, Lombardi Trophy in hand, Brady insists that this title means no more than any of the previous four—but Guerrero allows what seems obvious. "Yeah, this one means more," he says in a corner of the locker room. "This one is as special as it gets."
The greatest comeback in Super Bowl history began with the Patriots down 25 points, their offense discombobulated and their defense getting shredded like a stack of old credit card statements. More than a few New Englanders headed early for the exits, while reports from Washington indicated that President Donald Trump, noted Patriots supporter, had already turned the game off.
In his owner's suite Kraft looked at his son, Jonathan, and asked, knowing full well the answer, "You think Tommy has given up?"
"No f------ way," Jonathan replied.
Confidence is one thing. Delusion is another. Even Robert Kraft later acknowledged that his team's odds of finding victory had sunk to "infinitesimal" when the Falcons scored midway through the third quarter to take a 28–3 lead (win probability at this point: 0.3%). Defensive end Chris Long—new to the team, so forgive his ignorance—admitted that "naturally we had doubts." Others expressed hope, like safety Duron Harmon, who is said to have declared, "This is going to be the greatest comeback of all time."
Afterward, Patriots players insisted that their coaches simply told them to play better, choosing not to drastically change schemes. There, it helps to have Brady, who took the ball midway through the third quarter and led the offense on a 13-play, 75-yard drive, finding running back James White for the first of the running back's three touchdowns. (White tied yet another Super Bowl record.) But even that score felt like a win for the Falcons, given the amount of clock it chewed up—not to mention Stephen Gostkowski's missed extra point.
Still, the vibe inside NRG Stadium started to shift from No chance to It can't happen—can it?
Atlanta punted at the start of the fourth quarter, and Brady mounted another long drive that bled further seconds from the precious clock, ending in a Gostkowski field goal. Yet again, that seemed like a Falcons win. They still led 28–12, and an offense that had scored the seventh-most points in NFL history had only 9:44 to kill.
Yet that sense of momentum shifting lingered. On Atlanta's next possession middle linebacker Dont'a Hightower barreled around left end and knocked quarterback Matt Ryan on his backside, jarring the ball loose—just as defensive coordinator Matt Patricia had drawn it up with the No. 2 Dixon Ticonderoga pencil stuck behind his right ear. Patricia wanted it to appear as if he were dropping his linebackers into coverage, then sent Hightower at full speed from the edge. Defensive tackle Alan Branch recovered at the Falcons' 25.
Brady needed only five plays to throw another touchdown, this one six yards to wide receiver Danny Amendola, and with the two-point conversion—White, again, off a direct snap—New England cut the deficit to one score.
Dot after improbable dot connected. A victory started to feel, to borrow a phrase from the league's Deflategate investigation, "more probable than not." Ryan countered with a drive of his own, only to inexplicably drop back on second-and-11 from the Pats' 23. The Falcons needed just a field goal to win, but a sack by end Trey Flowers and a holding penalty instead pushed them out of range, forcing a punt. Atlanta's defense looked tired, as evidenced by pressure percentages: 64.3 in the first half, 17.9 in the second.
That set the stage for the drive that Patriots fans will tell their grandchildren about, a 10-play, 91-yard march that instantly ranks among the greatest in NFL history. Late in the second half the Falcons had switched from man coverage to zone, and wideout Julian Edelman, manipulating that bubble, made a 23-yard grab so spectacular that teammate Martellus Bennett described it as happening "between seven guys' legs."
Mouths dropped. Tears ran down faces. The irony was lost on none. A decade ago the Patriots had lost two close Super Bowls after implausible catches from Giants receivers—David Tyree's helmet snag in Super Bowl XLII and Mario Manningham's sideline ballet tip-toe grab in Super Bowl XLVI. Now the Patriots had an implausible reception all their own—the Texas Tri-Tip or the Jules Robbery, whatever you wanted to call it. Four plays later Brady handed off to White for a TD, then zipped a pass to Amendola for the tying two-pointer.
After that, Ryan could only—in his own words—untie his cleats and watch Brady do what Brady does. New England won the overtime coin toss, flew 75 yards down the field in eight plays and scored on a two-yard run by White. "Just an avalanche," Brady explained.
That same word, avalanche, also describes Brady in the immediate aftermath, on the field. He knelt down, a gray T-shirt slung over his right shoulder, photographers so close that their feet formed a circle of shoes around him. Brady's head remained pointed downward, so close to the turf that he could kiss it, so overwhelmed that he couldn't move. Guerrero bent down and threw an arm over his friend's back, then running back LeGarrette Blount embraced Brady, and then coach Bill Belichick. The scene ended with a group hug that was striking because, well, it was Brady and the Patriots. They weren't robots in that moment. They were vulnerable, human.
Afterward, Kraft found his QB on the field and told him, "We won that for your mom."
Before Brady could launch the ultimate Super Bowl comeback, he first had to serve his punishment: four weeks of league-imposed exile. While the season kicked off without him, Brady practiced football on the same days and at the same times as his teammates. He ran through the same quarterback drills and agility exercises as before, performed the same resistance-band training. He had Guerrero hammer his arms with weighted bags while throwing to former teammates—everyone from Wes Welker, one of his favorite old targets, to Ryan McManus, a former Dartmouth wideout turned marketing exec who worked out for the Patriots last spring. "We wanted Tom to come back programmed," says Guerrero, who also performed the same massage work on Brady, before and after practices, that he normally would have.
Everything else about those first four weeks, however, felt unfamiliar—like on Sept. 10, one day before a Week 1 win over the Cardinals, when Brady's wife, Gisele Bündchen, Instagrammed herself catching one of her husband's passes in their backyard. A week later, longtime Michigan equipment manager Jon Falk picked up Brady at Willow Run Airport in Ypsilanti, Mich., and drove the old Wolverines QB immediately to Michigan Stadium, where he wanted to play catch with his nine-year-old son, Jack. The next morning Brady went over the Wolverines' game plan with Jim Harbaugh, played catch with the coach during warmups and addressed each of the position groups, imploring them to honor their predecessors with their play. "He could not have been more gracious," Harbaugh says.
That afternoon Michigan fell quickly behind Colorado, 21–7. Brady had planned to leave at halftime, but on the sideline he told Falk, "Big Johnny, I think I'm bad luck; you better get me out of here." And so he left. On the 20-minute drive to the airport, Brady told Falk the Wolverines would be winning by the time Falk got back to Ann Arbor. They were.
Thus continued Tom Brady's strange football vacation. He spent a weekend with his wife in Italy, where paparazzi snapped pictures of him sunbathing in his birthday suit, and dined inconspicuously with Gisele at Ristorante Aurora (pizza all'acqua, served with mozzarella and red peppers) on Capri Island. He spent four days playing golf with his father in California and flew his throwing coach, Tom House, to Boston to evaluate his mechanics and fine-tune his motion. On Sept. 30 he filmed a Beats commercial at Milton Academy, outside Boston; on Oct. 2 video of his workout at a school near his home landed on TMZ.
The Patriots went 3–1 in Brady's absence, and on Oct. 3 he returned to the team's Foxborough headquarters. Kraft had been so hurt by the suspension that he says he became "very emotional" every time he passed his quarterback's empty locker. But Brady never mentioned the ban, never so much as uttered Deflategate, and how he approached those four weeks says everything that he refuses even to admit thinking. His life, his career, the meticulous schedule—that's all process, and process is what sustains him. "In a weird way," Kraft says, "maybe [the break] was positive."
Brady has refused to say that, but consider: His favorite bit of reading is The Four Agreements, a spiritual guidebook by shaman Don Miguel Ruiz, and the second of those agreements—don't take anything personally—seemed especially applicable in September. Ruiz writes that people tend to fall into narratives that others create for them, that they're angry because they're expected to be angry, aggrieved because most others would be too. Brady—at least publicly—never blamed Goodell, never let the noise appear to influence him.
"Brady," Ruiz says, "has created his own truth."
On stage for the Lombardi Trophy presentation, Belichick falls completely out of character. For one, he's not wearing a hoodie, his longtime fashion trademark that this season seemed to disappear from his wardrobe. For another, he's letting out guffaws so hearty that his eyes close, his amusement appearing to stem from the deafening boos lobbed at Goodell, executor of Brady's suspension, as he hands over the champions' hardware.
Then Belichick disappears—Belichick always disappears—while his players tuck flecks of confetti into their waistbands and pull on the requisite championship hats and T-shirts. Their coach may have concluded his ninth Super Bowl appearance and won his seventh ring—his record fifth as the football czar in New England—but his microprocessor of a mind has already turned forward. It's a staple of Belichick, who gathers, processes and disseminates information like no coach in NFL history.
"He's easily the best ever at melding the two most important qualities of a coach: foresight and insight," says Belichick's former assistant Charlie Weis. Foresight into whom to cut, whom to sign, when to retain four QBs in order to keep a sixth-round pick named Tom Brady on the roster, and insight that allows him to take away what opponents do best and exploit what they do worst.
This season marked just the latest example of that melding of A and B. Standout pass rusher Chandler Jones showed up shirtless at a police station and then got shipped to Arizona, but the Patriots still led the league in scoring defense. Foresight. Linebacker Rob Ninkovich missed four games after testing positive for a banned substance, so Belichick rotated in young players he'd groomed as backups. Insight. While Brady served his punishment, and after Jimmy Garoppolo went down injured, Belichick changed his game plan to run more with unproven Jacoby Brissett under center. Insight. Then he shipped linebacker Jamie Collins, whom many considered New England's best defensive player, to Cleveland in the middle of the season. The unit actually improved. Foresight.
That intellect was evident after both of the Patriots' losses in 2016. Their first came in Week 4, against the Bills. When Brady returned to face the Browns the next week, Belichick opened up the offense, spread his receivers wide and passed 40 times. New England cruised to four straight wins. In Week 10 the Seahawks knocked the Pats around at home, and Belichick responded by taking a more active role with the defense. Over the remaining seven regular-season games his team allowed an average of just 12.4 points. New England ran the table, not Green Bay. "We were more aggressive in our play-calling," says Hightower. "That was Bill and Matt making adjustments."
Against the Falcons on Sunday, down 28–3 with a quarter and a half remaining, Belichick went for it on fourth-and-three at his own 46. How many NFL coaches would actually do that? Brady found Amendola for 17 yards on a drive that would produce the Patriots' first touchdown. That score went to White, another New England find, a fourth-round pick out of Wisconsin who managed 551 yards on 60 receptions this season. Most games, he ceded touchdowns to Blount. Some games, the bulk of the receiving work went to Dion Lewis. On Sunday it was White's turn, and he extended drives with quick passes out of the backfield, serving as Brady's first option at times and emergency outlet at others, catching 14 passes for 110 yards. This was, of course, the famous Patriot Way embodied. A player that few expected to dominate the Falcons at the outset made a run at Super Bowl MVP.
Belichick's approach to the fourth quarter mirrored White's ascension: Whatever works. He let Brady take control. The two have met almost weekly since Brady became the starter back in 2001, but they're not exactly the best of friends—they don't go out to lunch or dinner, or take vacations with their wives. Theirs is a pragmatic relationship built almost entirely on the technical aspects of a game that defines each of them. They're both football nerds at heart.
"Greatest modern-day football coach, period," says Lawrence Taylor, the Hall of Fame linebacker whom Belichick unleashed as the Giants' defensive coordinator in the 1980s. "All these people think he's dry, but he'll chuckle here and there, like a Go f--- yourself chuckle."
Goodell saw that on Sunday. As did one of Belichick's most prescient signings, a pint-sized college quarterback whom he turned into a Super Bowl hero at wide receiver.
Before Julian Edelman snagged one of the greatest receptions in Super Bowl history, he grew up in Redwood City, Calif., under the watchful eye of his father, Frank. The boy would hit 300 baseballs after practice, train on camping vacations and fight any teammate he deemed lazy. "He was like Bamm-Bamm," his father says, "strong as an ox but looked like he was [far younger]—just this little baby. He'd get in fights, trouble, crying, every week." Frank pauses, thinking back to all the training. "Now I'd probably get put in jail for [how I pushed him]," he says.
Edelman mixed a Brady-esque level of obsession with what at times seemed like misplaced confidence for an undersized juco product, which landed him at Kent State. That's how he became the Golden Flashes' starting quarterback after telling the incumbent, who was practicing quick kicks, "You better get used to that—it's all you're going to be doing." That's how he transformed from a seventh-round pick in 2009—one whom the Patriots weren't exactly sure what to do with—into a slot receiver savant, by catching 300 balls after practices, pestering Welker for tips and moving to L.A. in the off-season, for those times when he was deemed worthy of attending Brady's throwing sessions.
Flash forward to Sunday. Fourth quarter. Patriots down 28–20 but driving. The game, and so many legacies, at stake. On first down from the Pats' 36, Brady tosses a prayer into triple coverage, toward the 5'10", 200-pound Edelman but not quite over the reach of cornerback Robert Alford, who bats the ball unwittingly toward his receiver. As Edelman falls to the ground in a pile of three Falcons, the ball hits a defender's leg. The receiver, eyes wide as coffee-table coasters, grabs it, then bobbles it—and finally plucks it before leather meets turf. In the moment, he doesn't even know for sure whether he's caught the ball, later noting that "no one knows what the [catch] rule is." The call holds up on replay, leading Hightower to call it "the single greatest catch I've ever seen" and the reason "why we call him Julian Incredleman."
The catch, while certainly miraculous and made possible by a chain of fortuitous events, is not entirely an accident. "Jules loves Tom," says Frank Edelman. "He loves everything about Tom, he wants to be like Tom. Tom is his hero. He learned the whole system with Tom, from the bottom up."
"It's the same thing I had with Joe Montana and Steve Young," says Hall of Fame receiver Jerry Rice. "When you go out there, it's like doing a dance. You're in tune."
With his son's catch and his place in Patriots lore secured, Frank Edelman has not forgotten all the slights. He's still upset with retired wideout Keyshawn Johnson in particular, after the ESPN commentator described his son as a system receiver and said Julian wouldn't have stuck in the NFL if he'd been drafted by another team. "Keyshawn Johnson is an idiot," Frank says. "He could never play on my team. And I'm certain he squats when he urinates.
"Jules would have made it on any team," Frank continues. "But Jules doesn't fit in every system."
He fits best—like the running back known most for the punch he threw in college (Blount), like the lacrosse player turned NFL wideout (Chris Hogan), like the running back whom the lowly Browns cut loose (Lewis)—in one place.
With the Patriots.
Inside New England's victory party at the NRG Center, adjacent to the stadium, John Legend croons from the stage, My head's under water, but I'm breathing fine.... Video boards display five Lombardi trophies, one for each title. Revelers snack on fish tacos, chicken-and-waffles, tater-tot casserole and sliders.
Two hours after the comeback Kraft takes the stage wearing a blue suit, pink tie and black sneakers. He starts by thanking the fans: "You got us through this difficult season. You know what I'm talking about. This one was definitely the sweetest."
Kraft mentions his coach and his quarterback, then he stirs the partisan crowd into a chant: Bra-dy! Bra-dy! Bra-dy! "We are all Patriots," he says as he walks off the podium and into his private party, the one with a football team's worth of security guards; the one that requires a special pass reading KRAFT LOUNGE. The 64-year-old Belichick, clad now in a black suit, makes his way into the VIP room, through a gantlet of hugs and handshakes. He's almost—no, he can't be—emotional? He's still laughing.
It's easy to forget, especially for those outside New England, that Kraft has long clung to his own process, same as his coach and his quarterback. He hired Belichick after the forgettable Cleveland Years (five seasons, 36 wins), even when NFL insiders advised him not to. Then he gifted his new coach absolute power, and that led to finding Brady in the sixth round, Edelman in the seventh.... Those and a million other decisions led to this season, this Super Bowl.
Curtis Martin, a Hall of Fame running back who played three seasons in Foxborough, came to understand Kraft when he visited the owner's cardboard-box factory 20 years ago. There, Martin witnessed the dozens of steps it took to fashion something so simple, how product was discarded for even the slightest defect. Martin visited Israel with Kraft and became a regular at family dinners, and he says he saw how Kraft carries the same approach into football. "He should get more credit for the Patriots' dynasty," Martin says. "He's one of the main reasons they've done so well. I believe it starts with him."
Even this season, as Kraft fumed over Brady's suspension and what he saw as Goodell's overreach of power, the Patriots' owner didn't let his feelings turn into distractions. He let his coach plan and his quarterback throw. After he kissed Brady on the cheek, he said, "[Tom] was the greatest before this. He just proved it to people who didn't want to believe it."
Confidants like Jay Feely, a retired placekicker who played with Brady at Michigan, describe this season as "personal" for the quarterback. Brady may train inside a bubble of silly wealth and unfathomable celebrity, but he's also an actual person, one who friends say is fully aware that he's now as polarizing as he is popular. (According to Nielsen's celebrity indexes, Brady's "awareness" score ranked highest among NFL players this year, but his "likability" score fell into the bottom 3%.)
"He'll never say it, but this game is as important as any Super Bowl he's been in, except maybe the first one," Feely says. "Just to vindicate himself. Guys get suspended for willingly taking steroids, and we're still talking about ball deflation? After two years? That's not the lasting image he wants people to have of him."
Brady, for his part, continued Sunday with his standard deflections, saying little, answering anything even remotely controversial with "I'm a positive person" or "I've moved on" or "They're all special." But those close to him—Guerrero, Kraft, Feely, his father—knew what Sunday meant.
As the game drew closer, Brady told friends his "next ring" was his "best ring," a line he stole from Falk. After the Patriots walloped the Steelers in the AFC title game, the Michigan equipment manager sent Brady a text: You're looking for your best ring right now. Within 30 minutes Brady texted back in agreement.
Still, Brady never uses the word legacy. He never considers his place in NFL history, not when he reached his seventh championship game and not when he hoisted the Lombardi Trophy for a record fifth time. The numbers—career Super Bowl records for completions (207), passing yards (2,071) and TD passes (15)—make a compelling case for Brady as the greatest quarterback in league history, if not the single greatest player.
"I always felt Jim Brown was the best ever," says Rice. "But Tom Brady, you have to put him up there."
"No one's done it better," says Hall of Fame quarterback Joe Namath. "No one is comparable in dealing with the game, the way it's changed."
"He doesn't even need to win," Super Bowl champion Kurt Warner said before Sunday. "He's already the best."
"The greatest," says Hall of Fame cornerback Deion Sanders.
"No one better," says four-time All-Pro cornerback Darrelle Revis, a former teammate.
What's remarkable, and largely without precedent, is that Brady turned in one of his best seasons at an age when most elite quarterbacks—cough, Peyton Manning, cough—are floating wobbly spirals into retirement. At 39, Brady threw 28 touchdowns against only two interceptions; he led the AFC in passer rating (112.2); and on passes that traveled more than 20 yards in the air—the throws aging QBs struggle with—he had the highest rating of his career (121.5). "Athletes slow down as they get older, but with quarterbacks it's a little different," says Matt Hasselbeck, who retired at 40 and now commentates for ESPN. "If you're able to stay healthy, the chances of you playing your best football are better when you're in your mid-to-late 30s. But what he's doing is even more extreme. You're seeing a paradigm shift in how the league looks at the position."
Brady has his habits: meditation, a plant-based diet (no dairy, caffeine, white flour, iodized salt or white sugar), all the stretching that Feely says turned the quarterback into Gumby. That's his process, just as Edelman, Belichick and Kraft have theirs.
As Brady leaves the stadium on Sunday he refuses to speculate about his future, but the idea that he might soon retire sounds downright laughable. He lost a starting tackle, Sebastian Vollmer, for the season and his top target, tight end Rob Gronkowski, for eight games and his most versatile running back, Lewis, for nine weeks. None of that mattered. None of that ever seems to matter.
"I don't think people believed us when we said Tom could play to 45 or beyond," says Guerrero. "I still don't know if they believe. But Tommy and I, we believe it.
"I'm sure we'll be back at it in a couple of weeks."