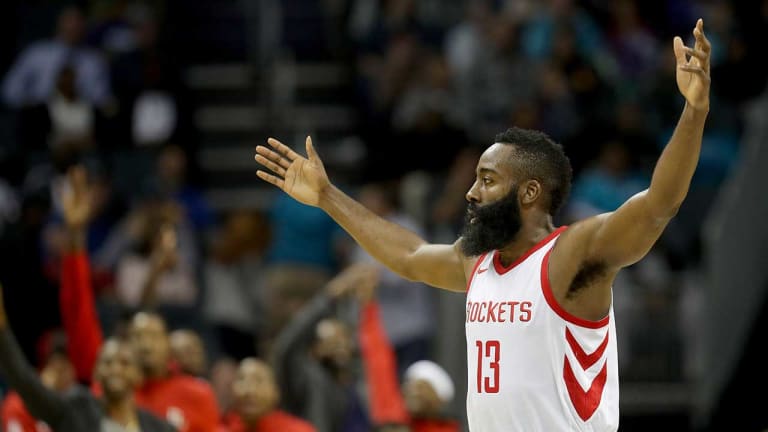 A SIMPLE PLAN
FREED FROM DISTRACTIONS (NO MORE REALITY SHOW GIRLFRIENDS OR PASSIVE-AGGRESSIVE TEAMMATES), JAMES HARDEN IS MAKING HISTORY IN HOUSTON, WHERE NEW COACH MIKE D'ANTONI IS TURNING HIS POINT GUARD LOOSE—AND PRODUCING LOADS OF WINS
James Harden stepped gingerly off the bus at the Kimpton Epic Hotel in downtown Miami, punchy after a two-hour flight from Houston following a 20-point loss to Golden State, and was greeted by a phalanx of photographers along Biscayne Bay. They were not interested in Dwight Howard or Patrick Beverley, Clint Capela or Trevor Ariza. Every camera was fixed on the Beard, and as he strode toward the sleek lobby, he lost himself in their lenses. Why, he wondered naively, were they here? How did they find him? And what were his teammates thinking as they watched the whole high-pitched scene unfold? He felt their eyes trained on him also. Harden was used to fans lining up outside hotels for autographs and selfies, standard road procedure. But not even LeBron James attracts paparazzi while shuffling between mid-market outposts on the regular-season docket. There still exists a yawning gap between sports celebrity and Hollywood celebrity, though not as wide as it used to be.
"What's happening?" Harden asked himself. "Who am I?"
On that warm afternoon, in the fall of 2015, it was a difficult question to answer. Over three dizzying years he had metamorphosed from sixth man in Oklahoma City to leading man in Houston, culminating with a white-hot spring/summer when he carried the Rockets to the '15 Western Conference finals, finished second in the MVP voting, inked a $200 million shoe contract and squired a ubiquitous reality star who makes a habit of transporting professional basketball players across the fame divide. "It was a lot," Harden says, "and it was fast."
Near the end of his summer spree he sprained his ankle during a workout in Los Angeles and was forced to skip his usual beach runs. He reported to training camp out of shape. The Rockets started 0--3. They fired head coach Kevin McHale at 4--7. Tensions between Harden and Howard, simmering for years, boiled over. Howard wanted early post feeds from Harden; Harden wanted high ball screens from Howard. In the final seconds of a two-point loss at New Orleans in December, Harden waited for a screen from Howard that never came, and his subsequent drive was swallowed up. Then, in Dallas in April, it happened again. A player who joined the Rockets midseason eyed Harden and Howard, taking opposite routes out of the locker room. "When you come here," a veteran counseled, "you have to pick your side." It was up to a 36-year-old interim coach, J.B. Bickerstaff, to manage the mess. Interventions backfired.
It might have been easier if Harden and Howard just threw punches—or at least posted subtweets. But they are both nonconfrontational by nature, so Harden stewed in silence, often ducking out of Toyota Center before he had time to stretch or ice. He even drifted apart from Beverley, his closest friend on the team. "He was just ... distant," Beverley says. "The losing was really hard on him." At Artesia High and Arizona State, in OKC and Houston, Harden did nothing but win. After shootarounds last season, he routinely parked his Bentley across from the arena on Clay Street and vented to Scott Pera, his high school coach who is now an assistant at Rice.
Harden never criticized Howard, and he still doesn't. He never complained about a combustible roster—Ty Lawson, Michael Beasley and Josh Smith under the same roof—or moaned about an inexperienced coach, at least not publicly. "He just ate it," says a Rockets official. "He ate all of it." He was tending to Howard on the court and Khloé Kardashian off, a double whammy of diva, made even more complex because Khloé was caring for estranged husband Lamar Odom after his overdose at a Nevada brothel. At one point, Khloé took to a live video chat and denied that her sexuality was to blame for the Rockets' struggles, though she chose a far spicier turn of phrase.
Remarkably, Harden still authored his most prolific season in 2015--16, setting career highs in points (29.0), assists (7.5) and rebounds (6.1) while dragging the Rockets to a short-lived playoff berth. Howard put up his best field goal percentage ever (62.0). Beverley eclipsed 40% from three-point range for the first time. Ariza improved and Capela cracked the rotation. Harden shrugs. The defense, where dysfunction always reveals itself, was dismal. He didn't make any of the three All-NBA teams, a reminder that the highest class of superstar is not allowed to lose his locker room, no matter the extenuating circumstances.
At the end of the worst year of his life—the term he uses, and not lightly, having grown up in a mobile home on the outskirts of Compton—Harden gathered his four best friends, high school teammates who now live in Houston, to review summer plans. Entourage carries a negative connotation in sports, as if it's all Turtle and Johnny Drama, but the inner circle often provides the reality check. Its members are sometimes the only ones who go back far enough to share unvarnished truth.
"We just sat down in his house and let him know, 'Something has to change,'" says Camilo (Juny) Valencia, a former Artesia guard. "'You have to simplify.'"
It is a stormy Valentine's Day in downtown Houston and Harden lounges on a red sofa at Toyota Center, as appropriate a time and place as any to discuss the power of relationships. "I might watch a movie tonight," he says. "My mom is my valentine." Khloé has moved on to the Cavaliers and their relentless power forward, Tristan Thompson, while Harden has rekindled his partnership with the Rockets and his courtship of the MVP trophy. A newly minted point guard, Harden is still averaging 28.9 points but now he is also leading the league with 11.3 assists, and if you combine his buckets and dimes, he is generating just less than half of Houston's entire offense. In a season of virtuoso performances, when the 50-point barrier has become porous, Harden is stretching the boundaries of what was considered possible for an individual player. Twice he's delivered 50-point triple doubles—which before this season hadn't happened since 1973—including a 53/17/16 against the Knicks on New Year's Eve, when he was directly responsible for 95 points.
"I'm not worried about anything but hooping," says Harden, 27, "and that may be why I'm having this kind of success." The process of untangling a crowded life began a year ago, when he and Khloé broke up after an eight-month romance, which began with a meeting at Kanye West's basketball-themed birthday party at Staples Center in June. Harden does not reference Khloé but reflects on the tabloid apparatus that accompanies her. "I didn't like all the attention," he says. "I feel like it was for no reason. I wasn't getting anything out of it except my name out there and my face out there, and I don't need that. It wasn't uncomfortable, but it wasn't me. I don't need pictures of myself when I'm driving my car. Who cares? What shoes am I wearing? Who cares? Where am I eating? Who cares? It was unnecessary stuff that I think trickled down to my teammates. I had to eliminate that."
Harden, as fame seeker, was never a fit. Yes, he has the illustrious beard and the outrageous wardrobe, and his nightlife is a lot more fun than Netflix. But his personality is muted, as anyone who interviews him can attest. "I think he wanted to take his fame out for a spin," says a Rockets source, "and I think he decided he liked it better in the garage." Harden, who typically summers in L.A., chose Phoenix so he could avoid the tabloid big top and breathe the college air. "I wanted to be around the people who knew me before all this ...," he says, flicking the tuft on his chin. It flows like an amoeba.
Harden trained at Arizona State with longtime sports performance director Rich Wenner, who had introduced him to the Stairmaster as a smooth-faced freshman at Arizona State, and he did skills work with development coach Irving Roland, whom he met at the LeBron James Skills Academy a year later. "I need to get back to what I used to do," Harden told the men, and they understood. On the days he dragged, Roland threw YG or Meek Mill on the Pill, and he drew a second wind. "It was James Harden, 18-year-old, working out," Wenner says. "No flamboyance, no drama, just James."
In early June, Harden called Rockets CEO Tad Brown and said he intended to withdraw from the Olympics, an excruciating announcement for someone who treasures his Team USA memories. "I have to get my mind right, my body right and commit to this organization," Harden said. He sat in the Rockets' war room on draft night even though they didn't pick until the second round. He accompanied executives to Atlanta for free-agent pitch sessions with Al Horford and Kent Bazemore, both of which were ultimately unsuccessful. He hung out for a few days in Scottsdale with Kevin Durant, the prize of the market, which yielded some sumptuous dinners but no formal meetings.
Gone were Howard, Lawson, Beasley and Smith. In their place were adults such as stretch forward Ryan Anderson, whom Harden started eyeing as a pick-and-roll partner in 2013, and sniper Eric Gordon. Harden summoned the team to summer league in Las Vegas, where they watched the young Rockets, and then to a Drake and Future concert in Miami. "Guys sometimes go their own way in this league and do their own thing," Harden says. "It's way too easy to lose touch. But it's my job to control this locker room and make sure that what happened last year never happens again."
Leadership, at least the vocal variety, does not come easily to Harden, which is why he watches videos of Atlanta-based motivational speaker Tim Elmore for cues. "I have to open up," Harden says. "I can't be up here. I have to be one of them." He stops plays at practice to review the angle of a screen with Capela. He invites second-year center Montrezl Harrell to dinner on the road. And after an overdue summit last summer, he touches base with Beverley daily. "You know what makes San Antonio so good?" Beverley asks. "They have the talent, but everybody has talent. What makes them different is they have their life in order. Guys like me and James, we didn't have a lot growing up, and this was a chance to go all out and get it. But he's got the money, the cars, the fame. He's seen all that and done all that. It can just be about winning now."
Harden signed a four-year, $118 million extension with the Rockets in July 2016, sidestepping the specter of free agency. (Harden's original deal would have been up in '18.) His obligations to Adidas were curtailed after the release of his first signature shoe in November. The last of his high school pals moved out of his home. Life is simple, by celebrity standards, and Houston is 42--18, the rare place where fewer stars produce more W's. Harden insists he's changed, but more clearly, the environment around him has changed.
"Ninety percent of teams in this league don't have any alignment at all between the front office, the coaching staff and the players," says one NBA head coach. "You looked at this team last year and they were all f----- up. You look at them now and they are completely aligned. James Harden has become Steve Nash—if Steve Nash were on steroids."
Nash spent four landmark seasons in Phoenix with head coach Mike D'Antoni, capturing the MVP award twice, leading the league in assists three times, averaging 58 wins. The Suns were small-ball revolutionaries with their spread pick-and-rolls, but they weren't champions, and when they fell yet again to the Spurs in the 2007 playoffs D'Antoni started doubting the breakneck system he birthed. "When you don't get over the hump, you question everything," D'Antoni says. "Players questioned it, I questioned it, and I think I blinked." Maybe you're wrong, D'Antoni told himself, and Phoenix acquired center Shaquille O'Neal in '08, forming a traditional frontcourt with power forward Amar'e Stoudemire.
Of course, bully ball didn't work either, and D'Antoni left for the rebuilding Knicks a few months later, believing he had it right the first time. He peddled his rollicking vision to Carmelo Anthony, which required a move from small forward to power forward, but Melo resisted. After four years it was on to the Lakers, with Howard and Pau Gasol, either of whom could have been the five man in his offense. But L.A. kept both of them—Shaq and Amar'e all over again. "It was doomed," D'Antoni admits. In '14 he and his wife moved to his home state of West Virginia and bought a place at The Greenbrier. He embarked on a happy retirement playing golf with fellow resident Jerry West.
He'd be teeing off right now, he believes, if not for the Warriors. In the fall of '14, D'Antoni was like basketball junkies everywhere, firing up League Pass and marveling at Steph Curry moonbeams. "I'm watching this," D'Antoni recalls, "and I'm going, 'Yeah, baby.'" The Warriors' head coach, Steve Kerr, was his general manager in Phoenix. Their lead assistant, Alvin Gentry, was his lead assistant. Several staffers and players used to be on his bench. The Dubs were not an exact replica of the Suns—they ran fewer pick-and-rolls, for instance—but the lineups were small, the floor was spaced, and the tempo was Nash fast. D'Antoni called Gentry regularly, and a couple times touched base with Kerr. He took mental notes for potential jobs, brainstorming ways to replicate Draymond Green. D'Antoni rejoiced when Golden State became the first so-called jump shooting team to win the title. "O.K., this does work," he told himself. "I wasn't stupid. I wasn't crazy. You need the right players, the right mentality. But it can be done."
In the winter of 2015, D'Antoni finished a panel at the MIT Sloan Sports Analytics Conference and was trailed out the door by a pack of devotees. The hoop nerds, who espoused the benefits of layups, open threes and little else, loved D'Antoni. "And I loved them," D'Antoni says, "because they put on paper what I was trying to put on the floor." One of those endearing eggheads was Daryl Morey, the Rockets' general manager and Sloan cofounder, who already applied D'Antoni's rationale to almost every roster he built. A year after D'Antoni played rock star at MIT—Morey's term—the Rockets were in tatters. "I spent a lot of time being angry," Morey says. Last spring he interviewed several prospective head coaches who could overhaul Houston's abysmal defense. So it goes in coaching searches. Organizations look to minimize their weakness rather than maximize their strength.
Harden, like Curry and Nash, is never going to be a stopper. But at 6'5" and 220 pounds, he is both wizard and giant, creating those cherished layups and corner threes through head fakes and step backs, sleight of hand and force of will. If Mike D'Antoni and Daryl Morey had a baby, it would be James Harden, running high-efficiency pick-and-rolls at the top of the crib. They formed a holy analytical trinity. Owner Leslie Alexander, whose teams deployed stretch fours as far back as Matt Bullard and Robert Horry in the early 1990s, interviewed D'Antoni and endorsed him. The Rockets knew they'd be panned for supposedly neglecting their D, but they were lining up behind their Beard. "Let's not put a boat anchor on Secretariat," Morey concluded, during a staff meeting at the end of the search. "Let's double down."
The first time D'Antoni and Harden met at Toyota Center as colleagues, they watched video of Nash. "James," the coach cooed, "you can do all this." D'Antoni, who spent so many empty seasons trying to sell superstars on his system, wanted to coax Harden from the wing to the point. Finally, he found a headliner he didn't have to sway. "I can actually coach," D'Antoni thought, "instead of convince." Another year, it might have been a harder conversation, but the NBA has caught up to D'Antoni, accepting his theories as truths. Harden needed D'Antoni as much as D'Antoni needed him. While the coach was trying to rebuild his career, the Beard was trying to streamline his life, and point guard was a place where he could do it. His team, his ball, his decision. Every possession, every game. There is no nuance to the Rockets. They are the James Harden Experience, unfiltered and unleashed.
"This," Harden says, "is probably what I should have been doing all along."
When he deconstructs his pet play, he frames his face with his hands, as if peering into an imaginary TV. "Clint sets the high screen, so I know the guy guarding me is gone," Harden begins. "I've got a big in front of me, one-on-one, and I've got my head up trying to figure out who is going to come open. My first read is Clint for the lob. My second read, if one of their defenders sucks in, is the corner man for three. My third read, if no one leaves a shooter, is to go all the way for the layup. But if somebody rotates over, I'll swing it, and try to get the three that way. It's all decided in a split second, but it's never predetermined. It seems fast, but when it's happening, it's so slow in my head."
The Rockets play with pace, but they're not seven seconds or less. Even when Harden was a boy, he liked to cradle the ball before he determined his course, infuriating coaches who feared he'd let the shot clock run dry. But the buzzer rarely sounded, and eventually, they recognized his gift for gauging time. Ever deliberate, Harden ponders all sorts of matters as he pauses atop the key, Spalding in his hands. Where is the help defender? When was Ariza's last shot? When was Beverley's last basket? How do they feel about that?
"It's incredible how his mind works," D'Antoni says. "He's very aware of who's happy, who's unhappy, and why." Harden will never unify a locker room with impassioned oratory. But at point guard, he can control his teammates' emotions in a more pragmatic way, through their touches. One reason Harden leads the NBA in turnovers, D'Antoni believes, is that he forces passes to players he's worried about. Another reason, of course, is that he handles the ball almost every second. D'Antoni tried to hire Nash, whose turnover totals were also high, as a rabbi for Harden. But Nash, like so many in D'Antoni's orbit, was already committed to Golden State, where he is a player development consultant.
This is the year of two transcendent teams (Warriors, Cavaliers) and two spectacular players (Harden, Russell Westbrook). The Rockets would love to employ four superstars, but they've discovered some fringe benefits to one. Hierarchy is understood. Roles are fixed. Starters are satisfied chipping in 12 points per game. Anderson and Gordon, expats from New Orleans, came up with the idea to set up several feet behind the three-point line. The extra distance imperils their accuracy, but provides even more space for Harden's headlong drives. Morey, who long trumpeted talent over harmony, has taken a slightly different approach. The Rockets don't have an elite player alongside Harden. They have an elite fit.
Houston has split a pair of meetings with the Warriors this season, but to outlast them in May, the Rockets might have to hit every three-pointer for two weeks. They currently lead the league in threes, made and attempted, and D'Antoni bets those numbers will rise across the board with time. "The other night Denver made 24 threes," D'Antoni says. "That's where basketball is going. Five years from now, that won't be unbelievable. Teams will be 25 for 50, 25 for 40. Guys will start practicing from an earlier age and the percentage will keep going up."
Whether or not the Rockets are real contenders—"We're convinced we can do it," D'Antoni says. "We might be delusional"—Harden is something to behold, a puppet master with a ball instead of a string, requiring only that familiar high screen. The pick-and-roll is the most common set in the NBA, and according to Houston's data, no one has used it more efficiently than Harden since the stat was first tracked more than 15 years ago. "The smartest player in our league is LeBron James," a rival head coach says. "James Harden is second." Before a game against Miami in February, Heat coaches examined ways to stifle the Beard, from trapping him out of the pick-and-roll to sagging under the screen and letting him fire. When the Heat faced the Thunder in the 2012 Finals, they prioritized Harden over Westbrook and Durant, believing he was the superior playmaker even though he was the sixth man. "Whatever we do," one Heat coach laughed, "he'll still probably get 40 points and a triple double." He finished with 38 and a triple double.
In popular culture, performance is often inversely proportional to fame, a concept Harden has come to embrace. On the court, he has never looked more potent, and off, he has never felt more anonymous, at least since the Beard. "I'm under the radar," he says, stunning given his appearance and his play. But it's true, relative to past experience. When Harden stands in the checkout aisle at Target, he lets his eyes wander to the tabloid racks and all the splashy covers.
"I like knowing I'm not going to see myself," he says. "It feels good."