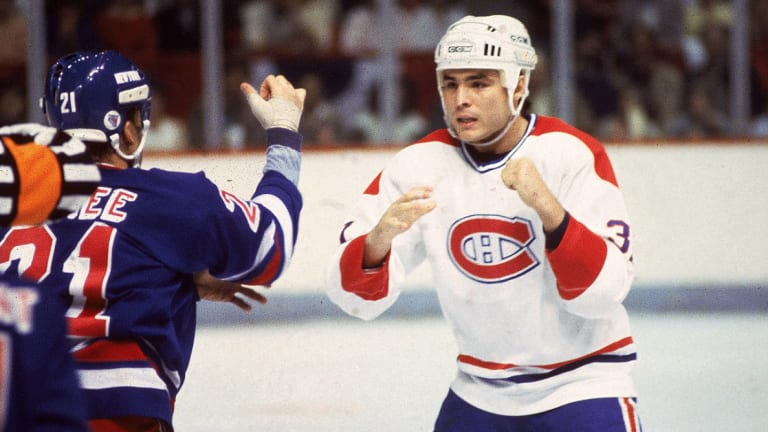 The Making of 'Death of a Goon': How SI Got The Story of a Hockey Player's Tragic Fate
When John Kordic died on Aug. 8, 1992, Sports Illustrated immediately jumped on the story to see what it could learn about his complicated life and early death.
A version of this story appears in the Aug. 14, 2017 issue of SPORTS ILLUSTRATED. To subscribe to the magazine, click here. 
On Aug. 8, 1992, police in Quebec City were called to the motel room of a 27-year-old with a history of cocaine and steroid abuse who was causing a disturbance. It took nine officers to subdue the 6' 2", 238-pound man and get him into an ambulance. He died shortly after arriving at the hospital. His name was John Kordic, a minor league hockey player who just six years before had lived every Canadian kid's dream by winning a Stanley Cup, with Montreal.
SPORTS ILLUSTRATED made no mention of Kordic's passing in its next issue, but it came back with an investigative piece the following week that explored Kordic's brief and troubled life and the circumstances of his passing. It was called "Death of a Goon." Here, the principals involved with the story—the writer, Jon Scher, now an editor at ESPN.com; hockey editor Paul Fichtenbaum, now the chief content officer of The Athletic; and managing editor Mark Mulvoy, now retired—recount how SI tackled the subject and the controversy caused by the story's headline.
SI VAULT: Death of a Goon, by Jon Scher (08.24.92)
SCHER: I had only been covering hockey for three months. I was a writer-reporter, and one day that spring then-managing editor John Papanek had come down the hall and said, "Does anybody know anything about hockey?" I raised my hand. Nobody asked me much about the specifics of what my background was, which was, really, having been a fan of the Richmond Robins of the AHL and having watched 40 games a year when I was growing up in Virginia. So I went out on the road and they liked the first story and that kept me out throughout the Stanley Cup playoffs and that kept me available to work on this piece. 
The idea was that I would go and do a reporting file for another writer. I believe it was senior editor Sandy Padwe who said to do all the reporting, but instead of sending them a file, just write the story myself. And so I did.
Kordic made little impact as a player, scoring just 17 goals and 35 points in seven seasons for the Canadiens, Maple Leafs, Capitals and Nordiques. He did, however, have 997 penalty minutes.
SCHER: It's an old story in the NHL: He wanted to be a skater and a scorer, but he wasn't good enough. But he was good with his fists. John's family members believed that part of the reason why he spiraled into alcoholism, depression and drug use was that he was disappointed in himself in part because he portrayed himself and behaved like a goon.
FICHTENBAUM: Everybody had a story about John Kordic. He had demons, and everybody knew it. Given the death of somebody so young in such a  shocking manner we decided to go ahead and see what we could do. Back in those days we had the ability to see if something would work out because you never knew what it could lead to. When Jon started confirming things we said, "Let's do it as a feature."
When Wade won: Remembering SI's most controversial Sportsperson of the Year pick
The story got attention for reporting that Kordic had told a friend that a Canadiens coach had once witnessed him doing cocaine and had done nothing about it.
SCHER: Today I would have had to defend that on eight different forms of social media. It was a bit of a window into the dark side of the NHL. Everyone was amazingly willing to talk. I started with the motel room, where the incident that led to his death had taken place. I tracked down his fiancée, who was a former nude dancer living in Quebec. Eventually I even flew with his family back to Edmonton. I didn't fully realize his mom and sister had to come to Quebec to identify the body and bring it back for the funeral. The coffin was on the plane. I got very close to them in those few days. They were amazingly open. That's part of what I remember. They were so open in sharing their love for John and also how heartbroken they were.
No one could remember who wrote the headline, but it became the aspect of the story that caused the most regret.
SCHER: I promised the family that I'd do a fair accounting of what happened to John. I believe we did that. When the story came out, I got a call from John's sister, who was devastated by the headline. When I think back, what is most vivid to me is how upset she was by that. I don't think it was wrong, but I wish there had been more sensitivity.
MULVOY: The word goon bothered people, but that's what he was.
FICHTENBAUM:Goon has negative connotations, and given the loss of life, in retrospect it was not an appropriate headline. If I had to do it again, I'd have fought hard to have a different headline.
Covering the issue that never was: the Immaculate Reception
As good as the story was it was not under consideration for the cover, which instead went to a composite cover of Deion Sanders as both an Atlanta Brave and an Atlanta Falcon.
MULVOY: As I recall, that was a very productive cover, sales-wise. Sanders was such a hot commodity at the time that I don't think it entered my mind to put [Kordic] on the cover.
FICHTENBAUM: That [image] was one of the worst covers of all time. Every good story should have some cover consideration, but given the timing of it—a hockey story in the heat of August—I totally understand why it was not chosen. Mark is a huge hockey fan and he had incredible instincts for a good story and still does. If he feels like he learned something in a story that was a Eureka moment.
The story made a lasting impact on readers, and on the people who worked on it.
FICHTENBAUM: You remember the stories in which you're talking about life and death. The stories about who won the game fall away more easily. Any time you're involved in either reporting a story, fact checking, assigning or editing a story in which you're talking about life or death stories it always makes more of an impact on you. This was a reporter's story. Jon did an amazing job.
SCHER: You get into the business to work on stories that matter. This tapped into an aspect of the NHL that a lot of people didn't realize. We were able to shine a light on that. I was proud of the work, but I was always aware that this was a tragedy, somebody's brother, son, fiancé that they tried to save but couldn't.