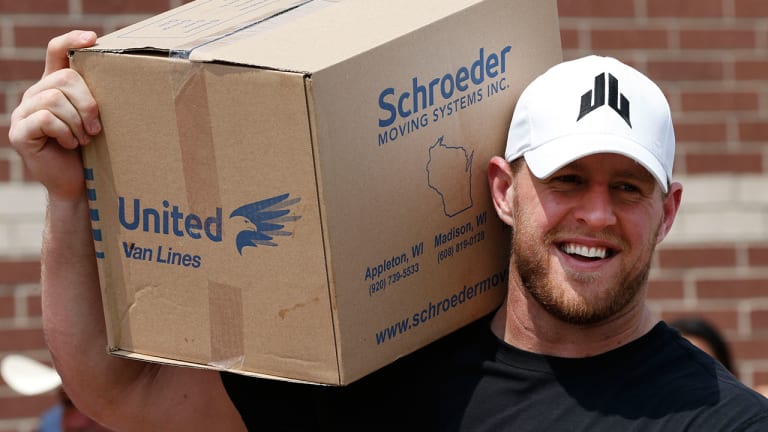 SI's 2017 Sportsperson of the Year: He Isn't on the Field, but J.J. Watt Is Still Lifting Houston Up
In the end he will have missed two-thirds of this season. The record books will show he did not record a single sack. His Texans will not win the Super Bowl—or even make the playoffs. And yet, 2017 will go down as the year he proved to be something more than just the greatest defensive player of his generation
Reese May navigated streets strewn with wreckage: water-logged furniture and sheets of drywall, plastic children's toys and ruined family photo albums, all tossed in front lawns until they piled so high that they obscured the homes they once occupied. Each became a twisted monument to a historic storm, one that caused $198 billion in damage, the costliest hurricane in U.S. history. "Almost everywhere you went it was the same scene," says May. "You recognize it—in pieces—as the components of people's lives."
This was Labor Day, 10 days after the Category 4 Hurricane Harvey first made landfall in Texas, dropping as much as 60 inches of rain in parts of the greater Houston area. Reconstruction was barely under way. May, a slim, unassuming former Marine, is the national director of recovery for the St. Bernard Project. His organization had been on the ground for a week, helping rebuild in some of the hardest-hit areas, when he was summoned by the rep of a Houston Texans player who wanted to help. May arrived in a neighborhood largely spared from the floods and pulled through the front gate of a mansion, expecting to be greeted by a foundation director or some other support staff. Instead he found a 6'5", 290-pound three-time NFL Defensive Player of the Year, just back from his team's facility, where he'd been preparing for his season opener, six days away.
J.J. Watt met him at the door.
"When you deal with celebrities in these situations, typically there's someone who heads the team—[someone] who's not the celebrity. I was surprised to see him," says May. "I went to shake his hand, and he shook my forearm up to my wrist."
By the time Watt met with May on Sept. 4, he was the head of an $18.5 million fund that was still swelling with contributions big and small, from lemonade-stand proceeds to six-figure donations from celebrities like Drake. Forgoing his famously spartan sleep schedule, Watt spent his evenings in fluorescent-lit logistics meetings and in musty warehouses stuffed with pallets of food and diapers. Even with Houston's opener coming up, he was determined to carry out the vetting process as he allocated the money, and the St. Bernard Project (launched nearly 12 years earlier, in the aftermath of Hurricane Katrina) was on Watt's radar early on.
Over the course of their hourlong meeting in Watt's living room, May was struck by a single sentiment. "It became clear to me," he says, "that he believed he might be responsible for whether or not this entire recovery effort was successful."
The water came on a Friday. The Texans played a preseason game in New Orleans the following night, Aug. 26, and instead of going home headed straight to Dallas, where their final warmup was slated to go down. (It never did.)
While Watt's teammates phoned loved ones back in Houston, some of them stranded in houses that were quickly taking on water, the four-time All-Pro defensive lineman signed up for an account on the fund-raising site YouCaring.com, wrote up a short description of a relief fund and sent the link over to Amy Palcic, the Texans' head of media relations. The text thread that kicked it all off: "I think I'll just start this campaign and then others hopefully join in on it. This is going to be the page."
On Sunday, Watt posted the link to his various social media platforms, where his reach is among the largest in football, and in the initial push contributions overwhelmed YouCaring.com's bandwidth, crashing the site.
The largest donation, $5 million, came from the billionaire Charles Butt, owner of the Texas supermarket chain H-E-B, 10 days after the fund was opened. But you have to look at some of the smaller contributions to understand Watt's true impact.
Clay Iverson had coached Watt and his two NFL-bound brothers, Derek and T.J., in Pewaukee, Wis. When Iverson's two sons, 12-year-old Calvin and nine-year-old Corey, saw a YouTube video about Watt's fund, they asked, "Dad, could we donate?"
Says Iverson, "I asked, 'What do you mean by we? Me?'"
"No, us."
The boys each gave $10 of their own money, passing the cash to their father, who paid with his credit card. "I know there have been a lot bigger donations, but [J.J. helped me] carry on that conversation with my kids," Iverson says. "It's hard at that age to grasp horrific tragedy, but they know good people when they see them. They see J.J. doing this; he's a good person. So we want to get behind it. It's one of the greatest things he's done [for my family].
"I bet this happened in a lot of places."
Indeed. In Jefferson City, Mo., Allison Patrick was following the news of the flooding in Houston when, on a Friday afternoon, she asked her six-year-old son Hudson if he'd like to raise money and donate. Hudson had heard of Watt, so he did what grade-schoolers have done for generations in times of financial need: He started a (pink) lemonade stand.
The Patricks put the word out on their community Facebook group, and Hudson pulled in $330 on the first day. Neighbors asked if he'd set up the stand the next afternoon, so he did. Then Vanessa Robertson, who'd lived in Jefferson City before moving to Houston, saw the Facebook post and pledged to match whatever money Hudson raised. In the end, they collectively contributed $2,152 to Watt's fund.
"It was amazing to see how excited [Hudson] was," Allison says. "It got so hot outside that we asked him if he wanted to take a break, and he refused. Afterward, he started thinking about all these things he wanted to do for other natural disasters."
A five-hour drive north, in Hudson, Iowa, Kevin Yoder and Michael Roberts, volunteer co--head coaches on their sons' third- and fourth-grade flag football team, wondered if their boys would be interested in helping out. After all, they were extended members of the Houston family—months prior, in a random draw, their team was assigned Texans-branded uniforms.
"We gave them the challenge on Tuesday night [after the hurricane]," says Yoder. "'Go home, do extra chores, turn in your pop cans, and we'll see how much we can raise by Thursday.' We thought they might come back with $50."
Instead the boys returned with $559. They printed up a novelty-sized check and sent a picture, along with the money, to Watt. Yoder, meanwhile, was reminded of a Bible story that his sons, Anderson and McCoy, had studied. The Lesson of the widow's mite, from the Book of Mark, describes Jesus observing wealthy people donating to charity in large amounts—and a single widow donating a few cents. Calling his disciples to him, Jesus said, "Truly I tell you, this poor widow has put more into the treasury than all the others. They all gave out of their wealth; but she, out of her poverty, put in everything—all she had to live on."
"It was just so neat for them to be able to put that into action," says Yoder. "We always hoped that through football we could teach these boys something about life."
Back in Pewaukee, Watt's mother, Connie, helped organize a food-and-supply drive that ultimately sent 10 semitrucks and a cargo plane headed to Houston, packed with goods. Local farmers and truckers donated not only their time but also the money required to get a convoy of 18-wheelers across the country and back. "We begged them to let us at least pay for gas," Connie says, "and they just refused."
Watt's old high school, meanwhile, was scheduled to play at rival Greendale on Sept. 1, and the hosts pledged to send all gate proceeds from the game (as well as the sales of Houston-relief-themed T-shirts) to Watt's fund. Classes hadn't yet begun at either school, but the fund-raiser attracted triple the requested number of student volunteers and brought in $9,000 in ticket sales alone. Admission to that game was $5, but "people were giving $10 or $20 and not thinking anything of it," says Jerad Galante, Greendale's athletic director. "The kids were all in; they wanted to do anything they could to help out. It was a great thing to be a part of."
By late October, with more than $37 million raised from 209,314 donors, Watt closed the giving phase and announced plans to distribute the money to four charities, including May's St. Bernard Project.
"During a time like that, you learn so much about how the world is bigger than just the bubble you live in," Watt says. "We always see these events on TV—a storm in Puerto Rico or Hurricane Katrina—and you feel terrible. You want to help. But there's an entirely new level of heightened awareness when it's your city, when you actually see the houses. It's real. That will change you forever. That's what we experienced. It's an angle I didn't even really contemplate fully until now."
Of course, he now has time to contemplate it. Time he wasn't supposed to have.
A little more than six weeks after Harvey's landfall the Texans hosted a nationally televised game for the first time since the hurricane, a Sunday-nighter against the undefeated Chiefs. Despite the charged atmosphere, the visitors opened with an impressive drive, stringing together 14 plays over nearly eight minutes, moving the ball to Houston's 17-yard line, where they faced third-and-five. Watt put his hand down, lined up over the outside shoulder of the Chiefs' right guard, Cameron Erving. At the snap he moved left toward tackle Mitchell Schwartz, occupying both blockers and creating a wide-open path to the quarterback for outside linebacker Brennan Scarlett. The stunt worked perfectly. Scarlett hit Alex Smith as he threw, causing the QB's throw to Travis Kelce—wide open in the end zone—to fall well short. The crowd roared its approval. But en route to the QB Scarlett had clipped Watt's left ankle, which in turn clipped Watt's own right heel. He landed hard on his right knee and briefly restarted his push before crumpling to the NRG Stadium turf.
He stayed down for 90 seconds. When he rose, the crowd erupted—briefly. They fell silent again as Watt put his arms around two Texans staffers and slowly limped to the sideline, grimacing with each step, tears flowing down his cheeks. On the sideline, doctors determined that he most likely hadn't torn his ACL. Watt was optimistic but skeptical; he'd felt a pop in his knee before hitting the ground.
Medical staff examining Watt's first X-rays, taken immediately at the stadium, said he was probably looking at a two-month injury. He'd be back for the playoffs. Hours later, though, an MRI provided a bleaker diagnosis: He was in fact facing a complicated surgery and a recovery process of up to a year.
The next morning, Watt took to Twitter and Instagram and did something few athletes do after season-ending injuries. He apologized. "I can't sugarcoat it, I am devastated," he wrote. "All I want to do is be out there on that field for my teammates and this city. I'm sorry."
What did J.J. Watt have to be sorry for?
"Because of my $100 million contract," he says now. (Technically it's $100,005,425 for six years, $51.9 million of it guaranteed.) "I know I'm looked at as a leader of the team, and I hate that I'm hurt ... that I can't be out there helping my teammates ... that I can't be out there putting on a show for the fans.
Later on Monday, as doctors prepared for surgery to repair the tibial plateau in Watt's left leg, they told him they'd seen his sort of injury only in motorcycle wrecks. When he'd hit the turf, it set off a sort of explosion below his knee. Faced with the same sort of trauma, the typical professional athlete's anterior cruciate ligament would have simply ruptured under the strain, doctors said. For someone of Watt's fitness, that's a six-month recovery process. But his ACL was too strong, they said, and the ligament refused to buckle, transferring the pressure throughout the knee, shattering the bone and cartilage. The great irony was that Watt's maniacal devotion to strengthening his ACL—the single ligament that most often shortens careers—transformed what would have been a relatively routine injury into a uniquely devastating one.
"The top part of my leg basically got pulverized," Watt says. "It was in a whole bunch of different pieces." The meniscus tore, but not across the middle—it was severed from the bone. A large portion of the cartilage covering the top of his tibia tore in half. Doctors sliced him open and inserted a metal plate, along with nine screws, to hold it all together. They told him he wouldn't even be able to walk until Dec. 15, nine weeks after the injury.
It's mid-November, six weeks since the surgery, and J.J. Watt is relaxed, even happy, as he tools around his house on a motorized scooter, headed toward his home office. Three Defensive Player of the Year trophies are evenly spaced, about three feet apart, inside a floor-to-ceiling glass case behind Watt's desk. That hardware was earned during a four-year stretch that football historians are very likely to remember as one of the greatest by a defensive player. Ever. From 2012 through '15 Watt played in all 64 of Houston's regular-season games and racked up 69 sacks, 15 forced fumbles and an interception returned for a TD. During that span—despite the Texans' winning just one playoff game amid their seemingly never-ending struggle to find a franchise QB—Watt carved out a level of celebrity seen almost exclusively in offensive players, his social media following swelling toward 10 million. He even got a signature Reebok shoe.
Journalistic deep dives during this period championed his underdog story: the rise from Central Michigan recruit to Wisconsin walk-on to first-round pick to NFL dominance; the uncommon commitment to charitable deeds; and, above all, the near-obsessive dedication to working out.
In July 2014, Watt sat down with a Grantland writer, who reported that the All-Pro had "just finished another workout at NRG Stadium. As he sits down ... his gray sleeveless T-shirt is soaked through with sweat.... It's the Texans' day off." Watt's penchant for weight training was the natural kicker to a Texas Monthly profile in September '15: "He stopped at an unmarked door that led to the team's locker room, and he gave me one of his disarming grins. 'Actually, I'm going to go work out....' he said." A Men's Journal scribe was similarly inspired in October '16. ("He pauses for a moment and then turns for home with just the slightest hint of a limp. It's time for his afternoon workout.")
If it all felt a bit contrived, that's because it was. As driven as he is by success, Watt is equally moved by the specter of failure. When he became football's highest-paid defensive player with that fat 2014 contract, he wanted people to know he wasn't taking any days off. "I never wanted to be the guy who doesn't play up to his contract," he says. "I wanted people to know that even if I failed, even if I sucked, it wasn't because I wasn't working hard enough. But I think I played into that a bit too much.... I would never do an interview or a commercial or anything without having a workout that day."
Watt describes a period when he tried to read every single Twitter reply and Instagram comment, and took much of it to heart. "There was a time," he says, "when I cared a ton about what the outside world thought. Now I care what my family thinks, I care what my friends think, and I care what my teammates think. That's about it. I try to be a good person, but if the public doesn't like me or an analyst talks s--- on me, so be it."
Consider the timing of this mental evolution. December was supposed to mark the final month of a sprint to the playoffs in Watt's first full season of football since 2015. His '16 campaign was derailed by multiple back injuries and a groin surgery that limited him to three games. He spent some of that time, and all of the subsequent offseason, training at NX Level, the workout facility in Sturtevant, Wis., where he and his brothers have worked out with trainer Brad Arnett since high school. Back home, recovering from the '16 injuries, Arnett says Watt descended into a "dark place" and for the first time began to question his football mortality.
"The kid was in pain; he couldn't walk right," Arnett says. "He'd take a step forward, three steps back. He didn't see a light at the end of the tunnel. He was like, How am I going to come out of this? Am I ever going to play again?"
Derek and T.J.—who as children had fled from floor-hockey games in the basement, crying to mom—were finally beating their big brother in the sort of speed, agility and strength drills that J.J. had always dominated. Watt, meanwhile, was poring over books about great comeback stories ... which only fed his anxiety. He wasn't dreaming about football at night anymore; he was dreaming about running through brick walls in rehab. Then he'd wake up with a limp.
Says Watt, "A normal injured player will say, 'I want to work to get back. Once I'm fully ready, I'll get back on the field.' But I wasn't thinking like that. I wanted to be back for the first game of this [2017] season so I could help my team out, and that was the wrong approach. I put such massive expectations in my own head."
After the devastating knee injury in October—after all Watt had done to get back on the field this year—it was easy to imagine a return to that dark place. "I'd done everything the right way," he says. "I worked my ass off. I took my time. I followed the plan [my doctors] put in place—and then a fluke thing like this.... It's so frustrating."
But this time something has been different.
For one, there's been no ambiguity with Watt's leg injury. Until last week he was unable to get around without crutches, and in a strange way that made it easier to temper his own expectations. When he was dealing last year with groin and back trouble, he hated the feeling of standing on the sideline, worrying that teammates were looking at him and wondering why he couldn't suit up. Never mind that he'd played through a gruesome array of injuries during that four-year stretch: a broken hand, dislocated elbow and staph infection among them. A perceived appearance of cowardice still haunted him.
"[People can't] picture a back injury," Watt says. "They can't understand what that feels like or why you can't do the things you normally can. With [the leg], I was on crutches. And people can understand that. I don't feel so depressed that I'm not out there, because it's literally impossible for me to be out there."
It has helped, too, that he's not alone on this one. After telling writers and friends for years that he didn't have time for a long-term relationship, Watt began seriously dating this year for the first time in his life. Kealia Ohai, who has three caps with the U.S. women's national soccer team (and Texans teammate Brian Cushing's sister-in-law), had heard about Watt swearing off dating so he could spend as many waking hours as possible becoming the football player he wanted to be. "I would hear that," she says, "and think, What does that even mean?
"I think he's at a point now where it's not just about football. With the injuries, you realize that at some point you'll be finished, and you'll be better off if you're happy with your life outside of the game." (She'd know. Ohai is in the process of coming back from a torn ACL suffered earlier this year.)
This fall, as boyfriend and girlfriend rehabbed their legs, Watt swore off motivational books, and something incredible happened. Instead of those anxiety-ridden dreams about rehab, he started having football dreams again. "Before, I would wake up like, I need to be working out. But all I can do to get better with this injury is elevate [my leg] or do a bone-stimulator machine. That's it. And now I'm having sporadic football dreams, visualizations. As I'm falling asleep I'll be thinking about plays, about getting back on the field. So I'm really, really excited."
Watt's ethos has long been influenced by a keen sense of what is fair, what is owed—and not just to him. While growing up he had a close friend, Jon Singer, also a leader on the football team. In ninth grade they'd walk to Jon's house after school; crank Mudvayne, Slipknot or Godsmack; and work out with the dusty barbells in Jon's father's basement. "We had one thing in common," Watt says. "We both wanted to work our asses off."
The similarities stopped there. Watt was the son of a firefighter, John, and a VP at a home-inspection company, Connie; they lived a comfortably middle-class life. Singer's parents were divorced and shared custody; he spent most of his time at his mother's home in a local trailer park. While Watt's parents were burning through cash feeding half of J.J.'s football team out of their kitchen, Singer was working 25 hours a week at Pick 'n Save to help his family as soon as he could get a work permit, at 16.
Physically, Jon matured earlier, but he peaked at 5'7" in high school. J.J., meanwhile, just kept growing. "If anybody deserves to be in the NFL based on how hard they worked, it's Jon," Watt says. "With his height, he just wasn't going to make it. But seeing the way he grew up, knowing how hard he worked—it had an effect on me."
Says John Watt, "I think J.J. always looked at [Singer] and thought, Jon's got everything you should have, but he's not gonna make it. I'm not gonna waste my 6'5" frame and 230 pounds. (Singer, meanwhile, went on to play college football at Division III Carroll University in Waukesha, Wis., earning a bachelor's degree in elementary education. He currently works in supply-chain management for automotive-parts manufacturer Johnson Controls, is working toward his doctorate in business administration and also serves on the board of Watt's charity. It seems neither friend wasted his talent.)
By J.J.'s teenage years, the lessons imparted on the Watt boys were being put into practice. When J.J. was 13 and his mother was offered a full-time job that would require her to stop volunteering at the local elementary school, reading to children, it was Watt family code that she'd find a replacement before accepting the new gig. Says Connie, "And J.J. right away said, 'I'll take over your volunteer hours.' And he did."
That's what was owed, especially to parents who filled the bellies and covered the sports registration fees (and equipment, and on and on) for three future NFL players. Grocery bills skyrocketed when J.J. hit high school. "The boys depleted our savings for college as our food bills went up and the travel bills went up," says John. "We said, 'I hope they get scholarships.'"
The boys were loath to put that investment at risk. J.J. says he never drank alcohol in high school, and barely did in college. He recalls just one incident at Pewaukee High when he experienced the shame he'd spend his life avoiding: He and a friend got in a playful shoving match that led to one of them busting through a patch of drywall that would run the Watt family nearly $200.
"I'd never been in trouble—no detention, suspension, any of that stuff—but when they say they're going to call your parents? I never wanted to embarrass my family," Watt says. "I remember having to sit in [the principal's] office and wait for my parents to pick me up, and I hated that feeling. I never want that feeling again of letting somebody down. Same thing now—I don't want to embarrass the fans or the organization."
At their Labor Day meeting, May tried to ensure Watt that the recovery effort wouldn't be his alone. Rebuilding Houston, he said, would cost between $100 billion and $200 billion. "With a B," he clarified.
He never saw the D-lineman blink. "The kind of involvement and investment J.J. made was singular," May says. "I've never experienced someone in his position taking [relief work] more seriously. I think he was deeply influenced by the amount of money he raised."
When Watt was preparing to announce how he'd allocate the funds he'd raised, Ohai worried that her boyfriend was putting undue stress on himself in the thick of what was then still a promising season. Surely, she reasoned, people would be satisfied with the fact that he'd pulled together so much in relief funds. "He was stressed about the video and press release explaining where the money was going," Ohai says. "I kept saying, 'Nobody's going to care. You raised $37 million.' But I was wrong."
Watt had launched the Justin J. Watt Foundation (which helps support after-school programs in 28 states) when he was still playing at Wisconsin; he was familiar enough by now with the politics of charity to know that he'd be second-guessed at every turn. Ultimately he decided that four organizations would receive $30.15 million over the next 18 to 24 months, with the remaining $7 million to be allocated based on an assessment of need in 2018. May's St. Bernard's Project would rebuild Harvey-damaged homes, Save the Children would support after-school and childcare programs, Feeding America would nourish the hungry, and Americares would help supplement physical and mental health care for storm victims.
Yet there were complaints. Some people said they hadn't seen a penny in their community. Others accused Watt of doing it all for recognition. Houston rapper Trae Tha Truth, who was also active in the recovery effort, criticized Watt in an Instagram post for a perceived lack of urgency in his response. (While Watt tries to ignore the social media comments he once read religiously, he couldn't help but fire back. Trae has since deleted the post.)
May has been here before. He insists the criticism is unfair. "What became clear to me," he says, "was that J.J. was not looking to write a big check and take a bunch of credit. He was not thinking about this as a personal branding play."
What does Watt think of all this? He says he doesn't believe he deserves SPORTS ILLUSTRATED's Sportsperson of the Year Award. As he sees it, all he did was ask people for money. Besides, the baseball team that plays 15 minutes to the northwest delivered Houston its first World Series victory in November. He watched those games on a television beside the swimming pool in his backyard and marveled at how the entire neighborhood would erupt with cheers whenever the Astros scored.
"All I did was give people a way to help," he says. "If I'm going to get an award, I feel like over 200,000 other people should, too. I also feel like the Astros did much more in the sporting realm to help this city."
But Texas, Watt admits, is a football state. And Houston is a football city. Has been since the days of Earl Campbell and Warren Moon, before the Oilers up and moved in 1997. Those legends failed to deliver a championship, but Watt has no intention of being the latest Houston star never to sniff a Super Bowl. If he can come back healthy—and if rookie QB Deshaun Watson can recover from his torn ACL and fellow defensive star Whitney Mercilus from a torn pectoral muscle—Watt says, "we really have a bright future. The pieces are there."
Watt's allowing himself to dream, not just about football but about winning football. "We saw the celebrations [the Astros] had," he says of his Texans teammates, "and we just pictured what could be, what will be. All I want to do is bring this city a championship. It's been a fight. It's been a grind."
His fans see that grind. Back at his house Watt maneuvers his motorized scooter around his desk to a closet stacked chest-high with plastic crates: fan mail that has poured in over the last few months. Inside one envelope is a drawing in red pencil, Watt raising a Lombardi Trophy over his head. Below the illustration, a child's cursive reads, SUPER BOWL 52 CHAMPS.
"Fifty-two—that's this year, isn't it?" Watt asks as he weaves his scooter back into the foyer.
Yes, it is.
"S---. How about 53 or 54?"
When the Texans won the AFC South and went to the playoffs in Watt's first season, he imagined getting to the pinnacle might not be so difficult. Over the years, though, the expectations evolved along with the man.
Last week, Watt took his first steps since the surgery; he's making progress but still has a long way to go. The same can be said for Houston itself—tens of thousands of residents are still displaced. Hurricane Harvey came so fast and took so much from the city and from Watt that friends and family think J.J. might not yet realize just how much the experience has changed him for the better. "With his first injury [in 2016], football was gone and he didn't know what to do," Ohai says. "But with this hurricane he's realized there are more important things. You can change people's lives besides playing football. He's realizing he's more than just an NFL player."
Watt threw all of his energy into this season's opener against Jacksonville. (Too much of it, he thinks.) He emptied every barrel in a game that requires energy conservation and a degree of patience. With every snap, every burst off the line, he thought he was giving Houston what it wanted.
Then it was over, and the games went on without him. At some point, when he looks back on this season, Watt will come to realize what everyone already knows: When it became bigger than football, when the stakes were higher than a stop or a win or even a Super Bowl, J.J. Watt gave Houston what it needed.