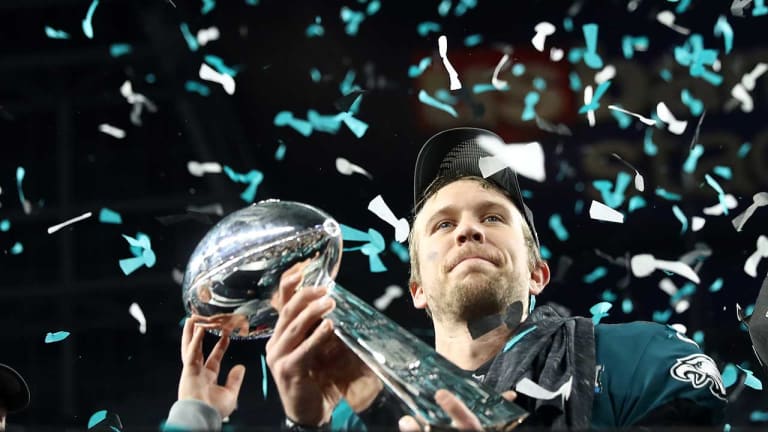 GAME OF STONES
HOW DO YOU HALT A DYNASTY AND THWART A LIVING LEGEND? IT WOULDN'T BE THE PHILLY WAY IF IT CAME EASY. SO: PLUCK A GM AND A COACH FROM THE UNLIKELIEST PLACES. WATCH INJURIES RAVAGE YOUR ROSTER, AND DROP IN A DISCARDED QB. THEN RISK IT ALL AND GREEN-LIGHT THE GUTSIEST CALL IN TITLE GAME HISTORY ... AND REAP THE REWARD: A GLORIOUS, FRANCHISE-FIRST SUPER BOWL WIN
Nick Foles stood in thigh-deep water in California's Sierra Nevada mountain range, surrounded by pine trees, holding a fly-fishing rod in his right hand. Rainbow trout flittered to the water's surface, nipping at the dry flies he was floating. This was late July 2016. Foles was 27 and alone, at the bottom of a canyon, on a trailhead named Forks of the Kern, and he was facing the most significant fork of his life: He'd just decided to retire from pro football after four seasons, in Philadelphia and St. Louis.
Foles lost cell service when he went into those mountains, but first he'd sent a handful of texts to family, friends and his agent confirming his decision. He planned to spend a few days alone with his thoughts, sleeping in a tent on the side of the river with the water rushing by, eating fish and steak and drinking cocktails with friends, then floating down the Upper Kern without any destination in mind, NFL or otherwise.
On the five-hour drive in, he'd run through all of his reasons for retiring, explaining to his brother-in-law, Ryan Moore, that he'd lost his passion for football in his last season, with the Rams, who'd benched him and then cut him over the phone. He felt disillusioned. He planned to become a high school pastor and join his father, Larry, as a full-time restaurateur. "I couldn't find a fault in his reasoning," says Moore.
After three days, Foles left that idyllic setting at peace with his decision. But as he drove back toward civilization his phone regained service, and among the barrage of texts he'd missed was a note from Andy Reid, who'd coached Foles for one year with the Eagles before moving on to lead the Chiefs. Reid complimented Foles's abilities and referenced his own experience: being pushed out of Philly, the transition, the unknown. "You have a lot of great football left in you," he wrote.
When Foles called his father at midnight, Larry wondered whether his son was O.K. "Dad, I'm going to Kansas City," Nick said. "I'm going to play for Andy."
The next night Foles was driving around Newport Beach, Calif., with his two brothers-in-law, searching for a field. And there, in the relative darkness, Foles threw a football for the first time in six months. Two days later he left for Chiefs camp.
"He wasn't 100% convinced at that point," says Moore. "But he had to take that leap of faith."
Flash forward 19 months, through a season spent mostly on the bench in K.C., to the frozen snow globe of Minneapolis, inside the ebullient Eagles locker room after their victory over the Patriots in Super Bowl LII. It's hard to say what's most improbable about their 41--33 triumph: the roster assembled by a general manager who'd been cast into exile two seasons ago; the coach who'd spent 13 seasons as an NFL backup and was cleaning a high school locker room a decade ago; or the fly-fishing quarterback who nearly retired, then replaced one of the league's best players en route to being named Super Bowl MVP.
The Eagles gathered in the center of their locker room after their conquest as "Dreams and Nightmares" by incarcerated Philadelphia rapper Meek Mill blared over portable speakers. For a team that earned the NFC's No. 1 seed and played Vegas underdog in every one of its playoff games, the lyrics were an ethos, a soundtrack for the disrespected.
I used to pray for times like this, to rhyme like this/So I had to grind like that to shine like this
Players stood on chairs, threw packets of Uncrustables into the air like chunky confetti and sprayed so much champagne that the Lombardi Trophy required perpetual wiping off. Defensive tackle Fletcher Cox danced from locker to locker, swigging Moët straight from the bottle, with a victory cigar tucked behind his ear. Nearby, teammates took pulls from a bottle of Johnny Walker Blue.
"Have y'all seen the city right now?" running back Jay Ajayi shouted. "Philly is burning down!"
Eventually, the player most responsible for delivering Philadelphia its first Super Bowl win made it to his locker. There Foles was greeted by Carson Wentz, the MVP candidate he replaced in Week 14 when Wentz tore his left ACL, portending certain doom for a cursed fan base. "I told you," Wentz gushed to his stand-in. "I knew it."
After that injury in Los Angeles, Foles had met with his father, and Larry grappled with the same concerns as every Eagles fan. Were the Super Bowl dreams over?
"It's going to be O.K., Dad," Nick said. "I'm going to step up."
Confident as Foles was, there's no way he—or anyone—could have known then what would transpire on Super Bowl Sunday inside U.S. Bank Stadium in Minneapolis. No way he could have guessed he would throw for 373 yards and three TDs, and catch another score. No possible way he could have imagined becoming the first QB in 16 years to win a championship after starting the season as a backup, no chance he could have predicted toppling the Patriots—perhaps ending the greatest dynasty in NFL history—and outdueling the greatest passer of all time.
"[People] don't know who Nick Foles is," Larry said afterward. "He's the kind of guy that can sneak up on you."
Super Bowl LII was supposed to be a coronation, more proof that no matter what happened to New England's three pillars—owner Robert Kraft, coach Bill Belichick and quarterback Tom Brady—the Pats would prevail, because prevailing is coded in their DNA. Sure, there was heightened tension this season between three men who share five Super Bowl trophies; and, yes, there was the matter of the gash that opened on Brady's thumb, just days before the AFC title game, requiring 12 stitches. But these were the Patriots. Even with Spygate and Deflategate, they'd played in Super Bowls in half of Brady's 16 full seasons.
This one, though, felt different. Different because Brady and Belichick had each exposed little slivers of humanity. Brady participated in a revealing online documentary series, Tom vs. Time, that debuted the week before the Super Bowl, and he waxed nostalgic in Minneapolis about childhood vacations to a family farm 110 miles northwest, in Browerville. Belichick, too, participated in a just-released doc, a 30 for 30 episode with his mentor-and-sometimes-antagonist Bill Parcells. At media night, one writer counted the Patriots' leader smiling 33 times—about 33 times more than usual.
Before Sunday's game kicked off, Brady told broadcaster Jim Gray that he planned to play next season. Belichick had already shared with friends that he wasn't exactly sure what his future held. Both men would have weighed their options anyway, but now there were additional considerations. Belichick had restricted the field and facility access of Brady's body coach, Alex Guerrero, and the midseason trade of Jimmy Garoppolo had heightened existing tensions, and, well.... Typical Patriots: another round of controversy, another Super Bowl. "I hate to make it sound like this," Brady's father, Tom Brady Sr., said the week before the title game, "but it has kind of become natural. There's always something. But they come through."
Except, here came Team Improbable to wreck that narrative. The Eagles and the Patriots combined for 74 points and—stop and think about this for a moment—1,151 yards, the most in any game in NFL history. There was receiver Alshon Jeffery, discarded as oft-injured by the Bears (and written off years ago by Tennessee coach Lane Kiffin as destined to pump gas for a living if he went to South Carolina), grabbing a jump ball from Foles for a 34-yard score and an early 9--3 Eagles lead. There was running back LeGarrette Blount, whose Eagles offer the Patriots chose not to match even after he scored 18 TDs for them in 2016, barreling into the end zone to extend that advantage to 15--3.
The Pats roared back, of course, and Brady, at age 40, threw for an unprecedented 505 yards and three scores, two of them to tight end Rob Gronkowski. New England came back because that's what New England does. But each time the Pats pulled closer—or even when they pulled ahead, 33--32, on Gronk's second score, midway through the fourth quarter—Philly responded.
The Eagles didn't win by luck, they won by being brazen. Late in the second quarter coach Doug Pederson dialed up a play—Philly Special, they called it—that his team had practiced the past three weeks. Corey Clement, an undrafted rookie running back, took a direct snap and flipped the ball to undrafted tight end Trey Burton, who threw to Foles for a one-yard score. "That shows you the kind of confidence, the kind of guts, the kind of coach that [Pederson] is," says general manager Howie Roseman. "Unbelievable. That's called big balls."
He pauses. "Can I say big balls?"
The Eagles won with schematic wrinkles. Trailing by one in the fourth quarter, they lined three wideouts in a bunch formation to the right, sent Clement in motion to that side, and then watched Foles sling a dart to tight end Zach Ertz, who'd lined up in single coverage on the left. His diving, 11-yard score made it 38--33 with 2:21 time left. Of course that would be too much time to give to Brady. Of course he would charge down the field and win his sixth ring.
But on the Patriots' ensuing possession Cox occupied two blockers, allowing defensive end Brandon Graham to free up and knock the ball from Brady's grasp. Derek Barnett recovered, and while New England would get the ball back with 58 seconds after a 46-yard Jake Elliott field goal, Brady couldn't summon one last magical drive. In the battle of Tom vs. Time, the QB had simply run out of seconds. The of course never came.
As a high school senior in Marlboro, N.J., Howie Roseman started sending his résumé to pro football teams—and not just one or 10. He mailed them to every single franchise. He planned his education with a front office career in mind, earning a Fordham law degree because he thought it could help him in future contract negotiations. He became the pen pal that then Eagles president Joe Banner never wanted, mailing letters that arrived like clockwork every afternoon. Eventually, Banner relented, hiring Roseman, then 24, as an unpaid intern in 2000 and watching his pupil rise to become the NFL's youngest general manager, in '10.
Three playoff-less years followed, though, and in 2013 Philadelphia hired Chip Kelly away from Oregon. By '15, Kelly had wrested personnel control away from Roseman, and the boy who never wanted to be anything other than an NFL GM had lost his dream. "He was worried he'd never get another chance," says Banner.
These days, Roseman refers to 2015 as his "gap year." Yes, he still worked for the Eagles, but he spent most of that season on the road, meeting with former Chelsea director of football operations Mike Forde, Spurs GM R.C. Buford and First Data CEO Frank Bisignano, along with execs in baseball and hockey, business leaders and several retired NFL general managers.
When the Eagles fired Kelly near the end of that year and slid Roseman back atop the franchise's personnel throne, the once-again GM immediately faced the two most important decisions of his tenure: He needed a head coach and a franchise quarterback.
Roseman, along with a contingent of executives that included owner Jeffrey Lurie, flew to Kansas City for a three-hour interview with Pederson, who before coordinating the Chiefs' offense had been a Philly assistant from 2009 through '12. Eight NFL franchises had head coaching openings that offseason, but Roseman & Co. were the only front office that even reached out. (Among the many topics discussed that afternoon was a workout back in 2012 by a former Arizona quarterback. Pederson recounted how he'd been the only coach at the throwing session. That kid's name? Foles.)
With Pederson hired—and with backlash mounting among Philly fans over his inexperience—the draft four months later took on that much more importance. Roseman met Carson Wentz at the Senior Bowl and, even though he had started only 23 games in college (at FCS North Dakota State), the Eagles, against convention, gave the QB their highest grade since Andrew Luck left Stanford in 2012.
"We were willing to do anything in order to get Wentz," Lurie says. And they did, trading up twice to select him at No. 2. Still, Roseman placed a rare premium on backup QBs, and altogether his Eagles committed $60 million in guaranteed money toward a trio of passers: Sam Bradford, Chase Daniel and Wentz. (Bradford, whom Roseman inherited, would be traded to Minnesota by August.)
The Eagles went 7--9 in Pederson's first season, and Roseman's QB strategy was roundly mocked. Nothing about his March 2017 signing of the free agent Foles—for $7 million guaranteed, plus a $6.1 million cap hit for releasing Daniel—did anything to calm that criticism. But his plan was clear. "We prioritized more money for the second quarterback than any team in football," says Lurie.
Roseman then moved down his priority list, adding pieces. He signed Jeffery and Torrey Smith, veteran wideouts; pass rusher Chris Long; cornerback Patrick Robinson; Blount and Elliott. He traded with the Ravens for run stuffer Timmy Jernigan and with the Bills for cornerback Ronald Darby. And he drafted Barnett at No. 14 with the pick he'd obtained from the Vikings for Bradford.
The Eagles started 7--1, Wentz ascended into the MVP conversation ... and still Roseman kept dealing, obtaining Ajayi, a disgruntled Dolphins running back, in October for a fourth-round pick. Lurie liked the move most for what he says it signified: "that we were all in."
Roseman had created depth, and that depth would be tested. Lost were speedy running back Darren Sproles (arm, ACL), special teams ace Chris Maragos (ACL and PCL), Pro Bowl left tackle Jason Peters (ACL and MCL) and defensive signal-caller Jordan Hicks (Achilles). Then disaster really struck when Wentz went down.
After that play, a trainer called Roseman immediately. Down on the field, the QB kept repeating the same sentence: "Something's not right." The doom and gloom residing deep inside almost every Eagles fan heightened in that moment. Here they were again. The worst possible luck. Another promising season gone.
Enter Foles, the quarterback that Pederson, a longtime clipboard jockey himself, had sought in free agency. After that win in L.A., safety Malcolm Jenkins addressed the team. "Let's get this out of the way," Jenkins said. "This is what we're all thinking: What happened to Carson sucks. It's terrible. But we've come too far and we aren't going to stop now."
Ten years ago, Hall of Fame quarterback Brett Favre went down to Shreveport, La., to visit Pederson, his longtime Packers backup, who'd just started coaching at a small high school. Favre figured his old friend would do well at that level. "I didn't think he'd take it any further than that, really," Favre says.
Pederson's career had already taken some odd turns. After his father, Gordon, hand-delivered a highlight tape to the coach at tiny Northeast Louisiana University (now Louisiana-Monroe), Doug landed a scholarship and threw for 6,445 yards in three seasons. Still, he went undrafted in 1991. He signed with the Dolphins but was cut, bounced around various practice squads and scout teams, was excised to Germany in the World League ... and yet somehow he managed to stick around the NFL, despite never staying on a team for more than four consecutive years. He became Favre's sideline confidant in Green Bay, relaying opponents' tendencies, and was nicknamed the "Front Doctor" for his ability to read a defense. "There's no doubt I would not have been as successful without him," says Favre.
As Pederson's unlikely career wound down, he started telling family and friends that he was thinking about coaching, and in the summer of 2005, dressed in a suit and tie, he walked onto campus at Calvary Baptist Academy to interview with a six-man selection committee for a job leading the school's rebooted football program. "We know you had a successful career in the NFL," one interviewer asked in a small conference room near the superintendent's office, "but what makes you feel like you'd be a successful coach?" Pederson had a five-minute answer prepared. Even though he didn't know it at the time, he explained, he'd been a coach his entire life.
Inheriting a roster that had gone 4--6 the year before—and a locker room consisting of two temporary classrooms joined together, with a weight room converted from a storage closet—Pederson guided the Cavaliers to the playoffs in each of his four seasons. After games he would hand-wash his players' jerseys and towels and stay up late picking up the trash left in the stadium. He'd found his calling.
Then Andy Reid rang, offering Pederson a job as the offensive quality control coordinator on his Eagles staff. It was the lowest rung of the coaching ladder. Pederson accepted.
In the offseason after his first year with Philly, he visited his youngest brother, David, back in Louisiana, for what can loosely be described as "vacation." David remembers his brother bringing along his laptop and playbook and sitting on his couch for hours every day, logging plays in preparation for training camp. The playbooks were voluminous. The work was tedious. "And he loved it," David says. "That's why I think Doug is perfect for Philadelphia. He's been an underdog his whole life."
Foles easily could have retired. His father is a highly successful restaurant owner in Austin, having sold two chains in 2011 for $59 million and then quickly turning around and opening up several more. Nick even invested in three of them himself.
But football was central to his life. When Nick was a toddler, Larry Foles would drop Nerf balls onto his child's head to develop hand-eye coordination, despite his wife's protests. Father and son would travel to Texas Longhorns games and leave Memorial Stadium at halftime to throw around in the parking lot. When he was seven, Nick asked Larry if he could play quarterback in his dad's Thanksgiving Day Turkey Bowl game, lining up against grown men who worked in the family's restaurants.
Even if his father had faith, Foles often felt as if his coaches didn't believe in him. When he was a sophomore, the coaching staff at Austin Westlake High tried moving him to tight end. "No, I'm a quarterback," he said. Even then, he didn't start until he was a junior. Later, when college recruitment was slow, father and son flew out to Arizona, armed with VHS highlight tapes, to meet the coaching staff. They left feeling little interest. Later, after Nick fell to No. 3 on Michigan State's depth chart and he decided to transfer, Larry still had to send the Wildcats more tape. Nick didn't start until the middle of the following year.
Then, with Pederson's recommendation, the Eagles selected him in the third round of the 2012 draft. Foles's career took a sudden star turn in Year 2 after Michael Vick was injured: He set the NFL record for the best TD-to-INT ratio (27:2, since surpassed by Brady) and tied the mark for TDs passes in a game (seven); he went 8--2 and took the Eagles to the divisional playoffs; he started the next season 6--2 ... and then he broke his collarbone and was traded for Bradford in a move that shocked and saddened him.
One year Foles was unable to walk the streets of Philadelphia, such was the love coming his way; the next year he couldn't leave his house, such was the souring of the fan base. He was anxious about being sent to the Rams in 2015, forced to play on a team and for a coach, Jeff Fisher, he did not choose. He struggled—but, in hindsight, winning four games for the Rams that season seems more miraculous than disappointing. At year's end Fisher cut him over the phone, which was consistent with the way Foles felt he'd been treated in St. Louis.
Yet there he was, the quarterback who'd almost retired a year and half earlier, leading the Eagles to victory in their three final regular-season games in 2017, then two playoff wins. In demolishing the Vikings in the NFC championship game Foles threw for 352 yards and three TDs. "We were like a 4 ... 400 relay team," says Roseman, meaning that his roster pieces were passing a metaphorical baton from injured starters to the backups.
The crowd at Lincoln Financial Field that evening in January was at once exuberant and cautiously optimistic, knowing there was still one game to win—a game the franchise had never won before.
Vince Papale remembers being six, living in his family's cramped apartment in a Philadelphia housing project, everyone huddled around a black-and-white TV to watch the Eagles every Sunday. He bought his first set of season tickets to the old Franklin Field in 1966, sharing them with a group of friends. In those days he played in a touch football league, and on Sundays he would leave the field, grab some blackberry brandy, hop on a train to 30th Street station and walk over to the stadium. "My blood runs as Kelly green as you could possibly imagine," he says.
Papale famously made his favorite team's roster in 1976 based on a street tryout. His life was later immortalized in a Disney movie, Invincible, which embodied the relationship between Philly and its football team. Today he compares Eagles fans to addicts, even in the lean years. He says that addiction created angst for the followers of an 85-year-old franchise that hadn't won a championship since 1960.
Papale can sympathize with a coach like Dick Vermeil, whose Eagles lost to the Raiders in Super Bowl XV, in 1981. Vermeil remembers back when he was developing a young QB, and how he often wished his team "could play a few more road games," because of the angst at home when things were bad. But he also remembers the best years, when fans in the lower bleachers would try to pass him a fifth of liquor as he made his way onto the field. Their support, he says, "could be almost embarrassing. They took the Eagles into their home as part of their family."
After two decades of postseason failure—Philly won two playoff games between 1981 and '99—the Eagles went to four straight NFC championship games, and Banner, then the president, couldn't walk down the street without hearing singsong E-A-G-L-E-S chants. When he was negotiating with mayor Ed Rendell on a new stadium deal, he asked Rendell why he favored pouring public money into the team's new home. Just walk the streets downtown, Rendell told him, and look at the faces of homeless people and CEOs alike. You could tell with one glance whether the Eagles had won. "What else brings people together in that way?" Rendell asked.
"It's really a beautiful romance," says Papale.
Wayne Baird, a lifelong fan who works in IT, knows that romance well. He remembers sneaking into Veteran's Stadium, where the fence wasn't very high and all he had to do was grab one of the cement walkways and hoist himself up. He recalls all the losses, the defeat against the Patriots in Super Bowl XXXIX, the heartbreaker in the 2008 NFC championship game against the Cardinals, the communal sense of pain—of almost—that Banner says lingered.
"This is what happens to us in Philadelphia," says Howard Eskin, a longtime local radio personality. "Always bad news and bad luck."
Baird never gave up hope. He believed in Foles like he believed in Wentz, even when 11 months ago he was diagnosed with mantle cell lymphoma, a rare form of cancer, and given four months to live, max. For years he'd been saying he wanted to see an Eagles Super Bowl victory before he died. Suddenly that window seemed to be slamming shut. As Philly clung to a five-point lead in its divisional playoff game against Atlanta on Jan. 13, Baird dropped to his knees and prayed. "I'm 62, I got cancer, and I've never seen the Eagles win a Super Bowl. Don't do this to me," he begged.
Then his team won and won again, and even a little Crisco couldn't stop long-suffering Eagles fans from climbing the light poles downtown after the NFC title game. One enthusiast, oddly, navigated a dune buggy up the steps of the Philadelphia Museum of Art in an apparent ode to Rocky, the original Philly underdog. Fans and players alike latched onto that theme. CreepyParty, a small novelty company based out of China's Guangdong province, usually sells about 10 of its German shepherd masks every day, but when Long and offensive tackle Lane Johnson celebrated on the sideline by donning their masks (get it? underdog), the company quickly moved 230 of the canine likenesses on a Sunday in January. When their inventory of 300-plus sold out (and after fans depleted their husky, basset hound and black poodle models), the company re-upped their stock ... and then sold out again.
In the end, Baird made it to Minnesota and watched his dream unfold in person. "If I wasn't terminal," he says, "I would look at somebody and say, 'All right, I can die now.'"
Around midnight on Monday morning, two students at the Merriam Theater of the Arts leaned out of a fifth-story window in downtown Philadelphia, trombones in hand, and led the thousands assembled below on Broad Street in a deafening rendition of "Fly, Eagles Fly." The Crisco that state police had lathered ineffectively onto street poles two weeks earlier had been replaced by hydraulic fluid—so fans simply uprooted the poles from the ground and carried them down the streets on their shoulders. Others climbed atop traffic lights and surveyed the unprecedented scene unfolding beneath them.
Some 2,000 college students marched from Walnut to 30th Street and, en masse, chanted "F--- Tom Brady" and "Big D--- Nick." Other revelers stood atop cars and threw dollar bills into the air. One man dressed as Santa—a costume that evokes the most ignominious moment in franchise history—crowd-surfed down the road, not too far from where a Christmas tree was lit afire. Another fan got on a knee in the middle of the melee and, taking advantage of the moment, proposed. (She said yes.)
Others, certainly, took it too far. At the Ritz-Carlton hotel, one fan after another cascaded down the awning, until eventually it collapsed. One man held on to the back of an ambulance, lights flashing, and skateboarded behind it, while others leaped onto the roof of a police van and clasped on tightly as their ride sped down the street. Cars were flipped, drones were flown; fireworks and smoke bombs were set off, bottles thrown. The fence at City Hall was mounted and climbed. As were garbage trucks and fire trucks and tractor trailers and the Rocky statue, upon which a number 86 Ertz jersey had been placed. A police horse was stolen and trotted through the city. One man, apparently caught up in the moment, leaned down and, with the urging of the crowd, ate a piece of horse excrement off the ground.
Some 1,000 miles away in Minnesota, Papale cried in his children's arms. His entire life he'd waited for this moment, but he never could have expected the way it happened: the injuries overcome, the backup QB who won Super Bowl MVP, the improbability of it all. It was real.
"Validation," Papale says. "[The fans'] reward for all the pain and suffering, like an exorcism of a demon that has been with them for years and will now be released from their body.
"And the biggest party you will ever see."