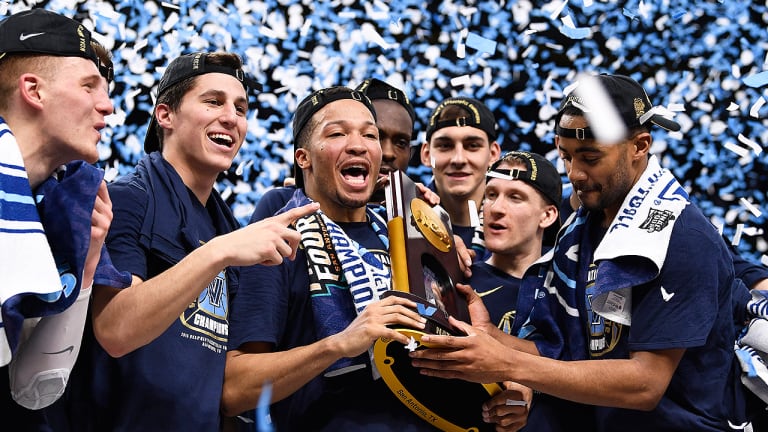 Again, With Attitude
Two years ago Villanova shocked the world (and maybe itself) by winning it all. Not this time—the Wildcats' band of versatile, selfless, confident and deadly shooters destroyed the NCAA field. After a finals blowout of Michigan, it's worth asking: Is this college hoops' perfect program?
This was supposed to be a college basketball season with no truly great team, an odd year defined by top-of-the-polls tumult that would leave the NCAA tournament open for the taking. Yet on the first Monday in April there was Villanova, laying waste to both that tired narrative and to Michigan on an elevated court in San Antonio's Alamodome, with a majestic brand of ball at once modern in its approach and old-school in its mind-set. There was the national player of the year palming the ball in his left hand and shouting in celebration after the final buzzer, then sobbing—joyfully—minutes later.
There was a bench player nicknamed the Big Ragu and the Michael Jordan of Delaware scoring a career-high 31 points and winking at a former teammate in the stands. There was a sixth, and final, win by double figures to seal the program's second national title in three seasons. There, finally, was greatness.
The Wildcats' 79–62 win coronated both this year's champion and the sport's newest royalty. Since the end of UCLA's dynasty in the mid-1970s only three other schools have won two national championships in as short a span, the last being Florida's back-to-back titles in 2006 and '07.
Just one starter remained from the 2016 team: junior point guard Jalen Brunson, now the seventh Naismith recipient to win that same year's NCAA tournament. But as Brunson struggled to find his shot and then fell into foul trouble, it was 6' 5" sophomore guard Donte DiVincenzo, who spent the previous championship run redshirting and excelling as a scout-teamer, who emerged as this season's final hero, scoring 18 of Villanova's first 32 points and converting what began as a struggle into a romp. "He picked us up big time," said junior wing Mikal Bridges, who scored 19 points on 7 of 12 shooting from the field. "And I love him for it."
After a pair of second-half threes pushed the Wildcats' lead to 18, a straight-faced DiVincenzo absorbed a series of his teammates' chest bumps on his way into the huddle for a timeout, raising a finger to the scoreboard. Explained junior forward Eric Paschall, "He was saying, Seven minutes to finish this."
At that point it was only a matter of time.
The Wildcats had touched down in San Antonio in an unfamiliar position: even-money Vegas favorites, the greater of two Goliaths in the heavyweight portion of the Final Four's twin bill. They took the Alamodome floor each day in as familiar a way as possible, slapping their hands on the white tape adhered above the inside frame of their locker room door, on which the word attitude was Sharpied in black. Senior manager Matt O'Neill had stuck it there hours before Villanova's first practice on March 29, just as he had done in the team's meeting and meal rooms in the Hyatt Regency downtown, just as he had done on all road trips this season. Wherever the Wildcats go, they go with ATTITUDE.
This Villanova squad reflexively dodged comparisons to its 2016 iteration, insisting it was a new team, the returning figures cast in fresh roles. But even discounting a scout-team cameo from 2016 hero Kris Jenkins at that initial practice, these Wildcats invite connection to their recent past. They play similarly, spacing the floor and bombing away from deep. They speak similarly, dogmatically citing the same tenets of "Villanova basketball" and, yes, attitude. They even prepare and conduct themselves the same way, just as coach Jay Wright's teams always have. Two years ago Brett Gunning, an assistant under Wright for 14 years at Hofstra and Villanova who now coaches for the Houston Rockets, sat in on one of Villanova's pre-Final Four practices. "It might as well have been Day One at Hofstra," Gunning says now.
Villanova has become a model not just of a program but of programming, a humming machine Wright has been honing since his hiring in 2001. Attitude is both its foundational and oldest component, traced to Wright's debut season at Hofstra in 1994–95, a 10–18 campaign that opened with 74 people in the stands and went downhill from there. Wright would drive around Long Island that winter in his GMC Jimmy listening to Louis Armstrong croon "It's a Wonderful World" on cassette in an effort to stem off emotional slumps. "Don't walk around like a loser," Wright told his players. "Walk around with a great attitude. That's what we can control."
The mind-set was still there in 2009, when Villanova reached its first Final Four in 24 years, but after that achievement the program lost some of its edge. Wright has said that he got "sloppy" in his recruiting during this time, overemphasizing talent and stature and not fully considering how players might fit in the Wildcats' culture. Two years after that Final Four—where the Wildcats lost in the semifinals to eventual champion North Carolina—Villanova started 16–1 before collapsing, losing its final six games. The following season it finished 13–19. "Those were good players, and they weren't bad people," says Philadelphia 76ers assistant Billy Lange, who served on Wright's staff from '01 to '04 and '11 to '13. "They just weren't coming to Villanova for the same reasons Jay wants people to."
Around the same time he was returning to his original priorities, Wright made another important tweak. As the Wildcats were continually burned by opponents' three-point shooting, he commissioned Lange to figure out why. He spent the summer of 2013 chronicling every three-pointer Villanova had surrendered in its previous 27 games against high-level opponents and filed a 37-page report complete with pie charts and color-coded tables. "He probably read about two pages," Lange says now, but it was enough to grasp the report's primary conclusion: The best way Villanova could limit opponents' three-point damage was by emphasizing communication and reworking their ball-screen defense. It was the volume of opponents' threes, not their percentage of makes, that needed to be addressed.
Another of the Wildcats' many creeds is that defense leads to offense, and in this case the effect was literal. The same logic suggested that Villanova's offense would benefit from shooting more triples, and so Wright, already a deep-ball proponent and member of the small-ball avant-garde, built his rosters and game plans accordingly. In 2013–14, the first season after the study, the Wildcats' share of field goal attempts from beyond the arc leaped from 35.3% (112th in the country) to 44.8% (seventh). It has not dipped below 42.7% since.
Thus the DNA of two Villanova title teams was encoded. This year's Wildcats might have challenged the NCAA tournament's informal record for handclaps and high fives, but more officially they set two other marks: for the most three-pointers by any team in a single season (464), and for the greatest reliance on treys (47.5% of their shots from the floor) by an NCAA champion. The latter mark had been set in 2016 by, yes, the Wildcats, who ended that tournament with the most famous three in the event's history. As the entire Villanova bench rushed the court within seconds of Jenkins's splash that night in Houston, it was the pair of freshmen who sprinted out first who would carry the program back to Texas for another celebration, on another Monday night in April.
Father Rob Hagan was not this Final Four's most extolled chaplain—that distinction went to Sister Jean Dolores-Schmidt, the 98-year-old nun from Loyola-Chicago who became such a sensation that the NCAA granted her an official press conference before more than 100 rapt reporters. But Hagan, an associate AD at Villanova who has counseled the school's basketball team since 2004, was the one navigating Monday's confetti-strewn court and likely the only one to have preached to his charges during the tournament about the lessons that can be gleaned from the behavior of Hereford cattle. When a storm rolls in, Hagan told the Wildcats, the cows band together and turn toward it. Only through their collective resolve is the tempest weathered.
A month earlier Hagan had shared with the team a more traditional parable, that of the barren fig tree from the gospel of Luke. In it a vineyard owner orders a tree cut down after three fruitless seasons. "But a fig tree doesn't bear fruit every year," Hagan says, the lesson being that with time and attention, the desired outcome may yet arrive. Around the Villanova locker room Hagan could cite examples, from freshman forward Omari Spellman, academically ineligible and overweight a year ago but now a slimmed-down starter and burgeoning poet, to DiVincenzo, who missed most of his own first collegiate season with a broken right foot, accepted a reserve role this year and wound up the Final Four's Most Outstanding Player. But it was in the journeys of the team's two stars, born one day and 49 miles apart, that the Reverend could summon two excellent testimonials for such patience.
Brunson arrived at Villanova ready to make his mark. Famously and painstakingly trained by his father, Rick, who scrapped his way to a nine-year NBA career by way of Australia's NBL and the now-defunct CBA, the younger Brunson was a McDonald's All-American and Illinois Mr. Basketball who won MVP honors at the FIBA U19 world championships the summer after he graduated from Stevenson High in Lincolnshire. "I've never recruited as complete a player," Wright said the week of the Final Four. "I never saw anybody that mature, that refined at everything." The spring of Brunson's senior year, then Wildcats assistant Baker Dunleavy visited Brunson at his home and recognized Brunson's shooting routine during a workout: It was the exact one Villanova uses, copied down by Rick during a visit to the school. "At times you would be like, Rick, don't worry," says Dunleavy, now Quinnipiac's head coach. "He'll get it when he gets here."
Still, prepared and developed as Brunson was, the roster he joined in the fall of 2015 already featured an entrenched point guard in four-year captain Ryan Arcidiacono. Brunson grew close to his mentor and started all but one game alongside him, but his was still a smaller role than he was used to playing, one adjustment among many he had to make that first year. During struggles in Big East play Jalen would phone Rick late at night, his confidence cracking. Am I good enough? Did I make a mistake? The low point came when Brunson played just nine minutes in a conference championship loss to Seton Hall, after which even Rick grew restless. "Damn right I called [Wright]," says Rick, now an assistant coach with the Minnesota Timberwolves. "What the hell are you benching my son for?" But he eventually settled his mind with the same refrain he told his son: Jay knows what he is doing.
What Wright was doing was developing what he now calls "the easiest player I've ever coached," a headstrong national player of the year who averaged 18.9 points and 4.6 assists as a junior while coming to embody the program's steely, unflappable efficiency. "You peel his face off," then Xavier coach Chris Mack said of Brunson in February, "he'd probably have wires coming out of it."
If, as Rick says, part of his son's growth has come from having been spent time as both "Batman and Robin" at Villanova, then the development of Brunson's top running mate stems from how unlikely that sidekick was to don a cape at all. While Brunson was long groomed for stardom, Bridges was an initially ignored prospect from a high school (Great Valley High in Malvern, Pa.) that rarely produces a Division I player. So enamored was Bridges with the local basketball power that when he first heard the Wildcats were interested in recruiting him, he "came home busting through the door," recalls his mother, Tyneeha Rivers, "like, Mom, I think I'm gonna go to Villanova!"
He would not suit up for the Wildcats so quickly. The 6' 7" Bridges enrolled at Villanova in 2014, not yet 18 and weighing just 175 pounds. When the spindly newbie nicknamed Noodles began wearing down against older teammates in practice, Villanova's coaches approached Bridges with an idea: Sit out the season as a redshirt to beef up.
What followed was standard athletic pound-packing—a progression of weightlifting routines, a succession of 500-calorie protein shakes to wash down ample servings of grass-fed beef. Yet in their regular phone calls Rivers could tell the all-work, no-play experience was wearing on her son. "Those hard days," she says, "I would tell him, 'Mikal, remember my story.' " Hers was anything but standard: pregnant at 19, raising Mikal alone and working full-time while taking classes to complete a degree in business administration from Cabrini University, sometimes toting her son to lectures or group-project sessions.
On the afternoon of Saturday's semifinal, Rivers sat on an orange couch in the lobby-level restaurant of Villanova's team hotel, the San Antonio River winding beyond the massive glass wall behind her. These days she is the global VP of human resources for Harris Blitzer Sports & Entertainment, the parent company of the 76ers, and her son—now a 205-pound, 43.5% three-point shooter who can defend all five positions—is assuredly NBA-bound as well. It's a course she is still processing. "I cry all the time," she said. "Just to see him go from high school, this skinny kid, to where he's at today...." She trailed off, a smile breaking through as she dabbed the corners of her eyes.
By Saturday night patience had little to do with what the Wildcats did to Kansas: Seven minutes in, Villanova led 22–4, having made six of 10 three-pointers while its opponent—a No. 1 seed and the Big 12's regular-season and tournament champion—had attempted only six shots altogether. By halftime seven Wildcats had made at least one three-pointer, and their 13 first-half makes from deep tied the 31-year-old Final Four record for a game. "They were superior, obviously handled us today," Jayhawks coach Bill Self said afterward. "And they'd be hard for anybody to deal with if they shoot the ball like that."
Wright spent much of this season trying to persuade his players that their fates were tied to more than their shooting. Taking after Brunson and Bridges, two of the country's 15 most efficient offensive players, Villanova's offense was close to being historically good: Its 1.28 adjusted points per possession were the second highest of the 17-season analytics era, behind only 2014–15 national runner-up Wisconsin. Scoring binges masked defensive lapses, however, as recently as a Feb. 24 overtime loss at Creighton, the team's third defeat in six games. While not the Wildcats' most disastrous defensive performance of the season (in a Dec. 30 loss at Butler, they allowed an eye-popping 1.40 points per possession, 12% worse than what was averaged by the country's last-ranked defense), it was after the loss to the Bluejays that Wright's message—that the team could not merely shoot its way to glory—finally took hold.
Though not quite a storm, a cold front did ground Villanova in Omaha that night. The team's charter froze over on the tarmac, forcing the Wildcats to deplane and return by bus to a downtown Hilton. There Wright gathered his players in two rows of chairs in a conference room and took a seat opposite them. For some 45 minutes he implored his charges to take the night's loss as a wake-up call, to start defending the way they would need to in order to reach their potential. "You need to be stewards of the culture," Wright told them. By midnight the players retreated to their rooms, some propping open the doors and visiting one another for impromptu confabs, searching for answers.
Before their first practice back on campus, the Wildcats' trio of captains—Brunson, Bridges and junior guard Phil Booth—addressed their teammates. It starts right now, they said. Two days later, at Seton Hall, they endured their worst offensive performance of the season and still ground out a one-point win, holding the Pirates to 38.5% shooting. "That," a delighted Wright told his team afterward, "was a Villanova street fight."
After that, practices grew more urgent, more physical. Up went the frequency of deflections, charges, collisions. Down went the swishes. At long last the Wildcats' defense showed signs of dimming an offense that was lighting up nearly everyone else. "It was kind of ugly," says DiVincenzo. "But that was the beauty: Nobody was making shots and everybody was still happy and excited."
Villanova bombed its way through the tournament's first three rounds, then met Texas Tech and its accosting, intrusive defense (to that point ranked third nationally) in the Elite Eight. The Wildcats made only four of 24 three-point tries that afternoon in Boston, but stifled the Red Raiders in kind, holding them to just 33.3% shooting from the floor and haranguing them so relentlessly that they made just six of 23 layups. In the aftermath some observers spoke of the three-happy Wildcats defying their makeup. Those inside the program and those who have faced it knew better. "You think it's their three-point shooting, their small-ball, their athleticism," said Texas Tech coach Chris Beard, a Bob Knight protégé. "But by far, their identity is their toughness."
Six days later Wright stood in a hushed hallway of the Alamodome, speaking with a small group of reporters in the hour after his team's 95–79 win over Kansas, a rolled stat sheet gripped in his left hand. His team's deadeye offensive display aside, it was the defense, and its progress since that frigid night in Omaha, that still wowed Wright. "I thought we just might not be able to do it with this team," he said. "They really taught me, no matter what the team's like, just never give in on that. They can dig down and defend."
Nearly two hours after the final game had ended, Wright stood some 50 yards away in the same hallway, his hair and blue dress shirt still damp from the celebratory Dasani shower his players had given him in the locker room. In the afterglow of a championship, he indulged a request to compare the 2016 experience to this one. "The first one was just overwhelming," he said. "The confetti came down this time. I was like, all right, I knew it was coming. You just get to enjoy everything."
Nine years ago, when he led his team to a Final Four for the first time, Wright figured that feat would be the highlight of his career. Now he was asked for his thoughts on joining Duke's Mike Krzyzewski and North Carolina's Roy Williams as the only active D-I coaches with multiple titles.
"Wow," Wright said, eyebrows arching. "Not something I like to think about, honestly."
There are still parts that will take some getting used to in this new, wonderful world.