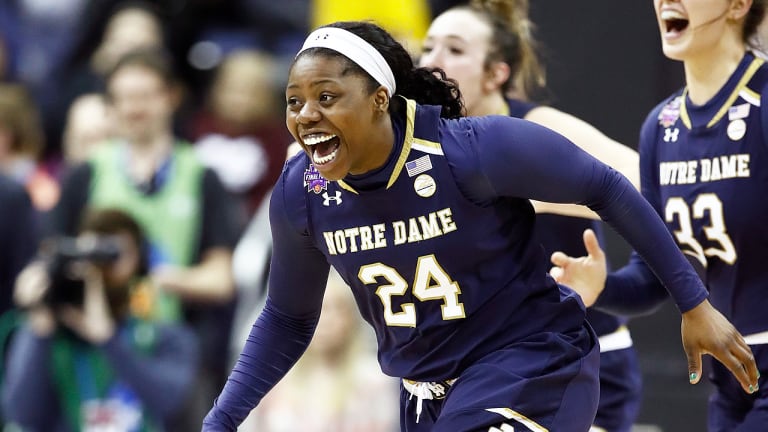 ARIKE MOMENT
With a pair of spectacular, game-winning, long-distance shots, Notre Dame guard Arike Ogunbowale knocked off unbeaten Connecticut and favored Mississippi State, capping a pair of furious comebacks and helping a battered, depleted team win the Irish's first title in 17 years.
ON SUNDAY NIGHT in Columbus, Ohio, with 3.0 seconds left in the NCAA women's national championship game and the score tied at 58, Arike Ogunbowale was not supposed to get the chance to be a hero. Her name wasn't supposed to trend online, her face not supposed to flash on televisions across the country. Kobe Bryant wasn't supposed to tweet at her. Not again, that is.
The frontcourt out-of-bounds play that Notre Dame coach Muffet McGraw drew up was designed for Jessica Shepard. The 6' 4" junior forward had been the Irish's most efficient scorer all game, and the Mississippi State player most likely to stop her, 6' 7" center Teaira McCowan, had just fouled out. It was the play that made the most sense. But sometimes things don't have to make sense.
The Irish had withstood a 26–7 first-half run, had looked scared and shaken, then had steadily fought their way back. Resilience: It's a word McGraw had used to describe her squad all week, repeating it like a mantra. This was a team that had lost four key players, two of them starters, to ACL tears, and used just a six-woman rotation throughout the tournament. A team that suffered one of the worst losses in program history, a 33-point home thrashing by Louisville, three months earlier, Notre Dame wasn't supposed to be a No. 1 seed, wasn't supposed to beat UConn in the Final Four, wasn't supposed to win this game.
McGraw's play called for sophomore guard Jackie Young to inbound just in front of the Irish bench. Shepard, on the right block, would fake as if she were going to set a screen and quickly pivot to receive the ball. Mississippi State guard Blair Schaefer had been instructed to sag off Young and float down to front Shepard, doubling the entry pass; wings Victoria Vivians and Roshunda Johnson were to deny the 5' 8" Ogunbowale, to not let her even get a touch. But Young had a feeling it might be difficult to pass into the post, and after the huddle broke, she approached Ogunbowale. "If I can't get it into Jess," she said, "come get the ball."
As the play began, Young saw her suspicion confirmed: She couldn't inbound safely to Shepard down low. She snapped her gaze toward Ogunbowale, but Vivians was in the way. Meanwhile, the referee's right hand was pacing off the five-second count—and she was already at four fingers.
Charging from the top of the key, Ogunbowale swam her right arm around Vivians's left shoulder, like a defensive end blowing past a left tackle. She gathered in Young's short pass and took one dribble toward the right corner. Then another. Vivians gave chase, raising a hand as Ogunbowale planted her feet and lifted. With her momentum carrying toward the baseline, she was off-balance, falling back and to her right. It was not the shot she wanted.
Dare Ogunbowale watched from the stands as his younger sister let fly—and he was skeptical. He'd seen Arike hit game-winners her whole life; he'd seen it just 48 hours earlier, on the opposite end of the same court, when she pulled up from 20 feet with one second left in overtime to end UConn's undefeated season. On that play Ogunbowale demanded the ball, prying it from junior guard Marina Mabrey's hands near midcourt. Then she dribbled into the corner, crossed over a helpless defender and fired. Game over.
Bryant—a noted Huskies fan—was in the stands that day, yet after the game he lauded the Irish's leading scorer on Twitter: "Love seeing great players make great plays." Bryant didn't know that earlier this season Ogunbowale had bought a golden doodle puppy and named him Kobi. "My life is complete," she responded, to which Kobe answered, "it's complete by finishing the job on Sunday."
So clearly Dare knew what his sister could do. But this shot, at this moment, on this stage? This didn't seem possible. "She's special," he said on the court after the game, blue and gold confetti at his feet. "And special things happen to special people."
THERE'S AN old photo that Arike Ogunbowale's parents like to talk about: It's of the youngest of their three children standing in the backyard of their Milwaukee home, wearing only a diaper. They had all been outside, for reasons since forgotten, and two-year-old Arike had wandered off. When they finally found her, she was standing in the grass, a regulation-size basketball in her hands, gazing up at a 10-foot-high hoop.
When Arike turned three, her parents bought her a blue-and-orange Fisher-Price basket for her room. She would toss mini basketballs at the rim all day, and as she put up shot after shot, her mother, Yolanda, would whisper a single word in her ear: concentrate. Arike would breathe, say the word back and let fly. It wasn't long before she was consistently connecting.
Yolanda placed Arike on a fifth-grade basketball team when she was in first grade; three years later an AAU coach recruited her. When she was 10, she played on the team for 13-year-olds ... and the team for 12-year-olds ... and the team for 11-year-olds. In bigger gyms, with multiple courts, she would sometimes switch teams at halftime, depending on which one needed her most. The first recruitment letter arrived when she was a seventh-grader.
When Ogunbowale (oh-goon-boh-WAH-lay) entered Divine Savior Holy Angels High, she was already hailed as the best offensive player in Wisconsin history. She was so good, so much better than everyone else, that she was often complacent in practice, not hustling on defense and rarely moving without the ball. So her coach, Scott Witt, devised drills to simulate competitive situations. In scrimmages he stacked four starters on one side and Arike with the backups on the other; the losing team had to run. Now Ogunbowale would play. Floaters, turnaround jumpers, 30-foot pull-ups—now she would hit them all. "It had to be something competitive," Witt says. "She would make every single play when the game was on the line.
But when Ogunbowale got to South Bend, she averaged only 19.3 minutes as a freshman. She was frustrated. It was new, not being the best player on her team, coming off the bench. Regular phone calls with her parents became venting sessions. She didn't want to transfer, but she thought about it. "You can leave and go someplace else and be the big fish right away," her parents told her. "Or you can stay at Notre Dame and work and become the big fish here."
A FEW HOURS before the start of the NCAA final, the Irish sat around three circular tables in a conference room at the Marriott Columbus. They had just finished their last session of film study when Niele Ivey pulled out her old number 33, blue-and-gold throwback jersey and held it up for the team to see. Ivey, now the team's associate head coach, had worn it on the very same date, April 1, 17 years earlier when she was the starting point guard on the first, and only, team in program history to win a national title.
"Something made me pack this jersey," she told her players. "I felt like you guys could do something special."
Ivey told them to visualize celebrating a championship. So the Irish sat silently at their tables for 10 seconds, their eyes closed, and thought about the confetti, the fireworks, the nets being cut. Then Ivey reminded them all that the 91–89 upset of top-seeded UConn two days earlier "wasn't the championship. Tonight is."
From 2011 through '15, the Irish appeared in all five Final Fours and lost in the title game four times. They had teams with multiple All-Americas and went through seasons when everything seemed to click. Which is why, on the day before the final, McGraw said that this team's run had been the most rewarding of her 36-year career. There had been so many setbacks, so much adversity.
First, All-America forward Brianna Turner, the team's most decorated returning player, tore her ACL in last year's NCAA tournament and had to miss the entire season. Then Mychal Johnson, the likely starting point guard, tore hers in October. Mikayla Vaughn, Turner's replacement, went down the next month, followed by guard Lili Thompson, the team's leader in assists and steals, in January.
The Irish brought in a specialist who focused on preventative stretches. They cut practices short by half an hour and turned Monday into a second off day—allowing only film study and massages. McGraw began playing mostly zone defense, concerned about foul trouble with her short bench. But after the initial shock passed, the coaches realized that even though they had lost a lot of talent, there was still much at their disposal. They were inspired, confident even. They figured they could still make a run.
Then Louisville happened. The 100–67 score barely does the drubbing justice. McGraw told her players that it was embarrassing but that nobody felt sorry for them so they shouldn't feel sorry for themselves. "You can either turn the season around," she said, "or it's going to get worse."
So it was only fitting that on the final night of the season, the Irish would face yet another, seemingly insurmountable trial. They scored just three points in the second quarter—the fewest in any regulation period in Final Four history. Young had picked up two early fouls, forcing Ogunbowale to bring the ball up and taking her out of her comfort zone. She was frigid from the field, making one of 10 shots in the first half. With McCowan and Vivians—both All-Americas—combining for 23 points. Notre Dame went into halftime trailing 30–17.
"A lot of us were shook," senior forward Kathryn Westbeld says. "Our minds were kind of going everywhere."
A WEEK AFTER that Louisville loss, the Irish were trailing Tennessee by 23 points at home. The ensuing comeback for an 84–70 victory was the largest in program history, a turning point, a glimmer of what could be possible. The players thought about that game during halftime on Sunday night. And they thought about their last two NCAA games, when they had trailed Oregon by nine and UConn by 13. They did not panic. "The third quarter is ours," says Mabrey. "And will always be ours."
Recognizing that McCowan was getting the ball too deep into the paint, McGraw decided to send a double every time she touched the ball—the center had a negative assist-to-turnover ratio, so they dared her to try to kick it out to teammates. They also tried to exploit McCowan at the other end, using Shepard to stretch the floor with her shot and to attack off the dribble.
A two-time All-Big Ten selection at Nebraska, Shepard announced her decision to transfer to South Bend in June. McGraw assumed that she would have to sit out one season, so she hadn't thought too much about installing Shepard into the offense heading into the season. Then at 2:30 p.m. on Nov. 1, the day of the opener, the coaches got word that the NCAA had approved Shepard's hardship waiver; she would be eligible to play immediately. "That's the season, right there," Ivey says. "That changed everything.
In the second half, the Irish pushed the tempo. Ogunbowale began to will her way to the basket, careening all the way down the court and into the lane. She would score 16 of her 18 points in the second half, while Shepard provided ballast in the half-court, finishing with 19 points on 8 of 10 shooting. Notre Dame ended the third quarter on a 16–1 run to tie it at 41, setting up a heated fourth-quarter exchange of buckets and blows.
After a three by Johnson gave Mississippi State a five-point lead with just under two minutes to go, Mabrey immediately responded with a triple of her own, Notre Dame's first. With 40 seconds left and the game tied at 58, the Bulldogs drew up a play to feed their center down low. McCowan received the entry pass, took one drop step and had a clean look at the basket. But her two-footer clanged the side of the rim.
The next possession ended in chaos; a steal by McCowan on one end, followed quickly with a steal by Young at midcourt—a controversial play that had Bulldogs fans clamoring for a foul call. Instead, the Irish got one last chance: an inbounds pass from the sideline with three ticks left.
AFTER OGUNBOWALE hit the shot, after she shed the teammates off of her back, the ones who were jumping and screaming and flinging themselves on top of her, she ran across the court to the Notre Dame fan section. Then she looked up into the stands, tapped at her right forearm with her left index finger and yelled, "Ice!"
"She's got ice in her veins," Ivey says. "She was born for these moments."
Soon the fireworks went off, the confetti fell and the nets came down. Bryant tweeted at Ogunbowale: #lifecomplete. Players hugged and thanked Arike's parents. That name, so rare—and now so ubiquitous. It was the name bestowed upon Yolanda by her mother-in-law the first time they met in Greg's native Nigeria. Yolanda told herself then that if she ever had a daughter, that's what she'd name her. Arike. Translation: something you see and cherish.
The world saw Arike Ogunbowale on Friday night. On Sunday night, she made sure it would cherish her too.