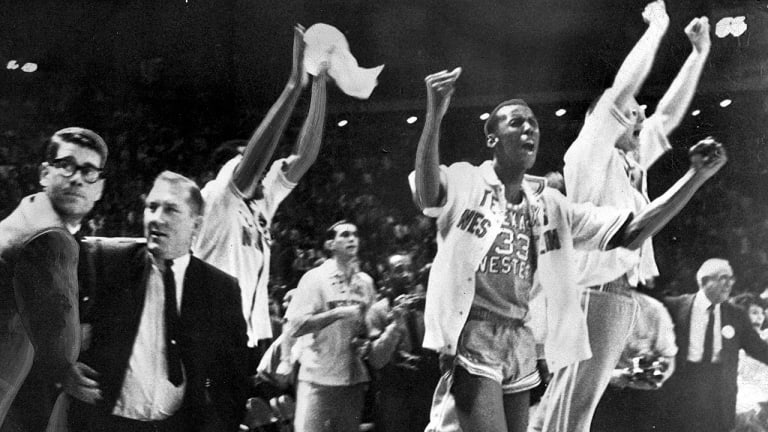 Go-Go with Bobby Joe
A brilliant show of basketball hijacking and broken-field driving by little Bobby Joe Hill eased his coach's aching head and took the Texas Western Miners to the national collegiate championship
For weeks Don Haskins had splitting headaches—frightful, bursting pains that seemed to cleave his brain. The closer Texas Western (see cover) came to the national basketball championship, the worse the headaches became. Perhaps his suffering was attributable to the implausibility of it all, for near the end Haskins really began to wonder if maybe he wasn't knocking destiny just a little bit out of joint. He savored the situation, of course. He loved it. But now and then he would stop to muse on the "once in a lifetime" aspect, toying with the idea, mulling the whole amazing thing over in his aching mind. Did this happen to Jack Fleck? Or Roger Maris? What was Henry Moreno thinking when he held Dark Star up over Native Dancer?
For here, at the end, was Don Haskins—a young coach at a school that had never before even challenged for a national title in any sport—standing brazenly in the way of Kentucky and Adolph Rupp, a combination that spread-eagles both the history and glory of college basketball. Not only that, but Kentucky '66 was really a team touched by fate, a team overlooked by nearly everyone before the season, but everybody's favorite now.
Not that Texas Western had exactly been glorified. No Miner player had made an all-district team, much less an All-America. But the team just kept on winning and finally met Kentucky in the finals. And instead of Adolph Rupp winning his fifth national title, Don Haskins won his first. "I'm just a young punk," Haskins said. "It was a thrill playing against Mr. Rupp, let alone beating him."
The beating was sound as well as thrilling. Kentucky was a worn, haggard ball club when it faced Texas Western Saturday at College Park, Md., but that was no alibi, for Texas Western had come through a hard season, too. Essentially, the final game pitted Kentucky's offense against Texas Western's defense, and it was the defense that held up. After only three days east of the Mississippi, Haskins and his Miners returned to El Paso with Texas' first national basketball title.
They had arrived on Thursday, St. Patrick's Day. Besides the headaches, Haskins had also been restless, sleeping uncomfortably amid the distractions. When a friend approached him during the nonstop flight from El Paso to Washington, Haskins said, "Hi, when did you get on?" Somebody gave him a 20-peso gold piece made into the shape of a money clip, and all the players received green string ties, which they looped about their necks. "My name's not Mick Shed, but I'll wear one anyway," said Forward Nevil (The Shadow) Shed. At their motel in College Park, which they shared with Duke, the Miners were like interlopers. The Duke fans overran the place. A huge banner, LET'S GO, DUKE, hung across the front windows.
A few minutes down the Beltway in Silver Spring, the Kentucky Wildcats already were ensconced in a motel. Pat Riley wore a fuzzy little shamrock in his lapel. "Conley's Irish, too," he said, "but he doesn't make as much of it as I do." If Riley resembled a happy Hibernian, Larry Conley didn't. He was a sick Hibernian. "The only green I've got is down in here," he said, coughing and pointing to his chest.
Like Bob Verga, Duke's star shooter, who just that morning had been released from the hospital, Conley had been ill all week. In fact, the whole Kentucky team was tired. Only Rupp, a remarkable old man hungry for his fifth NCAA championship, remained eager for the last two games of the season.
Haskins had a healthy team and an easier semifinal game. (TW played Utah, while Kentucky met Duke.) Still, Haskins was edgy. He yelled at Shed through much of practice, and even benched Bobby Joe Hill in disgust. "Isn't this the laziest bunch you've ever seen?" he asked. There is no pretense about Haskins. He is a Smokey Bear of a man, who walks in a shuffle, his feet pointed out. His wife was along, but Don has an understanding with Mary Haskins that when she goes on a basketball trip, she must stay away from him. He was rooming in Maryland with Bill Cornwall, an El Paso construction-supply executive, who is the team's lucky charm. Cornwall missed one road trip this year—to Seattle—and that was the only game Texas Western lost. After dinner on Thursday with Cornwall, Haskins agreed to take some sleeping pills, and he had his first good night's rest in weeks. Over in Silver Spring the Kentuckians were up much of the night caring for Larry Conley, who had no rest at all.
But Friday was to be Kentucky's day. Conley got out of bed around noon to take a walk with Spike Kerns, the Kentucky trainer. In College Park, Bob Verga was stirring "for a little sunshine," too. By now Rupp and his assistant, Harry Lancaster, had decided that if both invalids could play, sick Conley would guard sick Verga.
Conley came back from his walk with Kerns. His fever of 102° the night before had responded to treatment with what Rupp called "goose oil"—that's Vick's Vaporub in your neighborhood drugstore. But Conley had lost four pounds and a lot of strength, and it still hurt to sit down because of all the shots he had received.
Rupp called to check on Conley and then went to Washington to accept various Coach of the Year awards from an assemblage of basketball writers. Although other coaches spoke, too, Haskins made a particular hit with the story of how he got out of coaching girls' basketball. "I was tired of it," he explained, "so near the end of the season I suggested one day we scrimmage skins and shirts. I was coaching the boys the next year." His Texas Western players were out seeing the Capitol and the Washington Monument. They had hoped to have an audience with another Texan, but L.B.J. was busy.
The Kentucky cheerleaders were luckier. Kentucky Senator John Sherman Cooper had them over for lunch, and who should turn up at the next table but the man from U.N.C.L.E., Robert Vaughn. Crossing party lines and ignoring all the Senators, the girls swarmed around Vaughn.
Haskins was beginning to feel a little like those Senators. "I wonder," he said, on the way back to College Park, after sharing the floor with Rupp, "I really wonder whether he knows who I am yet. Oh, well," he shrugged, lighting another cigarette, "maybe he will by tomorrow night."
Rupp, in turn, was concerned only with Duke and a game that nearly everyone presumed would be the real championship test: whoever won would have no trouble with the western contender. At the start Kentucky rushed to a 23-14 lead. Conley hit his first shot, but in a a few minutes he began to gasp and took himself out. Verga went to the Duke bench soon after and he was never himself in this game. His illness had robbed him of the spring in his legs, and the power for the jump shot that had made him Duke's 19.2 scorer over the season. He made only one jumper and had four points in the game. "No spring, no bounce, no life," he said afterward. But Jack Marin, along with Center Mike Lewis, moved Duke back into the lead. Rupp tried to stop the Blue Devils with a one-three-one zone, but Duke shot that to bits quickly, and Kentucky hurried back to a man-to-man. Don Haskins, whose team had no shooters in Duke's class, was the most interested observer in the field house. He began to figure, correctly, that if Kentucky won and the Miners won, Texas Western would see that one-three-one zone in the finals.
The second half was a seesaw, until finally Riley and Louie Dampier put together a fast break that moved Kentucky ahead by four points with 3:31 left. The battle was even from there until Duke missed a good shot two minutes later. Tommy Kron got the rebound and pitched it out to Conley, who was moving up the middle on a three-on-two fast break. "I saw the Duke guys flare out just a little," he said later. He drove all the way in with virtually his last breath to give Kentucky an insurmountable six-point lead. "That was the tough one, that was the tough one," Vic Bubas said. Three times in four years Bubas had led his Duke team to the final four, only to lose.
Haskins' team, as expected, beat Utah, 85-78. All that kept Utah in contention was Jerry Chambers, probably the best player in the tournament. He made 38 points against the Miners, the most scored against them since Haskins arrived five years ago. When Haskins' four big men—Dave Lattin, Shed, Harry Flournoy and Willie Cager—got into foul trouble, he brought in Jerry Armstrong, and Armstrong came closer to stopping Chambers than the regulars had. The Miners won easily, but they were not happy. "The officials called it like a girls' game," said Lattin—Big Daddy D—who fouled out. "Baby fouls," said Shed. "They called baby fouls."
Haskins also was mad at the officials, and at his players as well. His head still hurt. He did pause to kiss his wife at the motel but then went off with Cornwall to have a few beers in his room. Suddenly, from the parking lot, there were loud, raucous noises that turned out to belong to some University of Maryland students with a few beers of their own. They were carousing aimlessly, but Haskins, worried that they would keep his players awake, invited them in. And then, through the early morning hours of the day he was to become coach of the national champions, Haskins sat and drank beer and made small talk with half a dozen strange kids. They liked him and listened to him, and when they left he gave them a few beers to take out. They went quietly, the Miners slept, and Haskins leaned back with a last beer and a thought. "Once in a life-time," he said. "You know, this is once in a lifetime." It was pointed out that Haskins was young and would have another team in the championship. "No," he said. "No chance. Mr. Rupp is 64, and he made it a lot of times, but it's probably going to be just once in a lifetime for me."
Saturday was Texas Western's day, and it was the one that counted. It was to end in El Paso with bonfires and orange bunting all over town and two riot squads to calm down the homefolks. In Maryland the band played Miners Fight over and over, and they all screamed "We're No. 1." Haskins got more aspirin for his head and smoked more cigarettes and said. "This may never happen to me again." Before the game Haskins let his players do as they pleased—no chalk talks or strategy sessions. He had one surprise in store for Kentucky but planned to stick with his basic game, which is man-for-man on defense and a loose free-lance attack. Big Daddy D Lattin, Western's intimidator at center, slept most of the day, stirring only for meals and a chat with Bobby Joe Hill's female cousins. Harry Flournoy, the team's top rebounder, nursed a sore knee. Willie Cager's pretty girl friend, Roselle Leader, came down from New York to watch Willie in the finals.
The Kentucky players also lolled about, marking time until they could file onto the team bus. The manager, Mike Harreld, counted them, just to be sure, before boarding himself. Harreld carried an extra suit with him, complete with shirt and tie, all hanging in a plastic bag. If Kentucky won, he expected to be thrown into the shower.
As Haskins had anticipated, Kentucky was planning to use the one-three-one zone. Haskins' surprise for Rupp was a three-guard lineup. Hill, 5 feet 9, and Orsten Artis, 6 feet 1, were the regular backcourt starters, and he decided to use 5-foot-6 Willie Worsley in place of big Shed, to get more speed in against the very speedy Wildcats. All three played the whole game.
In the Kentucky locker room Rupp asked, "Who's captain tonight?" Somebody said Riley was.
"It's his birthday tomorrow," Conley said.
"What?" asked Rupp.
"It's Pat's birthday tomorrow," Conley repeated.
"All right then, let's have a birthday present for him," Rupp said, and then they sat and waited for the consolation game to end. Rupp put on his brown jacket. He believes brown suits are lucky. He also thinks it's lucky if he finds a bobby pin, and last year, the worst year he ever had at Kentucky, the players took to planting bobby pins in his path. This year such deceits were unnecessary. "Duke beat Utah by two," Mike Harreld said, rushing into the Wildcat dressing room, and the team jumped up and ran out on the floor to try to win a fifth championship for Adolph Rupp.
It was a lost cause almost from the start. Kentucky's shooting failed in the face of the tough Miner defense, and even the shots the Wildcats made were individual tributes to Dampier's and Riley's skill. Haskins had been saying his team was capable of better defense than it had shown for weeks. In the finals Texas Western proved that was true.
Midway through the first half, the score was tied 9-9 when TW made a foul shot. And then came the most significant sequence of the tournament. Hill, way over on the right side, stole the ball from Kron, dribbled half the court and scored. Dampier brought it back up, looked to Hill at midcourt, switched left, and there was Hill, waiting. Cleanly, Bobby Joe snapped the ball off Dampier's dribble and took it all the way in for another easy layup. That broke the game open. Thereafter Kentucky chased the lead and never caught it, and the Miners were in command. Bobby Joe stole the ball again from Dampier, and all night, while dribbling, he looked like the best broken-field runner since Red Grange. As late as eight minutes into the second half the Wildcats were only a point behind, but they never could come all the way back. Once they had three successive shots at a tie and missed them all: Dampier, Cliff Berger and Riley.
The Wildcats played fine defense themselves, but Texas Western showed that it could control the ball even against tight guarding. And the three little men—Hill, Artis and Worsley—were able to hit just enough from far outside, without trying to penetrate the Kentucky zone. Those were the long jumpers that Kentucky kept missing. When the Wildcats fouled in desperation, Texas Western made the free throws. Over one 37-minute stretch the Miners hit 26 of 27.
At the end, to the cheers of their fans, Hill and Worsley just dribbled around till the clock ran out. Finally the Miners were all cutting the nets down—both of them—and getting their watches. Haskins called out his seniors—Artis, Flournoy and Armstrong—to receive the NCAA trophy. But the second-place trophy, which appears identical in size and weight and will soon be sitting alongside the four others of better memories down in Lexington, was like an albatross. No one really wanted it. Tommy Kron somehow ended up with it in his arms and, clutching it absently, hurried into the locker room. There he dropped it on the trainer's table. He sat down and began to cry. Louie Dampier came over and put his arm around Kron and hugged him. Spike Kerns came in, and, just to get the dread object out of the way, reached up and put the trophy on the shelf, just above the hook where Mike Harreld's extra suit hung, neat and clean in the plastic bag.
Across the hall Bill Cornwall held the game ball. Now that he had gotten that for his friend Don, Mary Haskins could have her husband back.
THREE
PHOTOS
RICH
CLARKSON
Slick Bobby Joe twice steals the ball from Kentucky's Louie Dampier (above) and drives by Tommy Kron (opposite) for one of his many layups.
PHOTO
Victory-happy Westerners include cheerleaders and good luck charm Bill Cornwall (right).
PHOTO
Graceful one-hander contributes to tournament record 143 points by Utah's Jerry Chambers.