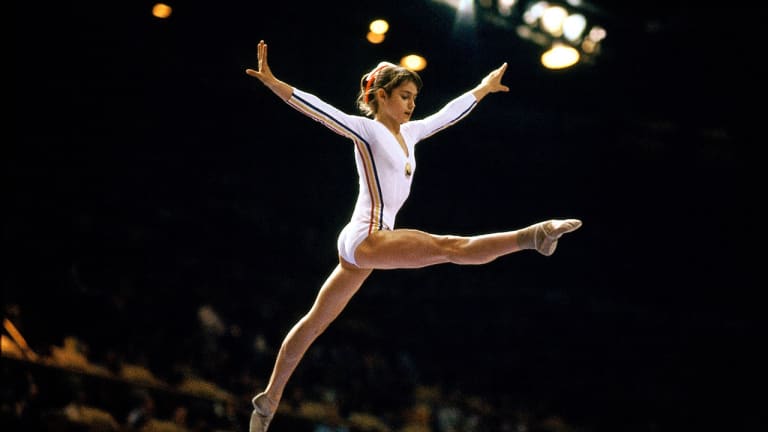 Nadia Awed Ya
Everybody flipped over the 14-year-old Nadia Comaneci, as she made gymnastics look like child's play and scored seven 10s
There are so many athletes at the Olympics, and so many winners, but in the first week there was only one star, a child named Nadia Comaneci. She has a lean boy's body that responds to all her demands and a Valentine face with straight, dark eyebrows that pierce it like Cupid's arrow. Her lips are faint and thin, lost beneath dusky, soulful eyes that caused many of those who studied her to imagine that she must be some brooding, mysterious Carpathian princess.
But those eyes: they could only express the wonder of a child examining grownups acting like children. And mystery? Intrigue? Never did any performer offer less, because all that this innocent little chimney sweep is—every bit of her—was poured out every night over the vault, atop the beam, on the bars and upon the orange mat of the Forum. There could be nothing left for her to conceal. She is, after all, 14, a mechanic's daughter from Onesti, a factory town in the mountains of Romania, who sleeps with a favorite doll, tussles with her younger brother Adrian, and has a life experience beyond her sport no larger than herself. She weighs 86 pounds and stands less than five feet.
But at every chance grown men and women crowded upon her, paying court. It recalled old prints from a children's Bible, showing the youthful Jesus talking to the elders in the temple. The grownups pressed for a glimpse of a smile. Look, there is a mole on her cheek. Which? The left. Thank you. The left. Interpreters, her coaches, microphones, police surrounded her. Sit down. Be quiet over there. No wonder the United Nations rarely works. What is your favorite subject, Nadia? Do you like chocolate? Tell us about your doll collection, please. Nadia, who is your favorite movie star? Oooh, Alain Delon, ahhh. Thank you, Nadia. Miss Comaneci, please, BBC here—can you say something in English for the British audience? Over here, Nadia, over here. Do you have any boyfriends? Nadia, Nadia, please you must say something in French for CBC. Oh thank you, Nadia, merci, merci. One more, one more. Nadia, Nadia, do you miss your childhood?
"No, I don't feel like that. I do it with much pleasure."
Her precision and daring in gymnastics have never been seen before in an Olympics. And few heroines in any sport ever so captivated the Games. She was superbly cast for the moment, bursting upon the world with the first perfect Olympic gymnastic score, a 10.0, on the first day of competition, thereby dramatically ridding Montreal of much of the rancor and turmoil of international politics. Nadia Comaneci (Nad-ya Koh-ma-netch) was brilliant and beguiling, and because of her youth a great sense of hope and history was instantly attached to her. There was at once the chance to see greatness. For the rare privilege of witnessing the birth of a legend, people splurged $100 on a $16 seat.
Aside from the actual gymnastics, what took place at the Forum—the scene, the reality—was altogether different from what was conveyed to the millions of Americans who watched on television. The competition was infinitely fuller. To personalize the drama, Comaneci was largely isolated by ABC. The other competitor receiving elaborate attention was Olga Korbut, who had been created by television in the 1972 Olympics. TV had an investment in Olga, and TV was determined to have her pay it back, and so the effort was made to turn the meet into some kind of heavyweight championship of women's gymnastics. In fact, Olga Korbut was not the champion in Munich, except in terms of publicity, and in Montreal she barely ranked third on her own team.
Instead, she and Comaneci were just part of the glorious cast and setting. First, there were the other Russians: Ludmila Turishcheva, the true champion of Munich, always overshadowed and under-appreciated, ever gracious, only 5' 2½" but seeming almost stately in such tiny company—majestic, a lady. Nelli Kim, who won the two individual golds (floor and vault) that Comaneci didn't. She was hauntingly beautiful, and just as dramatic, scoring two 10s herself when nothing but perfection could clinch her medals. She fell off the uneven bars but afterward blithely provided an explanation that somehow managed to fuse the lyric with the pragmatic: "I was doing it to satisfy my soul, and you should never try to do better than you really can."
And Maria Filatova, a 4' 3¾", 66-pound peanut, just turned 15 but still completely a child in physique and temperament. Once she sat on Ludmila's lap and sipped an orange soda. "I read books, I go to the movies, I play with my dolls," she squealed.
Then there was Nadia's teammate and closest friend, Teodora Ungureanu: pixieish, exuberant, the Hollywood sidekick. She and Nadia would always lovingly clean the bars for each other. There was also Carola Dombeck of East Germany, the wide-eyed strawberry blonde ingenue, soaring off the vault, and the elegant Marta Egervari of Hungary.
All had to reckon with Comaneci. She was in every final. She won the gold for all-around, the gold for beam, the gold for bars and led Romania to a silver in the team competition behind the Russian juggernaut. She also took a bronze for floor exercises, and just missed another with a fourth in the vault. Eyes never strayed from her.
That last observation is not inaccurate, despite the sweep of the competition. A gymnastic meet normally is a panoramic distraction, all four rings going at once. The beam and the bars rise up at either end. In between, side by side, are the vault—which offers mad, headlong Evel Knievel exhibitions—and the floor exercise area, where graceful athletic ballets go on to bizarre piano accompaniment: Alley Cat for a Japanese, the Charleston for a Russian, Deep in the Heart of Texas for an East German, Yes Sir, That's My Baby for Comaneci.
Because of a spiteful female chauvinist rule, male coaches are not allowed on the floor, and so it is like a science-fiction movie of a time when women have taken over. The judges are all women, as are the assistants, the messengers. The only men on the premises are the piano players—men being built for that sort of quiet work—who huddle together on a bench by the baby grand. They shake each other's hands after a piece, just as their girls come off into their coaches' embrace. When the competitors rise to rotate to their next station, a recorded march is played, and off the girls go, in single file, a parade of little sugarplums.
In such a venue, what was done to Olga was sad. It was not enough for television—and much of the press—that Nadia was supreme. Each time she performed, the camera inspected Korbut's reaction. Olga was set up as a "rival," cast as an aging, disappointed woman yielding reluctantly to the flower of youth. The press leered at her tears and decided that her face was hard, her hair "ratty." She was paid off for having the nerve to grow to age 21 and wear platform shoes.
It was the fans in the Forum who finally sensed the injustice being done her, and on the last night of competition, when Korbut followed a disastrous performance on the bars with a beautiful 9.9 on the beam that won her a silver behind Comaneci, the longest and loudest cheers were for Olga. It was the most touching moment of the competition, and summoned up the recollection that her floor program had featured the torch song, Milord. Olga left us, proudly, as a Piaf.
Gymnastic participation in the U.S. is up fivefold or more in the last few years—most of it female, and largely because of Korbut. By contrast, Nadia Comaneci is not an expressive child. She is known for having few friends—but binding those close to her with hoops of steel. She smiles and waves in a stylized fashion, and only because she was told to by her off-stage coach, Bela Karolyi.
He found her in kindergarten. He scouts kindergartens for gymnasts. She and a friend were playing at gymnastics at recess. He recognized her skill, but the bell rang—here Karolyi grows melodramatic—and he lost sight of the child in the rush. He hurried from room to room. Where was she? He kept looking. By now, in his telling, one sees him carrying a glass slipper. At last, the third tour of the classrooms. "Who loves gymnastics here?" he cried. "We, we!" shouted Nadia and her friend. He had found her! "It was an important moment in my life," Karolyi intones. Within a year, at age 7, Nadia placed 13th in her first meet.
At Montreal she received four of her seven 10s on the uneven bars. The apparatus demands such a spectacular burst of energy in such a short time—only 23 seconds—that it attracts the most fanfare. But it is on the beam that her work seems more representative of her unbelievable skill. She scored three of her seven 10s on the beam. Her hands speak there as much as her body. Her pace magnifies her balance. Her command and distance hush the crowd. "And everyone is scared on the beam," says Boris Bajin, the Canadian coach. "It is the most difficult. No matter how good they are, they are all shaking inside."
The beam is four inches wide. In the allotted 90 seconds this is what Comaneci does on the beam to perfection: a jump to straddle, one leg up in an L; presses to a handstand, then a one-fourth pirouette and step-down; skips and steps, kicks again to a back flip-flop step-out; more steps and full turn backward; a body wave, dance steps, pose and aerial forward; side aerial to flip-flop step-out, leap; lies down on beam, does a Valdez through a back walkover to a knee perch, cartwheels to a stand; a back walkover to a handstand in the split position; two flip-flops, split leap, body waves; a round-off, double-twisting somersault dismount.
After Comaneci's first 10, in the bars, there was a flurry of protest from the Russian camp, but that talk faded as soon as Nelli Kim got her first 10 in the vault. Nadia was nonplussed by the controversy. When informed of the Russian objection, she replied: "I knew it was flawless. I have done it 15 times before."
The principle of perfect scores disturbs some in gymnastics. One evening a coterie of fans chanted, "No more 10s! No more 10s!" However, unless the scoring system is revamped and the Eastern European judges stop shamelessly awarding high marks to each other's everyday performers, there is nothing left to give the elite but 9.8s and above. Besides, all of a sudden it is quite obvious that perfect scores are a great hype. Comaneci could have won 9.95s across the board, earned just as many gold medals, been every bit as good, and attracted about one-half the publicity for herself and for women's gymnastics.
If you don't believe that, tell us a few things you've heard about Nikolai Andrianov. This Russian gymnast is Comaneci's alter ego. He won seven medals—four golds, two silvers, a bronze—but scored no 10s (men's and women's scores are not comparable; in men's competition a premium is put on risk and originality). Andrianov is about as little known as Peter Kormann, a junior at Southern Connecticut State, who took a bronze in floor exercises, the first U.S. men's gymnastics medal since 1932, or Shun Fujimoto, who led the Japanese men's team to victory in the team competition by making the best personal score of his life on the rings. Fujimoto dismounted with a triple somersault and a twist, held his landing for the required instant, and then, gasping in agony, stumbled off. Earlier, during floor exercises, he had broken his kneecap and torn ligaments in his right leg. Said the doctor who examined him, "How he managed to do somersaults and twists and land without collapsing in screams is beyond my comprehension." They gave Fujimoto a 9.75 and no more was heard about it.
Obviously, it is much more than just the scores that attracts such interest in women's gymnastics. Perhaps, in the U.S. anyway, we are not yet prepared to celebrate the necessary combination of grace and athleticism in men. But these tiny girls of summer appear as bouncy dolls, packaged just right for the screen; they don't seem to be real people. Turishcheva was not accepted as champion four years ago because she was a cool, grown woman; she only drew kind attention to herself in Montreal when she cried—finally—as she bowed her head to receive the last of her two silver medals. Korbut was celebrated for cuteness, and then was disparaged for outgrowing that.
So possibly Nadia has much more to offer her sport. She and her coach, Karolyi, figure that she is still five years from her peak—five years as a teen-ager seeking to improve on perfection. "She has three qualities," Karolyi said. "The physical qualities—strength, speed, agility. The intellectual qualities—intelligence and the power to concentrate. And"—he paused—"Nadia has courage."
PHOTO
The queen of the beam, Nadia displays her superb form and control in this most difficult event.
PHOTO
Shunted from the limelight, Olga Korbut was exultant at the cheers she got for her one silver medal.
PHOTO
A pensive Ludmila Turishcheva, the winner in Munich, had a lot to think about in Montreal.
PHOTO
The essence of grace, Nelli Kim scored two 10s and won hearts as well as two gold medals.
TWO ILLUSTRATIONS