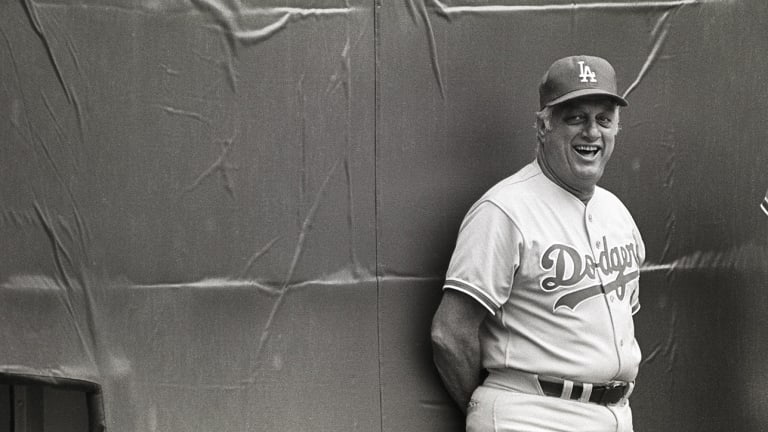 An Infusion of Fresh Dodger-Blue Blood
Being his team's first new manager in almost a quarter century has put Walter Alston's replacement, Tom Lasorda, in seventh heaven. And he prays he can guide L.A. to first place
Tom Lasorda, the noted evangelist, has a message for anyone who will listen, for little children who seek his autograph, for adults who invite him to speak at their civic clubs, for girls in the office, the man on the street and the stars at Hollywood and Vine. The gospel truth according to Lasorda: there is no organization in baseball equal to the Los Angeles Dodgers. And there is no greater honor in baseball than to be a part of the Dodgers, to wear Dodger blue, to bleed Dodger blue, to revere the Great Dodger in the Sky.
This is not just team spirit, brethren. This goes beyond mere loyalty to a cause, a country or a laundry detergent. We are talking about something that really matters. For, as the Billy Sunday of the Dodgers was telling an audience last month, "When you say you're a Padre, people ask when did you become a parent. When you say you're a Cardinal, they tell you to work hard because the next step is Pope. But when you say you're a Dodger, everybody knows you're in the major leagues." Hallelujah!
Lasorda is a Dodger and, as we shall see, has a tombstone to prove it. He is, in fact, the manager of the Dodgers, something that for the last 23 years could be said only of Walter Alston. But Alston retired last Sept. 27, and two days later Los Angeles selected its gregarious, persuasive, combative 49-year-old third-base coach to be his successor. As a result, when the Dodgers opened spring training last week, the scene in Vero Beach, Fla. was quite different from what it had been for more than two decades. The man in charge was moving here, hurrying there, shouting orders, giving directions, laughing, talking a mile a minute, hugging, cajoling and praising.
Alston never did any of these things, at least not so openly that anyone could notice. But in his quiet, conservative way he won—four World Series, seven pennants, seven All-Star Games and more regular-season victories than all but four other managers in baseball history. And while he was signing 23 one-year contracts with the Dodgers (only the Athletics' Connie Mack and the Giants' John McGraw stayed with one team longer), he watched some 80 other National League field bosses come and go.
Lasorda is only one of half a dozen new managers in the league this year, but because he is both Alston's successor and a winning, controversial baseball man in his own right, he is drawing much more attention than San Francisco's Joe Altobelli, St. Louis' Vern Rapp, Pittsburgh's Chuck Tanner, Chicago's Herman Franks or even Montreal's Dick Williams. All Williams ever did was win three pennants and two World Series with Boston and Oakland; Lasorda, as a player and manager in the Puerto Rican, Cuban, Panamanian, Dominican Republic and Venezuelan winter leagues, incited more Latin American brawls than anyone since Ché Guevara.
But a right cross and a broken nose are not what earned Lasorda his managerial job. He got it because of unflagging loyalty. Although as a young pitcher out of Norristown (Pa.) High School in 1944 he was signed by the Philadelphia Phillies, Lasorda was soon purchased by the Dodgers, with whom he has spent most of his 27 years as a player, scout, minor league manager and major league coach. Lasorda's feelings for the Dodgers inspired him in 1961 to write a treatise called An Organization with a Heart. He also started repeating corny little sayings such as "Cut me and I'll bleed Dodger blue" and "When I die I want my tombstone to say, 'Dodger Stadium was his address, but every ball park was his home.' "
During spring training in 1968, Lasorda lived to see his death wish come true, and he didn't even have to die for it to happen. He was preparing to start his third season as the manager of the organization's rookie team in Ogden, Utah when owner Walter O'Malley called him into the Dodgertown press room and presented him with a marble tombstone. And sure enough, it had a heart dripping blue blood on it, and an epitaph that read: DODGER STADIUM WAS HIS ADDRESS, BUT EVERY BALL PARK WAS HIS HOME.
"I'm so grateful to you, Mr. O'Malley," Lasorda said, "that I want to continue working for the Dodgers even when I'm dead and gone."
"And just how do you plan to do that?" the startled owner asked.
"Just put the Dodgers' schedule on there each year," Lasorda said, pointing at the tombstone. "When people are visiting their loved ones at the cemetery, they can come by my grave and see if the Dodgers are at home or away."
Although no one ever told Lasorda he would succeed Alston, he wanted the job so badly that in recent years he turned down managerial offers from Atlanta, Montreal and Pittsburgh. "I just didn't see myself loving another team," Lasorda says. "That would be like loving another woman, and I've been married to Jo for 26 years. No, the only team that could make me leave the Dodgers was the Dodgers. If they had ever said they didn't want to stand in my way, then I would have known they were telling me to go. Of course, they never said I had the job, but they never said I didn't, either. So I just relied on my dedication and loyalty. I told the Dodgers I loved them for 27 years, and when they named me manager, they said they loved me."
Lasorda admits that the last few years were difficult, because everyone knew Alston was approaching retirement and that Lasorda desperately wanted to succeed him. For all their differences in style and personality, Lasorda had admired Alston ever since he had played for him in the International League. In those days, Alston had used Lasorda as a first-base coach when he was not pitching. "I knew people were watching me closely," Lasorda says, "and sometimes it was hard for me to be myself. I didn't want to look like I was doing anything behind his back or trying to get his job. I respected him and tried to be loyal and work hard for him. I even would have coached third a few more years. I was willing to wait because I always felt I'd be the man. It's something I had wanted since I first started managing in Ogden."
When the announcement finally came, Lasorda, who never says or does anything halfheartedly, called it "the greatest day of my life" and compared it to "being presented the Hope diamond." But after all the waiting, he may have been more relieved than anything else. If he had not gotten the job, Lasorda's wife says, "Nothing would have hurt us more. We didn't even like to talk about the possibility. We'd always tell ourselves if it didn't happen this year, then it would next year. Every time an offer came from another club, we'd discuss it, but we'd always come to the same conclusion: if it's not the Dodgers, it's not what Tom wants, and he won't be happy."
Jo and the two children, 24-year-old Laura and 18-year-old Tom Jr., learned long ago that Lasorda's ambitions and happiness were inextricably tied to the game. The ball park in Greenville, S.C. is where the Lasordas met, and it was a $500 loan from former Dodger executive Buzzy Bavasi that enabled them to get married. Around the house there is even an understanding that if Jo does not ask Tom to mow the lawn, wash the dishes or take out the garbage, he will not ask her to pitch.
Lasorda's career began when he was signed by the Phillies after showing promise in a tryout camp. But he toiled almost exclusively in the minors, eventually setting a club record of 125 wins in nine years with Montreal. His first chance to make the Dodgers came in 1954, when Alston succeeded Charlie Dressen as manager. A cocky Lasorda announced, "I don't intend to let anyone push me off this club, regardless of the record he has." These were the Dodgers of Preacher Roe, Don Newcombe, Billy Loes, Carl Erskine, Johnny Podres and Clem Labine, and somebody must have pushed Lasorda. He did not make the team.
Lasorda finally got a chance to start a major league game the following year, but the result was catastrophic. On May 5, 1955 he tied a National League record by throwing three wild pitches in an inning against St. Louis. He did strike out Stan Musial, but he had to be removed from the game after Wally Moon spiked him as Lasorda was covering home following his third wild pitch. Shortly thereafter, the bonus rules of the day forced Brooklyn to keep a wild young lefthander named Sandy Koufax and send Lasorda back to Montreal. "Koufax!" Lasorda snorted. "He'll never amount to anything." Lasorda did not get a major league decision until the next season, when he was 0-4 during a brief stint with Kansas City.
He finished up his playing career back in the International League. Then in 1960 Dodger Scouting Director Al Campanis hired Lasorda as a scout, and in 1966 he became the manager at Ogden. Lasorda won three straight pennants there and was promoted to Triple A, where he won two more pennants in four years with Spokane and Albuquerque.
Lasorda was so successful that in 1972 he was the subject of a television documentary entitled Portrait of a Minor League Manager. The film portrayed the Albuquerque manager at his vocal, exuberant, demonstrative best, pepping the players up one minute, cussing them out the next and selling Dodger blue every minute in between. To make his points he would regale the young players with stories. There was one about the long-distance swimmer who gave up and drowned four feet from shore, and the old one about the puppy, which after its owner had rubbed the dog's nose in its mess and thrown it out the window for 30 consecutive days, on the 31st day rubbed its own nose in it and jumped out the window. "See, with proper training the dog learned what he was supposed to do," Lasorda told his players with a straight face.
Particularly appropriate was Lasorda's request that "When you get a hit and win a game in Dodger Stadium someday, just remember there's old Tom somewhere with a tear in his eye." Lasorda helped develop 57 players who reached the major leagues, 18 of whom are on the Dodger roster this spring. Los Angeles' starting infield of First Baseman Steve Garvey, Second Baseman Dave Lopes, Shortstop Bill Russell and Third Baseman Roy Cey, Pitchers Rick Rhoden, Doug Rau, Charlie Hough and Burt Hooton and Catcher Steve Yeager all played for him at one time or another. To a man, they swear by his methods.
"I didn't know where he was coming from when I first played for him," says Lopes, "but I learned that his greatest attribute is helping players develop. He has the gift of juicing players up and making them do things they don't even know they have in them."
Lasorda was instrumental in moving Lopes and Russell from the outfield to the infield, which kept them on the path to the big leagues. Rhoden, who was 12-3 for the Dodgers last season, calls him "the most influential person in my career. If it weren't for him, I wouldn't be in the majors today. After I hurt my arm in 1974 my confidence was shot. But I played for him in winter ball, and he got me going again. If you need a kick in the pants, he can do that, and if you need a pat on the back, he'll do that, too."
"Managing is like holding a dove in your hand," Lasorda once said. "If you hold it too tight, you kill it. But if you hold it too loosely, you lose it."
Lasorda has also been known to serve up a little con with the schmaltz and pepper. Before Joe Ferguson became a catcher with the Dodgers (and later St. Louis and Houston), he was an outfielder. Lasorda sold him on changing positions by telling him about all the great catchers who had started out as outfielders—like Mickey Cochrane, Ernie Lombardi, Gabby Hartnett. "I know those guys never played the outfield," Lasorda says, "but Ferguson didn't, and it sure sounded good to him."
Like any good salesman, Lasorda motivates players mainly through the force of his own beliefs and personality. It does not take very long for a player to understand what Lasorda wants when he yells out in the dugout, "Who do you love?" or "What do you bleed?" The proper responses, of course, are "The Dodgers" and "Dodger blue." "I preach something that is good because it's the truth," he says. "I want my players to appreciate this organization in the same way that players used to believe it when they said, 'It's great to be a Yankee.' "
A few years ago Lasorda startled Sportscaster Joe Garagiola during a party at Ferguson's home by proving how well trained his players can be. "Joe," Lasorda said, "I'm going to show you something you've never seen in all your years in baseball."
"Come on," Garagiola said. "I don't think that's possible."
"O.K., just watch," Lasorda told him. Then turning to Ferguson, he said, "Joe, come over here. Get on your knees and tell me something."
Ferguson knelt down and said, "I love the Dodgers."
"And the Dodgers love you, son."
And so it went from Ferguson to Tom Paciorek to Russell to Hough to Lopes. Every one of them got on his knees at Lasorda's command and said, "I love the Dodgers."
Garagiola was so impressed—or so stunned—that he restaged the performance, complete with Lasorda's tombstone, on a pregame television show.
Like Elmer Gantry, when Lasorda is not saving Dodger souls he can be found busting disbelievers' heads. His reputation as a brawler was such that when he was made manager at Ogden he had to promise he would not start any fights. Lasorda managed to stay out of trouble until the first inning of the first game.... "But I didn't start it," he says.
There were plenty of others he did instigate. The best fight, he recalls, happened in 1957. Then playing for the Los Angeles Angels of the Pacific Coast League, Lasorda came off the mound after a bunt by Spook Jacobs of the Hollywood Stars to throw a body block on the runner going to first. "I knew the guy wanted to run me down," Lasorda says, "but I got him first, and all hell broke loose." Then there was the time during the 1953 Winter League World Series in Cuba when he threw at a batter a few times before finally hitting him in the middle of the back. "I thought he was going to first base, then I looked up and he was charging me with a bat in his hand," Lasorda says. "I didn't even have a ball to throw at him, and he was so big there was no use punching him. Just as he started to swing the bat, I threw my glove in his face and tackled him." In fact, Lasorda did such a good job defending himself against his larger opponent that he became a local hero. The next day Cuban soldiers escorted him to President Batista, who asked, "Is there anything we can do for you?"
"No," said Lasorda. "Just let me pitch to him again." When Lasorda got his chance, he knocked the player down again. The poor fellow never said a word.
On another occasion, Lasorda's manager in Denver, Ralph Houk, asked him to start a fight to put some fire into the team, which was trailing two games to none in a best-of-seven playoff. Lasorda obliged, and the Bears came back to win. "Actually, Ralph didn't have to ask me because I was thinking the same thing myself," he says.
These rough edges still cause concern within the Dodger management and even Lasorda shudders at a few of his escapades. "Tommy John asked me once what I would do if I ever had a player like myself," Lasorda says, "and it scared the hell out of me."
The Dodgers put aside their doubts about Lasorda because aggressiveness was one attribute they were looking for when they sought a replacement who could beat the Cincinnati Reds at their own game. "It was time for Walt to retire," a front-office man says. "He was starting to let things slide among the players and becoming too conservative on the field. We needed Tommy's fire."
Lasorda's style on the bench will be the Dodgers' style on the field. "We're going to be a better, more explosive, wide-open club," says Yeager. "More guys may get thrown out at the plate, because we're going to do a lot of running. We're going to take it to the opposition, cause them to make mistakes and then take advantage of them."
To execute this attack, Lasorda has already told each player what he expects for the coming season. He wants Garvey to hit more home runs and Yeager to try for five hits a week to right field to boost his batting percentage. To improve the team's running game, he will let Lopes steal on his own, and he has moved the speedy Russell to second in the batting order.
The only question that remains is the kind of relationship Lasorda will have with his players. As a minor league manager, he was an older brother, eating, drinking and palling around with his athletes. Now he may have to withdraw from the players who came up through the system with him, so that he cannot be accused of favoritism. Rightfielder Reggie Smith, who was acquired by the Dodgers in a trade, says, "If you want to create a test for the man, it would be how well the guys perform who never played for him before and don't know him as well."
Russell is certain Lasorda will be "screaming and yelling at everybody. Those of us who have played for him know what to expect. But if you can't play for Tommy, you can't play for anybody."
Even if Lasorda does not give Los Angeles a pennant right away, he will still provide an excitement and flavor not often present in the Alston years. Before spring training he kept up a frantic pace, giving as many as five speeches a day and making fast friends among the Hollywood crowd. At Lasorda's urging, Los Angeles' biggest Cincinnati fan, Jonathan Winters, may even switch his allegiance to the Dodgers. And another show-business friend, Frank Sinatra, has already volunteered to sing the national anthem on opening day. With his Dodger-blue eyes, he should feel right at home.
PHOTOPHOTOThe new man consult his old mentor, Alston, who gave Lasorda his first crack at coaching.PHOTOLasorda got this monument to his loyalty from L.A. owner O'Malley.