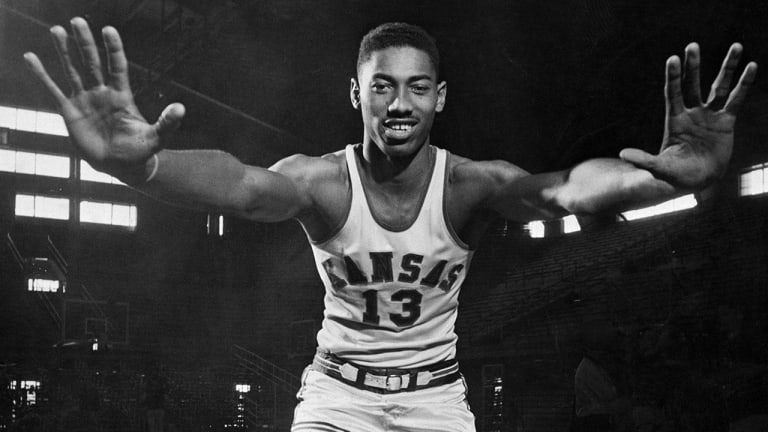 The Tradition
Nowhere is college basketball a bigger spectacle than at Kansas, where every game evokes vivid memories of Naismith, Allen and Chamberlain
Everyone who is at all interested in athletics is now talking basketball, yet it does not stop here. Those who hitherto have manifested no interest in any sport of skill and strength seem now to be enthusiastic over the new game.
UNIVERSITY WEEKLY
LAWRENCE, KANSAS
DEC. 10,1898
From the very beginning, basketball has always been something special at the University of Kansas. A few schools may win more games or attract larger crowds or produce more All-Americas, but no one, not UCLA, not Kentucky, not Indiana, has a legacy to equal Kansas'. This is the school where James Naismith and Phog Allen coached, where Clyde Lovellette and Wilt Chamberlain played, and where Adolph Rupp and Dean Smith learned their trade. This is also the school where students shout "Rock chalk, Jayhawk, KU!" and nobody asks what it means.
The Jayhawk is a mythical bird, a 65-pound costume worn with great difficulty, but there is nothing phony about the tradition it represents. And when Kansas plays archrival Kansas State in Lawrence, that tradition consumes the KU campus. Snob Hill vs. Silo Tech, as the two schools are known in their home state, is the kind of game that gives college basketball excitement and intensity that most other sports rarely match. There are other great rivalries across the country, but for statewide interest, dirty tricks and institutional pride, this one is special.
The most recent reminder came three weeks ago when 15,790 people left the warmth of their homes and the convenience of their television sets to make the trip up Naismith Drive and into Allen Field House. The line for seats to the 7:35 p.m. game began forming at 1:30 a.m. in 9° weather when four Acacia fraternity brothers pitched tents in the snow, unrolled sleeping bags and uncorked a half-gallon jug of rum. At 4:30 a.m. other students joined the vigil to obtain tickets for the last 400 unreserved seats, which did not go on sale until midmorning. For all of these hardy souls, the sacrifice was made worthwhile by an exciting 56-52 victory, the 114th by Kansas in the 185-game series.
The history of the rivalry—indeed the history of all basketball—goes back to Naismith, the man who invented the game at a YMCA training school in 1891 and began coaching it at Kansas in 1898. "Coaching" may not be quite the right word, because Naismith once told his student and successor, Allen, "You don't coach basketball, you just play it." Being a minister and doctor by training, Naismith was more an advocate of spiritual and mental fitness than a teacher of technique. "So much stress is laid today on the winning of games," he wrote in 1914, "that practically all else is lost sight of, and the fine elements of manliness and true sportsmanship are accorded a secondary place." Not surprisingly, Naismith is the only one of Kansas' five coaches with a losing career record.
That did not prevent Naismith from being named to the Jayhawks' athletic Hall of Fame. In his case, the criterion that a coach had to have won a national championship was waived. Allen, on the other hand, was admitted on performance. Ted O'Leary, an all-conference player for Kansas in 1932, says, "Doc Allen convinced us we had an obligation to win."
It was Allen, the colorful, controversial osteopath, who turned Kansas into a basketball power. In 39 seasons (1908-09 and 1920-56) he won 24 conference titles, two Helms Foundation national championships and the 1952 NCAA tournament. He was also founding president of the National Association of Basketball Coaches, the leader of the movement to make basketball an Olympic sport, and a severe critic of the AAU, NCAA, college football and Kansas State. His greatest tribute came from Naismith, who gave him a picture inscribed FROM THE FATHER OF BASKETBALL TO THE FATHER OF BASKETBALL COACHING.
Until Rupp passed him in 1967 with his 771st victory at Kentucky, Allen was also the winningest college coach in history. When he lost the distinction to his old player, Allen stayed in character by saying, "Bless his bones. If Rupp can count that high, he can have it."
Rupp warmed the bench on the national championship team of 1923, and Dean Smith was a sub on the 1952 NCAA winner. Both men proved to be better students of the game than players, Rupp taking Allen's fast break to Kentucky and Smith his pressure defense to North Carolina. Other outstanding coaches who played for Allen were Ralph Miller of Oregon State, who began this season fifth among active coaches with 411 victories; Dutch Lonborg, whose Big Ten titles in 1931 and 1933 are the only ones Northwestern has won; and Frosty Cox, whose Colorado team won the NIT in 1940. The list of luminaries would be even longer had Allen been successful in his attempt to recruit an Indiana schoolboy named John Wooden in 1928.
Lovellette and Chamberlain did come to Lawrence, along with other All-Americas, such as Walt Wesley, Jo Jo White and Bud Stallworth. Players like these have made the Jayhawks second to Kentucky in victories (1,140) and fifth behind UCLA, Ohio State, Kentucky and North Carolina in trips to the NCAA final four (six). Playing at various times in the Missouri Valley, Big Six, Big Seven and Big Eight conferences, the Jayhawks have won or shared 36 of a possible 70 league titles.
The Kansas tradition is so overwhelming that not only is the Basketball Hall of Fame in Springfield, Mass. named for Naismith, but it also includes eight Jayhawk players and coaches—more than from any other school. Indeed, it seems that almost everything that matters in the sport is somehow connected to the school. The national sales manager of Converse shoes, the director of the Pizza Hut Classic, an extra in the movie One on One and the executive director of the Fellowship of Christian Athletes all attended Kansas.
All of this history and tradition are put to good use by the current coach, Ted Owens, and his staff when they go recruiting. One of their gimmicks is a picture of Allen Field House atop Mount Oread, with the faces of Naismith, Allen and Owens gazing from the side of the hill like the Presidents on Mount Rushmore. Actually, Allen Field House is at the foot of Mount Oread, which is hardly more than a bump on the landscape.
But there is nothing contrived about Owens' record. Since succeeding Dick Harp in 1964-65, he has won the Big Eight five times, gone to seven postseason tournaments and reached the final four twice. This year's team, with its 18-3 record and No. 8 ranking, is one of his best. "People talk about the other coaches who have been here, but Owens is the only one I've heard of," says freshman star Darnell Valentine. Oldtime Kansas fans would have cringed had they heard Valentine and another freshman, Wilmore Fowler, try to recall the name of the man who went from Kansas to Kentucky to the Naismith Hall of Fame. "Adolph Rump," said Valentine. "Rudolph Hupp," said Fowler. As for Naismith, Guard John Douglas asked recently, "Was he the dude who invented the ball?"
Senior Center Ken Koenigs is more familiar with the Kansas legend, because his father is an alumnus. "I'm a born and bred Jayhawk," he says. "I grew up listening to the games on the radio. The tradition is one of the reasons I came. I wanted to go somewhere where the students were knowledgeable and loved the game. That's the way it is here. When we finished fourth in the conference the last two years, it hurt the kids on campus as much as it hurt us."
Just such a student is Larry Hallenbeck, a senior chemical engineering major from Lawrence. In keeping with the family custom started by an older brother, Hallenbeck spends the night before every Kansas State game stationed outside the northeast gate of Allen Field House. If there are tickets available, he will charter an airplane to watch the Jayhawks play on the road. Hallenbeck is also president of the Big Mo Fan Club, Big Mo being a player named Paul Mokeski, who has the size but not the talent of Chamberlain.
The vice-president of the club is freshman Tim Jones, and its only member without a title is freshman Kelly Knopp. "That's because I have the only other T shirt," said Knopp, one of the early birds on the line for the K-State game. And sure enough, he unbuttoned three outer layers of clothing to show off a blue shirt with red lettering that read I'VE GOT "BIG MO" MANIA. Hallenbeck formed the club this year, when Mokeski finally began to show signs of becoming a solid player. "This means a lot if you waited three years for it to finally happen," the president explained.
Hallenbeck, Jones, Knopp and another Acacia fraternity brother, sophomore Tim Stewart, arrived at the field house in the wee hours after an evening of fortifying themselves in various pubs. They did not bring any food, but they had a $12.57 bottle of Bacardi, a couple of Cokes, ice, swizzle sticks and drinking cups with the KU insignia. At 10 a.m. they emerged from their two tents after a night of testing each other's knowledge of KU basketball. When the icy temperatures froze their Cokes and made their ice unnecessary, they started taking their sustenance straight. "When you're sober your brain understands that it's cold," said Stewart, "but not when you're drunk." Stewart, understand, carries a 3.4 average in architecture.
By midday the four students were tired, hungry, cold and sober as judges. "We've got our priorities straight," said Hallenbeck. "Basketball comes first, ahead of the fraternity and ahead of school. The Notre Dame fans think they're pretty good, but somebody ought to point out we've been doing this for almost 100 years. Did you know James Naismith coached here?"
Hallenbeck and his friends had their strategy planned to the minute. At 1 p.m. a fraternity brother will bring lunch. At 3:30 another one will come to take away the camping gear. At 5 the doors will open, and they will take the seats of their choice in the bleachers behind the Kansas bench. Their spirits had received a boost at 11:30 a.m. when Owens came to the door and gave them a wave. Earlier, during the team's game-day shooting practice, Owens had said, "If something like this doesn't inspire a team to play well, I don't know what can."
Such fanaticism can sometimes get out of hand. Kansas students have such a reputation for rowdy courtside behavior that they are now prohibited from sitting behind the opponent's bench. Homemade signs are also proscribed, but nonetheless in honor of this auspicious occasion, an artistic group from Grace Pearson Scholarship Hall worked up a bed sheet that showed K-State star Curtis Redding saying AS LONG AS I GET MY 30 POINTS, WHO CARES IF WE LOSE?
In the hours after the shooting practice, the players returned to their dorm to rest, and Owens went grocery shopping "to try to take my mind off the game." Meanwhile, the line outside the field house grew to several hundred students. Hallenbeck and his friends were able to prop themselves up against the door, where they were under cover, but farther back in line fans stood in the snow, wrapped in blankets and sleeping bags. Among them were two Kansas coeds and their boyfriends from Kansas State. "I borrowed an ID card for him, and we got in the line before dawn," one girl said. "He better get a ticket for me when we play in Manhattan."
As 5 o'clock approached, the crowd grew restless. There was rhythmic cheering—"Open the door! Open the door!"—and only a fool would have tried to break in up front. Because he was first in line, Hallenbeck was interviewed for the pregame television show "Aren't we crazy," he said.
Finally, at 4:49, 11 minutes early and none too soon, the doors opened, Hallenbeck's ID was checked and his $15 season ticket was punched. He went immediately to the sixth row of the bleachers and discovered to his disappointment that he was not the first person inside.
A few rows above him sat some Jayhawk baseball players who had come in early to "work security." Allen Field House is not worthy of protection merely as a historic site; in the last three years it has received $1 million in improvements. Phog might not even recognize the place. The old raised court he knew has been replaced by a synthetic surface. The floor was sawed into 4 x 4- and 4 x 8-foot sections that were sold for $25 and $50 each as mementos. A local doctor bought enough pieces to build a wall in his house.
In the 2½ hours before the game started, the students passed the time reading, playing cards and hurling Frisbees and toilet paper. One coed sat in the first row behind Owens' chair, so she would be in position to "hear him yell." Another student, a local boy from Lawrence, said he has been coming to Jayhawk games for years. "I got Jo Jo White's sweatband and towel after his last game," he boasted. "I still have them at home."
When the Kansas team finally appeared at 7 o'clock, there were loud cheers. A few moments later, as Kansas State came onto the floor, there were loud boos, the Redding banner was unfurled and Curtis was pelted with hot dogs. Cheerleaders cheered, tumblers tumbled and the band played a '40s arrangement of In the Mood. Upon returning to the dressing room for last-minute instructions, the Jayhawks heard Owens say, "We have five seniors playing their last home game against K-State tonight. Let's make it a great occasion."
For most of the evening it was anything but. Kansas had to come from seven points behind to take the lead late in the game, and when that happened, all the spectators started swaying their hands—this is known as "Waving the Wheat"—in rhythm to the Jayhawk light song. That was a sure sign that K-State had lost for the 114th time.
"We expected to win 95-52," Hallenbeck said, "but you take what you can get." It has been that way at Kansas for 79 years.