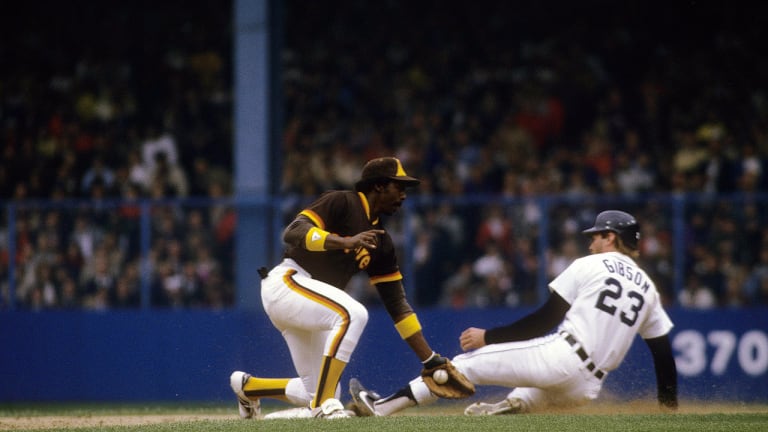 Publish date:
He's Semi-Phenomenal
Detroit is wholly sold on rookie Centerfielder Kirk Gibson, but for the moment will play him only half the time—against righthanders
Ready, set, hut. Flying downfield and crashing over the defense is glue-fingered Kirk Gibson, the best wide receiver in major league baseball. To the amazement of everyone outside the Detroit organization, the Tigers have closed their eyes, crossed their hearts and announced that the former Michigan State football All-America is their centerfielder for the season as well as their hope for the future.
The Tigers believe Gibson's athletic talent and true grit can overcome his lack of baseball skill and experience. After only three years on the diamond, one in college, two in the minors, Gibson has been promoted to the lefthand-hitting half of the centerfield job that became available when Detroit traded Ron Le-Flore in December. The righthanded hitter will be Dave Stegman, another rookie who has been virtually ignored in the tumult over the Tigers' golden boy.
Even for Detroit, a team committed to rebuilding, the 22-year-old, 6'3", 210-pound Gibson is a heroic and possibly foolish risk. After all, Stegman is three years older, more experienced, better defensively and has twice batted .300 in the minors. But as far as the Tigers are concerned, Stegman is like temporary office help. Gibson is the man they want for the long haul.
In 143 minor league games at the Class A (Lakeland, Fla. 1978) and Class AAA (Evansville, Ind. 1979) levels, Gibson struck out nearly 33% of the time and batted but .243. In spring training with the Tigers last year, he struck out eight times in 15 appearances (however, his three hits were home runs) and he batted .237 in a 12-game September trial. He had his most impressive statistics last fall in the Florida Instructional League, where he hit .330. Moreover, Gibson is strong in two important areas: run production (16 homers, 77 runs and 82 RBIs in the minors) and speed (he gets to first in 3.4 seconds and stole 33 bases in the minors).
Tiger President Jim Campbell, who created the opening in centerfield by trading LeFlore to Montreal for Pitcher Dan Schatzeder, says, "God only knows he'll have some problems." Manager Sparky Anderson, who had planned to platoon Gibson in rightfield (with Champ Summers) even before the LeFlore trade, says, "We're not expecting numbers of any kind. We just want him to get through the season with his head up." And, finally, Jim Leyland, who knows Gibson best of all because he has managed him at every way station of his professional career, says, "He's a diamond in the rough, but if you can't go out on the limb with a guy like Gibson, it can't be done."
Other Tiger officials also insist Gibson is worth the risk. Team consultant Rick Ferrell says his improvement last year was the greatest he's ever seen. After his disastrous spring and late start in Evansville because of a knee injury, Gibson was the leading hitter in the American Association playoffs with a .429 average. Campbell says, "Gibson bubbles over with ability." Leyland says, "He has the two things that bring people to the park—home-run power and base-stealing speed." But it is Anderson who is highest on Gibson, and is giving him the opportunity to start as a rookie; to that end, Sparky had Gibson as a houseguest for five get-acquainted days in January.
"If a fifth-place ball club can't give a chance to a 22-year-old player," says Anderson, "then who can? Gibson might be as good an athlete as we've ever seen. He's a lot like Jabbar and Walton in basketball. He can turn this franchise around. If he doesn't, we're in trouble."
Anderson has no delusions about Gibson. He agrees in principle with Baltimore Manager Earl Weaver's assessment that "in three years, Gibson will either be a star, or home crying to Mama." Says Anderson, "He'll make a lot of mistakes in the field. He has a chance to be horrible. But his speed is going to get him to a lot of balls and his arm is pretty good. A year ago he couldn't throw at all." Anderson wants to help Gibson's offensive production by encouraging him to bunt, by not having him face lefthanders and by increasing his ration of fastballs by batting him second behind Lou Whitaker, a good base stealer.
Even with these advantages Gibson knows his task will not be easy. "By the normal evaluation of players, they are taking a chance," he said last week as he sprawled on a hotel bed in Lakeland. "I'm capable, but there's no guarantee that I'm going to make it. I really don't know if I'm major league caliber or not, but the only way to find out is to put me out there."
If success doesn't come overnight, Gibson will have to get by on determination. "He's a working fool," says Anderson. "There ain't enough work for him." Sometimes Gibson works too hard. Early in spring training he spent so much time in the batting cage that he bruised his left hand and had to miss the first four exhibition games. In the minors Leyland worked with him every morning, pitching batting practice, hitting fly balls, helping him stretch the tight muscles in his throwing arm acquired from years of football. "You couldn't wear him out," Leyland says. "He's so strong he could take a lot of extra work. He needed it, though. I had to start from scratch and give him a crash course."
Gibson and the Tigers believe he passed. "Would you rather have a .250 hitter who's a winner or a .360 hitter who's a loser?" Gibson asks. "I guarantee you I'm a winner. Last year's playoffs with Evansville prove that. So I'm not going to be scared or negative. I know the pressure is there, but I don't think about it. Since becoming a baseball player I've made unbelievable improvement. There probably aren't a handful of players with the ability I have."
That ability began to be developed when Gibson was a youngster in Waterford, Mich. When he came home from school for lunch, his father, a tax auditor then, now a high school math teacher, made a point of being there, too, so Kirk could have someone to pass a football to in autumn and someone to catch his pitches from the backyard mound in the spring. He also shot baskets in the winter. Naturally, Kirk became an all-round star in high school and the outstanding senior athlete (as, indeed, his two older sisters had been), but football was the only sport that earned him college scholarship offers. The sole reason Gibson played baseball at all in his junior year at Michigan State was to strengthen his bargaining position as a likely No. I draft choice in football. However, he showed so much baseball potential that spring season of 1978—batting .390 with 16 home runs and 52 RBIs in 48 games—that he became a top baseball prospect too. When baseball scouts started bearing down on him in advance of the June free-agent draft he had a major career decision to make. "It was hellacious," he says. "Scouts were calling, the press was on me like flies, agents were calling, chicks were calling."
The Tigers maneuvered ahead of the crush when one of their scouts. Bob Sullivan, invited Gibson to play in a Grand Rapids summer league and arranged for a workout at Tiger Stadium. With Coach Dick Tracewski pitching and Campbell looking on, Gibson went to town. "I was really cranking them," he says. "Upper deck and all that. Pretty soon I decided I wanted to play with the Tigers, but I also knew I had to turn off the teams drafting ahead of them. So when one of those teams called, I would tell them there was no way I was going to sign, that they'd just be wasting their pick. When the teams drafting later than Detroit contacted me I just said I hadn't decided between baseball and football yet."
Detroit snagged Gibson with the 12th selection of the first round. "If the Tigers hadn't drafted me," Gibson says, "I wouldn't have signed with any other club."
When Gibson did sign, for $200,000, the largest bonus in the history of the club, he promised he would forgo professional football. Even so, following his outstanding senior football season in 1978 he was selected in the seventh round of the NFL draft by St. Louis. Gibson has stuck to his baseball commitment, even though he did send a tremor through the Tiger organization last month when he met with the St. Louis front office. The Tigers were concerned, but Gibson says, "Once I signed a baseball contract, that was it. I can't stand it when people ask me about football. If I don't want to play baseball, why am I here?"
Of course, Gibson could view football as his outlet pass should he fail in baseball. His visit to the NFL Cardinals certainly encouraged such speculation. And his interest in football remains high, even in a major league baseball training camp. Last week he was wearing a Kansas City Chiefs T shirt and was reading Jack Tatum's They Call Me Assassin. Probably because he has played much more football than baseball, he delights in talking about it. "I loved to hit," he said. "I'd catch a five-yard out and then turn up-field to hit the first person I could find."
Anderson thinks this pugnacity can make Gibson a success in baseball. "He's a tough, mean kid," Sparky says. "I think he's man enough to take what's coming. I told him if he can't handle it, I'll take him out. It won't be his batting average that decides. But I think he is capable of making a real contribution. Starting against righthanders, I think he can get 450 at bats, hit above .250, with 15 home runs, 45 to 50 RBIs and 30 stolen bases."
In his spring-training debut last Wednesday against Montreal, Gibson showed flashes of talent and inexperience. In five at bats he tripled and singled, but on the single he was thrown out when he rounded first base too far. In the field he misjudged and dropped a short fly ball and cut in front of Steve Kemp to catch a ball that clearly belonged to the leftfielder. "If Kirk and I don't get together out there," Kemp said, "as big as he is, he'll kill me."
Kemp is not the only one who will have to get accustomed to Kirk Gibson. If the Tigers are correct about him, all of baseball will. If they are wrong, he could become the best centerfielder in the NFL.
PHOTO
The size and speed that helped to make Gibson a notable receiver are an asset in baseball, too.
SIX PHOTOS
\n\n\n\n\n\n
TOMORROW'S HEROES
The Yankees hope they have another Ron Guidry in Dave Righetti, 21, a 6'3" lefthander who in three years as a pro has averaged more than one strikeout an inning. His father, Leo, was a minor-leaguer.
Damaso Garcia, 23, was a .265 hitter in four seasons in the Yankee farm system. Traded to Toronto last fall, he will start at second no matter how he hits. "He's got great hands," says Coach Bobby Doerr.
Bill Veeck first noticed Harold Baines as a Little Leaguer. Now 21, Baines hit .298 with 22 home runs for Iowa last year and will play outfield for Chicago. "He's on his way to Cooperstown," says Paul Richards.
Mickey Hatcher hit .371 for Albuquerque last year to lead the Pacific Coast League, the third straight season he has been over .300. A 25-year-old third baseman, Hatcher may dislodge the Dodgers' Ron Cey.
St. Louis' Leon Durham, 22, has been a first baseman since he was five, but Keith Hernandez is there and Durham is taking a crash course in outfield play. He hit .310 with 23 homers at Springfield last year.
With Joe Morgan gone, Ron Oester, 23, who grew up in Cincinnati, may claim second base. Oester (say o-ster) batted .281 with Indianapolis last year and is a switch hitter, just like his boyhood idol, Pete Rose.