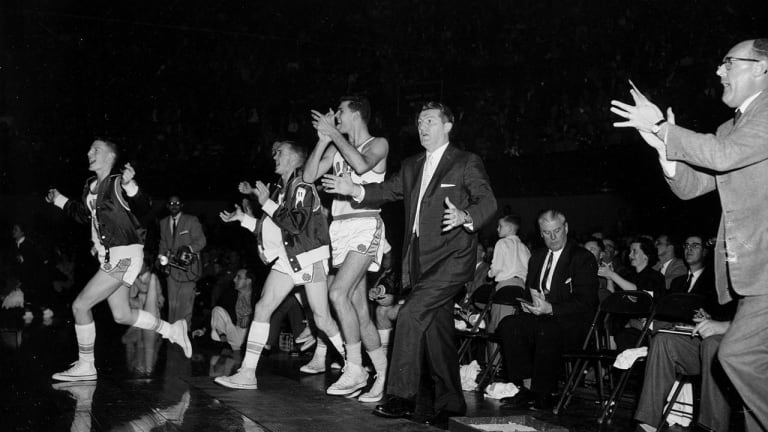 A Team That Was Blessed
That's what Wilt Chamberlain calls the unbeaten '56-57 North Carolina Tar Heels, who upset his Kansas Jayhawks in triple overtime in the most exciting NCAA final ever
The United States of America was much more regional a quarter of a century ago. This was before designer jeans. People could be distinguished by what they wore and how they talked and what they ate and on a variety of other indigenous counts. For example, when Frank McGuire left St. John's, in New York City, to become the coach at the University of North Carolina in 1952, he had trouble persuading players to go South with him. This was because most of the best city players then were Roman Catholic, and the other coaches, friends and hangers-around, even a few priests, would tell a player and his parents that if the boy went with McGuire down to the Protestant Bible Belt, he would surely "lose his soul."
McGuire points out now, "This was my biggest hurdle—souls."
Sometimes parochial schools would even refuse to mail a prospect's transcript to heathen Carolina, but McGuire learned, to some extent, how to fight fire with fire. He would tell parents to look at it this way: Their boy wouldn't just be a basketball player, he'd also be serving as a missionary. And at some of the kitchen tables where McGuire raised this point, it went over very well.
Recruiting at that time largely took place right there, at the kitchen table.
The move South wasn't an easy transition for McGuire himself, either. He had come from the big time. The first game he coached at Chapel Hill, about 1,200 fans showed up in a gym that held only 5,632. His office was a shabby, reconstituted section of an old men's room, unable to accommodate two grown men standing shoulder to shoulder. The Carolina team traveled to away games in crowded private cars, and when the players arrived at the distant campus, they slept on cots set up in the host's gym. This was called "local entertainment."
For this bush stuff McGuire never would have left St. John's except for his son, Frankie.
McGuire was a New Yorker through and through, and one of the biggest names in college basketball, having taken the Redmen to the NCAA finals in 1952. Frank McGuire knew everybody in town, and everybody returned the honor. He had the gift of gab, a fine Irish way about him. He had a handsome, open face, and he parted his golden hair high and made you think of Dan Duryea—that is, if just once Dan Duryea had played the good guy. Certainly, McGuire would never have left New York, but in 1951 he and his wife, Pat, had a boy who was named Frankie. Frankie was retarded and had cerebral palsy, and it was very difficult caring for him in a small apartment in the big city. So it was that McGuire took little North Carolina up on its offer and then started to try to spirit the flower of high school basketball out of the archdiocese of New York.
It helped McGuire that a lot of the big city colleges recently had been caught fixing games; it also helped that Uncle Harry continued to work the territory for him.
Consequently, in their crew cuts and car coats, four defenders of the faith gathered as freshmen in Chapel Hill in the autumn of '54: Pete Brennan and Joe Quigg from Brooklyn, from St. Augustine and St. Francis, respectively; Bob Cunningham from All Hallows, residing just over the color line, in West Harlem; and Tommy Kearns, who had grown up in the Bronx and moved across the river to Jersey, but commuted an hour and a half each way into Manhattan, to play for Looie Carnesecca at St. Ann's, where he had a basketball scholarship. In those more free-wheeling times, the Catholic schools serious about basketball held tryouts, citywide, and practice began the week after school opened. It was pretty much the only dream in town. "We played some softball, too," Kearns says, "but it couldn't take you anyplace."
At the time Kearns made this observation, a few weeks ago, he was lying on the beach in Uruguay, a well-tanned role model.
Already ensconced in Chapel Hill, a year ahead of the other New Yorkers, was Lennie Rosenbluth, from the Bronx, a somewhat mysterious, wraithlike figure, 6'5" and maybe 170, a Jew who didn't arrive at college until he was almost 20, after a high school career that consisted of seven games, total. Rosenbluth had played at playgrounds, Y's, parks, church halls, "the mountains" (i.e., the Catskills, a/k/a the Jewish Alps) and, finally, a military prep school in Virginia. McGuire had never even seen Rosenbluth play; he'd taken him blind on the recommendation of Uncle Harry, who was Harry Gotkin, his main talent scout back in the city.
McGuire had implicit faith in Uncle Harry's basketball judgment, doubting it perhaps only once, in Rosenbluth's sophomore year, when Uncle Harry called up and told McGuire he had a hot prospect named Lotz. "Dammit, Harry, all you get me is Jews and Catholics; can't you ever get me a Protestant?" McGuire snapped. He was thinking of lox and bagels. In fact, as Uncle Harry then tried to explain, Danny Lotz's father was a Baptist minister. They had really struck it rich, Protestant-wise. Later on, even, Danny Lotz married Billy Graham's daughter.
But getting back to Rosenbluth. In his junior year at Carolina he was joined on the varsity by the four Catholic boys, and the team began to shake out. The Tar Heels went 18-5 in 1955-56, and the next season they were a set piece from the first victory, in Asheboro, over a semipro club known as the McCrary Eagles. About then, the jokes began about "the four Catholics chasing the Jew up-court" and other hilarious variations on this theme.
And a true story. Waning seconds, close game, Rosenbluth at the line, McGuire: "Say a Hail Mary, Lennie, and make the shot."
Lennie: "But I don't know how to say Hail Mary."
Brennan: "We'll say a Hail Mary. You make the shot."
And so forth and so on.
Hopes were high that the Tar Heels would win the Atlantic Coast Conference, because that would have redounded not only to the glory of the university but also to the repute of what all the principals still pronounce as "Noo Yawk" basketball. While the college game was almost exclusively sectional then, the four major teams in North Carolina constituted an exception. For years N.C. State, perennially the team to beat, was stocked with Hoosier sharpshooters that Coach Everett Case, the Old Gray Fox, imported from Indiana. Duke featured Philadelphia players—good ball handling was their trademark—just as Carolina now had its Noo Yawkers and Wake its Southern Baptists and a Methodist ringer or two.
To win the ACC was the Tar Heels' great goal that year. That would make a grand double victory, for school and style alike. The latter was known as give-and-go.
THE FOE
There was indeed an NCAA tournament then, had been for years, but Carolina dared harbor no serious aspirations of winning the national title, because everyone everywhere simply assumed that Kansas would win the crown in 1957. And in '58 and '59, for that matter. This was because a young giant from Philadelphia, Wilt Chamberlain, had decided to play for the Jayhawks, and now he was entering his sophomore year, his first of varsity eligibility.
He was then perceived as superhuman. "People today cannot imagine the impact that man had on us all at that time," Joe Quigg says. "Wilt was just a colossus." He stood somewhat over seven feet, he was powerful and quick, and he was black! His reputation preceded him to Lawrence, Kans., because he was surely the first high school athlete whose recruiting was coast-to-coast news. "I don't mean these things to sound wrong, but I was above all the other guys then," Chamberlain says. "I guess I was just ahead of my time."
The only question seriously debated was whether or not Wilt would destroy college basketball.
It didn't take long for teams that were playing Chamberlain to figure out that their only chance was to collapse the defense around him and hold the ball on offense. Kansas would even lose twice—both times by a basket in a low-scoring game on the road. "What they did to Wilt would have provoked you or me to distraction—two or three bodies always packed up against him," says Dick Harp, who was his coach. "He never got any breaks from the officials, but he never lost his composure."
"Looking back, I don't ever remember feeling any pressure that season," Chamberlain says. "All I can remember is getting bored so often." The championship would be restorative. Kansas drew San Francisco, the defending champ, in the semifinals. A 6'9" guy named Art Day jumped against Wilt. "So you're Mr. Chamberlain," he said, and Wilt only snarled at him and made it a point to "crush" Day's first shot. At that, Day looked up awestruck. "So, you are Mr. Chamberlain," he said, and Wilt broke out laughing, right on the court. Chamberlain scored 32, at will, and Kansas won 80-56.
It was so devastating that most people forgot which team was coming into the final game undefeated.
THE SEASON
Midway through their schedule, with their record 16-0, North Carolina traveled to Maryland on a train and played the Terps before the largest basketball crowd in the history of the South, 12,200. When Maryland got possession of the ball, leading by four with 40 seconds left, McGuire called time out for the purpose of reviewing how the Tar Heels were to act—like gentlemen—in defeat. They won in overtime. "After that, after I called time out to tell them how to lose, and still they couldn't, well, from then on I knew they were really something special," McGuire says.
But it was McGuire who set the tone. "The best thing he did was he left us alone, five guys who played Noo Yawk style," Brennan says. Much of the strategy, the matchups, McGuire turned over to his assistant, the late Buck Freeman, who had, years before, been the head coach of the St. John's Wonder Five. Freeman was tall and white-maned, leonine, but he was also a fussy old bachelor who liked his whiskey. Above all, he was an utter technical genius, perfectly complementing the younger McGuire, who was a master of tempo, of game and group psychology. It's said that no coach has ever better understood when to call time outs than Frank McGuire.
The Tar Heels aligned themselves in such a way as to defy conventional defenses. "There was a chemistry, patterns, not plays," Rosenbluth says, "and when you have that, scouting reports don't mean a thing." In fact, broken down, the Carolina offense more closely resembled that used by the Harlem Globetrotters than any other. Rosenbluth was in the middle, back to the basket, the "showman," as the Globies call their "lead" (Meadowlark, Goose, Geese, whoever). Kearns was the "floorman" (Marques or Curly) out front with the ball. The two more traditional sturdy-center types, Quigg and Brennan, weren't under the basket, where they might get in the showman's way, but were put out in the corners.
Cunningham, at 6'3", tall for a 1950s guard—and to gild the lily, McGuire listed him at 6'4"—was the other starter. Just where were you, Bobby? "Sneakin'. Always sneakin' around," he says. "Lookin' after my children." He means the four more visible starters. Cunningham was the classic fifth man.
As a high school junior he scored more than 20 points a game and got 30 college offers. But, in November of his senior year, he took 100 stitches in his shooting hand when it went through a window. The doctors wanted to amputate his thumb right away, and would have but for the pleas of his father, an immigrant laborer from Ireland. So the thumb was salvaged, but only McGuire kept his promise of a scholarship, a display of loyalty that also had much to do with cementing Kearns's decision in favor of Chapel Hill.
His touch gone, Cunningham accepted the grubby tasks. "After where I came from and what I'd been through, I was just glad to be a part," he says. Even Rosenbluth, the big name, the big scorer, says that Cunningham, the least renowned, was "the key." But they all had to give up something. Rosenbluth would take himself out of the flow and let his teammates score more if he was double-teamed.
But none of the others ever resented sending the ball in to Lennie, because they'd never seen a man who could shoot as he could—spinning layups, hooks, turnaround jumpers. Three of the other four starters—Kearns, Cunningham and Brennan—all proudly, distinctly recall being the one who threw the pass to Rosenbluth when he scored his most extraordinary basket, a 14-foot hook shot, in traffic, against Wake in the ACC tournament, in the final minute, down a point. Kearns, although the cockiest of the lot, probably had the most difficult time adjusting, both to the team and to "the foreign country down there." As popular and smooth as he was, Kearns was more of a loner than his classmates on the team, and would have left Carolina as a freshman except that his father, a cop and a Coast Guardsman, wouldn't brook that kind of move. "I had real culture shock," Kearns says. "I mean, trees! And I'd be walking around the campus, and all of a sudden everybody is saying hello to me: Hi, how you? I kept thinking, what do they want out of me? What's the con?"
But Kearns found new friends, joined a fraternity in which he was the only member from north of the Mason-Dixon, fell in love with a bank president's daughter over at Duke (McGuire feared Kearns would give away team secrets between kisses) and at last acclimated himself to that strange existence beyond the subways.
It may seem odd, perhaps, that it was the playmaker and the leading scorer, the two who started and ended most of the action, who were the two most distant individuals on the team. But interpersonal dynamics are often overrated. They were Noo Yawk when it mattered. As Rosenbluth, the captain, the old man, remembers, "we got so close on the court that we got to know exactly what everybody else was doing—and we were freelance, too. For example, I knew that if Pete put the ball on the floor, it was going up."
But certainly, everybody rooting for the Tar Heels had fallen in love with them. Even the most devout Catholics could see some advantages in that. McGuire received this advice from a bishop: "I know you're making a lot of converts down South, but tell the boys not to bless themselves on the free-throw line unless they're sure they can make the shot." Coincidence or not, the roughest games tended to be against Wake, where anti-Semitic remarks had been directed from the stands against Rosenbluth. Carolina played Wake four times that season and beat the Deacons each time. But each game was tight, and when Rosenbluth won the last one with his miraculous hook, McGuire was moved to observe, "The Catholics and the Baptists were having a helluva battle, until the Jew took over and broke it up."
And the Tar Heels were good public relations for the state. To have Carolina associated with urbane, ethnic New York was hardly all bad, especially since New York was the limited partner in this endeavor. In a way, you could say that with McGuire's team, the Sun Belt, as we know it, began its transmutation—visibly, anyway—from the Bible Belt. Lennie Rosenbluth was this century's Virginia Dare.
Even if you never thought about it in quite those terms before, Carolina moved onto the Final Four at 30-0, 31-0 counting the lidlifter over the McCrary Eagles, which some people still did. Unfortunately, if the Tar Heels got past Michigan State in the semis, their opponent in the championship game would surely be Kansas and Chamberlain, and they would have to face them in the Jayhawks' home territory, in Kansas City. As the Tar Heels' play-by-play announcer, Ray Reeve, was to say over the radio from K.C.: "Nobody's given them a Chinaman's chance."
THE FINAL FOUR
Point of fact: Carolina had no business beating Michigan State. The Spartans' coach cried in the locker room afterward because he knew his team should have won. It took three overtimes. Rosenbluth went for 29, but he forced his shots, often firing attempts that Jumpin' Johnny Green slapped away. Kearns played his worst game of the season, and Quigg got only one shot before he fouled out.
So Cunningham, realizing he had to shoot, scored 21, his career high, and he and Brennan saved the streak. Still, it almost ended in regulation when, at 58-all, the Spartans' Jack Quiggle threw in a desperation try from past half court at the buzzer. But the referee said time had run out before the shot. "All the luck we had that year," Rosenbluth says. "I guess we used it up for all the Carolina teams that followed."
Chamberlain was to have the best word for it.
Then, at the end of the first overtime, it was truly finished. As they said in North Carolina at the time: "That's all she wrote." Reeves said that on the air. State was up 64-62, six seconds left, Jumpin' Johnny at the line, one-and-one. Kearns remembers how desperate the situation was. The little guy he was guarding just walked over to him and, with a big grin, said three dirty words, "Thirty and one."
But Green missed the front end, and on the left side, Brennan came down with the rebound. He didn't call time out. He didn't look to pass out. He turned and dribbled. If Pete put the ball on the floor, it was going up. Only this one time Pete was 80 feet away. He started upcourt by himself, and suddenly he found himself near the other end, 20 feet from the hoop, two defenders in front of him, all his teammates behind. So he pulled up and fired. The buzzer sounded just after the ball went through the twine.
The Tar Heels won, anticlimactically, two overtimes later.
Then they watched for a while as Chamberlain annihilated San Francisco. Far from being intimidated, though, they came away calm in the knowledge of how they had to play him. "San Francisco let him get away with too much," Brennan says. "I don't care how awesome he was. We had to be physical with him." The next day, in the lobby of their hotel, the Continental, Kearns hung out, loving it, advising whatever skeptics would listen, "We're chilly. We're cool. Chamberlain won't give us any jitters." At some point, too (all accounts differ), McGuire told Kearns that if he was so cocky, he should go out and jump against Chamberlain at the start of the game. Kearns said sure.
The arena was thronged, almost all Kansas. But even this failed to undo the Tar Heels, who had played only eight home games all season. And they did have the governor, Luther Hodges, with them. He flew out after the Michigan State victory, possibly because the games were being specially televised back home, and the state was on its ear. Before this weekend, ACC basketball was popular as a sport; after this, it was woven into the fabric of North Carolina society. Governor Hodges looked around and then plunked himself down in the most visible place he could find, between McGuire and his team, on the bench.
The coach apologized and invited the governor to take a seat at the other end, and then, as the fans blinked and snickered, here came Kearns, 5'10" and change, elbowing his way into the center circle opposite Chamberlain. The big man glared down. Kearns played it for all it was worth, tensing, getting way down as if he could spring 20 feet into the air.
So began the most exciting game in NCAA tournament history.
Carolina immediately assumed control. The Tar Heels collapsed two or three men on Wilt and dared the other Jayhawks to stick the ball in from outside. Kansas played a box-and-one, with Maurice King shadowing Rosenbluth. It was a disastrous strategy; it didn't contain Rosenbluth and it left the other Tar Heels free to shoot over the zone. Of the first seven shots they threw up, Brennan hit one, Rosenbluth, Kearns and Quigg two apiece. Twenty-five years later, Wilt still has the vision of the Carolina center, Quigg, staying way out, chewing gum, throwing up the jumper. It was 17-7 before the Jayhawks went to man-to-man and still 29-22 at the half.
Wilt led Kansas back, and before the second half was nine minutes gone, the Jayhawks were in front 36-35. Quigg and Rosenbluth were each to pick up his fourth foul along in here, too, but even when Chamberlain, then a fine free-throw shooter, made both shots of a one-and-one to put Kansas up by three, Harp kept Kansas in a deliberate offense. Ironically, Harp still maintains, "Had a shot clock been employed then, no one would've been able to come even close to beating Wilt." But still, he elected to hold the ball.
It almost worked, too. Say that. With 1:45 left, Chamberlain, moving up high, whipped a beautiful pass down into Gene Elstun, who not only made the shot but also drew Rosenbluth's fifth foul. As Elstun stood at the line, it was 44-41, and Chamberlain distinctly recalls glancing up into the stands at this moment, spotting a good friend and sighing at him, at last sure of victory.
But Elstun missed, the Tar Heels scratched back, and in the waning seconds Kearns tied it at 46 from the line.
In the first overtime, each team scored only one basket; in the second, none. Carolina was certainly tired by now, and both teams were tight. Kearns missed three straight foul shots, Quigg, the only one he tried. Chamberlain blew a free throw, too. Cunningham had fouled him and Brennan had grabbed him around the waist, angering Chamberlain. He had thrown the ball away and rapped Brennan on the head with an elbow; Brennan had stormed back at him, before others had rushed in to break it up. Then someone had torn over to the Carolina bench and tried to slug McGuire. Back in North Carolina, it was chiming midnight as the Tar Heels went into a third overtime for the second straight night.
Kearns made a basket first and all of a one-and-one to put Carolina up four. But Wilt came back with a three-pointer, and when King and Elstun sank free throws, Carolina had one shot, down 53-52. There were 10 seconds left when Quigg ended up with the ball near the top of the key. "It's funny," he says. "I rarely wanted the ball. But this night I'd felt good, right from the start. Good players feel that way all the time, I guess, but it only occasionally happened to me. It just happened that one of those nights was the night of the championship game." He made a slight pump fake and drove against the invincible Wilt Chamberlain himself. King, coming across to help out, fouled Quigg just as he got the shot off.
There were six seconds left, and McGuire signaled time out. The universal sign. Right palm plane over tip of left middle finger. T: Time. You're not supposed to do that in these circumstances. That is canon. If anybody calls time, it's supposed to be the other coach, to get the shooter thinking, nervous. But Frank McGuire never called a bad time out, and he knew his man, Joe Quigg.
Quigg had hit a solid 72% from the line on the year, but he'd missed the only free throw he'd taken in the game, under pressure in the first overtime. In this particular situation he wasn't a lock. So as soon as the Tar Heels huddled, the first thing McGuire said, calmly, was, "Now, Joe, as soon as you make 'em..." and then he went on to explain how they would work on defense.
Quigg sat on the bench and thought about his dream. He had often dreamed of just this situation. "Only in my dream, it was always a jump shot with no time left," he says. But this would have to do: down one, at the line for two, six seconds left for the NCAA championship.
As it turned out, there really was no time left for Quigg. He was a junior, and he had pro potential, but, as it was, these were the last two shots he would ever shoot.
Before he walked back to the free-throw line, he promised everybody that he would make them both.
And he did. Swish. Swish. 54-53.
Not only that, but Quigg was also the one who batted away the last-ditch pass that was intended for Chamberlain in the low post. Kearns retrieved the ball with a couple seconds left, and after dribbling once, he heaved it away, high up in the air. It's so strange to see a game end that way, all the players looking straight up, half of them helplessly, half in exultation. And then the clock runs out, and all the Kansas players drop their eyes to the floor and walk off. All the Carolina players suddenly lower their heads, too—but not down, only around, finding one another, then running into each other's arms, 32-0, 33-0 if you count the McCrary Eagles.
THE CELEBRATION
In those medieval times—there were, for example, only four photographers at the game—the championship was played in an arena lacking proper locker-room facilities, so the players dressed in their hotels. Quigg remembers the odd sensation of winning the national title and then "just running through the streets of Kansas City, all by myself." The air was heavy with mist.
Back at their hotel, the Tar Heels sat around and sort of stared at each other, goofy with delight, "a good tired." Their bodies were only now beginning to comprehend what they had been asked to do the past two nights. Brennan, Cunningham and Kearns had played all 110 minutes. What with the governor there, McGuire quickly threw a victory party, and the tab for that affair came to $1,500, which was so extravagant,-the North Carolina athletic director thought, that he made McGuire spring for the Roquefort dressing, which had been a $58 extra. McGuire has never gotten over that.
But it was the only sour note. There was such a fuss made over the Tar Heels that the plane that brought them home the next day had to circle the Raleigh-Durham airport for some time until police could clear the runway of well-wishers. The whole state adored the team. On campus, fellow students would worshipfully ask the players for autographs. It was the spring of 1957, presumably a most innocent time. It was the good old days. It was the absolute peak year of the baby boom. Young Love, by Sonny James, topped the charts that month: "They say for every boy and girl/ There's just one love in this old world...." It was that kind of time, crew cuts and car coats, and, obviously, it would go on for ever and a day.
The next weekend some of the players went home. Brennan, the conquering hero, rushed over to Brooklyn from LaGuardia. His father was a subway motorman, and Pete was one of ten children. The Brennans lived in a two-family house, with the Cocoas next door. The hero dashed up the steps, just as Mrs. Cocoa was coming out. "Hey, Petey," she said, "when did you get back from the soivice?"
THE THEREAFTER
So it was, Brennan says, that his feet came back to earth. The others would follow him down. They had caught lightning in a bottle during that one season, but then the world became sane and cruel again. Quigg got hit the hardest of all. The reason those free throws were the last points he ever made was that the next fall he fractured his right leg in a practice session, and he has never even been able to straighten it properly since. And Rosenbluth. As great a shooter as he was, at 6'5", 170 pounds, he couldn't survive the grind in the NBA. They beat him into the ground, and he quit after two desultory seasons.
Cunningham, Brennan and Kearns formed the heart of the 1957-58 Carolina team, and it was a good team, a nice team, and Brennan made first-string All-America and Kearns third, but there was no more magic. The Knicks drafted Brennan in the first round, tried to convert him to guard, waived him to Cincinnati, and then he got out. Kearns was drafted first by Syracuse, but he only played seven minutes in .one NBA game. He took one shot and made it: 2.0 ppg., 1.000 FG%, for all time.
Kearns didn't make the Nats because in his stead they decided to keep the unknown guard they had drafted on the second round. His name was Hal Greer. And that proved more of an indication of things to come than anything Carolina had done. The 1956-57 Tar Heels, it turned out, were more of a transition, a bridge. Before them, college basketball was a regional game, and after them, influenced by them, it went big-time, coast to coast. It was never the same again, although it didn't go in the direction that appeared so evident at the time. Soon there weren't that many guys crossing themselves at the free-throw line.
The white people, the Catholics and the Jews, moved to the suburbs, and black people started moving onto the courts in increasing numbers. Softball can't take you anyplace. The only basketball player to come out of North Carolina at that time and become a pro star was a guy from North Carolina Central named Sam Jones, whom nobody at the NCAAs had ever even heard of.
Give and go.
Although this too: Maybe the Noo Yawk boys did make it easier for those who followed. Maybe if a bunch of Catholics and a Jew can play for your Dixie alma mater, maybe that makes it more palatable to accept blacks. Certainly, that's a possibility.
But once the Tar Heel players understood it was over, all of them went on about their lives. For athletes using sports to scratch their way up then, college was itself something to achieve; it was not, as it has become, merely basic training for the pros. Of the 12 guys on the championship team's roster, all graduated from Chapel Hill, and six earned advanced degrees. "That may be more of an accomplishment than the 32-0," Brennan says.
Of the starters, he and Quigg, the two Brooklyn boys, stayed in Carolina. Quigg is a dentist in Fayetteville, Brennan is the designer of his own men's fashion line, Pinehurst Clothing, in Charlotte. The other three all returned to work in Carolina for a while before moving on. Rosenbluth teaches American history at Coral Gables (Fla.) High School, while coaching a basketball team at Deer-borne, a nearby private school. Kearns and Cunningham both live in the Connecticut suburbs of New York, where Cunningham is president of a trucking firm, Advanced Delivery Systems, Inc., and Kearns is a partner with Bear Stearns, a Wall Street brokerage.
Kearns married his Duke sweetheart; the other four all married Chapel Hill coeds. None is divorced; you see, Sonny James was right. After Pat McGuire died of cancer, Frank married a Carolina belle, too, only Jane McGuire comes from across the line, in the Palmetto State. In 1961 McGuire was enticed to leave Chapel Hill to coach Philadelphia in the NBA. His star was Chamberlain; it was under McGuire that Wilt averaged 50 and went for 100 in one game. But then McGuire came back South, taking the coaching job at the University of South Carolina, where he had some right good teams. Retired, he and Jane still live in Columbia, very near to where Frankie, now 30, is institutionalized. It's important not to forget that all of this happened on account of Frankie.
THE LOSER
Wilt Chamberlain left the arena in Kansas City for the lonely walk back to his hotel, the old Muehlebach. Against what was now a light rain, he wore a little British driving cap. A small boy from Chapel Hill, who had flown out for the games, ran in circles around the big man, cruelly taunting him, chanting, "We wilted the Stilt, we wilted the Stilt," over and over. But Chamberlain didn't take the bait. He only looked ahead and kept on walking.
In another hour or two he was back on campus in Lawrence. Louis Armstrong was playing there that evening. It was envisioned as a victory ball. "Old Satchmo was playing When the Saints Go Marching In, but we marched back losers instead," Chamberlain said ruefully a few weeks ago, smiling softly at a friend sitting next to him. The friend shrugged in sympathy.
It takes a lot of gumption for Wilt to talk like this, because as the years have passed he has come to understand how that one game in Kansas City changed the whole perception of him. He came in as the invincible giant, but when he went out, he carried with him some vague impression of defeat's being his destiny. It was with Bill Russell and the Celtics that this became a pox upon Chamberlain, but he knows only too well where the germ first alighted. He knows. "Of all the games in my career, and certainly so far as image is concerned, you understand, that goddamn one against Carolina was the biggest," he says.
It is ironic, too, that no one protests the unfairness of this stigma so much as McGuire and the champion Tar Heels do. Kearns, particularly Kearns, who was sent out to jump .center, to somehow mock and rattle the giant, refutes the loser's tag that clings to Chamberlain.
That Kearns had jumped center might have disturbed Wilt more than he ever let on, too. McGuire recalls that four years later, when he first met Chamberlain at Philadelphia, Wilt was quick to ask McGuire why he had done that to him in Kansas City.
In fact, there's no consensus on exactly where the center-jump idea came from. In contrast, Kearns knows precisely why he had the presence of mind to hurl the ball up, free and clear, in the last seconds of the game. He remembered hearing that Hot Rod Hundley had pulled that stunt once at West Virginia, and "There were a couple guys around me, but Wilt was in the back of my mind. I just figured even he couldn't get the ball if it was 400 feet up in the air."