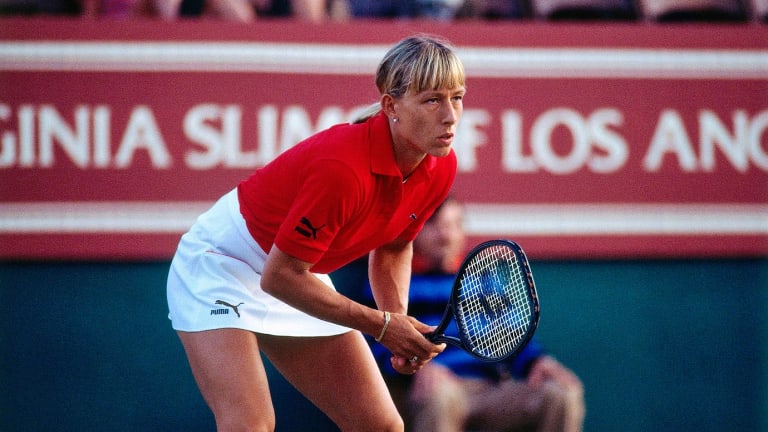 He Got Down and Did It
Despite his antique racket, Jimmy Connors—who's a bit of an antique himself—was unbending in pursuit of his fifth U.S. Open
Apart from the death threat, the diarrhea, the foot you hurt and the 107° heat you had to play in, how did you like your trip to New York, Mr. Connors?
"You got the airplanes flying over, and you got 20,000 people crowded in here animalistic style," said Jimbo one day, "but I happen to like that."
Never, it seems, has a tournament been so right for a player as the U.S. Open is for Jimmy Connors. And when he won his fifth one on Sunday, it was all the more appropriate that Flushing Meadow should turn out to be his 100th tournament title. No other pro has ever achieved triple figures. Last week also marked the first time Connors had won back-to-back Opens and the first time he'd won a Grand Slam title in an odd-numbered year. In the championship match Jimbo defeated Ivan Lendl 6-3, 6-7, 7-5. Lendl checked out early and was billed 6-0 for a fourth set.
Connors' victory wasn't pretty, but that was hardly his fault. Besides, seldom anymore does he win on looks. He's like his homely old racket, which he terms an "obsolete antique" and which literally doesn't exist anymore in the public domain. It's a little metal colander that Wilson stopped making years ago because nobody could play with it except one obsolete antique of a player. In his bag, as a spare, Connors still carries the racket he used to win Wimbledon and Forest Hills in '74, which is a little like Babe Ruth hauling around the bat he used to hit his 60th home run just in case he needed it to hit fungoes.
After '74, that wondrous year in which Connors won three legs of the Slam—and would surely have steamrolled the French, too, had the game's majordomos not locked him out—Arthur Ashe whipped him in the famous Upset of '75. Then Bjorn Borg was invented, and for the next seven years, during what should have been the heart of his career, Connors won only two Grand Slam events. Now, past his prime, he has, on guts and steel, suddenly upped and won three more major championships in barely more than a year.
At the 1983 Open, Jimbo had an easier time in the finals than in '82, when Lendl also was his victim. On that occasion Lendl only snuck into the match for a while after losing the first two sets. This time they split the first two sets, and Lendl went up a break in the third and appeared to be in command.
Lendl remains an enigma. He's perceived—unfairly, his friends say—as being humorless, but without question, at 23, he's more independent and mature than most of his colleagues. He has, since age 18, made his way through the West, dealing in strange languages and customs while fighting retrograde actions by the bureaucracy in his native Czechoslovakia. He's never cheered, is forever the road team. He hasn't set foot in his homeland for a year and a half, most of that time being spent in the States. The other day he agreed that the few glimmers of ease and wit he displays are the result of a certain Americanization of Ivan.
Against Connors, Lendl glued himself to the baseline, determined at all costs to win from there. However much this strategy might have been disputed, it was working. His big straight-up serve, reminding oldtimers of Ellsworth Vines—with a forehand to match—moved him ahead, even though Connors had shown a capacity to break down Lendl's backhand with pressing approach shots.
Connors did make a number of scattershot errors in the process, but then, that's his gambling style. Furthermore, he was more troubled by a painful bone spur on his right little toe than he let on publicly. It hurt to play. To boot, he had the trots going in and even had to rush to the head late in the second set. (One such trip for extenuating circumstances is permitted.) So it was, at a set apiece, that Connors and Lendl came to the 10th game of the third set, with Lendl serving at 5-4. He saved a break point and reached set point with a sharp forehand. Then he missed his first serve and tossed the ball up for his second....
The temperature on court was better than 100° on this final day. In fact, the Open had been played in a relentless tropic heat right from the start, when the tournament had begun with a natural clash between Mr. First Day, Trey Waltke, who had wowed the opening Wimbledon crowds by appearing in long flannel trousers, and Mr. Worst Day, John McEnroe, the top seed, who customarily makes an inaugural ass of himself. Not wanting to disappoint the hometown faithful, McEnroe picked up $1,850 in fines for reviling the umpire and a lineswoman and for lacerating a spectator with insults and a handful of sawdust. The fan's heinous crime had been to cheer on occasions that McEnroe, that arbiter of court etiquette, deemed inappropriate.
After his tumultuous opener, McEnroe reached the fourth round on his best behavior lest another fine earn him a post-Open suspension. Mac evidently still had the shoulder problems that have bothered him since January, and he appeared stale, perhaps from working all the one-night stands that he and Guillermo Vilas play on McEnroe's Tennis Over America exhibition tour. Whatever the reasons, against Bill Scanlon in the 16s, McEnroe constantly let the shots play him. Still, he might have snuck through had not Scanlon, the 16th seed and a decidedly unfriendly rival of McEnroe's, played so well, repeatedly planting service returns at Mac's feet and threading passing shots by him.
Scanlon came on tour in 77, auspiciously whopping Top 10ers, but then the rudderless traveling life caught up with him, his ranking plummeted, and he "turned into a basket case." Scanlon was Exhibit A, one of the first characters introduced by Michael Mewshaw in his tennis expose, Short Circuit. "I didn't retire," Scanlon told Mewshaw. "I became a degenerate. I would have started drinking before noon—if I ever got up before noon." Only when he signed with Warren Jacques, a highly regarded Australian expatriate who resides in Texas and whose coaching had spirited Kevin Curren and Steve Denton into the upper echelons, did Scanlon begin to take the high road back on the journey that culminated with his upset of McEnroe.
If McEnroe was out, Lendl was positively breezing, losing nary a set. Connors' trip to the finals was nearly as clean, notwithstanding some creep's telephoned death threat. Indeed, a birthday present that Connors' wife, Patti, delivered to him on Sept. 2, when he turned 31, seemed to rattle Jimbo more than any opponent. Patti ordered up a strip-o-gram for hubby, and he was absolutely mortified as the young lady ground down to pasties and g-string in the players' lounge, while those assembled roared more at his evident embarrassment than at the paid entertainment.
Meanwhile, out on the courts....
Will you welcome, please, Aaron Krickstein, just turned 16 last month, the youngest U.S. junior champion ever. Krickstein was one of 22 players at the Open who have been under the tutelage of Nick Bollettieri, the coach from Bradenton, Fla. Krickstein brought the tournament to life, packing the grandstand in the third round as he came back from a two-set deficit against a quaking Vitas Gerulaitis. When Krickstein won four straight games to win the fifth set 6-4, the ballboys, most of them older than the victor, solemnly filed by to shake the playerboy's hand.
No American male, not even another Bollettieri prodigy, Jimmy Arias, ever made such a run so young. Krickstein slugs the ball, two-handed on the backhand, belying his slight 5'10" frame. "Look at his body," said his father, Herb, a pathologist in Grosse Pointe, Mich. "He's pathetic. But he's fearless on the tennis court." The kid is also utterly unflappable. "When he really gets excited," says Bollettieri, "he bends his left arm."
He does what?
"He bends his left arm. That's when I know he's fired up."
Well, this will certainly make for an interesting contrast.
The grandson of a rabbi, Krickstein also bids to become the first Jewish champion since Dick Savitt, the '51 Wimbledon winner. "Gee," a reporter gurgled to Dr. Krickstein after his son beat Gerulaitis, "have you ever thought the boy might play for the Israeli Davis Cup team?" Dr. Krickstein paused, possibly even bent his left arm, and said that what he and Aaron sort of had in mind was that someday Aaron might play for the United States of America's team.
Krickstein lost to Yannick Noah, the French champion, in the 16s. Then Arias bumped Noah in a marvelous five-setter to make the semis against Lendl. At 19, Arias is the youngest player ever to reach the final four at the Open. Hitting forehands catty-cornered, he and Lendl slugged it out, but Lendl won in straight sets. In the other half of the draw, Connors manhandled a suddenly discombobulated Scanlon to set the stage for another Connors-Lendl final, the one trying to repeat, the other attempting to win his first Grand Slam title and prove his mettle upon the consummate stage....
So here it was set point for Lendl in the third, and he threw the second ball up, tossed it poorly, and the serve fell into the net. Double fault. Back to deuce. For some inexplicable reason, that lapse was too much for Lendl. Well, it has been a tough year—only $657,378 in prize money coming into the Open, after trucking away $2,028,850 last year.
"I just felt mentally down after the double fault," he said afterward, sotto voce. Lendl lost the next two points. He lost the next two games. "He missed three or four balls for no reason," a baffled Connors acknowledged. The set went to Connors when Lendl halfheartedly jerked a routine forehand into the net. That done, he lost another six consecutive games, barely moving off a spot just inside the baseline, bothering only to flick at balls that happened to land conveniently near him, in the manner of some dispirited teaching pro, punching the clock, not troubling with shots that fell a couple steps away.
The stands, smelling blood, roared for Connors. However, down in the champions' box, in the southwest corner of the court, the previous winners felt only disgust and shame and revulsion at what they saw. How could someone dare do this to a tournament they had fought to win with their skills and always honored with their effort? How do you say No màs in Czech?
Thank heaven one obsolete antique is still playing this troubled game.
She Put Herself Into High Gear And Headed North
Days before her victory was obtained, Martina Navratilova and her friends were already contemplating how best she might present herself in triumph. Navratilova herself seriously suggested that she would begin her awards ceremony speech by crooning New York, New York: "Start spreadin' the news...." This idea was vetoed on two grounds, voice being one. The other: The last time Navratilova had orchestrated her victory address in advance, she was upset the next day. That was in May, at the French Open, where she had planned to deliver a speech in French. Then Kathy Horvath handed Navratilova her only defeat in 67 matches this year.
Last week Navratilova's friend, Nancy Lieberman, the basketball star, said, "The trouble with you tennis players is, you win a big match, you bang your racket on the net. Or you throw it. Great. What does a racket do back to you?" Basketball players, Lieberman said, now they give high fives to people. So on Saturday, if Navratilova beat Chris Evert Lloyd to win her first U.S. Open, she would go to the friends' box at courtside and give high fives. Only she and her buddies forgot one thing: How hard it would be for Navratilova to give high fives, because her winning the Open would mean that The Torch had been passed, from Lenglen to Moody to Marble to Betz, to Connolly to Gibson, to Bueno to Smith to King to Evert Lloyd to Navratilova, and how, pray, does one give high fives with a racket in one hand and The Torch in the other?
But she managed, for in these times there is little the lady from Dallas in her new après-bowling tennis outfits can't do upon the courts of green. She savaged the Open, made it unforgettable for tedious excellence. She lost but 19 games in seven matches, which required, in toto, slightly more than six hours. The over-and-under line was 52 minutes per outing, and one of the loudest cheers for Evert Lloyd in the final was the applause, from insiders, that rippled through the stands when the time-of-match clock ticked up from :59 in the last game, signifying that she, at least, alone, had occupied Navratilova for an hour. The score was one and three for Evert Lloyd; six, six and oh for Navratilova. The oh is for chokes.
Sure, as every mother's child knew, Navratilova could win Wimbledons left and right, the odd French and Australian and all those winter championships that are named after a product. She could win money with her left hand—more than any man, woman or woman-child in the history of tennis, over-the-table division. But she could not win the championship of her adopted country. Took the pipe. The old casaba. Folded like a dollar suitcase. Even made people forget that Sam Snead never won his U.S. Open. Or Bjorn Borg his. Or, as Evert Lloyd delicately proposed the day before the final, "Nerves might enter in."
In a way, this showdown was being played on two levels. On the drawsheet, Evert Lloyd was defending her U.S. title, the most recent of her six. But on a higher plane, the one of posterity, Evert Lloyd was defending more enduring territory. Navratilova's extraordinary record over the last two years—184-7 since she began to take her talent seriously and train hard for the '81 Open—has prompted, in this world of instant superlatives, a rush to ordain her as the greatest ever. And even if Christine Marie Evert Lloyd, a tough little monkey, had to lease out a Grand Slam title here and there, she'd be damned if she would concede any kind of lasting recognition to a contemporary.
Evert Lloyd could defend herself on two fronts. First, simply, she could deny Navratilova the Open, for so long as Navratilova failed to win that, she would, like Borg, forever remain a pretender to all-timeness. Second, Evert Lloyd could let herself speak for her record. One day, for example, she offered that it was a "sensitive" thing for her to discuss, but then, well, ah, the two-handed smile holding a stiletto, "I've had seven great years," while Martina has had but two—"that's really all she's had."
Evert Lloyd also bristled at talk about her alleged tennis anorexia, maintaining that her trimness only made her a better athlete. For her part, Navratilova was stung by continued suggestions, facetious and otherwise, that she is but the tip of some science-fiction iceberg: Team Navratilova and all that. When the New York Daily News snipped that her entourage even numbered a professional dog walker, she snapped how "degrading" the remark was to her friends, and studiously explained that besides herself, the so-called team consisted of only Lieberman, "my inspiration," and Mike Estep, her coach since June. "To think I have put in so much work," she said, "to then be dismissed as some sort of computer whiz, a programmed wonder woman." And she was right, because as Evert Lloyd had history on her side, Navratilova had the present—and no more of a cadre than any top player.
Navratilova won each match at this Open so effortlessly that she had no chance to vent her aggressions, except once, perhaps, when a heckler razzed her doubles partner, Pam Shriver, and Navratilova flipped the loudmouth the bird and told him to get off Shriver's case. Evert Lloyd's road to the finals was only slightly more troublesome, although the prescient would have been tipped off in the semis. There she escaped Jo Durie, a streaky, tall, serve-and-volley English comer who gave Evert Lloyd fits, attacking her deliveries, before succumbing 6-4, 6-4. When Durie came off the court, her coach, Alan Jones, didn't commiserate with the usual British good show. Instead, he announced straight out that she bloody well could have won, which told us all the more that Evert Lloyd was vulnerable to pressure on her serve, and also that Durie may well be a stalwart new force to be reckoned with.
No such fresh talent appeared on Navratilova's flanks. Where are all the challengers—"the girls," as Evert Lloyd always calls this steno pool? Only a couple of years ago the women were crowing about how deep their field was, but now it has become neatly divided into three divisions: Division Navratilova, Division Evert Lloyd and None of the Above. Except for command performances in the Wimbledon semis every year, Billie Jean King has at last succumbed to Mother Time and didn't even enter the Open singles. Evonne Goolagong may be found at home. Hana Mandlikova, put out in the quarters last week by Evert Lloyd, showed her usual flashes of brilliance, which are all the easier to spot against her broad addlepated standard. Tracy Austin, though not yet 21, remains transfixed by injuries and chose to pull out of the Open, as she had Wimbledon, after she had a peek at her draw.
For this she was excoriated by others, notably Andrea Jaeger, who charged that Austin's 11th-hour withdrawal kept Shriver in Jaeger's section of the draw. Shriver, in fact, ended up eliminating Jaeger in a contentious quarterfinal match in which Jaeger's outbursts could have taught McEnroe an epithet or two. Jaeger is, as she says, "eighteen now, and not a kid, even though at heart I am—but you still have to pretend you're an adult." At No. 3 in the world and a Wimbledon finalist this year, she's hardly slumming, but after having arrived on the tour in swaddling clothes, she now appears becalmed and even, says a friend, "talks about college and all that junk."
It's fashionable to rattle on about the loneliness at the top, about how hard it is to stay No. 1, how everybody's shooting at you, how you can only go down, that sort of stuff. Forgotten too often is how much more difficult it is to shoot up near the top—especially when you're a teenager—and be frustrated there. Hard to be No. 1.? Yeah, try being No. 3 or No. 5 when you never ever quite get the roses.
Shriver is another one like that, a finalist at the Open at 16, but now a doddering 21-year-old who usually doesn't get past the quarters. She's bright and engaging, dedicated enough, but overwhelmed, outwomanned in the crucible. "You win one big match," she said after Navratilova had cleaned her clock in the semis, "and that's enough of a taste of winning to keep you going. But there's an arrogance you must have, and only two of them have that."
Martina and Chris?
"Yeah," she said. "Theirs is a taste of arrogance."
Before the final, Estep had told Navratilova to "go North," that is, charge the net at every opportunity. Even when Evert Lloyd rallied briefly in the early stages of the second set—just after a squadron of Lipton Tea skywriters buzzed overhead, inscribing GOOD LUCK CHRISSIE across the wild blue yonder—she was admitting to herself that her 3-2 lead was "not justified." Her ground strokes kept falling short, her serves were roly-poly, so that time and again she needed perfect shots against Navratilova barreling North. Sometimes even they weren't enough, such as in the ninth game of the second set, when Navratilova struck two stunning winners. One was at the net, reaching around, flicking it home. Then moments later, she chased down a lob, somehow outracing the ball, firing a rope back down the line. Anyone watching had to think: No other woman who ever played this game could have hit both those shots. One yes, but not both. Not up over here and then back down there. And in one game.
However, Navratilova is also, as she explained patiently to an interrogator afterward, only 5'7½", 145 pounds, no monster, no Amazon. Or, as even Shriver says, the dark day Navratilova lost to Horvath in Paris, she was so tight, so perfectly human, "she was like a baby out there." But enough of the nitpicking. Martina Navratilova, Texas' own, formerly of Prague and Burger King, has won her United States Open, won it as convincingly as any woman ever did. With that necessary bit of business at last taken care of, she can begin to traffic in history and venture at being a legend after Chris Evert Lloyd's own time.
PHOTOPHOTOIn the final, Connors battled not only Lendl but also diarrhea and a painful foot injury.TWO PHOTOSOn Sunday, Lendl's temper was hotter than his first serves, of which 47% were good.PHOTOArias became the youngest semifinalist.PHOTOOnly the 16s weren't sweet for Krickstein.TWO PHOTOSNavratilova lost but 19 games in seven matches en route to winning her first U.S. Open.PHOTOEvert Lloyd's shallow ground strokes allowed Navratilova to take the net almost at will.PHOTOA biting serve and volley put Durie in the semis.