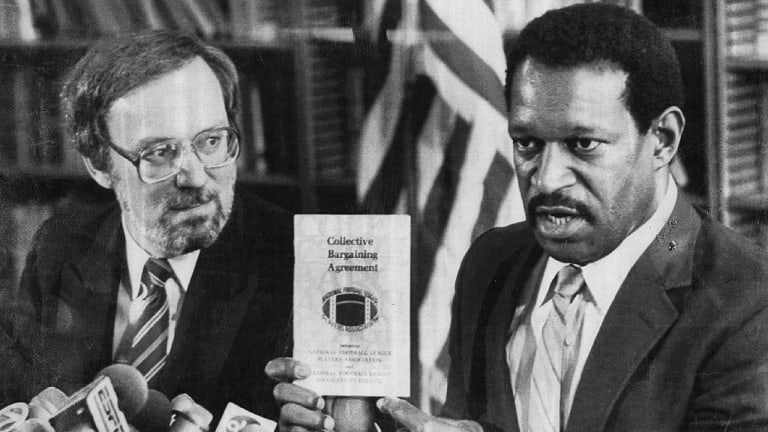 Publish date:
THE GUARD WHO WOULD BE QUARTERBACK
Former Raider lineman Gene Upshaw leads the NFL players union into battle with the owners—and now once again his reputation is on the line
So many of our leaders are revealed by what they were as young men. But, for goodness' sake, what does an offensive lineman do when he grows up? Can a man who has been happy to be a blocker all his youth ever lead other men? If you know the answer to that and can peer inside Gene Upshaw—number 63, guard—you could very well divine how the National Football League labor negotiations will turn out...and how Gene Upshaw will turn out.
Certainly much in the collective bargaining must revolve around Upshaw, who as executive director of the NFL Players Association is the first inmate from any major sporting asylum to graduate to such a position. Moreover, at a time when the issue of blacks in sports management is prominent, Upshaw is on display as the most important black sports executive in America. Not only that, but as a member of the AFL-CIO executive council, Upshaw is also the only conspicuous black labor official in the U.S., perhaps the best-known black union leader since the sainted A. Phillip Randolph led the Brotherhood of Sleeping Car Porters.
Upshaw's position is not the result of mere happenstance: He has nurtured political dreams almost from the day, in 1967, when he arrived in the NFL from little Texas A & I College and from little (pop. 12,100) Robstown, Texas. Not for nothing did Upshaw's Raider teammates come to call him The Governor.
But until now, the only time Upshaw emerged from the catacombs of the scrimmage line and into the public light was in 1982, at the last NFL contract negotiations, when he came across as heavy-handed, intractable, belligerent, even goonish. At that time he was still an active player and the president of the union, playing a secondary but highly visible role to Ed Garvey, who was then the executive director of the NFLPA. Upshaw is still haunted by the image he presented. "I'd have been hesitant myself about me if I'd been there to see me," he says.
How Upshaw handles these negotiations and how the public perceives him will have enormous impact on his future. "I know," he says. "Already all everybody says is 'Who is the real Gene Upshaw?' " Is he the guard who would be quarterback or the guard who would merely be guardian?
John Madden arrived in Oakland as an unknown assistant coach at the same time Upshaw came in as an unknown first-round draft pick. It was almost immediately apparent, Madden says, that "Gene was going to be something after football." Raiders managing general partner Al Davis had drafted Upshaw, a tackle and center in college, with plans to shift him to guard, mainly to be able to have him face off with Buck Buchanan, the giant lineman of the Kansas City Chiefs, Oakland's main rival in those days. Guard or tackle, though, Upshaw was to prove himself the quintessential offensive lineman.
As Madden explains it, the offensive lineman is, in the beginning, almost invariably a large, awkward kid, the biggest boy in his class. "But if he does anything at all to anybody else, he's [called] a bully," Madden says. "So he learns to take it. Then he goes into high school and they put him on the football team, and they say to him, now go out and be tough. And it's hard." So these fellows become offensive linemen, where they can just fend other people off.
But if most offensive linemen are formed in their oversized adolescence, Upshaw must have been born with the personality. Until his senior year in high school he was a runt; at football games he helped tote the first-down chains while his brother Marvin, younger by 15 months, starred on the varsity. Marvin, who would himself go on to play for nine years in the NFL, was an extrovert, a prankster and, as you might imagine, a defensive lineman. Gene was a fine athlete, a genuine prospect as a baseball pitcher, but he was only 5'10", 185 pounds when he graduated from high school.
Even after he shot up and filled out at A & I to 6' 5", 255 (which is, more or less, what he remains today), Gene became no more aggressive. Neither did he develop any instinct for glory. In college, despite his size and coordination, he failed as a fullback and tight end, and when tried on defense, he managed somehow to go three entire games without making a single tackle.
But the passive kid who went down the road to college without even a scholarship had developed, by the end of his senior year at A & I, into a projected third-round NFL choice as an offensive lineman. After he played in the Senior Bowl, his first match against the real big-ticket All-Americas, Upshaw jumped up to first-round stature; in the College All-Star Game that summer, the hotshot rookies-to-be from Michigan State and Notre Dame and USC voted Upshaw from A & I a tri-captain. And he says matter-of-factly, "From that point on, it seems I've been the captain of everything."
Still, Al Davis, the man Upshaw chose to present him at the Pro Football Hall of Fame induction ceremony, was under no illusions about this gentle giant, this Ferdinand the Bull, when he drafted him. Upshaw even let Davis know prior to the draft that he thought the Raiders were "too rowdy" and that he would prefer to go to a more upstanding team. "But that's O.K.," Davis says. "When you have enough tough guys on a team, you don't need everybody to be tough. Besides, the environment forces people to be tougher, and even if you're not physically tough, you can be tough in other ways, in what you want and how you go after what you want. That's toughness, too."
Davis was quick to see Upshaw's other facets and would often go to Gene (and one or two other Raider leaders) to obtain approval when he was considering bringing in some new crazy; once, in fact, Upshaw gave a thumbs-down on an All-Pro. His judgment was valued that highly by Davis. Moreover, when Upshaw became an annual all-leaguer, his intelligence and perception were discovered by a wider audience. Art Shell, the tackle who dressed alongside Upshaw, just as he played next to him on the left side of the Raider line, remembers that after every game, he was shut off from his own locker by the press, which gathered about Upshaw—"just like he was a quarterback."
But the mild-mannered guard was still not one to assume real command, to seize the reins. At one point Davis felt obliged to summon Upshaw to his office and exhort him to exert his natural leadership. Perhaps not surprisingly then, in 1982, when Upshaw the union president exhibited the behavior of a loutish henchman, it was widely taken as proof that he could not act on his own, that he was only a blunt instrument for Garvey to wield.
"I still carry that ghost with me," Upshaw says. "The ghost of how I was in '82. And I carry two other ghosts, too—the ghost of Ed Garvey and the ghost of Al Davis. A lot of people just naturally assume that one or the other is always instructing me. But that's ridiculous. I'm the one in the barrel this time, and whatever happens, I'm the one who's going to have to justify it."
What is manifest, though, is Upshaw's sense of loyalty. Many players forgive Upshaw his excesses of five years ago because they recognize that loyalty factor and understand that he was "Garvey's guy"—the guard who protects the quarterback, whoever he might be and whatever play he might call.
It is revealing that the four-point agenda that Upshaw has brought to the job—1) get the players' confidence in the union; 2) change the public's perception; 3) improve the financial situation; and 4) open up lines of communication with management—appears to validate what critics said about Garvey, that he bankrupted the NFLPA of funds, internal support and the union's good name. But Upshaw consistently defends Garvey, claiming he was a scapegoat who did a fine job of dealing with dissension from within the ranks and the NFL steamroller from without. "Sometimes Ed's whole job was just surviving," Upshaw says sympathetically.
The NFL, which through the years has developed a much more effective—and intimidating—propaganda machine than that of any other professional sport, successfully pilloried Garvey in the press throughout his tenure, painting him as a meddlesome interloper, rather like what the segregationist establishment used to label civil rights activists: an outside agitator. If pointy-headed Ed Garvey would only stop sticking his nose into America's football fun, they intimated, then everything would be just hunky-dory between the happy-go-lucky players and their good friends the owners.
Upshaw today would be delighted if the league and its doctrinaire advocates in the press would single him out for the same kind of calumny. "You see, it's going to be awfully difficult for them to attack me the way they did Ed," he says. "I'm black and I'm a player. Even if I pissed a lot of guys off in '82, I'm still a player, and I can still go into any locker room. And I'm the only black on the AFL-CIO board. For the first time now, I recognize that I mean something to black people. When I was a player, they didn't know me unless I was wearing 63. Now they do. They know who I am, and when I walk down the street, they see I'm carrying a banner."
It is possible, of course, that Upshaw is the wrong man to do labor's battle with the entrenched veteran NFL experts. Word kept leaking out that the league figured him for a patsy. It may well be that Upshaw is too nice, too gentle, a fine candidate to balance the ticket but not one to head it—a lieutenant governor, not The Governor.
But it is wise to keep in mind how he advanced: a rustic black who grew up without sophistication in the last gasp of segregation; a small-college walk-on who became Super Bowl captain; boutique union chief who rose to U.S. labor's executive council; a lineman who became a spokesman. It figures that each step up would be careful and tentative, each move chary, that he would accept the guidance of each mentor: the father, first, who instructed him in discipline, charity and racial tolerance; then Gil Steinke, the A & I coach who found him watching practice from the sidelines and put him in a uniform; then Davis; then Garvey. But for four years now, Upshaw has, at last, been strictly on his own. He has married again, begun another family, even moved to a new part of the country.
The last time Gene Upshaw left home, he grew seven inches and gained 70 pounds in four years. When he arrived at the Senior Bowl from obscure A & I, nobody could be sure how much talent he had. "I didn't have the slightest idea myself how good I was," he says. Now the negotiations are his Senior Bowl, and nobody will know till they're concluded how much he has grown in these past four years—or how good he is.
Eugene Upshaw Jr. spent his childhood going to a four-room school-house, playing baseball and picking cotton. He grew up on the cusp of integration, and it helped that the two oldest of the three Upshaw brothers. Gene and Marvin, were, like their father before them, terrific baseball players.
Eugene Sr. had instituted a rule that the brothers could avoid picking cotton as long as they won on the diamond. In games when Gene struggled on the mound, Marvin, the catcher, would come out from behind the plate to remind his older brother of the alternative. For picking cotton they were paid a buck and a quarter for every 100 pounds; it was backbreaking work in the Texas sun. Cotton-picking was no shade and all sweat; at lunch break the pickers would duck under a trailer just to get out of the scorching rays.
Not long ago Upshaw returned to his Texas home and went out to those fields where he had picked cotton. It just didn"t seem right to him. The rows didn't look nearly long enough. When he was young and he was picking, they stretched on forever.
Gene's mother, Cora Upshaw, worked as a domestic for white folks, while Eugene Sr. read meters and performed a variety of other tasks for an oil company. Even though the family could have used every penny, Mr. Upshaw—once a semi-pro pitcher—warned Gene that if he chose to sign a bonus to pitch instead of going to college, he would be kicked out of the house for good. So Gene went the few miles down Route 77 and paid the $75 to attend Texas A & I. Nobody bucked Eugene Sr. Even after his sons had physically matured—even when Marvin was bigger than his old man—Eugene Sr. would "take the belt" to any of his boys who misbehaved.
When he set off for college, Gene owned no great ambitions. He figures now that if he hadn't made it in sports, he might have become a schoolteacher. He was an unworldly black country boy, and even now, though he has varnished his drawl, his backwater Dixie origins are occasionally betrayed when he pronounces a word with a telltale extra r: querstion, borther, coarch. When he left the Southwest in 1967 to join the Raiders in the big city of Oakland, he was wide-eyed and, he baldly admits, immediately got married simply because "it seemed like everybody else was." He joined the union because the player rep said, "Sign here."
Even on the field he was green. His first confrontation with the cagey Buchanan was a disaster; Upshaw was mortified that the Raiders had thrown away a first-round draft pick on him. Buchanan, however, recognized right away that no matter how raw the big kid was, he was an athlete far superior to those Buchanan usually contended with at guard.
"Gene had that offensive-lineman mentality," Buchanan says. "He didn't appear to be aggressive. But all I know is that the Raiders were the only team I played where I got hickeys." Upshaw, invariably The Governor, would regularly engage Buchanan in conversation at the line, then, on the snap, blow into him in the middle of a sentence. "Gene would beat up on you and then apologize," Buchanan says. Politicking, always politicking. Negotiating.
Davis loaded responsibility on Upshaw. "Gene only let me down once in a big game—1974," he says. "And I never let him forget it. Then he let me down on something else at about the time of the negotiations, when he wasn't himself. In '82, Gene was just different. That separated us for a while, but the debt we owe him is larger than that one incident. You see, Gene was a great organization man. Now, you say 'company man' and that has a bad connotation. But organization man is positive, and that was Gene Upshaw. He has so many fine characteristics. With all the great Raider players I've had over the years, still, Gene was probably the one constant."
Early in Upshaw's tenure as a Raider, Davis began to see in him the qualities of a general manager.
Not a coach?
"No, Gene didn't have the commitment to detail, long hours, all that," Davis says. "He has to be out there; he has to meet people. Gene has to be around."
Upshaw began, too, to spread his wings in his new community. As early as 1970 he became a member of the Democratic Central Committee of Alameda County, and he was later appointed to state boards dealing with junior colleges and public health. He became active in a variety of charities and in 1980 was presented with the NFLPA's Whizzer White Humanitarian Award "for services to team, community and country." That same year he was elected to the first of his two terms as president of the players' union.
In the spring of 1983, Ed Garvey decided to resign as executive director of the NFLPA. He urged Upshaw to succeed him at the union's headquarters in Washington, D.C. There wasn't much to hold Upshaw in Oakland any longer; his marriage had broken up, and, at 37, he could expect to squeeze out only one more season as a substitute in the trenches. Though he and Davis were, at the time, in their period of disaffection, he met with his mentor for several hours before advising Garvey to place his name before the union's executive committee. Then Upshaw asked Teresa Buich, with whom he had fallen in love, to come east with him.
She was 23 at the time. They had met when Buich, a catering manager at the Hyatt in Oakland, was in charge of some Raider team events at the hotel. Her family had operated a downtown San Francisco restaurant, the Tadich Grill, since the early 1900s. Terri's father is of Yugoslav extraction; her mother is Irish. None of the family was happy when they found out Terri was going out with a black, and Upshaw was well aware of their feelings when he asked her to give up her job and leave her hometown to go to Washington; he told her he wouldn't put any pressure on her. "I love you, Terri," he said, "but I could never live with the guilt of making you leave your family."
Buich went off alone to think. She began to realize that if she stayed behind she would lose her family anyway—she would never forgive them for demanding that she give up the man she loved. When Terri told them she would go, her father replied, all right then, but never come home again.
Terri and Gene settled in a house in the woods of suburban Virginia. They were married last autumn. Jack Donlan, executive director of the NFL Management Council and Upshaw's chief adversary, was one of the guests. No one from Terri's immediate family attended.
In May, Terri gave birth to their child, Justin, and she had great hopes that with the baby the family might be reconciled. But her mother and father have flatly refused to reconsider.
When the collective-bargaining talks opened in 1982, a number of uncertainties whipsawed Gene Upshaw. As a player he was over the hill, with no particular career ahead. His marriage had ended, and he was in the throes of a traumatic new love affair. His father was suffering from a circulatory ailment that would, ultimately, cost him both his legs. Upshaw was passionately devoted to the union and the positions it had taken in collective bargaining, but the union was being hammered from inside and out. For the first time he wasn't just an anonymous number 60 something; he was very visible. "Gene felt that someone had to be out front while I was negotiating," Garvey says. "But he was still trying to figure out exactly what his role was."
The closest public analogy would probably be Senator Robert Dole in 1976, when he was hatchetman-designate as a running mate for president Gerald Ford. Dole, like Upshaw, fared badly in the part of the heavy; they didn't have the personality for it, so they came off even worse. At one point Upshaw was accused of threatening Russell Erxleben, the player rep of the Saints, a team that was at odds with the union stance. On another occasion Upshaw wrote what might be characterized as a threatening letter to Craig Morton, the Denver quarterback, who'd had the gall to express a contrary opinion. "One thing about this game," Upshaw wrote, "we get to see you on the field next year. We will have a little additional incentive when we do."
Vince Lombardi Jr., assistant executive director of the league's Management Council, became so perturbed by Upshaw's "macho posturing" that he invited him to duke it out. Lombardi thought Upshaw rose from the table to answer the challenge; Upshaw recalls only getting up to go to the bathroom. Whatever, fisticuffs were avoided, allowing Garvey, a man of generally concealed wit, to declare: "If Vince Jr. ever hits Gene and Gene finds out about it, Vince is going to be in real trouble."
Besides all those battles, Upshaw was also, as it were, cuckolded by his own union. The prime issue in '82 was the NFLPA's demand for 55% of each team's gross, to be handed over to the players and distributed on a simple longevity basis. A seven-year All-Pro celebrity quarterback would make just the same as, well, a seven-year unknown backup offensive guard. Predictably the offensive guards and their kind were all for the concept, while many of the stars were manifestly opposed to what critics called socialism.
Upshaw remained adamant and uncompromising. "Upshaw's power mad," said Lynn Swann, a highly paid star and a reasonable fellow. "He won't listen. You can't tell him anything. He wants to be heard but not to hear."
The percentage-of-the-gross arrangement, Upshaw kept bellowing, was not a negotiable item; it was, he said, "etched in stone." But on the other side of the table, the owners were so recalcitrant that Garvey dropped the percentage-of-the-gross demand even before the strike began—and Upshaw had egg etched on his face.
He hardened all the more. Jack Donlan, who had never known Upshaw in another context, found the union man to be "an enforcer" and at the time dismissed him as a "militant." But within a year, Donlan was happily surprised when a different Upshaw revealed himself to the NFL after being named executive director of the union. "I had to conclude," Donlan says, "that much of what I had seen before was Gene's role, not his personality."
Donlan, a management negotiator in the airline industry for many years before being hired by the NFL, says that it makes a great difference in the process of negotiation if the men across the table like—and trust—one another. Donlan and Upshaw have become genuinely good friends. When Donlan learned of Upshaw's salary ($150,000), he proposed that he negotiate for Upshaw the next time his contract comes up, inasmuch as the union boss is making much less than the poor working stiffs he represents. The two men have developed such an easy relationship that during recent negotiations in San Francisco, Donlan wickedly suggested that they might go down to the Tadich Grill for lunch. More substantively, in a move the peacemongering Upshaw initiated, they have, until recently, spoken together on the phone no less than twice a week for the last four years. Tellingly, though, as the negotiations have gotten grittier, Donlan has begun to complain publicly that Upshaw has stopped returning his calls.
While free agency remains the major issue, Upshaw, the old percentage-of-the-gross man, still harbors doubts about whether it will best benefit the players financially. "But the players want it," he says, "and I'll do what I must." In one major respect, Upshaw (and Garvey) have already had the last laugh, because the NFL teams are now paying 58% of their gross in player salaries. The average player's annual salary and benefits now exceed $250,000; they were less than $125,000 before the '82 strike—or, to be more correct, they were less than $125,000 before the United States Football League forced salaries to rise through free-enterprise competitive pressure.
"I've never once talked about making more money and I won't," Upshaw says stoutly. "That's not what this is all about. It's about dignity and choice. It's about America. So much of this has to do with control. The league has never agreed to the simple request to let the union put up bulletin boards in the locker rooms. We've even promised to pay for the bulletin boards. But they will not allow it. Control."
It is significant that during the '82 negotiations it was Upshaw's idea for the players to share a "solidarity" handshake before each game. This benign gesture, so consonant with Upshaw's natural civility, was, during this period, the single development in which he came off favorably. And that was the one time the league overreacted and made a fool of itself. What was the big deal? Basketball players shake hands before games. Boxers shake hands.
"But you see: control," Upshaw says. "They want to keep us separated, and unlike other sports, they've got a perfect system to start with. Even when we're on the same team, there's the offense and the defense. And there's the stars and the players no one knows."
Like offensive guards?
Upshaw smiles. "Players in other sports fraternize before each game. Players in the NFL can go three, four years and never even see each other. And the average tenure in the league is now down to 3.2 seasons. Most of my guys weren't even in the league when we struck.
"So Rozelle's guys are more together than mine, and he works at making sure it stays that way. Somehow, for example, the league has presented it so that cocaine isn't really an NFL problem. No, they present it as a black problem. You think blacks are the only players using cocaine? So the league manages to divide us even more. And you know what's ironic about that? Steroids really are more of a white problem—but the league never seems to try and suggest that, does it?
"But," he hastily inserts a qualifier, "understand, steroids mostly involve whites only because whites tend to play the positions where the coaches want steroids to be used most."
Like offensive guard?
Upshaw smiles. "It's our problem. It's a player problem. Because what can an offensive lineman do? They tell a lineman, gee, if you want to keep your position, you've got to gain 30 pounds and press 500 pounds. He gets the message. And that's not right."
Not all rows of cotton look shorter with time. "I would hope the NFL doesn't misjudge my courtesy," Upshaw says. "I do think they've changed their attitude toward me, and I'm sure they realize that I'm not as combative as Ed was. But they also better understand that this velvet glove has an iron fist in it."
It was only a few weeks ago that Upshaw's 17-year-old son, Eugene III, wrecked the old man's pickup truck. Upshaw "took the belt" to his son just as his father had done to him. But indeed, there is much about Upshaw that is old-fashioned. But so long as such men are not hidebound, they are quite able to accommodate themselves to the modern world.
"You see, from time to time Gene will let the environment dominate him," Davis says. "Naturally, he has a reasonable attitude toward things, but in '82 he decided to be different. Sure, Gene can be taken advantage of, because he's a conciliatory person, but the bigger risk is if he goes away from his natural approach. Because if he does, if he tries to be anything different, then I don't think Gene can do that. I don't think he can lead from another approach."
Now, of course, is not the easiest of times to be a union man. The numbers in labor dwindle and the unions' clout declines. Who wants to stand up for the common man when nobody wants to be a common man anymore? And even a labor zealot must find it hard to fret over Upshaw's minions—pulling in a quarter million a year (even if it is for only some 3½ years at the cost of 1½ knees)—as if they were some sort of disadvantaged lunch-bucket brigade.
But then it has been a long time since the unions had a hero, and never forget that almost all of the great labor leaders moved up from the ranks—Gompers, Abel and Reuther from the factories; Lewis and Murray from the mines. Like Gene Upshaw today, they all came off the line.