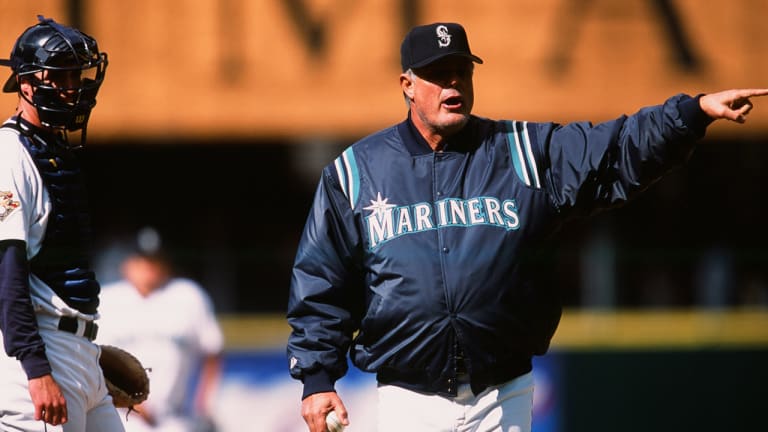 Sweet & Lou
Age, success and a good woman have mellowed Mariners manager Lou Piniella. So whom can we rely on now to storm out of the dugout in a righteous rage?
"Do you mind if I smoke?"
No.
"You sure it doesn't bother you?"
Yes, I'm sure.
He lights up, 9:30 in the morning, then lights another one in its wake, like a three-pack-a-day man. He talks. He lights up. He smokes.
Anita, his wife of 34 years, a gorgeous lady who knows him inside out, is astonished when she hears this. "Lou smoked?" she asks. "He didn't smoke around the house all winter."
But this is the official start of another season. It all changes with the Super Bowl. That's the signal that life is going to flip, that spring training is around the corner. I'm the first robin--the opening interview. It's time for Lou Piniella to be the manager of the Seattle Mariners again, to "deal with the media," time to start smoking again. "I think I can quit," he says, "but, truly, I know I can't."
Not as long as you're managing?
He nods, ruefully.
The wintertime is when Anita actually knows Lou. "Really," she says, "we've only been married 17 years." She means only the off-seasons count. The rest of the year, the baseball, is something else again. For a long time Piniella, the singles hitter, held square nine-to-five jobs in the off-season, like any working stiff. In Kansas City one winter he sold the municipal bonds that would fund the baseball park he would play in during the summer. Other years he was the area rep for Chris Evert's tennis fashion line. Fans think all the money is what has changed players. More to the point, it's that they no longer have to work real jobs in the off-season. Now, all year, they're out of touch with the daily ebb and flow of reality.
Today managers make nice money too, and the Piniellas' tuition bills are down to one last year; their son Derek is a senior at Florida, and their two other children are grown. So when the season is over, Lou leaves Seattle and comes back home to Tampa, stops smoking and lollygags about. He and Anita (and an ancient, nonchalant Lhasa apso bitch named Keisha) live in a gated community, surrounded by high, vine-covered walls, redolent of Wrigley, that embrace a golf club and an attractive thicket of large houses--some Tudor, some traditional redbrick, some more in the Mediterranean style, so it is rather like a residential Epcot. The Piniellas' house, the color of evening sunshine, has columns in the front and the 15th fairway in the back. In fact, Piniella sighs, sometimes several days pass before "I go outside the gates."
Piniella's personal phone line has no answering machine, so the Mariners are occasionally reduced to sending him FedExes pleading with him to call them. He made it over to the family beach house near St. Petersburg only twice all winter. "I'm not a physical fitness nut," he admits (unnecessarily). "I don't do much. A little fishing, a little golf--really, the less I do, the better."
He is in good company inside the gates. Over at the clubhouse he likes to stick his head into the card room and hector its denizens: "Am I the only one who works around here?" He enjoys the golf, sure. "But I don't give a damn how I do at it," he says. "I'm average at everything I do." The couple of Grey Goose martinis he has at the 19th hole are the best part. It's a fine off-season Lou Piniella has bought and paid for out of singles and camaraderie and instinct.
He is going on 58, and he has been a professional in baseball since he was 18, so the rhythm of the diamond calendar has been pressed into his DNA. For 14 seasons now he has been smoking as a manager. Anita says he is, for sure, the best manager in the game, and there are people outside the family who wouldn't argue with that. Certainly, Piniella is one of baseball's most popular managers. He's won 1,110 regular-season games and a World Series, and last year, for the third time in the last six seasons, he took the long-shot Mariners into the playoffs, holding them together down the stretch like a cagey old jockey giving a tired nag a hand ride.
So, it's time to head off cross-country to the Cactus League and run a baseball team again. Still, you wonder why he bothers. He had three of the greatest players of this era on his team: Ken Griffey Jr., Randy Johnson and Alex Rodriguez. One by one, they left him. A less secure man might have taken it personally. A less accomplished man might have taken the blame. Instead, even as Piniella hugged Rodriguez and cried last fall, no one associated the manager with the defections. Says Seattle outfielder Jay Buhner, "Every single guy in the clubhouse loves playing for Lou. He's a great manager--he's tough, but he's fair and he's loyal. The thing that really tells you something is how many of the guys who left say they'd come back and play for Lou in a heartbeat."
So, it's back to the cigarettes again. "Look," Piniella says, "I still truly enjoy what I do, and I've had success at it. Success at it." (He has a little habit of repeating conclusions to his sentences, sort of savoring them. And if he says truly, take it to the bank.) "I mean, I should be better at it. Managing's like anything else. It's easier the longer you do it. I've finally started getting paid a lot too. Also, I'm totally different from when I started. I was a cutup and a red ass. I like myself a heckuva lot better now. Besides, outside of making pitching changes, managing is pretty rudimentary. Most guys in the stands know when to bring in the lefthanded hitter to face the righthanded pitcher. We're not building rockets to fly to the moon.
"Don't worry, I'll know when to get out. The wins will be less enjoyable, and the losses won't seem as bad. I'll know. I was still hitting .300 when I quit playing. Still"--he sips on the martini and drinks in the scene in the clubhouse--"every year it gets a little harder to leave the comfortable life. The comfortable life."
The trouble is, however happy life is within the gates, the game is always without, calling to him.
Truly, Lou Piniella knows himself. The irony is that the one thing he didn't know about himself was that he should be a manager. Even after he lost a lot of money in some bad ventures, he thought he should be a businessman. Of all people, the one who figured out that Piniella could manage was George Steinbrenner, a man best known for exterminating managers. As Piniella wryly observes, "The worst job in baseball has not existed yet. The worst job in baseball will belong to the guy who takes over the Yankees after Joe Torre leaves."
But give the devil his due. Steinbrenner saw the potential leader behind the happy face of the player whose buddies called him Sweet Lou. Now, for purposes of comparison, Piniella grew up in Tampa with Tony La Russa, the St. Louis Cardinals skipper, and La Russa was a guy who, from the get-go, had manager written all over him. He was like Athena, born wise and full grown from the brow of Zeus. Tony Freaking La Russa is not going to tell you that managing baseball is rudimentary. Piniella, in contrast, did not appear to be a serious young man. Strike one: He enjoyed life at large very much. On the other hand, strike two: On the diamond he was a raging competitor who never relaxed. Red ass has been attached to Piniella's name much as indicators of lineage are appended to other people's names. King George III. Pope John Paul II. JFK Jr. Lou Piniella, Red Ass.
Only a few baseball people saw beyond the scarlet derriere. Jim Bouton might have been the first. In 1969, the year he wrote Ball Four, he was going to camp with the Seattle Pilots, an expansion franchise. There was the possibility of a players' strike, and Bouton, the veteran, was designated by the union to phone some players. Bouton had already signed with the team and felt he had to report, but after he called the unknown rookie, Piniella, he changed his mind.
Piniella had been bouncing around the minors for seven years, ricocheting five times among four organizations. This was it for him. If he couldn't make the majors with a rotten expansion team, he was quitting baseball. Right away, though, he told Bouton he would stand by any major league strike. "That impressed the hell out of me," Bouton wrote. "Here's a kid with a lot more at stake than I, a kid risking a once-in-a-lifetime shot. And suddenly I felt a moral obligation to the players. I decided not to go down." As it turned out, the strike threat passed, and Bouton met the kid in camp. Immediately he also saw, as he would write, "Lou Piniella has the red ass."
What impressed Steinbrenner was that on a Yankees team riven with cliques--notably the Reggie Jackson and Thurman Munson factions--Piniella got along with everybody. "Lou and Catfish [Hunter] were the only two guys everyone liked," Steinbrenner says. And, by then, the late '70s, Piniella was the canny old-timer, living off his wits and hand-eye coordination.
"I didn't hit home runs," he says. "I wasn't a base stealer. I didn't have a great arm. I mean, I knew why a lot of teams would look at me and say, We can do better. We can do better."
It is symbolic of Piniella's sneakily distinguished 18-year career--this guy did hit .291 with 1,705 hits and play in four World Series--that the play he's most famous for in a positive way is a fly ball he misplayed. It was in the bottom of the ninth inning of the Yankees-Boston Red Sox playoff game in 1978. The Yankees led 5-4, thanks in part to a terrific catch Piniella had made earlier. But now, late in the afternoon, the autumn sun had fallen low, slanting into his eyes in rightfield. "It's like a ball of fire over the roof," Piniella told his manager, Bob Lemon, after he'd almost lost a pop fly in the eighth.
Then, sure enough, with one out and Rick Burleson on first, Jerry Remy knocked an easy drive directly at Piniella. He lost it but somehow had the presence of mind to hold out his arms as if he had it all the way. Suckered, Burleson held up. The ball finally materialized, dropping five feet before Piniella. He snared it on one bounce, and Burleson made it only to second. The next batter, Jim Rice, flied out deep--which would have scored Burleson and tied the game if Piniella's acting hadn't worked.
All the big home runs, all the clutch strikeouts, all the beautiful double plays from deep in the hole--never mind. "That was the single greatest play a Yankee has made in all my years with the team," Steinbrenner declares.
It helped that Piniella was a gambler. He lost the ball, but he calculated perfectly. Piniella has no interest in casino gambling, but the horses and the stock market have fascinated him because, he discovered, the payoff is in the satisfaction of doping out the winner as much as it is in the tangible reward. Similarly, he credits much of his success as a batter to being a "guess hitter," which means not so much guessing as having studied the pitcher's past performance. Deep in a count, most of the best hitters will sit on a fastball, figuring they can always adjust if they get a slower breaking pitch. Piniella, though, would study the patterns of pitchers--and, more often, of the catchers who called the pitches--survey how the defense arrayed itself and then bet his swing.
Even then, the larger part of his handicapping was a wager on himself. Piniella is a sturdy 6'2" and played at around 200 pounds, which, for example, was taller yet no less bulky than Reggie, his slugging teammate. Piniella drives a golf ball almost 300 yards, triangulating doglegs with ease. He did not lack power, but he averaged about a half-dozen homers a season. That, too, was a matter of playing the odds.
"See, I didn't have the temperament to be a power hitter," Piniella says. "The home run is the most wonderful instant gratification there is, but swinging away comes with a penalty. You strike out more. I'd've broken too many helmets and watercoolers. Sure, I'd've loved to hit home runs, but you've got to stay within yourself, which is why"--he drags on the cigarette, allowing himself a small smile--"I played till I was 40 and a half. Forty and a half."
Still, Piniella swears that he was 35 before he "truly learned to hit." That was in 1979, when he came back under the tutelage of Charley Lau, who had been his batting coach in Kansas City. Lau taught him how to prepare properly to swing, by moving his feet like a tennis player getting ready to receive serve. At last, Piniella's mind, emotions and body were in tune. He would repeat that pattern as a manager. He batted .312 and finished second to Rod Carew among American League hitters in 1972, before he learned how to hit. He won a World Series managing Cincinnati in 1990, before he learned how to manage.
Oh, at that time he thought he knew. Anita remembers so well that after Lou's Reds swept La Russa's Oakland A's, he could not resist chortling, "See, George, I can manage"--claiming some vindication from Steinbrenner, who had removed him as skipper twice, in 1987 and '88, as he played switcheroo with Billy Martin.
If Piniella had demonstrated that he could manage a baseball team to victory, though, he had achieved that despite an inability to truly manage the manager. The ass was always red. Every game was a battle more against his temper than against the other nine. In 1991, as skipper of the Reds, he accused umpire Gary Darling of bias and was not only fined by the National League but also sued (a first) by the ump. (They would settle out of court.) In 1992, as reporters looked on in delight, Piniella wrestled on the clubhouse floor with one of his relief pitchers, Rob Dibble. ("A black mark on my career," Piniella says.) On another pyrotechnic occasion, in Cincinnati in '90, Piniella reacted to what he deemed a bad call by not only dislodging first base and hurling it but also chasing it, picking it up and chucking it again. (That's still the lead-off in every Sweet Lou highlight film.)
It is astounding to contemplate how he and Steinbrenner coexisted--especially because, as we know, Piniella feels no great compulsion to answer telephone calls. "Insubordination!" Steinbrenner screamed when he couldn't get through to Piniella to scream at him late in the '87 season. "He's a liar! He promised to talk to me." But Piniella's reluctance to answer was understandable: Steinbrenner would criticize him even when he was winning. Once, when Piniella had to take the Boss's call, in the dugout at Anaheim, Steinbrenner, calling cross-country, began the conversation, without so much as a hello, "Whose side are you on?" And, says Piniella, "we're ahead 4-2."
One time, Piniella quit. "Nobody resigns on me!" Steinbrenner bellowed, reserving the divine right to fire. Another time, when he was about to dismiss Piniella, and Lou showed up with Anita, Steinbrenner guiltily peeled off three $100 bills and told a secretary to take Anita shopping. But this too: As Piniella neared the end of his playing career, he was looking for a two-year deal. The Yankees were offering one year. When Piniella confronted Steinbrenner, the Boss began, "I told you, I'm not going to give you two years." Pause. "I'm giving you three."
As strange as Steinbrenner's relationships with his many managers have been, the one with Piniella was touched even more by fond contradiction and mixed emotions. "I don't know if I've had another player who cared so much," Steinbrenner says. "Such instinct and desire!" However, after two stints as Yankees manager, and one each as player, coach, general manager and broadcaster, Piniella knew he had to move on to a more emotionally stable venue. He left Steinbrenner in New York to work for Marge Schott in Cincinnati.
"I always wondered, Why does George hire the same guys over and over?" Piniella muses. "I think I finally figured it out. Each new guy who comes in he treats easy for a while--I guess he feels he has to--before he gets on him. But, you see, if you hire a guy again, you don't have to break him in with kindness."
The Piniella circus didn't confine itself to sojourns with Steinbrenner and Schott. Lou is sort of an Everywhereman. He owns the distinction of having had both Billy Martin and Earl Weaver as managers, and he played on a team for which Cal Ripken Jr. was the batboy. And there he was, the rookie star of Ball Four, recipient of perhaps the best you've-been-traded line in history. When the expansion Pilots sent him to the expansion Kansas City Royals--for whom he would become Rookie of the Year at 26, in 1969--Joe Schultz, the Seattle manager, informed him of his departure thusly: "Lou, you're gonna have to pound Bud somewhere else."
This too: Once when Piniella was arguing with Yankees general manager Gabe Paul over salary, they went to a Chinese restaurant to take a break from negotiating. Piniella opened a fortune cookie that read, "Be satisfied with what you get." He showed it to Paul. So they split the difference on the spot, and Piniella signed the contract. Life, too, can be pretty rudimentary.
Both Lou and Anita are of Spanish descent, with grandparents from the province of Asturias. The cigar trade brought their families to Tampa. She was a Garcia, so everybody figured Anita must be Hispanic, although she never encountered a taco till the Piniellas were living in that great Latin American citadel, Kansas City. Lou grew up speaking Castilian Spanish and didn't learn English till the nuns in kindergarten taught him.
While they shared the same heritage, Anita was at first leery of Lou, the ballplayer. When she had been Miss Tampa, a suave major leaguer had courted her till she found out he was married, with children. But once she gave Piniella a chance, she fell quickly for the handsome busher, and they were married in six months. Already, though, he was drifting through the horse latitudes of the minors. It wasn't easy, especially for a red ass, even more especially for a charming fellow who'd "always been used to being successful." He hadn't just been a baseball star; he had gloried even more in basketball: "I was a 6'2" guard who could shoot." Pause. "And I shot a lot." Pause. Smile. "I shot a lot." Sweet Lou Piniella is not altogether unfamiliar with instant gratification.
"Athletes are so self-centered," he says. "We're pampered, and we have tunnel vision. We must be impossible to be married to. In baseball the mother basically raises the children. But God's been a big influence in our lives. And Anita and I have been able to roll with the punches."
Anita agrees. "Lou's less volatile now, more patient," she says. "And his faith has developed." Before, his fury always stood in the way. "Lou's temper embarrassed him," she says. "It embarrassed the children. 'Why does Daddy do that?' He had to find an opposite way. But perhaps it wasn't all that difficult. Lou, you know, has always been the first one to cry."
There's no crying in baseball? Piniella cries when he's happy. He cries when he's sad. Alex Rodriguez leaving him? John McLaren, one of Piniella's coaches since 1992, remembers last spring, after Piniella had cut a journeyman outfielder named Brian L. Hunter. Piniella went to his office and bawled like a baby. "All the Piniella-isms, throwing the bases, all that crap--the real thing that stands out about Lou is his compassion," says Lee Elia, a former manager who has known him for more than 30 years. "The son of a gun is really sensitive."
"The biggest part of this job isn't on the field," Piniella says. "It's in the clubhouse. The clubhouse. How to make it fun. How to make it positive."
So much of baseball is the gruel of the everyday. It's like Edna St. Vincent Millay's simple summation of our lives: "It's not true that life is one damn thing after another. It's one damn thing over and over."
Or, Lou Piniella on the baseball life: "I'll tell you what--it can truly wear you out."
So now, he naps before some game nights. He cuts down on time spent brooding at the park before games. He delegates more authority to his coaches and even has them formally critique his performance two or three times a season. After a loss, if he fears he's going to blow a gasket, he seethes alone before he admits the ladies and gentlemen of the fourth estate. Then, afterward, he sits with a glass of port--There's no port in baseball!--and studies the game. He examines the options he had, not second-guessing ("Lou never second-guesses himself," Anita says), but trying to better understand in case those choices present themselves again.
However, if strategy wins games, temperament wins seasons. Pat Gillick, the Seattle general manager, believes that managing players has become markedly different in just the last decade. Piniella agrees. "Society has changed," he says. "Managing is a people business."
He lets the players make their own rules. They decide, for example, what fines to levy for missing the cutoff man or failing to run out a pop fly. McLaren advises players to confront Piniella directly if they have a gripe. "Remember when Earl Weaver came back?" Piniella asks of his old manager's return to the Orioles in 1985. "He'd been gone only a few years, but the game had passed him by. No, not the game; the way players were. His style had become too intense. A manager has to keep his intensity about where the team's is. Maybe even a little below the players' level. Oh sure, you hope to raise it, but you can't get too much ahead of your team."
Seattle creates a particularly tricky emotional situation for Piniella, and the players, too, because it is so remote. "We travel as much by the All-Star break as other teams do all year," Buhner says. Piniella has had to learn to baby his roster more. Now, with the two big guns, Griffey and Rodriguez, gone, he has had to change the team's style, emphasizing speed, bunting and stealing. "Lou's a running manager," McLaren says. "The one thing you know about legs is that they don't go into slumps. He was a little frustrated with the homer-hitting teams we had because homers are so streaky." Swinging away comes with a penalty.
Against the Chicago White Sox last year in the American League Division Series, Piniella ordered a squeeze play that brought in the winning run from third base in the last game. If Yogi Berra was the model who taught Piniella not to take himself too seriously as a manager, then Billy Martin gave him the most strategic inspiration. "Sometimes Lou's so much like Billy, it's scary," says Buhner, citing Piniella's ability to anticipate and command.
It's worth considering, too, that Piniella's decision not to shoot for the fences as a player may have prepared him to be a manager. It's often been noted that pitchers rarely make good managers, but perhaps home run hitters, with their boom-or-bust mentality, are likewise emotionally unequipped to guide teams through the twists of a serpentine season. In the history of the game, Torre, with a relatively modest 252 home runs, is the slugger who has been most successful as a manager. In life, Piniella is large; in baseball he is Big Little Man.
Also, in the starkest terms, his sweetness has surpassed his redness. "My wife has been a big influence on my managing, too," Piniella says. "I don't mean like when to take the pitcher out, but she taught me how to manage myself better. Be spontaneous. Don't let things fester because, truly, problems are not gonna go away. And you don't have to act hard-ass. Weakness can be strength. I don't know if weakness is the right word. Maybe meekness is better. What I mean is, All you really need is the presumption of strength. If players know that you truly can get tough, that's enough. That's enough."
So if the fire is still there, ever smoldering, Piniella has learned to accept and accommodate. "He was too impetuous when I first hired him," Steinbrenner says, "but the problem is now he's just too good. Lou almost took us to the cleaners in the playoffs last year."
Imagine losing three of the best players of a generation--maybe the game's best pitcher, best outfielder and best infielder. Did any coach in any sport ever take a hit like that? But it's time to play ball again, so he's back, blowing smoke. "Sure, it hurts to lose players like that," Sweet Lou says, "but here's what you find out: Baseball truly, truly is a team game."
And he is still there with his team in the clubhouse. In the clubhouse.